Think of all the brands you love to follow online. Why do you like them?
It's probably because their brand content resonates with you.
Whether it's National Geographic's spectacular photo stories, HubSpot's rich inventory of marketing content, or Duolingo's funny banter on Twitter, brands need a consistent presence in the digital space to build authority and attract organic traffic.
One of the most effective content marketing strategies is consistently creating written content to attract your target audience. And according to HubSpot's 2023 State of Marketing report, blogs are one of the marketing channels with the highest return on investment (ROI).
But how do you make sure your target audience finds your content? That's where both search engine optimization (SEO) content writing and traditional copywriting come in. Each serves a distinct purpose.
In this guide, we'll discuss the differences between SEO content writing and traditional copywriting, when to create SEO-friendly copy, and when it's best to let traditional copywriting do its job.
You'll learn how to leverage the power of both these styles to create high-quality content your target audience and the search engine robots love.
SEO Content Writing: What Is It and Why Do You Need It?
SEO content writing engages and benefits human searchers while aiming to rank high on relevant search engine results pages (SERPs). To achieve that, SEO-friendly copywriting focuses on target keywords, search intent, on-page SEO, and other related factors.
High search engine rankings generally get more organic traffic, which can result in greater engagement and a higher conversion rate.
As an SEO content writer, you must consider two important users to create SEO-friendly, high-quality content:
The search engine robots crawling your page.
The humans reading your piece of content once they find it.
SEO helps robots understand the context of your content and how it's relevant to readers.
Even if you write an in-depth and engaging piece of content bound to wow readers, your post might not reach them without effective SEO strategies.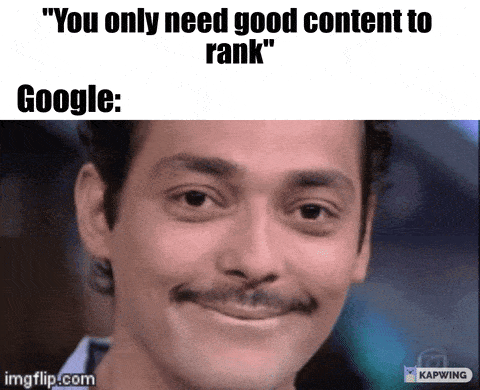 But that's just one side of the story. You're ultimately writing for human readers.
Your content needs to provide value to your audience, not just catch the robots' attention.
SEO copywriting is the balance between satisfying humans and robots.
That's why you need to write SEO-friendly content that also engages and benefits human searchers.
SEO Content Writing: What Is It and Why Do You Need It?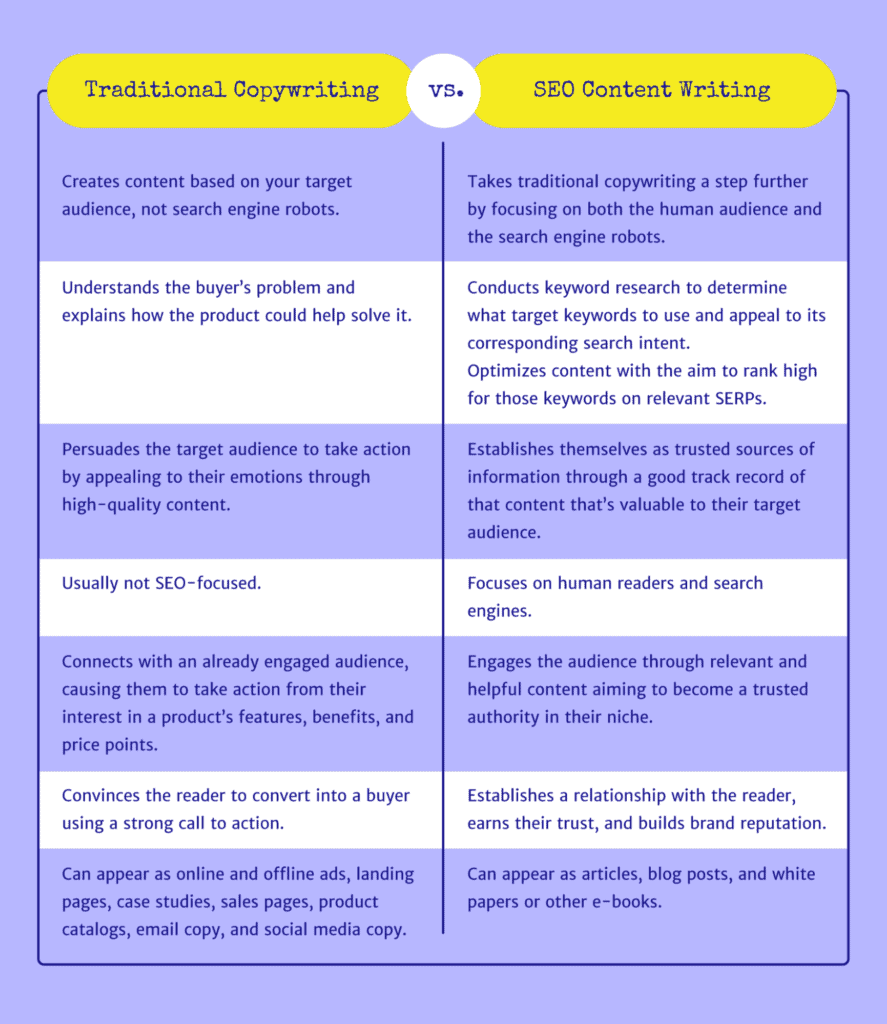 With traditional copywriting, you write content solely based on your target audience, not search engine robots. You want to appeal to your readers' emotions and compel them to convert.
Traditional copywriting addresses the buyer's problem and explains how a company's solution could help. So, a traditional copywriter persuades their target audience by appealing to their emotions through content.
Traditional copywriting must strike a chord with the target audience so they feel the urge to take action.
It's worth mentioning that this "action" might not always be to buy something. It could involve a micro-conversion, such as:
For example, take this Dove ad urging parents and teens to join the Dove Self-Esteem Project and get rid of toxic beauty messaging from their social media feeds.
It's a great message, but you might wonder what the brand gains from this. By creating a brand identity associated with body positivity and self-acceptance, Dove stands out from other beauty brands that bank on women's insecurities to sell their products.

Dove's target audience relates to the brand's message that beauty comes in all shapes and sizes, and everyone is beautiful in their own way.

Even though the company isn't pushing people to buy its products, the next time a customer wants a shampoo or body lotion, they might remember how Dove's ad made them feel accepted. So, they'll be more likely to buy a bottle of Dove's product. 
Traditional copywriting differs from SEO content writing in some other ways, too.
Traditional copywriting generally isn't SEO-focused — after all, it predates the internet and search engines.
Instead of trying to be found by new customers, traditional copywriting is about connecting with your already engaged audience by highlighting a product's features, benefits, and price points. It aims to convince the reader to convert into a buyer with a strong call to action.

Traditional copywriting can appear in the form of:
On the other hand, SEO content writing takes traditional copywriting a step further by using SEO techniques with the goal of the content ranking high on relevant SERPs.
Wondering how an SEO content writer does this?
They conduct keyword research for their target keyword. Besides figuring out a keyword's search volume and difficulty, this research involves:
They then optimize their content around insights gleaned with the aim that it will attract more organic traffic to their page by ranking high on relevant SERPs.

SEO content writers also aim to establish themselves as trusted sources of information relevant to their target audience by crafting content that's valuable to them.
For example, The Blogsmith has in-depth articles on SEO and content marketing that makes it an authoritative voice in SEO content writing.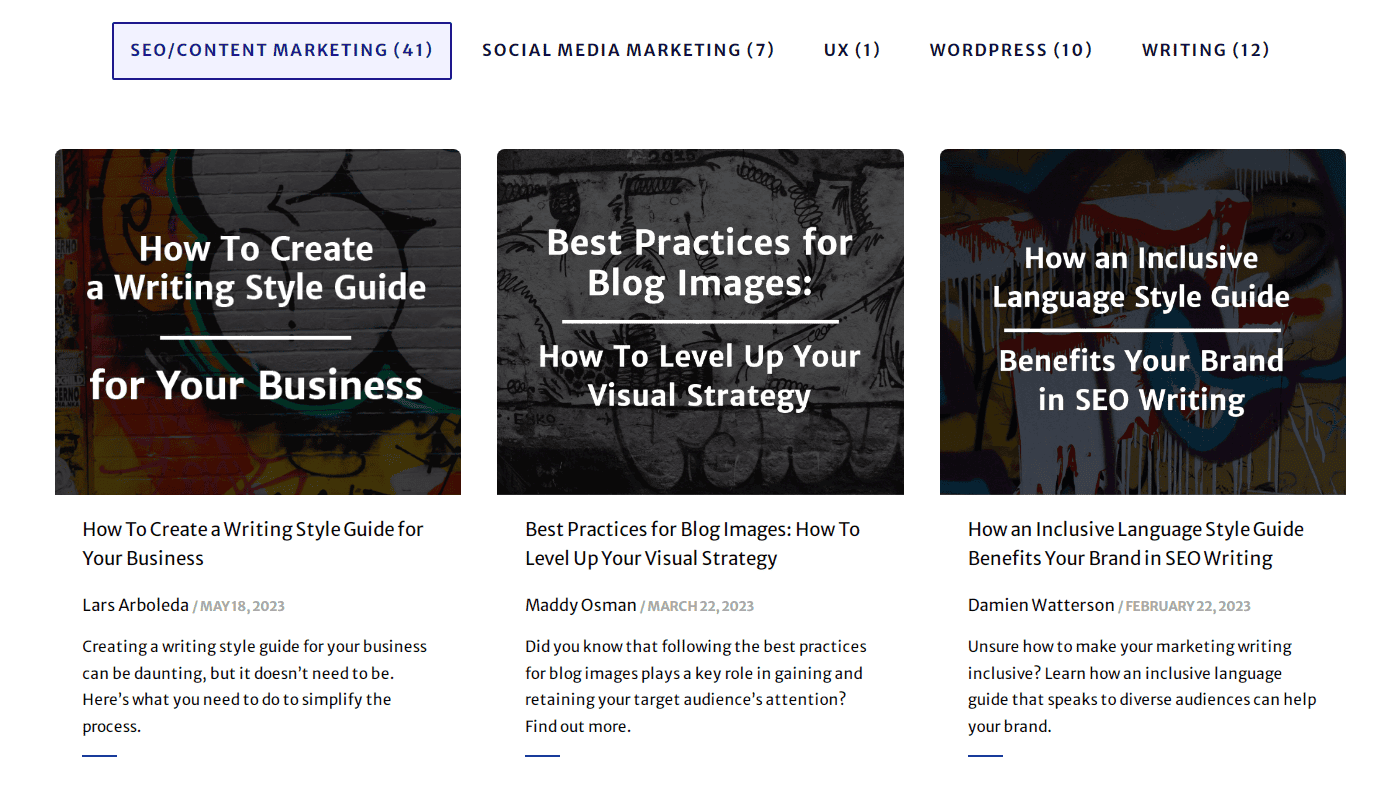 A high-quality piece of SEO content should meet Google's E-E-A-T (experience, expertise, authoritativeness, and trustworthiness) guidelines. To achieve this, SEO content writers focus on:
Following these guidelines helps SEO content writers build credibility with their audience and optimize their content for search engines.
Some of the SEO-friendly content these writers might create includes:
Some people may consider SEO content writing and traditional copywriting to be different types of writing, with SEO content writing having a reputation for being generic. But that's not how we think about it.
And while there are differences between the two, they don't have to be at odds with each other. There's a way to strike a balance, which we'll get into shortly.
Why Your Website Needs SEO-Friendly Content
An SEO content writer generally aims to inform, engage, help, and educate their target audience. Sales aren't their only goal.

Optimizing content for search helps robots find it. Robots, in turn, help search engines crawl and discover your page so they can store it in their index and then rank it in relevant SERPs. Your webpage is ranked based on multiple factors, including relevance, content quality, and expertise.
Wondering how search engine rankings impact your reach?

The number one organic search result on Google (which owns over 93% of the search engine market share at the time of writing) can result in a click-through rate (CTR) of 34.2%. Compare this to the third-ranking position, which gets a CTR of only 11.4%.

So, even on the first page of Google, the higher your content ranks, the higher your CTR.
SEO content writing intends to:
It's no surprise, then, that businesses understand the importance of SEO-friendly content, as is evident by its growing demand.
Leveraging Both Traditional Copywriting and SEO Content Writing
As noted above, traditional copywriting aims to create content that converts paid and existing traffic to leads and sales. On the other hand, SEO content writing aims to optimize content to be displayed on the first page of search engines to attract organic traffic.
SEO content writers help robots understand why a piece of content should rank high in relevant SERPs. Optimizing content is a skillful balance between writing for humans and writing for search engines.
Humans are the ultimate buyers of whatever you're selling, and they respond to both emotions and facts. In contrast, search engines connect human searchers with your content and respond to descriptiveness and search intent matching.
However, in many situations, traditional copywriting alone can achieve content goals without SEO. This can be done through content such as:
Both types of copywriting aim to create information-rich, fluff-free, and engaging content that benefits target searchers. Working together, traditional copywriting speaks to your audience, and SEO content writing acts as a delivery system.
Whether it's sales-focused or SEO-driven, the goals of content can be to:
In most cases, SEO content writing can help traditional copy drive a target audience to the webpage. To do that, traditional copywriters need a basic understanding of SEO.
Writing Content That Ranks High for Relevant Search Queries
If you're looking to get started with SEO content writing, here are some of the most important SEO techniques to help your content rank high in relevant search queries.
People use keywords and phrases when searching for information online. Researching keywords can provide clues into what search terms your target audience uses to find your products, services, or information.
This research can help your content strategy. You can now craft content that's optimized for the keywords your audience is searching for.
Using the right keywords can improve your chances of ranking higher in relevant SERPs, which can increase your website traffic — and ultimately convert to sales.
If your target keyword seems too hard to rank for, you can use long-tail keywords instead.
Long-tail keywords are longer, more specific search phrases people use to find something online. Usually, they contain three or more words and relate to a specific niche.
For example, instead of searching for "remote work," a long-tail keyword might be "is remote work good for you?"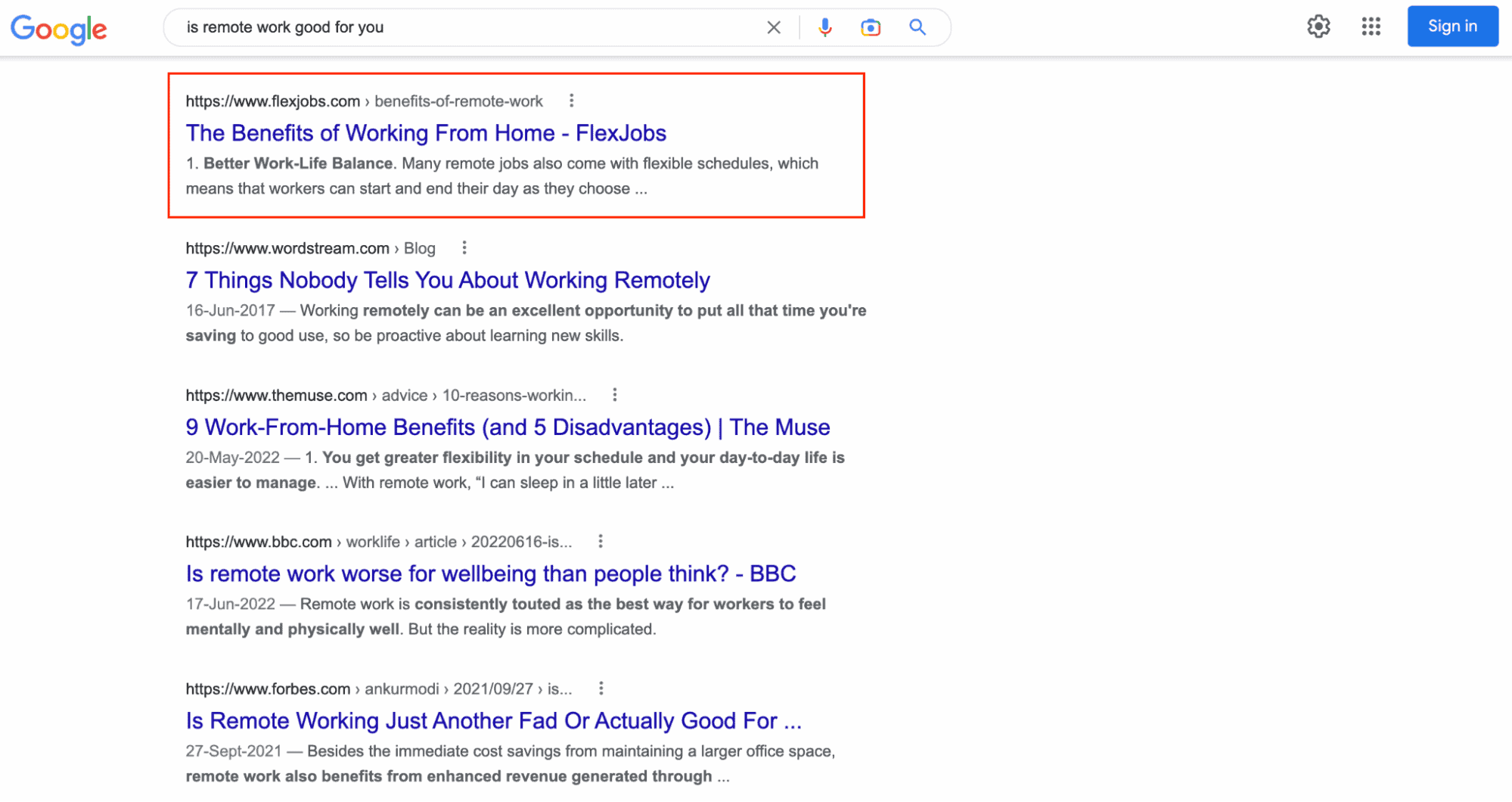 Because long-tail keywords are more specific and targeted, they're usually easier to rank for. They have less competition than shorter, more general keywords.
If you need help with keyword research, The Blogsmith can help. Consider reading an overview of our keyword research service and getting in touch with us.  
Useful, Relevant, and Different Types of Content
The piece of content you craft has to offer unique insights and information. If there are other webpages with highly similar content, then it's unlikely either robots or humans will consider yours helpful enough to be ranked or read over what already exists.
A great way to hold the reader's attention is to meet search intent and the different stages of the buyer's journey. That way, you can develop unique content that appeals to their needs or pain points.
Consider Google's Helpful Content Update
Google continues to evolve according to changing user demands and market trends. Its algorithm updates are helpful for understanding the types of content the search engine favors.
For example, the 2022 helpful content update stressed that Google Search will reward content written with human readers in mind — while still optimizing for search results.
Google suggested that these elements make for helpful content:
In other words, keyword-heavy, non-helpful content written to gain the favor of search engine robots will be penalized.
On-Page SEO and Keyword Optimization
On-page SEO means optimizing your webpages to rank high on relevant SERPs and gain organic traffic to your website. Besides consistently publishing top-notch content, it's a good idea to follow an on-page SEO checklist.
As a best practice, you should use your primary keyword in your:
Note that page titles can make or break your article. Some marketing experts even claim you should spend half your writing time focusing on them.
You can analyze your headers' effectiveness using a headline analyzer tool, such as CoSchedule's Headline Analyzer.
Subheadings help make your text more organized and readable while breaking up large blocks of text for easy skimming.
SEO content writers used to stuff keywords into meta descriptions to rank high on SERPs, but Google has clarified that meta descriptions aren't a ranking factor. Still, SEO content writers generally use their target keyword in meta descriptions to associate the page with a term a searcher might use.
Meta descriptions are also important as they serve as a summary of your article featured on the SERPs. This is one of the most effective ways to convey your content's relevance and importance to humans and robots.
Linking internally to other relevant content can help both humans and search engines navigate your website. Internal links can also keep users on your website, building their trust and chances of conversion if you continually link to high-quality, helpful content.
Be sure to use descriptive anchor text and only include links that are relevant and beneficial to the user experience.
Note the above points aren't an exhaustive summary of SEO techniques. There's a lot more to it, but consider them a good starting point.
To delve deeper into balancing the needs of people and search engines, check out The Blogsmith Founder Maddy Osman's book, Writing for Humans and Robots: The New Rules of Content Style.
Final Thoughts: How SEO Content Writing Differs From Traditional Copywriting
Both traditional copywriting and SEO content writing are important in their own ways. You need a combination of both as a part of your content strategy to convert more readers and establish authority in relevant SERPs.
In some cases, it might be better to rely solely on traditional copywriting instead of forcing keywords to fit in an unsuitable style of content and using discouraged SEO practices.
We understand creating a stream of consistent content for your brand is a time-consuming and complex process.
Here's the good news:
The Blogsmith's team of experienced SEO content writers can help with your content strategy.
If you want to see your content rank higher on relevant SERPs, attract more searchers, and improve conversion rates, then contact The Blogsmith's SEO and content marketing services today.