At The Blogsmith, though much of our focus revolves around understanding robots  —  it's humanity that ultimately drives us. We're also committed to making the world a better place for everyone. One way we do this is by giving back time and money to organizations impacting causes we support.
As we've grown over the years, we've seen our work positively impact our clients, their customers, our staff, and stakeholders.
Growing into an impact-driven company has inspired us to ask:
What more can we do outside our immediate circle of influence?
What are good causes for us to support?
As an answer to these questions, The Blogsmith giving mission started in 2021 with $10,032 in donations. And in 2022, we increased our monthly donations goal to at least $1,000 every month to causes that align with our values.
Here's the story of how we chose to make a difference in 2022.
The Causes We Supported in 2022
We also offer opportunities for our friends, families, and stakeholders to weigh in on causes they are passionate about, with occasional monthly themes to guide our activities.
Causes we supported included: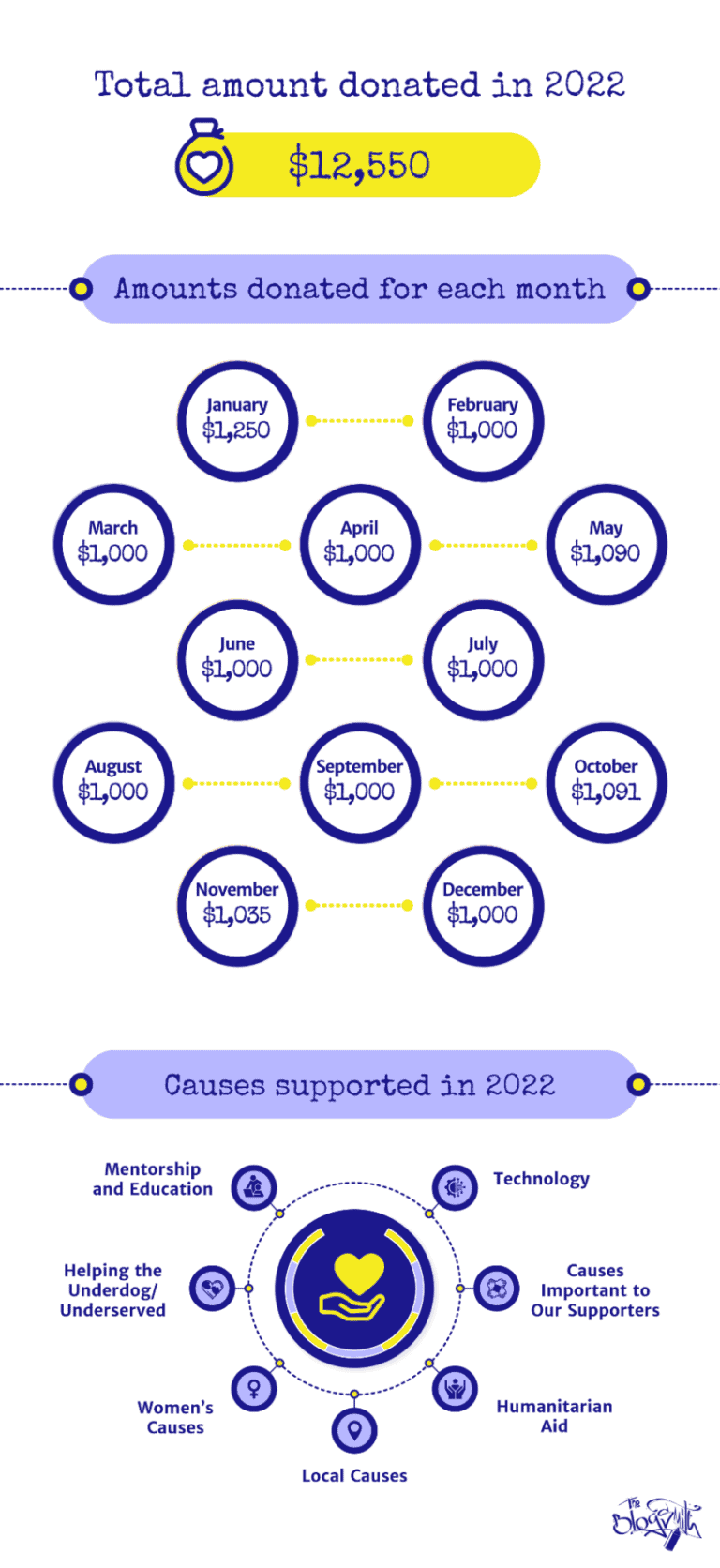 Many of our team members have benefitted from mentorship and education opportunities, and we want to create these opportunities for others. In fact, The Blogsmith Founder Maddy Osman quit her day job and started The Blogsmith because of a mentor who encouraged her to try freelancing.
A past example is the Freelance Success Grant, which provides money, training, and mentorship to a winning pitch. We also have a continuing education program that encourages team members to level up by paying them for hours spent learning new things about our industry and sharing takeaways with the team.
Some organizations we supported in 2022 with this focus include Far Away Friends, The Malala Fund, American Library Association, and The Acceleration Project.
Helping the Underdog/Underserved
We understand that not everyone has access to the same opportunities in life, either because of their backgrounds, race, disabilities, or any number of other factors. We've chosen to support organizations actively working to level the playing field.
These organizations include Unbound, which provide financial assistance and other opportunities to disadvantaged communities worldwide. Others include The Kirstie Ennis Foundation, Fight to End Homelessness, and Off The Street Club Fundraiser.
Change really does begin at home, and we never want to overlook local opportunities to make a difference. However, while The Blogsmith is based in Colorado, we have team members working remotely across the world. As part of our commitment to our team, we also support causes that are local to our staff members.
Some of the locally active organizations we donated to are:
Causes Important to Our Supporters
Our friends, families, and loved ones are important to us. That's why we choose to make causes they support, the causes we support. These include charities, healthcare initiatives, and passion projects that are dear to the hearts of those that support us.
Personal connections and stories of turning tragedy into catalysts for good drive us. Family Reach is a shining example of this principle, with close ties to The Blogsmith Founder Maddy Osman. Maddy's cousin Kristine Morello-Wiatrak died from a rare cancer only months after her wedding. Founded by the Colangelo and Morello families to help the millions of families facing cancer battles pay for their basic needs, Family Reach works tirelessly to keep families from going hungry or being evicted from their homes.
Here are a few of the causes we supported on behalf of our own community and supporters:
The Blogsmith creates content primarily for online use. And many of our clients are technology companies.
Helping strengthen the opportunities for technology and STEM education and growth is vital to us as a company in this industry. Our contributions to the tech ecosystem have focused on open source, WordPress, and STEM (science, technology, engineering, and mathematics) education.
We've sponsored WordCamp Birmingham 2023 and WordPress Accessibility Day 2022 as part of our support for this cause in 2022.
Final Thoughts: Blogsmith Giving Mission and Impact in 2022

The Blogsmith donated $12,550 in 2022, impacting over 35 charities and organizations worldwide. That's a total of $23,445 since we started our giving mission, and we're just getting started.
The causes we support help us understand our role in creating a better world is not just to take but to give back as much as possible.
Hopefully, our story and actions inspire you to consider supporting a cause important to you, and maybe even gave you some ideas for new groups to support. It's always about being the change you want to see, and The Blogsmith takes that to heart.
We've shared links to the various organizations and causes we support, and you can also check out our donation tracker to see our progress throughout this year and years past.