Picture finding multiple emails from mailing lists you didn't sign up for in your inbox.
Imagine opening your messaging apps — or hearing the constant pinging of notifications signaling everything that demands your attention.
Think of the fake news that quickly spread on social media.
Doesn't that all sound exhausting? No wonder content fatigue is a thing.
With too much fake news and content competing for everyone's attention, how can marketing teams keep content helpful and engaging?
The answer is simple: creating novel and trustworthy content involving subject matter experts.
Defining Subject Matter Experts
Subject matter experts (SMEs) are experienced individuals with a deep understanding of a particular subject. Businesses seek them out to solve specific problems and challenges and provide a unique insight into an industry.
Their expertise usually comes from:
You can find subject matter experts in various industries: marketing, sales, WordPress and web development, IT, software, customer service, and e-commerce, to name a few.
Importance of Subject Matter Experts
Whether by brainstorming content ideas, adding unique insights and perspectives, or helping promote your content to their network, subject matter experts can contribute to your content efforts.
With the help of SMEs, you can:
1. Create High-Quality Content
Author and marketing consultant Mark Schaefer coined the term 'content shock' to describe how content creation outpaces its demand.
With so many content distribution channels today, anyone can be a content creator  —  but most of what is produced isn't useful, helpful, or interesting. After all, anyone can just rehash articles on the internet without verifying information or adding a unique take.
That's where subject matter experts come in.
SMEs take your content to a whole different level because they're sharing from firsthand experience and not conjecture. SMEs boast extensive experience in their respective fields, and having a quote or interview from them adds authority to the content, making it stand out.
Additionally, by interviewing SMEs, you'll learn about the industry's trends and challenges, which can give you more content ideas.
With Google updates such as Page Experience and Core Web Vitals, the Content Marketing Institute sees an increasing demand for content trustworthiness, quality, and relevance in 2022.
As industry experts, SMEs provide reliability and authority when discussing specific topics. Some would even argue that using an SME improves your Google EAT score (a website's expertise, authority, and trustworthiness).
Google uses the EAT score to signal high-quality pages and determine whether the content is valuable to a reader. The EAT score is incorporated into their Quality Rater Guidelines and is part of their algorithm (but not a ranking factor).
According to Google's EAT guidelines, great content should:
Having subject matter experts brings detail and depth to your content while also contributing a different trust and gravitas to your target audience.
The 2020 Edelman's Trust Barometer report revealed that more than half of respondents worried about whether the media they consumed contained untrustworthy information. It also showed subject matter experts were the most highly regarded on Edelman's scale of trusted resources.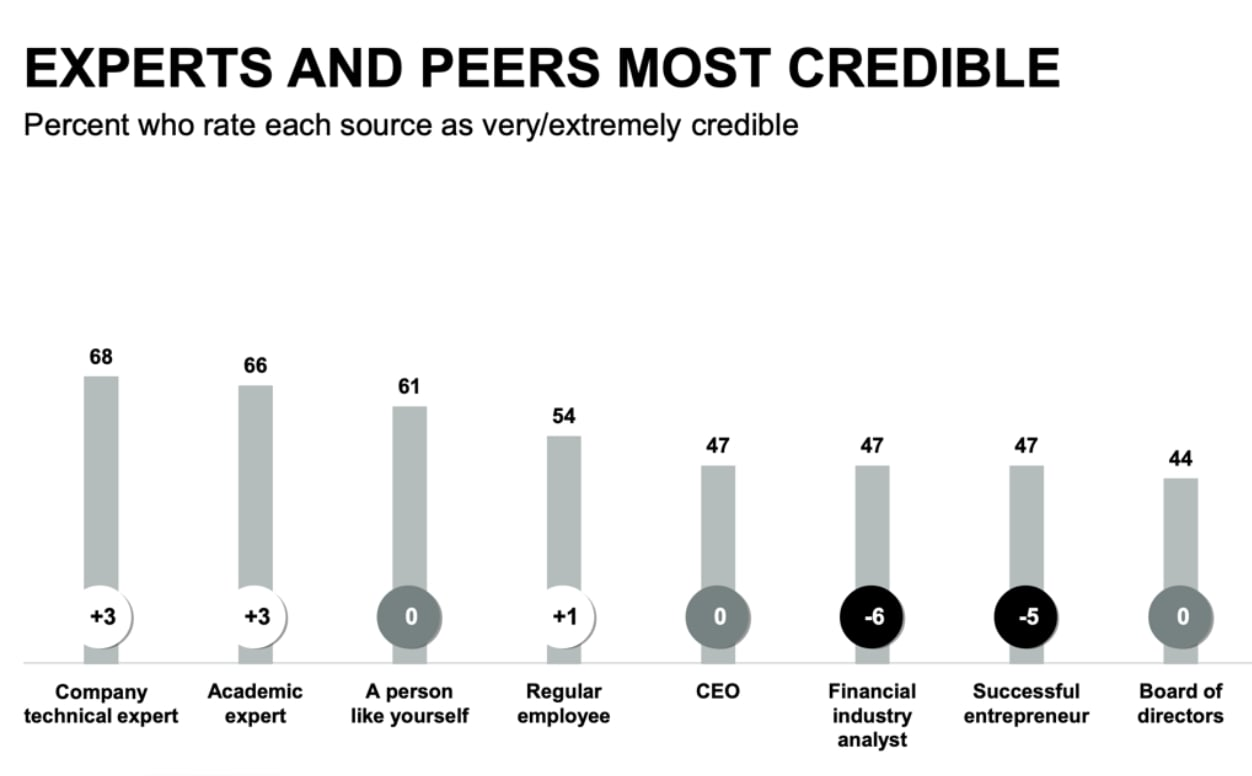 A fringe benefit of interviewing subject matter experts is having the potential to access their network.
SMEs often have an audience interested in the topics of their subject matter expertise and are happy to share content that makes them look good.
When you put in a request to work with an SME, you can ask them to promote your content once it's live.
Here's an example of a non-pushy way you can ask subject matter experts to share your content:

How To Avail Subject Matter Expert Insights
There are many ways to incorporate subject matter experts in your marketing strategy. Here are a few:
1. Involve Them in Your Content Strategy
Incorporate SMEs insights as you plan your content strategy for the incoming year.
SMEs know your industry like the back of their hand, so their insights and knowledge of recent trends elevate your content by giving your readers access to thorough and updated information.
Whether you ask them to be a guest on a podcast or webinar, interviewing subject matter experts improves the learning experience and boosts engagement. Moreover, interview content is easy to repurpose into videos, blogs, and social media posts.
For example, Maddy  has been a contributor to a few podcasts:
3. Ask Them To Write a Guest Post
You can also ask experts to write a guest post for your blog. You'll likely have to pay them for it, but the insights, credibility, and possible traffic you'll gain in return are worth it.
Since subject matter experts are often busy, you can also offer them the option to work with a ghostwriter to produce content.
Maddy sometimes contributes to the Search Engine Journal blog. She doesn't get paid for it, but it has helped her establish expertise in WordPress and the B2B SaaS technology niche, and she's also gotten a few leads for her business from people who have found her there.
4. Get a Quote for Your E-Book or Blog Post
Subject matter experts elevate the average blog post by lending their expertise and credibility on popular topics. Differentiate your content from others by offering different perspectives from industry insiders.
The Blogsmith regularly reaches out to subject matter experts for quotes, whether for e-books or blog posts. A recent project we worked on was an e-book for iPullRank:
Best Practices for Using the Knowledge of Subject Matter Experts
Now that you know the importance of subject matter experts and how they can help you, how do you get them on board?
Here are some tips you can apply before, during, and after reaching out to SMEs.
Before Contacting the SME
Preparation makes working with an SME easier. Before you or your team members reach out, I recommend you:
Know What You're Looking For
Subject matter experts vary greatly in online presence and availability. Some SMEs like Simon Sinek have large followings and are influencers in their space, but less visible SMEs can also have the in-depth knowledge to provide insights.
There are different types of SMEs. When looking for one to work with, narrow down your search to find the best fit. Here are some criteria to consider:
Internal vs. external: Do you want someone inside or outside your organization? It's easier to work with internal SMEs because you don't need to explain the company background. You also reinforce that your company is an expert at what it does. On the flip side, readers might feel like your views and opinions are biased. External experts appear more credible because they aren't biased, but looking for one that fits takes more time.
Active vs. passive: Do you want the SMEs to actively participate in the content creation process (i.e., write an article or be an interviewee), or do you want high-level support (i.e., reviewing ideas and providing general guidance)?
Large vs. small following: What are your content goals? If you prioritize distribution and the prestige of an SME's branding and popularity, you should absolutely get a thought leader. Remember that they're likely to charge more because they have an established following. Also, they're busy, so be prepared to book months in advance.

In contrast, if you're after expertise and on a tight deadline, finding an accessible expert might suit you better.

Place of origin: The internet has made the world a smaller place. You can reach out and connect with experts and influencers from different countries.

That said, are you looking for market-specific insights or topic-focused insights? If you're looking for insights involving a specific market or audience behavior, you should get an SME who knows that area well. After all, why would you get someone from the U.S. if you're creating content for an African market?

If you're asking a question about a shared human experience, you can welcome insights from industry experts worldwide.
Once you've identified the kind of subject matter experts you need, you can start searching. Here are some tips and places to find them:
Google: A quick Google search of "[X industry] subject matter expert" will yield tons of results.
Social Media: Everyone has their own professional brands. For B2B brands, LinkedIn and Twitter are a good start. For B2C brands (and younger audiences), you're bound to find someone on Instagram or TikTok.
You can also ask your network for recommendations like Tina did below:
Hey everyone! I'm currently looking for content experts who have led a blogging strategy for a DTC brand.

I'm writing an article and would love to share your expertise!

— Tina Donati (@Tina_Donati) March 1, 2022
Online communities: You can ask people on Reddit, Quora, or Slack communities if they can recommend anyone based on your criteria.
Competitor websites: Spy on the competition to see if they featured or consulted anyone recently.
Professional organizations: Professional associations and organizations can help you find SMEs for content. Many of them also have local chapters you can contact for a quote. Examples of professional organizations are the American Marketing Association (AMA), Social Media Association (SMA), or local WordPress organizations like WordPress Denver.
Online tools: Tools like Help a Reporter Out (HARO), Qwoted, and Help a B2B Writer are great resources where writers and journalists alike ask questions and experts respond. Note: There are a lot of spam and canned responses on HARO, so it's also good to do a little online digging to check the responder's background.
Create a Database for Future Use
The Blogsmith keeps a database of trusted sources.
We started making a list of websites, but we also saw the value of including subject matter experts we worked with to make the search and outreach process easier. We record personal data such as:
That way, we don't have to repeat the process of looking for SMEs; we can just consult the database.
TL;DR: Before reaching out to SMEs, remember:
When Reaching Out to the SME
Now that you've got a few subject matter experts in mind, it's time to ask for their help.
Reaching out to subject matter experts isn't a smooth process. You may run into possible hurdles, such as SMEs being too busy, unresponsive, or disinterested. So how do you get them to work with you?
When doing your email outreach, be sure to include these in your message:
TL;DR: When reaching out to SMEs, remember:
After You Finished Working with the SME
The subject matter expert agreed to work with you, and you created magic. You've discussed strategy, conducted interviews, or written content. Is that where it ends?
Many people connecting with subject matter experts see the transaction as a one-time thing. Remember, your working relationship doesn't have to end when the project does. Stand out from the rest by checking in once in a while.
After letting them know when your post goes live, keep the communication going by checking in, sharing wins, asking questions, or letting them know when their work helped you out.
Build a professional relationship so it's easier to plan future collaborations with them the next time you need their services. Who knows, they might even refer your services to their network.
Final Thoughts — Writing Kick-ass Content: Importance of Subject Matter Experts
As we navigate through a world of content shock and rampant fake news, you can't deny the importance of subject matter experts in content marketing.
They add authority and credibility to your content, making it more valuable than your competitors'. Not only that, but SMEs also help improve your EAT score, making your content trustable in the eyes of Google's search engine.
There are countless ways to work with SMEs, but not everyone gets to do so. Set yourself up for success by preparing and taking the time to build a thoughtful approach to SME collaboration.
Do you want to create content involving SMEs? The Blogsmith can help you out. Get in touch today.