Are you consistently outranked on relevant Google result pages? Or, perhaps a new competitor just pulled ahead after a recent Google update?
If one of these questions rings true for your digital marketing campaigns, it's time to take charge of the situation. Take a page out of Sun Tzu's Art of War and "know your enemy."
While that might sound like a bit much, the advice worth considering is to study your competitors.
Doing a competitor analysis is a great starting point for determining how to improve your website and ranking in relevant search engine result pages (SERPs).
Looking at your competitors' websites and search engine performance helps you find weaknesses and opportunities for improvement in your own content and website.
Read on to learn how to do a competitor analysis that results in actionable takeaways.
Here's what you'll learn:
Importance of Doing a Competitor Analysis
Following Sun Tzu's logic, you need to do a competitor analysis to know your competitors and beat them. However, marketers operate on a different type of battlefield.
In digital marketing, a competitor analysis helps us learn from competitors and replicate their success.
For instance, you can do a competitor analysis to:
Find relevant keywords to optimize for: Your competition may have more resources than you. You can use their success to your advantage by examining the keywords they're ranking for and what your customers search for.
Understand how to structure your website: According to Databox's 2022 benchmark data, a B2C visitor stays on a website for 92.33 seconds on average. To make every second count, emulate the frameworks laid by your successful competitors on their webpages and landing pages.
Identify existing gaps where your company excels: The customers of your competing brand may have unmet requirements and be looking for alternatives. They could also be dissatisfied with the product or the customer service. Use the information you uncover during a competitor analysis to understand customer needs and attract them to your products or services.
Competitor Research: What To Look For
Before we dive deeper into the "how" of competitor research or analysis, let's define what we are looking for.
First, you want to learn what the competitor is doing to attract customers. For that, you need to find answers to the following questions:
What keywords are your competitors ranking for?
What specific information do they highlight on their website?
How do their websites present products or services?
What specific content do the competitors have on their homepage and features page?
What are the highlights of your competitor's pricing plans?
What complaints do customers have about the competitors?
In other words, we're trying to determine what they are doing right and wrong. With this in mind, let's focus on the how of competitor analysis.
How To Do a Competitor Analysis?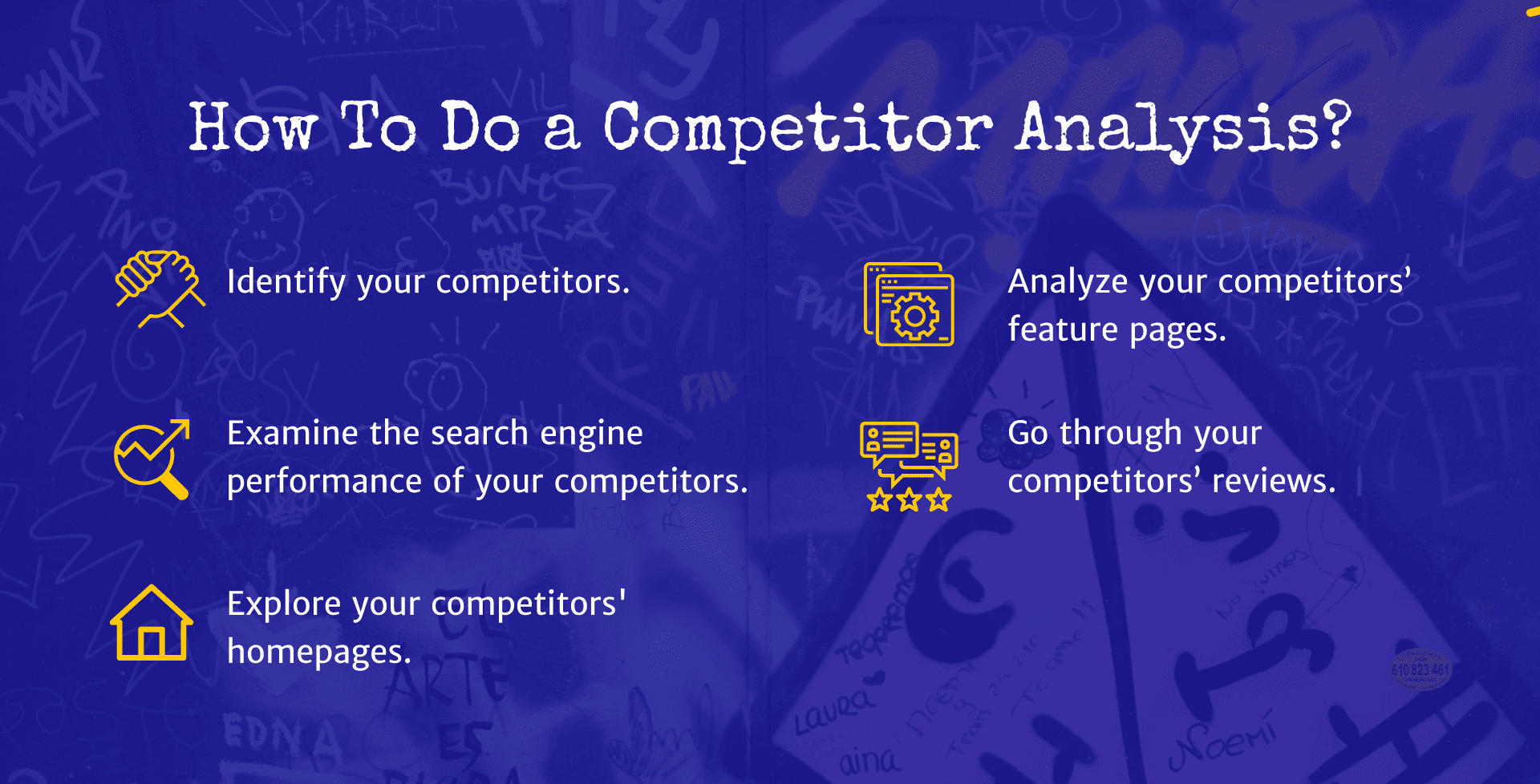 Identify your competitors.
Examine the search engine performance of your competitors
Explore your competitors' homepages.
Analyze your competitors' features pages.
Go through your competitors' reviews.
1. Identify Your Competitors
The first step in the competitor analysis process is making a list of competitors. You have two types of competitors: direct and indirect.
Direct competitors offer the same products or services as yours. And indirect competitors are businesses that have different products from yours but compete for your customer's attention with similar keywords.  
Determining your direct and indirect competitors takes work, but there are ways to make it easier. 
We ran a competitor search on Semrush for The Blogsmith, and here are the results.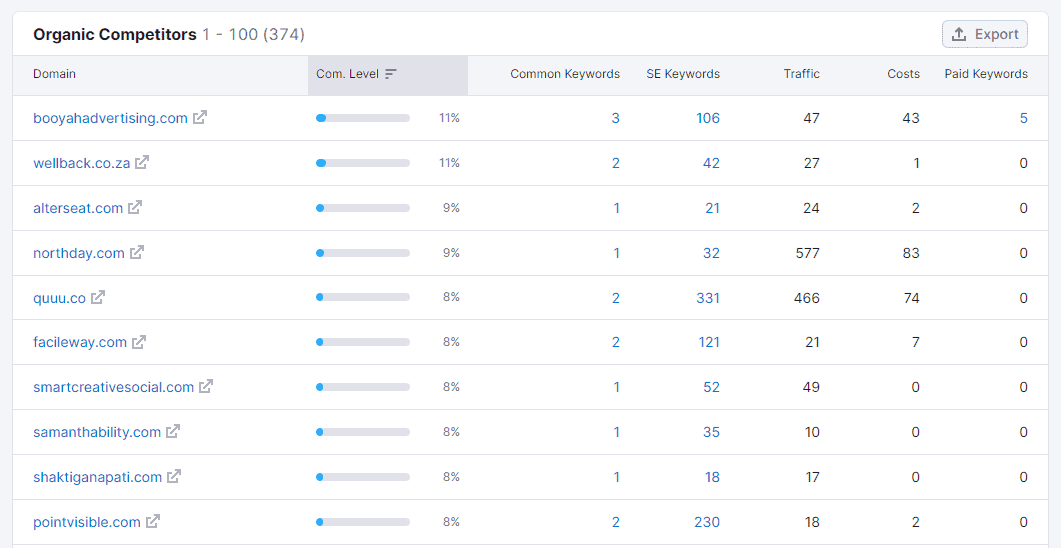 2. Examine the Search Engine Performance of Your Competitors
Optimizing your web copy for the appropriate queries is essential to ranking high on relevant SERPs and getting traffic from search engines.
Since you share a target market with your competitor, you can use their search engine marketing strategy against them to gain a competitive advantage.
To start with, see what keywords they are optimizing for. You have an opportunity to rank for these keywords if you optimize your website and blog for those keywords. The chance to outrank your competitor is higher if your website has a higher domain authority. If not, at minimum, you can use this information for keyword inspiration.
SEO tools like Ahrefs and Semrush can help identify the specific keywords your competition is ranking for. All you need to do is enter a competitor's website URL, and these tools will do the rest.
You may cherry-pick the keywords most relevant to your business and incorporate them into your webpages and articles.
Google updates its search engine algorithms often, and websites that consistently top the search engine results pages (SERPs) adjust their SEO strategy to address the changes. A significant algorithm change represents an excellent opportunity to reevaluate your competitor's keywords and SEO strategy. 
3. Explore Your Competitors' Homepages
Your homepage is often a prospective customer's first impression of your business, especially for e-commerce and subscription-based companies. However, startups and small businesses often struggle to create a compelling homepage.
Here are a few challenges you might face:
Highlighting your unique selling point (USP) in an engaging manner
Keeping the homepage clutter-free while providing all the relevant information
Optimizing the homepage content for search engines
Since you often share target demographics with competitors, you can use their successful ideas as inspiration to create a competitive advantage.
Observe each element of your competitors' homepages:
Homepage title and subheading
Navigation features like the horizontal navigation bar and drop-down menus
Highlighted products or subscription plans
Images, like the logo, hero image, product images/videos, and infographics.
Elements in the header and footer
Make a note of what might interest your target audience and try to use it as an inspiration for your own business website. For example, if your competitors use social proof, influencer videos, and video demos, adding similar items might lend credibility to your brand.
Last but not least, identify their value proposition — see how they've used their homepages and feature pages to describe their products or services. It can help you determine how to position your offerings better. 
4. Analyze Your Competitors' Features Pages
Be it a pair of sneakers or a productivity tool subscription, customers research and compare solutions before investing in something. They will compare features, product pricing, and subscription plans.
Part of this will likely involve heading to the features pages — which help steer the buying journey. How you highlight the unique features of your product or service can either lead the visitor to the checkout page or make them exit the website.
If you're looking for ways to improve conversions, you can take inspiration from successful competitors by checking out their features pages and observing:
What product features they highlight.
What they include in their subscription plans. Do they have a freemium plan?
If price is highlighted or if product features are given more space.
What words competitors use to describe their products or services.
Elements like demo videos, influencer endorsements, and reviews on the page.
Common points on the competitors' websites that indicate a new industry trend.
5. Go Through Your Competitors' Reviews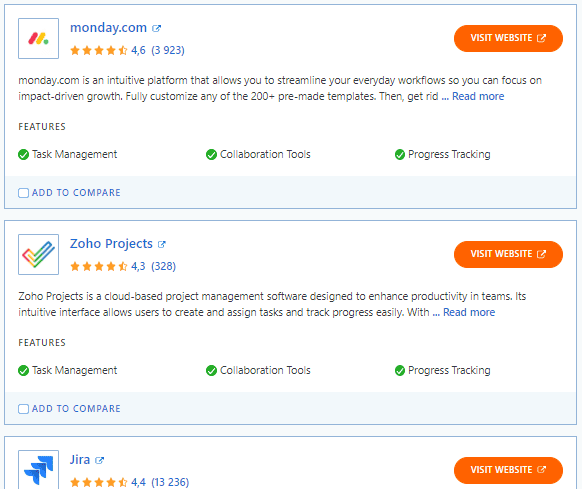 Examining competitors' customer reviews lets you know what customers like and what their pain points are. You can sample reviews from Google and Facebook reviews, review compilation sites like Trustpilot, and industry-specific websites, like Capterra and G2 for SaaS businesses.
Let's explore what you can derive from your competitor's reviews.
Five-Star Reviews
Customers who are super happy with a brand often leave five-star reviews. These reviews will tell you what customers love about your competitors.
While doing competitor research, examine the five-star reviews and note down the aspects and features customers value, and determine if you are providing similar services.
Three- and Four-Star Reviews
People often leave three and four-star reviews when they are generally happy with a product or service, but they see room for improvement in certain areas. So, three- and four-star reviews are a good way to understand the minor pain points and needs of your target audience.
One- and Two-Star Reviews
Customers often look for new products or services when they face issues with their current product or service provider. In other words, finding where your competition messed up might help you gain new customers. To do so, check your competition's one and two-star reviews to find common customer complaints (and opportunities).
However, it's better to give low weightage to one-star reviews. While they might show obvious opportunities, they often focus more on anger than the facts, so they might skew your findings.
Get Actionable Items Out of Competitor Analysis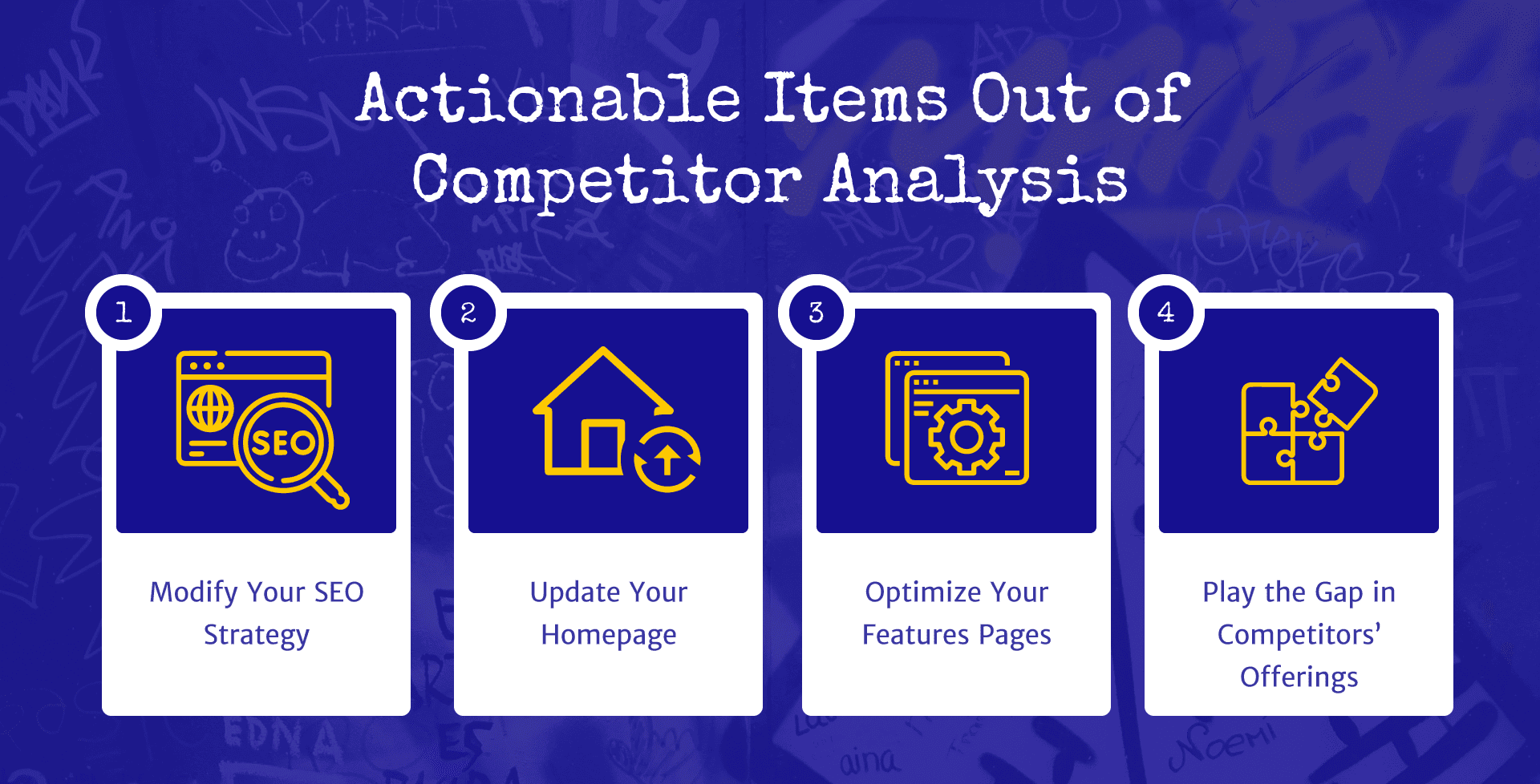 It's not enough to gather information with a competitor analysis. You need to create action items based on the competitive intelligence you've collected to justify the effort.
List major keywords and terms your competitors use on their webpages. From that list, note keywords relevant to your business. Examine your web copy and adjust it to target the same or similar keywords.
Let's say your competitor targets the keyword "free productivity tool," and you also offer a free version of your productivity tool but haven't optimized around that keyword. It's a great idea to include the "free productivity tools" keyword in your web content to attract customers who want the freemium version.
Similarly, use what you've learned about the language of your prospective customers in your content marketing through blog posts and social media messaging.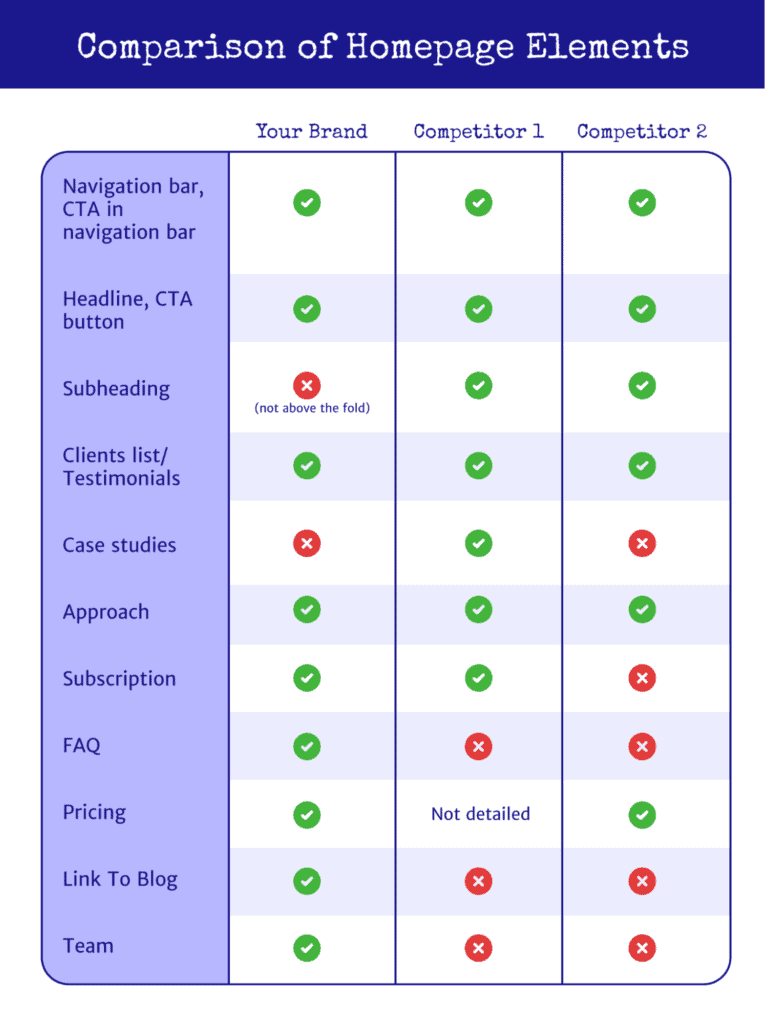 Create a comparison table highlighting the differences between competitors' homepages and your homepage. Use it as a guideline of ideas to ensure you aren't missing any crucial elements that all your competitors use.
For example, your successful competitors might have social proof or frequently asked questions on their websites. Consider adding them to your homepage, as well.
To sum it up, seeing what's working for the competition can reveal details about your customers' behavior you might have missed and give you ideas for your marketing strategy, product development, and subscription options.
Optimize Your Features Pages
Review the terms your competitors use to describe their products or services.
For instance, your SaaS competitors might use "easy onboarding" or "no hidden charges" to describe their subscription plans. Such terms help them appeal to your shared target audience.
With this in mind, it might make sense to use these or similar terms to describe your products or services. It helps customers make easy comparisons between your brand and the competitors. It could move the prospects down the sales funnel in your favor. 
Play the Gap in Competitors' Offerings
Review complaint patterns in reviews, like slow delivery or a confusing checkout process. These complaint patterns shine a spotlight on your competitor's weaknesses.
Can you solve these pain points via your product or service? If so, exploit them for a competitive advantage. Use your web copy, blog, and social media to highlight the pain points and persuade that part of the competitor's customer base to switch to you.
Final Thoughts: How To Do a Competitor Analysis To Improve Your Business
Competitor analysis is a crucial step in building a compelling website and running successful marketing campaigns. It helps you gain a competitive advantage as you get to learn from both their success and failure.
However, keeping a tab on all the competitors and learning from them can be overwhelming when you're busy steering your own ship.
If you're looking for external help with competitor analysis, The Blogsmith can help. We can help you identify your competitors and pinpoint where and what you need to improve to catch up and surpass them. Contact us today.