You've written a great blog post. But how can you ensure that people will read it?
The answer includes strong, well-written, and engaging subheadings.
Nielsen Norman Group used eye-tracking technology to find out how people read websites in several studies from 1997 to 2019. The group's data shows that most people prefer to scan web content rather than read it word by word.
Most people also bounce around a page rather than read (or scan) from top to bottom. That helps them quickly comprehend whether the post solves their problem.
Because they don't usually read in order, they may not have the context of earlier sections to help guide them. Instead, they may rely on a strong subheading to orient themselves in the blog post.
Search engine optimization (SEO) might boost your article's visibility and increase click-throughs to your blog post. But your subheadings need to continuously capture readers' attention as they skim.
Otherwise, they'll bounce back from your website — to another result on the search engine results page (SERP).
Read on to learn how to write subheadings that will bring people to your website and keep them engaged.
Why Subheadings Are Crucial
The purpose of subheadings is to help structure your content into bite-sized chunks. They help you:
Improve Readability: Subheadings break up text into small, digestible sections. Your points become easier for readers to understand.
Enhance SEO Performance: Google considers your headings and subheadings to understand what your webpage is about and help your website rank for relevant terms.
Highlight Takeaways: You can use subheadings to let the readers know what they can expect to gain from reading the text under them. This helps people benefit from your content, even if they're just skimming instead of reading from top to bottom.
How To Write Subheadings for Your Blog Post
Here are four tips for how to write subheadings to improve the experience of your human and robot visitors.
1. Grab Attention With Descriptive Subheadings
Many people start reading a piece of content with the headline and then scan the subheadings. A descriptive subheading tells them what to expect and helps them decide if they want to read on.
Your subheading should be clear and concise so readers can quickly get the information they need.
For instance, say you have a couple of paragraphs describing how to submit Form W-2. Here are subheading examples you can use:
Form W-2 Guidelines and Due Dates
How To Submit Your Paper Form W-2
How To Submit Your Form W-2 Online
These subheading examples convey what readers can expect from reading those sections.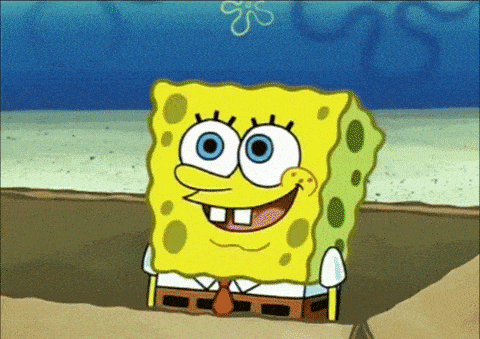 2. Use Keywords To Help With SEO Performance
Research keywords to find the right words to use in your subheadings. Using the right keywords will help with SEO — making it easier for people to find your content. 
But don't force keywords to please Google robots while neglecting your human readers. Instead, look at all the keyword options that might help your SEO and only pick the phrases that make sense to humans.
The right keywords also will make it easier for readers to skim the post.
3. Keep Your Subheadings Relevant
To write an engaging and compelling subheading, start by considering what your readers want to know.
Next, use short and relevant words to describe the paragraph's content. Ensure the subheading closely aligns with the opening sentence.
For example, let's say you're writing an article about different dog breeds. The first sentence in the section about golden retrievers says, "Golden retrievers are famously loving and gentle, making them great dogs for families with cats or young children."
Your subheading might be something like "Golden Retrievers Make Great Family Dogs."
That helps keep readers on track — and helps them understand the main points you're trying to make.
4. Use Parallel Structure in Your Subheadings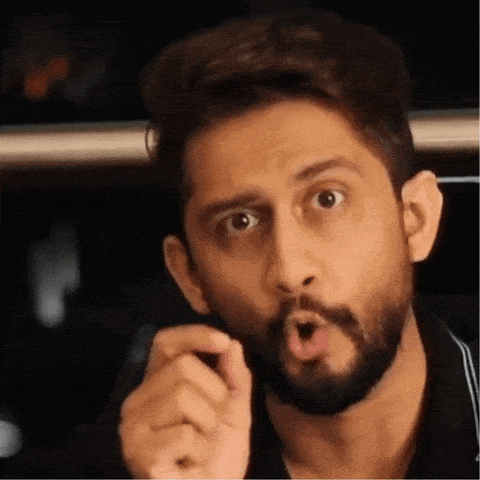 Parallel structure in your subheadings can help make the writing more organized and understandable.
A parallel structure is when you use the same pattern of words. For instance, all subheadings in this section start with an active verb: grab, use, and keep.
There are many ways to create parallel structures in your subheadings:
If the first subheading is a noun phrase, ensure all the others are noun phrases. For example, an article about early childhood might be divided by age milestones into "Your Baby's First Six Months," "Your Baby's First Year," "Your Toddler's Second Birthday," and so on.


Use words ending in -ing at the start. For example, the same article dealing with early childhood could be broken up by actions: "Rolling Over in Bed," "Crawling on the Ground," "Cruising the Countertops," "Standing With Help," and "Walking From One Place to Another."


Use the question format for each subheading. For example, "When Can My Baby Eat Solids?" "What Can I Do To Help My Baby Learn to Walk?" and "How Can I Tell if My Baby Has a Speech Delay?"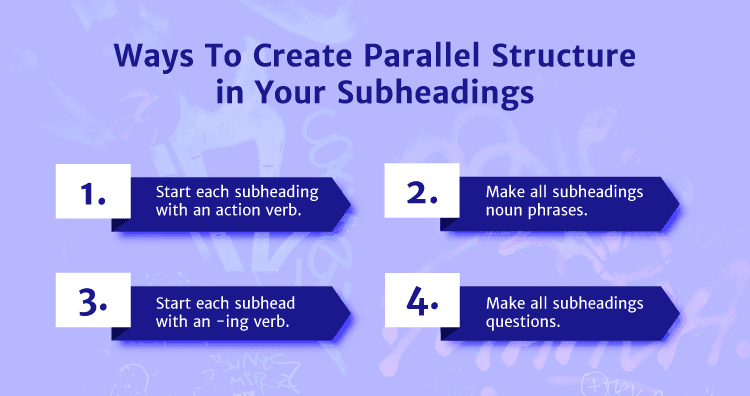 Parallel structure helps with flow. This makes your content easier to skim, which is especially important for helping readers navigate long-form blog posts.
Final Thoughts: How To Write Great Subheadings — 4 Best Practices
Subheadings are essential for both human website visitors and robot web crawlers. They help visitors understand your material quickly, even if they don't have time to read your post all the way through. They also help web crawlers understand your content, improving your SEO efforts. 
For more tips on writing for both humans and robots, check out my new book — Writing for Humans and Robots: The New Rules of Content Style.