keywords with top 10 rankings

Keywords with first position ranking
As an enterprise-level leader in the hosting services industry, Nexcess faced a tough challenge to make a splash with its blog in a highly competitive market.
That's why Nexcess partnered with The Blogsmith to help it create an enterprise-level content marketing strategy that enabled the company to scale content production, outrank its competition, and boost the brand's visibility.
Here's how The Blogsmith helped Nexcess transform its blog into a powerful marketing channel that drives thousands of organic traffic visits each month.
Not enough resources to scale content production
Lacked internal search engine optimization (SEO) expertise
Low traffic due to large number of big-name competitors
Outsource ideation and content creation to The Blogsmith
Leverage SEO research to inform editorial calendar
Incorporate editing services to improve existing assets
10+ ready-to-publish articles per month
5,600% growth in organic traffic
90+ first-position results that outrank competition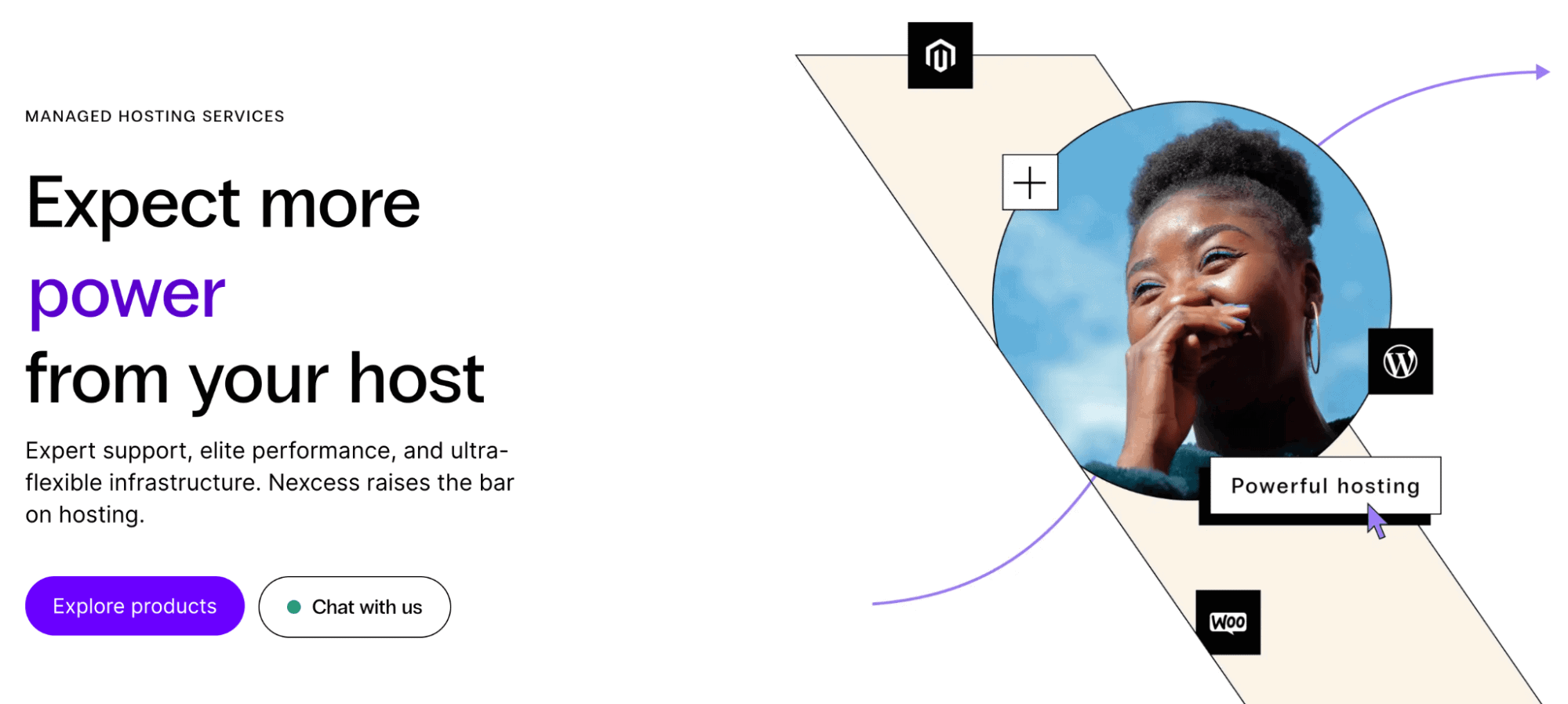 Nexcess offers fully managed hosting services for platforms like Adobe Commerce (formerly Magento), WordPress, and WooCommerce. In addition to having 23 years of experience in hosting, Nexcess has 10 global data centers that host more than 500,000 websites.
Nexcess handles the technical aspects of website and online store management so its clients can focus on other high-impact activities without worrying about their website's speed, performance, and security. It also offers industry-leading support to all its customers.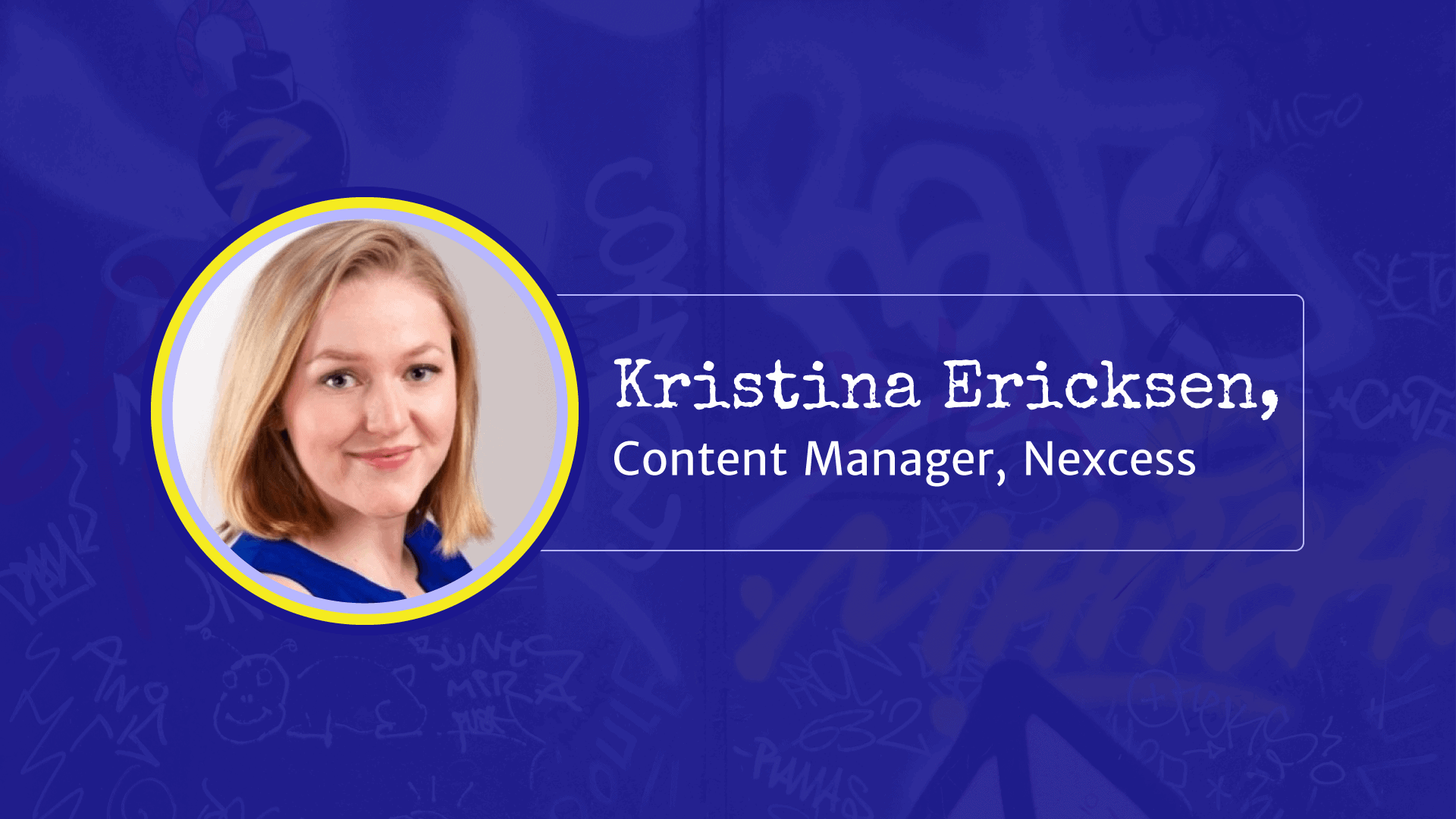 In 2021, Kristina Ericksen joined Nexcess as the brand's content manager. She oversees all content and messaging, including the Nexcess blog, knowledge base, website copy, and social media accounts.  
Playing Catch Up With the Competition
Although Nexcess had been in the hosting business for more than a decade, the company felt it was falling behind the competition in terms of content marketing. 
Some of its team had been writing and publishing articles, but the brand lacked a cohesive content marketing strategy that could compete with other hosting providers.
"We created a lot of content over the years, but it wasn't performing. Most of our content wasn't developed using best practices." Kristina described Nexcess's old content approach as "Anything goes. Anybody could write something and throw it on the website."
One of the main challenges Nexcess faced was the lack of a dedicated content department until Kristina came on board. "My goals were to optimize the content and grow our organic presence online. We struggled with that kind of branding and awareness."
In Kristina's estimate, Nexcess's blog content was a good five to 10 years behind other competitors. She quickly realized the need to create a plan and scale the company's content production.
"Ultimately, we lacked a central strategy for our content. Our efforts were very scattered. We weren't targeting SEO keywords or leveraging best practices." 
The Search for a Partner To Bring Their Enterprise Content Strategy to Life
At that time, Nexcess relied on several resources for content creation. It had an internal content creation team that focused on technical pieces for the knowledge base, and it also worked with external producers to create pieces for the blog.
As Kristina started creating and executing a competitive enterprise-level content strategy, she knew she needed external help to support scaled production and fill SEO knowledge gaps. At the same time, the company's previous experience with freelance agencies wasn't always positive. 
"We found that we often had to come to the table with the keywords and content that we wanted. After that, the results weren't as good. We weren't usually happy with the drafts we received."
Kristina needed an outsourcing solution that didn't require her to do a lot of micromanaging. She wanted a reliable partner with SEO expertise that could deliver high-quality copywriting without her oversight.
"We wanted someone to help us scale our content and close SEO gaps to improve our organic presence."
Finding the Right Partner for an Enterprise-Level Content Funnel
Shortly after she joined the Nexcess team, Kristina began working with The Blogsmith with a small contract of 1,000 words per month. It quickly became clear that it wasn't going to be like her previous experiences, where she had to do the bulk of the editorial planning and research only to receive content that didn't meet her standards.
Instead, The Blogsmith pitches all of the article topics for Nexcess and provides SEO data-driven reports that identify new content opportunities. The Blogsmith also handles other content-related SEO best practices, like formating and engaging image creation.
As for content quality, The Blogsmith team has SEO expertise and industry knowledge that enables them to take the ideas that Nexcess approves and turn them into high-quality drafts that match the brand's tone of voice and resonate with its audience.
As Kristina described it, "There's no hand-holding. [The Blogsmith] team just takes it and runs with it."
Content from The Blogsmith includes input from SEO experts, graphic designers, and editors. 
That means Kristina doesn't have to worry about all of the additional details involved in writing content that ranks in search results. Instead, The Blogsmith takes care of keyword research and placement, custom graphics, metadata, and format optimization.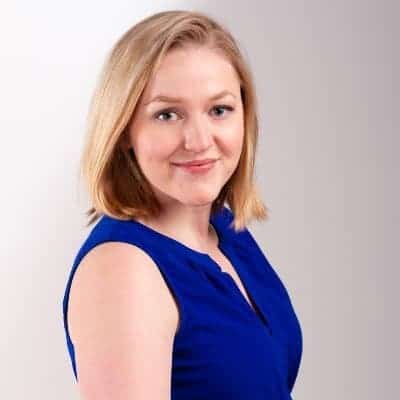 "The Blogsmith is really good at figuring out how to make content rank. They find the right keywords, put them in the right place, and it always sounds natural."
Kristina Ericksen
Content Manager, Nexcess
For Nexcess, content quality was essential, but it wasn't always simple. One of the main challenges of executing an enterprise content marketing strategy is dealing with a larger product portfolio and several buyer personas.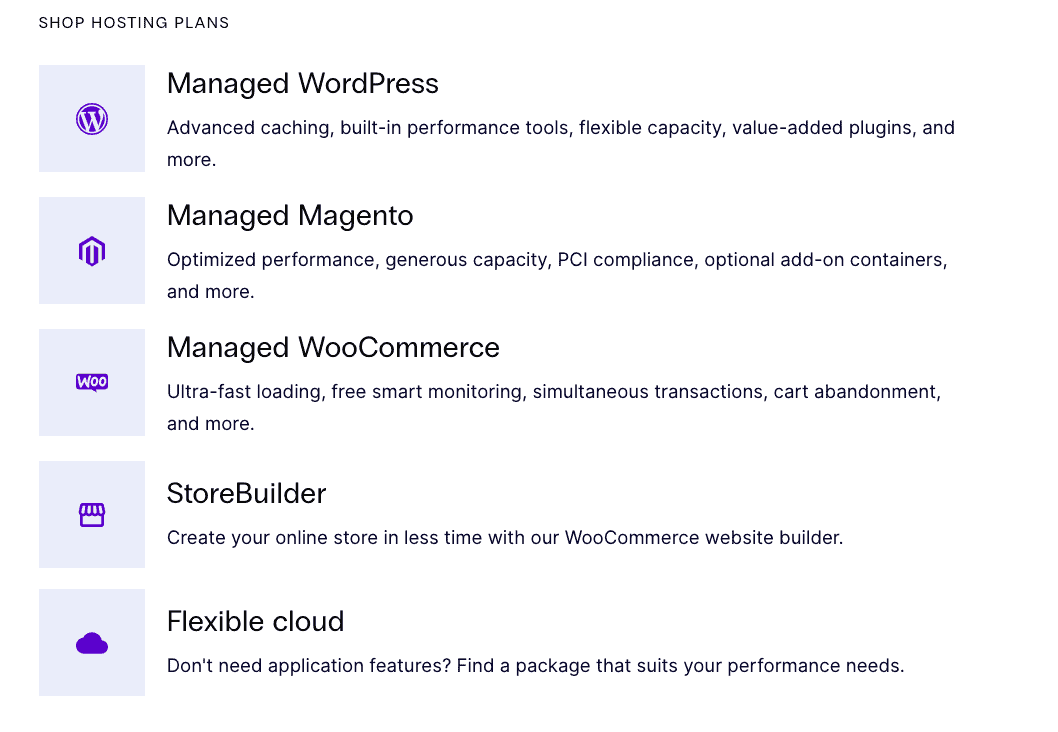 As a hosting provider, Nexcess offers several different services and caters to a variety of clients, from WordPress newbies to experienced developers, small businesses to enterprises, and entrepreneurs to large organizations. So external content producers need to know which topics and solutions match each segment of the brand's target audience.
With The Blogsmith, Kristina feels confident that the drafts she receives can address different customer pain points while highlighting the most relevant products for the given persona.  
"The Blogsmith knows our product, audience, and topics. They've got it covered." 
The Blogsmith brings an essential background in WordPress expertise from its founder, Maddy Osman. Plus, the agency's content writers also understand the different personas and work to provide effective content that appeals to readers in supportive and engaging ways. 
As a result, Kristina knows she has the right support for her enterprise content management strategy. She can rest assured knowing that content from The Blogsmith supports her entire marketing and sales funnel.
"The Blogsmith helps us balance our whole content strategy for the whole portfolio. We have a lot of personas, and now we can address all of them more effectively."
Scaled Content Production Plus SEO Best Practices Equals Tangible Growth
In addition to understanding Nexcess's business, The Blogsmith team brought with them a reliable, SEO-centric process that unlocked real growth for Nexcess's blog.
Kristina noticed a difference in content quality immediately after engaging with The Blogsmith. Specifically, she was impressed with the team's ability to seamlessly incorporate on-page SEO best practices. 
And it showed in the results. 
"Right away, it was clear that the drafts were using best practices, and within a few months, we began to see that the content was ranking and performing on search."
It wasn't long before Kristina noticed this partnership's impact on her ability to scale the blog's content. "Any given month, we have 10 solid articles from The Blogsmith, and being able to rely on that is super helpful." 
This level of reliability and support meant that Kristina could rely on The Blogsmith to generate more content for the website and increased the contract to include 23,000 words per month and new content assets.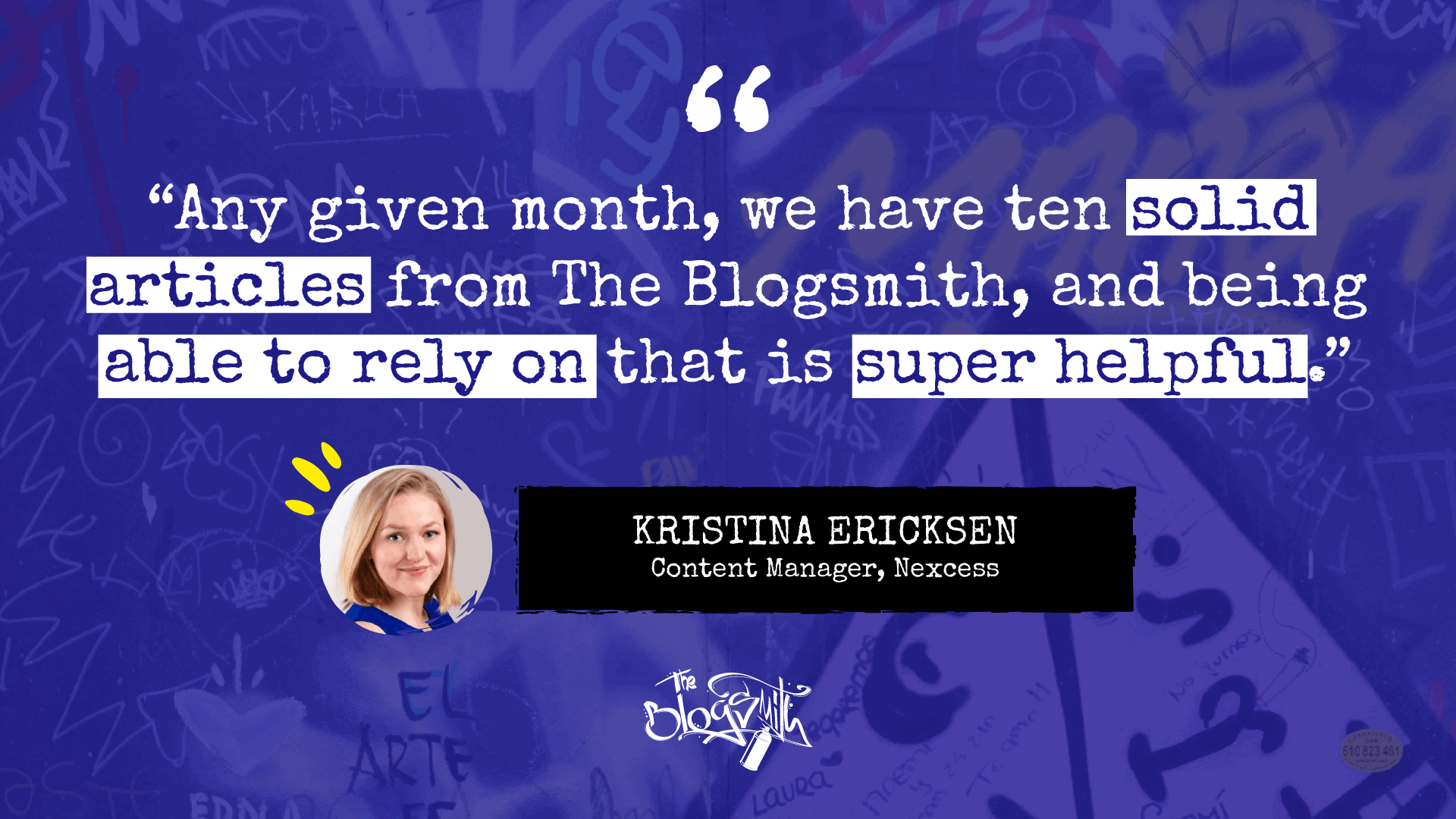 In the two years since working with The Blogsmith, Nexcess's organic presence has grown. The blog is now generating organic traffic and leads.
"We've really increased our page one keyword presence. Over time, we've reduced bounce rate. In fact, we've increased our organic traffic, the number of pages people view when they visit the website, and people are converting from the blog."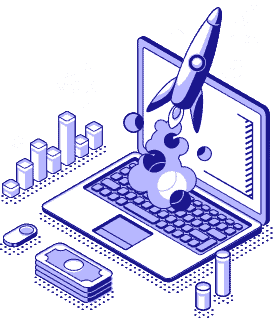 779

top 10 SERP ranking keywords

92

first ranking keywords

69

featured snippet results
Since partnering with The Blogsmith, the Nexcess blog has achieved a top 10 SERP ranking for 779 keywords, including first result ranking for 92 keywords and 69 featured snippets.
As for website traffic Nexcess's blog brought in 6,392 new visitors in 2020 before partnering with The Blogsmith. 
In the first few months of working with The Blogsmith in 2021, the blog grew exponentially to bring in 58,554 new users. 
This has helped Nexcess introduce the brand to more potential customers in an industry where competition is high.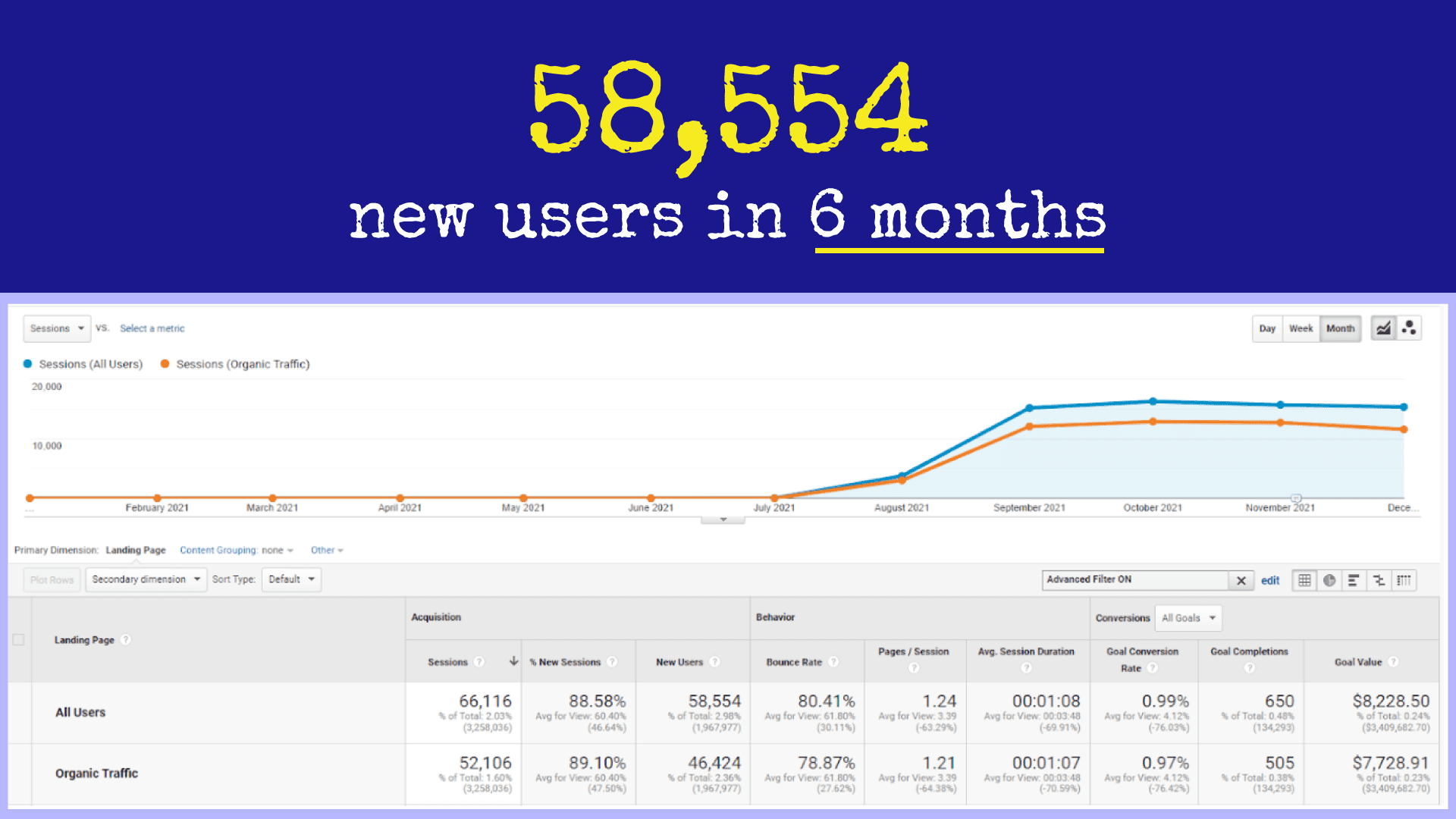 In 2022, growth skyrocketed. The Nexcess blog brought in 369,152 new users in one year.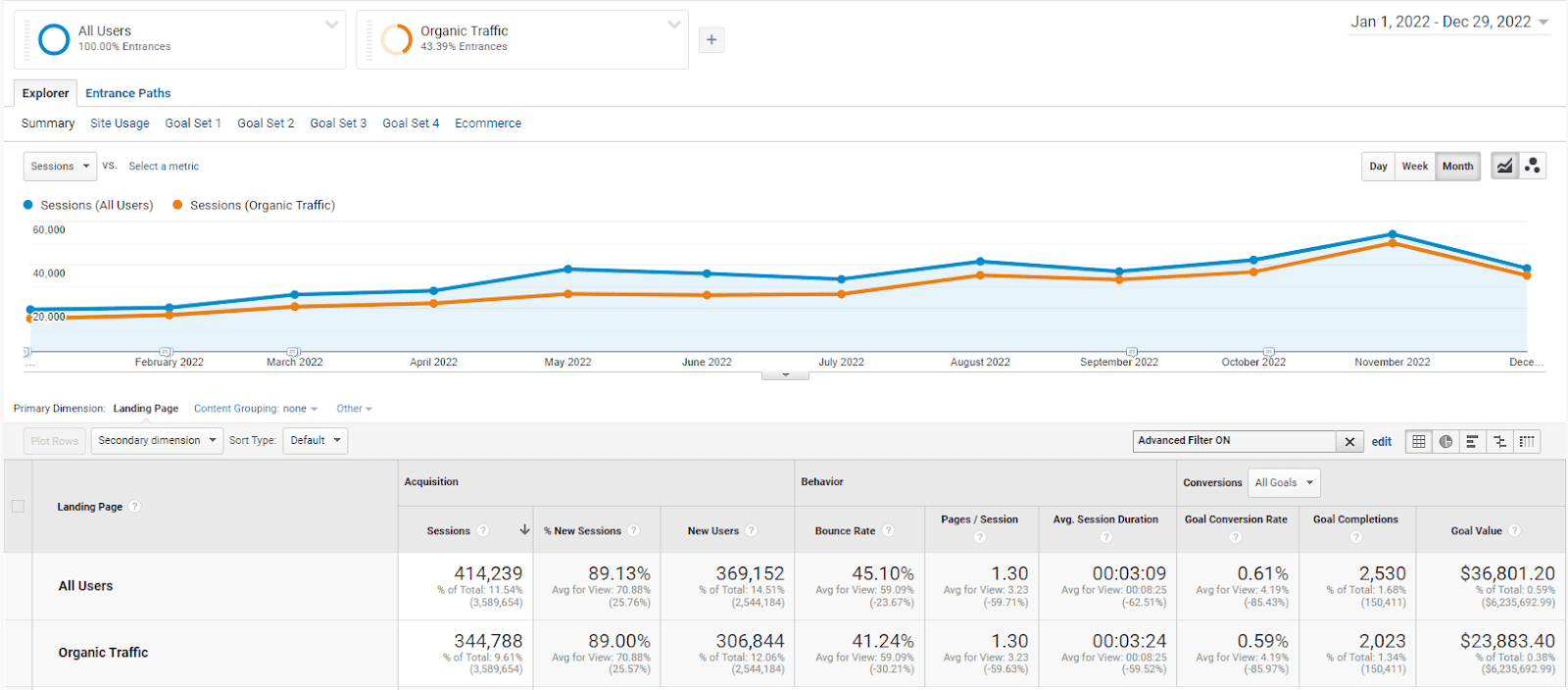 In terms of organic traffic, pieces by The Blogsmith have the highest performance on the website, generating more than 140,000 visitors in 2022.  
The top-performing piece brought in 500+ organic visitors within one month of publishing, while the second-highest-performing piece generated 400+ organic visits within three months.
By bringing more people to the website, Nexcess has increased its brand awareness and gained more growth opportunities.
"The content from The Blogsmith performs well. We're getting that visibility and organic traffic that we wanted."
With the help of The Blogsmith's SEO expertise and reliable content production, Nexcess has been able to outrank top competitors, including Shopify, Cloudways, GoDaddy, and Pantheon.
Top-performing blog posts have also contributed to increased backlinks, which helps drive brand awareness. In 2022, pieces written by The Blogsmith brought in 4,181 new backlinks. 
Kristina explained that since working with The Blogsmith, "Google is seeing Nexcess as an authority in the space. We needed that."
Driving Value Beyond Content Creation
In addition to providing reliable content creation and generating SEO results, The Blogsmith extended its services to support other areas of Nexcess's strategy. 
After transforming the blog into an effective channel for organic growth, Kristina can focus more energy on driving conversions and revenue. Again, she's able to turn to The Blogsmith for insight.
The Blogsmith provides Nexcess monthly topic suggestions based on SEO research and keyword opportunities relevant to the brand's audience.
Kristina explained that The Blogsmith has been able "to help us identify and target more mid-funnel keywords and search terms where people have higher buyer's intent."
Content refreshes are another area where The Blogsmith has been able to support Nexcess. Instead of creating new content, the agency identifies existing content to update and bring to today's SEO standard. 
This is an important practice for any company with an existing blog to take advantage of existing content, but it's essential for enterprises with blogs that might be several years old. Not only do refreshes provide current and accurate information, but they also drive new traffic to old posts. 
"The Blogsmith has been really good at identifying the best candidate for content refreshes and then going ahead and turning it around. Suddenly this blog piece from 2018 that nobody saw is performing well."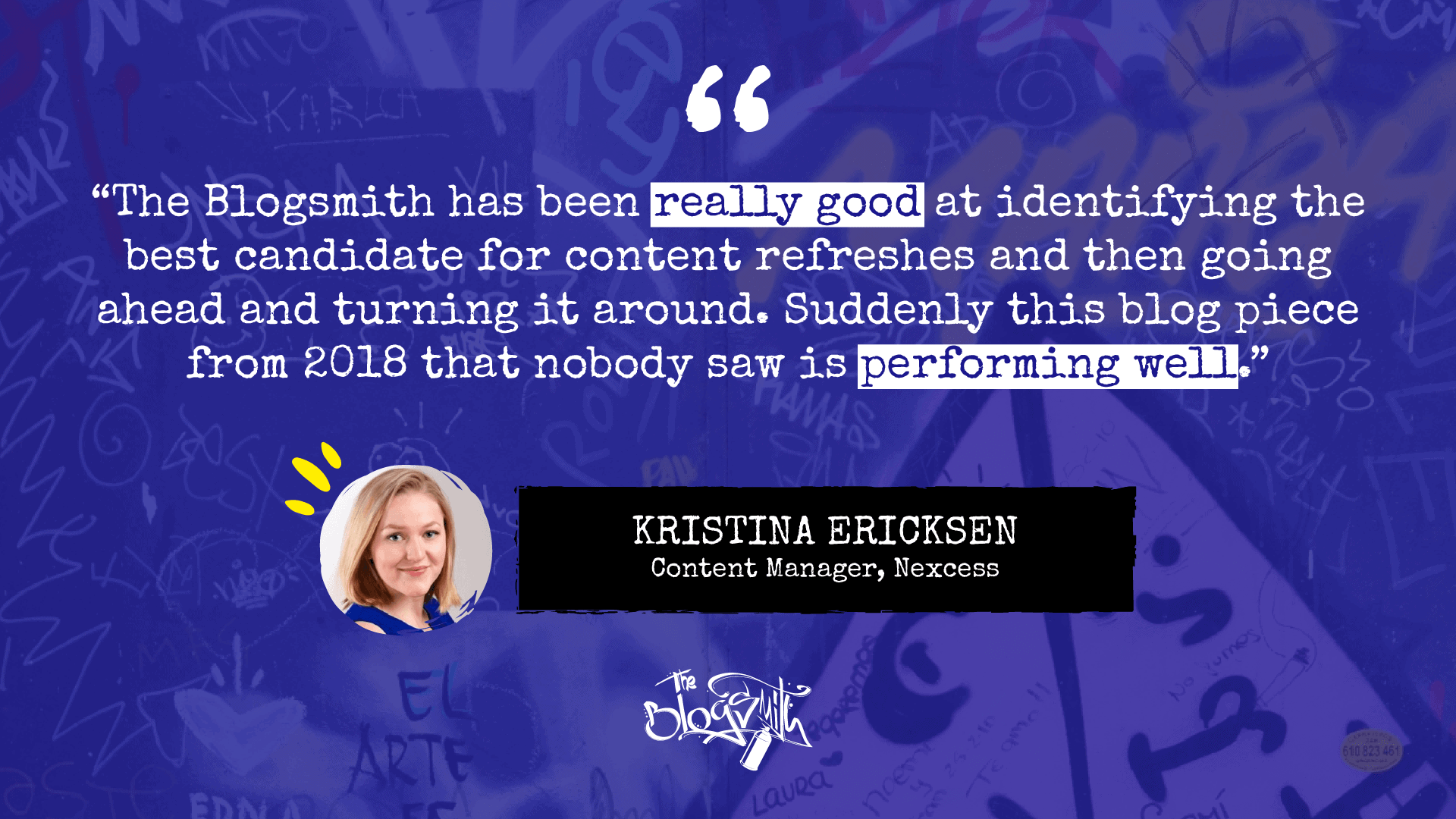 After revisions from The Blogsmith, one piece went from two organic visitors to 469 in just three months.
The combination of new content and refreshed articles has helped Kristina achieve her goal of increasing the visibility of Nexcess's blog and using it to generate more leads and brand awareness. 
In addition to content refreshes, The Blogsmith provides editing services that help streamline the workflow for other types of content, such as knowledge base articles.
Previously, Nexcess had a growing backlog of internally-written articles that needed editing to be published. As there were more pressing priorities for Nexcess's team, editing tasks were often pushed back. 
"The Blogsmith has also been helpful with working on our internal writing and optimizing the pieces in the knowledge base so we can get them out the door."
The Blogsmith combined editing services with guidance on a keyword strategy for knowledge base articles. This helped Nexcess "walk that fine line of relevant keywords that aren't too salesy to existing customers."
As a result, Nexcess can now put out three to four articles per week in the knowledge base.
Partnering with The Blogsmith has enabled Nexcess to scale its blog, generate exponential growth, and create a new and improved content strategy. What's more, the team has found a partner that can take a significant level of work off their hands and deliver reliable results. 
If you're ready to find the right partner to support your enterprise-level content marketing strategy, get in touch with The Blogsmith today.