increase in organic traffic

increase in content creation

keywords with page 1 ranking
As an insurance startup launched in 2020, Goodcover faced the challenge of making a name for itself in an industry where its competitors had seemingly unlimited marketing budgets and more than 90 years of brand building behind them.
Goodcover planned to execute a content marketing strategy focused on search engines to drive people to its website and give itself a competitive edge. By working with The Blogsmith and its team of experts, Goodcover was able to accelerate its operations and deliver results faster.
Here's how The Blogsmith helped this startup's small marketing team carve out a competitive niche in an industry full of Goliaths.
Inconsistent content production
Small in-house production team
Low traffic due to a saturated market
Enlist SEO (search engine optimization) content production agency
Leverage SEO best practices for all articles
Implement a workflow that generates one article a week
1,374% increase in organic traffic
1,150% increase in content production
138 keywords with a page 1 ranking
Goodcover was founded in 2020 with the goal of transforming the renters insurance landscape to  provide more transparency and financial fairness for their members. Goodcover combines fair rates, a user-friendly digital-first experience, and more personal customer support to create an insurance experience that puts members first.
And unlike traditional insurers, Goodcover pays members back annually with the money that wasn't used towards paying claims during the year.
As the company's Communications Lead, Casey Martinez is an asset of Goodcover's marketing team responsible for handling the brand's content strategy and organic channels, including its blog, social media accounts, and press outreach.

Launching a New Brand in a Competitive Space
As a startup, Goodcover faced the challenge of carving a space for itself in the highly competitive and saturated insurance industry market where its competitors were well-known and established.
Furthermore, the insurance industry was one where market leaders had access to large advertising budgets that helped them maintain their competitive positions.
Bigger insurance companies commonly used celebrity endorsements and large teams of insurance agents, but Goodcover wanted to go in a different direction. Specifically, Goodcover wanted to provide faster service to members and lower costs by limiting its overhead. To build a presence, Goodcover's team knew it needed a marketing strategy that was effective and sustainable in the long run.
At the time, Goodcover gained most of its leads through paid search advertising. Still, it wanted to explore new channels and marketing campaigns.
So, the company decided to take advantage of search engine optimization (SEO) and content marketing to reach its target audience and build a more reliable pipeline of potential customers.
Getting off the ground, Goodcover lacked the resources to scale content production. The team posted 12 content pieces in 2020 and four in 2021, but this took up valuable time for a team that was also responsible for social media posts, press, and other marketing initiatives.
Still, the marketing team members understood the potential of SEO content marketing and knew they wanted to publish more articles on the blog and do so consistently.
To make it happen, Goodcover started working with The Blogsmith in 2021 with the goal of building a scalable content operation, boosting brand awareness, and bringing more organic traffic to Goodcover's website.
A Collaborative Growth-Oriented Content Production Process
At the beginning of 2022, Goodcover brought on Casey to be its full-time content manager. She started her new role at Goodcover with ambitious content objectives.
As she describes it, "My goal at the very beginning of [2022] was to put out 52 pieces of new content, and I joined the company in January, so I wasn't sure if we were going to make it."
With The Blogsmith as a partner, Casey realized she could meet her goal of increasing Goodcover's publishing velocity. The small company went from producing one piece of content every three months to publishing one piece per week in 2022, a 1,150% increase in content creation from one year to the next.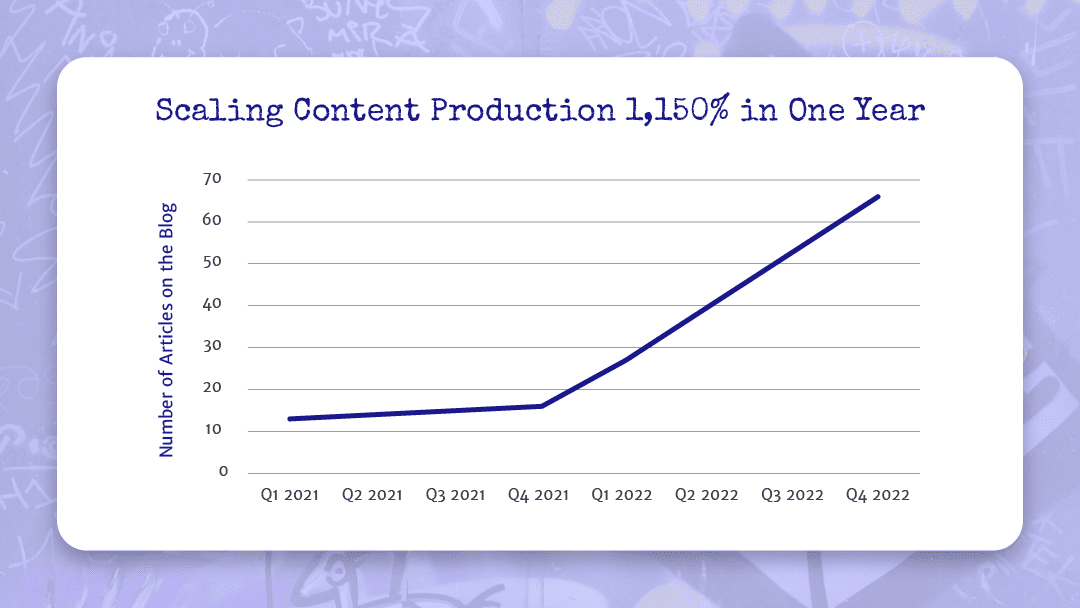 "Once I started working with The Blogsmith, I realized how fast they could turn projects around. Pretty soon after getting the content creation process set up, we could publish one blog post per week, which has really helped us with our SEO performance."
Casey especially likes that The Blogsmith takes a proactive approach to ideation, keyword research, and content planning. The agency identifies topic suggestions based on the most relevant keyword opportunities and sends them over for Goodcover to choose from.
Once Casey narrows down the topics she wants, The Blogsmith team comes back with content outlines for approval before it moves on to the draft.
"When I get outlines back, I can always tell they've done their research from an SEO and reader value perspective. The information that comes through is very good."
Being in a technical industry with specific rules and regulations, it's important to Casey that the information published on Goodcover's blog is well-researched, informative, and engaging. The Blogsmith has been able to meet those requirements by providing accurate information about the legal details of insurance and making complex topics more digestible for Goodcover's audience.
Casey has found that The Blogsmith helps Goodcover address technical topics while also writing successful content that highlights its competitive advantages.
"The Blogsmith knows what makes our brand different, and they highlight it in their pieces. They're able to differentiate the content, and it's been successful because our articles are landing on the first page of Google's search engine results pages [SERPs] and outranking our competitors."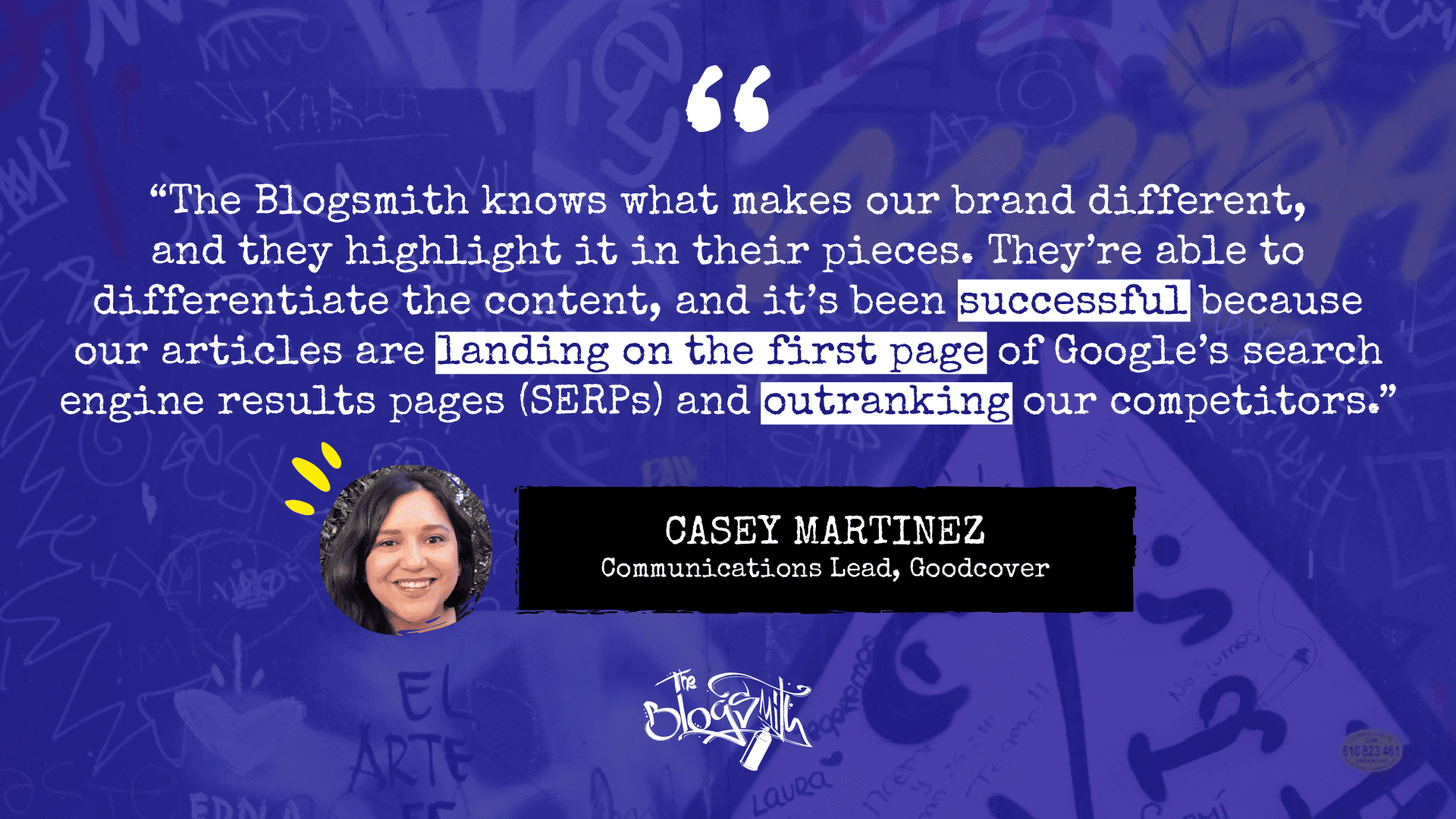 In addition to trusting the quality of the information in the content she receives, Casey appreciates that she can count on The Blogsmith's content team to meet agreed-upon deadlines and milestones without the need for her to constantly oversee their work.
"What impresses me most is their ability to stick to a schedule. I've had project management experience, and I know that doesn't always happen."
The Blogsmith has also proved helpful in informing Goodcover's content marketing strategy and editorial calendar. Casey explains that The Blogsmith team has been a useful resource she can turn to for brainstorming help when her team needs SEO content ideas.
"One thing I really like about The Blogsmith is that I can turn to [them] for content ideas and topics that work from an SEO perspective."
Increasing Organic Traffic by 1,374% in One Year With SEO Content
As a startup, Goodcover doesn't have unlimited marketing resources. Given that its team members often wear multiple hats and stay busy managing several other channels, it's been extremely helpful to them to know that they can trust The Blogsmith to deliver high-quality content that drives SEO results.
In 2022, The Blogsmith wrote 50 articles, resulting in 138 page 1 Google rankings, 22 first-position rankings, and 22 featured snippet results.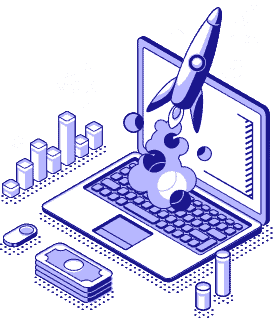 138

page 1 Google Rankings

22

first-position rankings

22

featured snippet results
These results have given Goodcover more visibility on SERPs and turned its blog into an effective marketing channel for driving organic traffic and generating more leads.
In one year after partnering with The Blogsmith, Goodcover's organic traffic grew by 1,374%, and articles from The Blogsmith accounted for 73% of the organic traffic growth from 2021 to 2022.
The blog has been just as effective at drawing traffic to Goodcover's website as paid ads.
As Casey puts it, "Before working with The Blogsmith, our organic traffic in the California market segment was very low. Now 50% of our marketing traffic is organic; it's neck and neck with paid ads."
Not to mention, working with writers that come prepared with an understanding of SEO best practices has enabled Goodcover's blog to outrank the blogs of big-name competitors that have been around for decades.
The Blogsmith has achieved that by following SEO best practices and writing for the human reader as well as the search engines.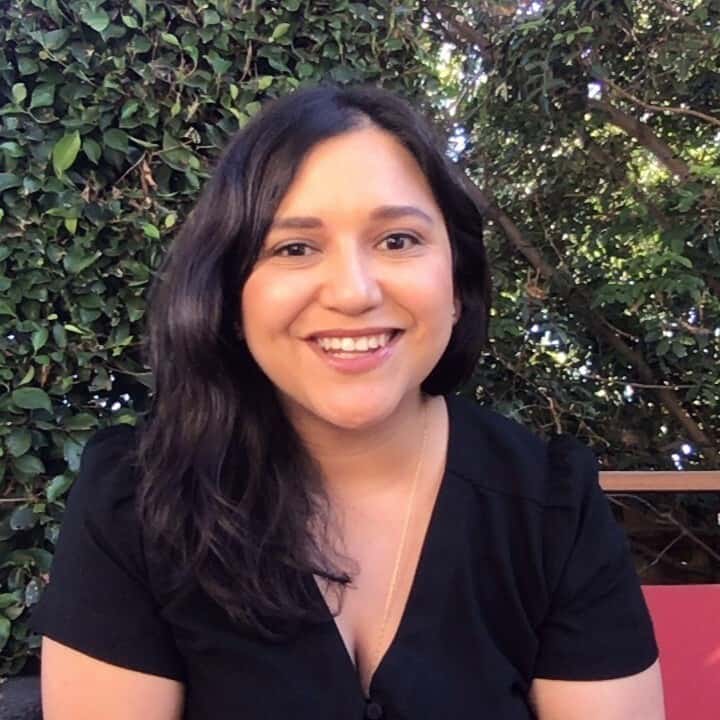 "The Blogsmith is really good at figuring out how to make content rank. They find the right keywords, put them in the right place, and it always sounds natural."
Casey Martinez
Communications Lead, Goodcover
And it's not just SEO that sets Goodcover's content apart. Instead of just focusing on the technical aspects of quality content creation, The Blogsmith team has also helped Goodcover achieve a brand voice and imagery that is the perfect balance of knowledgeable yet approachable and authoritative yet inviting.
As a brand that sells insurance policies, it's crucial that Goodcover's marketing assets help build trust and credibility with its audience.
"You can tell when you read the content that it was written by a person and someone who cares."
A Strategic Partner That Goes Above and Beyond
While Casey has been impressed with the results The Blogsmith has helped her achieve, she's also enjoyed The Blogsmith team's holistic approach to supporting her goals.
Notably, Casey has found that The Blogsmith is available to collaborate with her on keyword research and content calendar development. "Working through SEO results in our monthly meetings helps me find anomalies and content opportunities that are tailored to the new markets we're targeting."
The Blogsmith's content strategists and SEO experts also pay attention to the rest of Goodcover's website and are quick to identify any minor technical issues that could potentially harm Goodcover's user experience metrics.
"The Blogsmith cares about how our entire website works because that impacts SEO. They're good partners, and not just for the blog but for our entire website."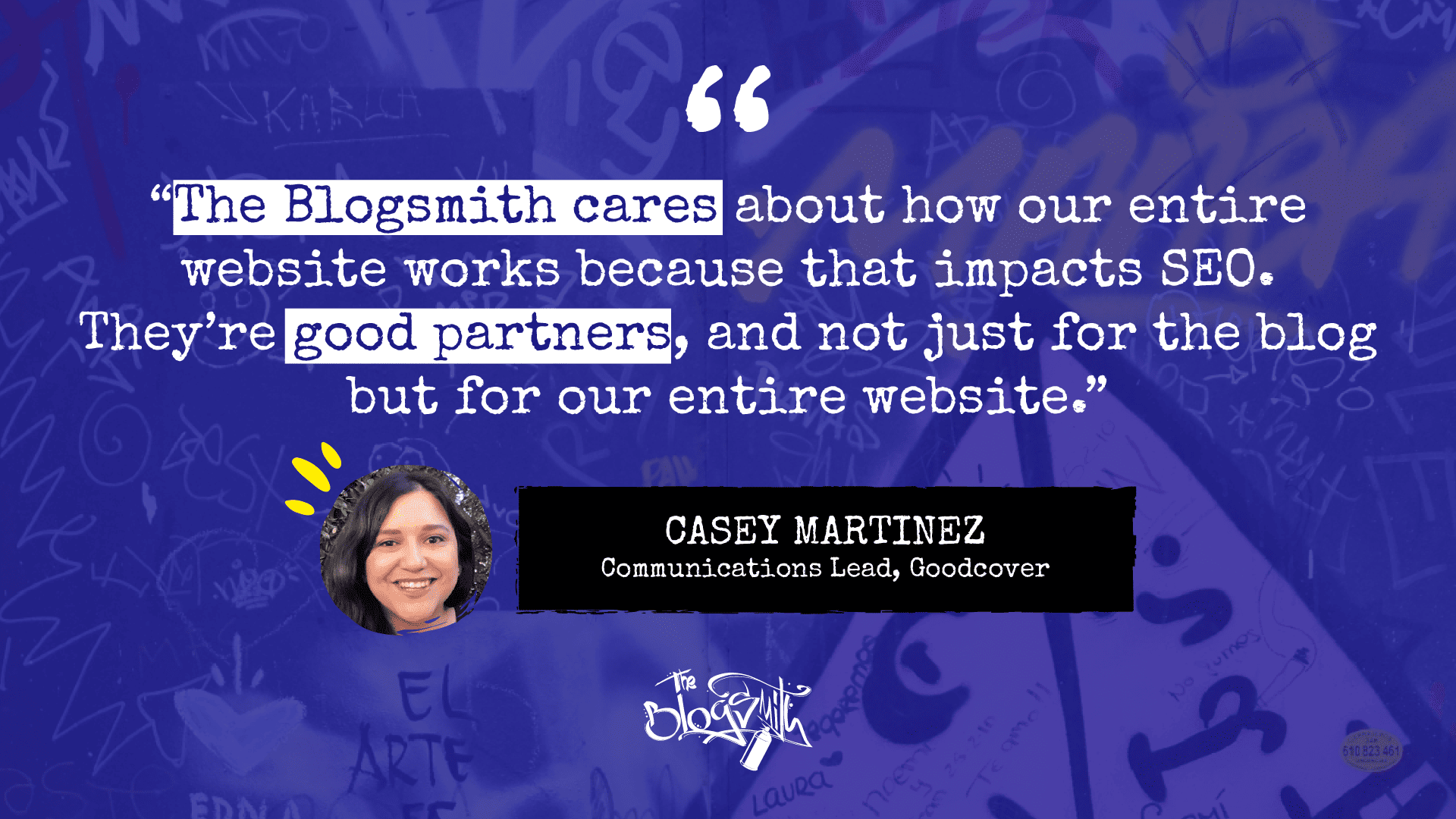 Ultimately, working with The Blogsmith has exceeded expectations for Casey and Goodcover. As she describes it, the partnership grew beyond a simple content-writing transaction and let her team achieve goals much faster than anticipated.
"I don't think anybody had big expectations for the blog at the beginning. But within one year, we're on the first page of Google, we're outranking our competitors, and people are coming to the site."
Articles by The Blogsmith have helped Goodcover outperform large competitors such as Allstate, GEICO, Lemonade, Progressive, and Nationwide.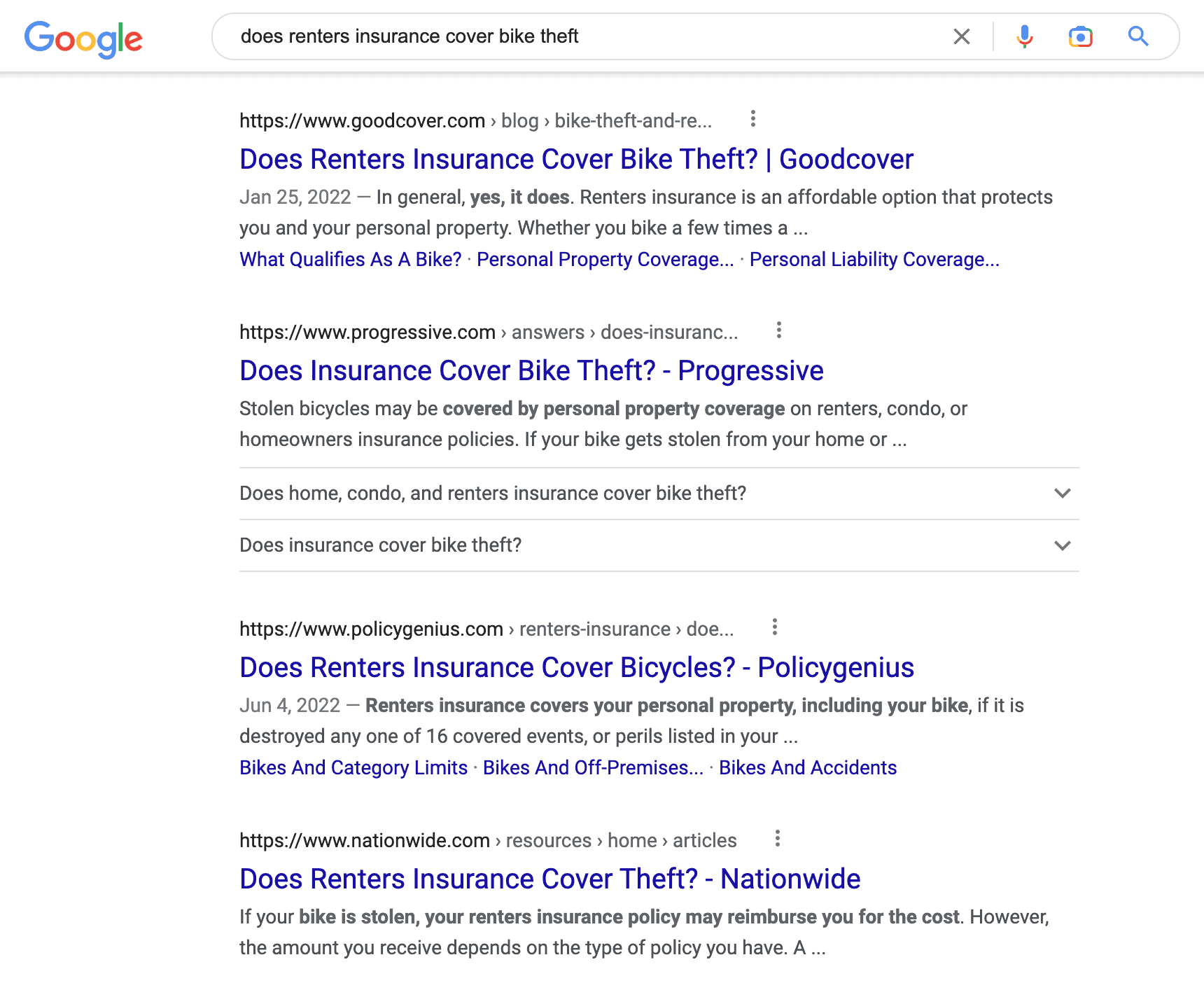 By outsourcing the bulk of the copywriting and content optimization work to The Blogsmith, Casey has been able to scale content creation without expanding her team.
In particular, she hasn't had to devote time to hiring and training freelancers or full-time content writers. Instead, those elements of production have been completely taken off her plate, letting her focus energy on the brand's other organic channels.
"I think of The Blogsmith as an extension of myself. It's been really great to have a team of technical experts and writers help me accomplish what I wanted to do this year. The process we've created is seamless."
Working with The Blogsmith helped Goodcover scale its content production and leverage SEO best practices to outrank enterprise-level competitors. Not to mention, Goodcover can rely on The Blogsmith to provide content strategy insights that support long-term growth.
When asked if she would recommend The Blogsmith to other content managers of small startups, Casey didn't hesitate to say yes.
"The Blogsmith can really supercharge your content effort. It's a no-brainer."
To learn more about how The Blogsmith can support your SEO content marketing strategy, get in touch with us today.