UPDATE: ARCHIE HAS BEEN SHUTDOWN BY INSTAGRAM.
Full Disclosure: In exchange for my Archie review, I was offered 12 months of Archie's premium service for free. I jumped at the chance, because I'm in LOVE with Archie.
What would you do with an extra set of hands in your business?
The first task in my business I aimed to outsource was that of engagement. I know that it's important for growing a following, and I check in every once in awhile for a social media scroll fest, but I'm just not interested in doing it for hours every day. I spend so much time in the rest of my business, it's hard to justify, or save energy for, engagement.
Jump Ahead to a Specific Section:
I've used Archie for as long as I've known about it, and have recommended it to several clients. Archie basically acts as your social media intern – taking care of some of the simplest social media engagement tasks. Although there are other programs that auto follow, auto DM, and auto comment on Instagram and Twitter, I don't recommend them. These types of social media auto-engagement tactics usually come off as inauthentic, or overly salesy.
Auto-liking, on the other hand, doesn't come off any way but "interested." A like is a show of support for a user's content. People who are creating public content tend to appreciate a show of support. Archie once shared a statistic that claimed that for every 31 likes on average, you can expect a new follower. Oftentimes, a person who gets a like from someone they don't know (especially if they don't have a lot of followers) gets curious about the person who liked them. They might then investigate the account, enjoy the content, and follow for more.
It's important to not only be proactive with engagement on various social accounts, but to also have an account worth following. Make social media content creation a priority if you take social media marketing seriously, and expect these engagement tactics to work.
The content that Archie likes on your behalf is based on the hashtags you specify for it. Here's what I put in for my Chicago-based blog's Instagram:
The content that Archie likes on your behalf is based on the hashtags you specify for it. Here's what I put in for my Chicago-based blog's Instagram: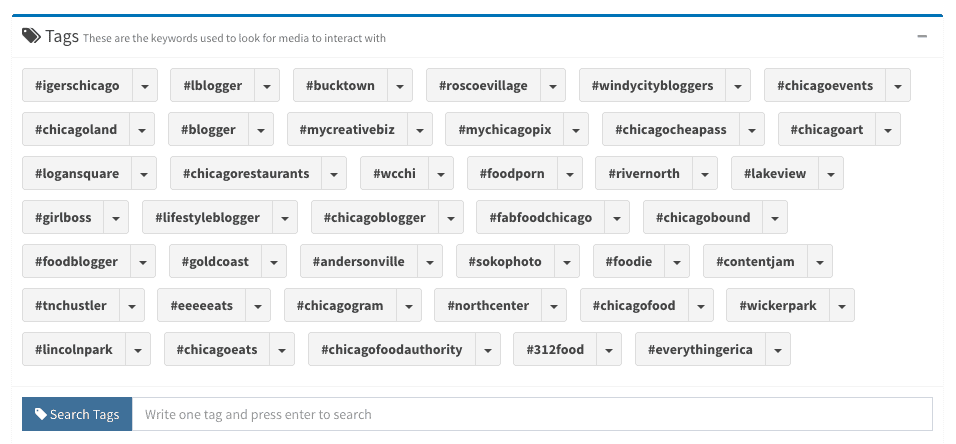 My strategy for Twitter is slightly different and not location-specific. I see Twitter as a B2B network, perfect for finding leads, influencers, and industry professionals:

Besides specifying what hashtags you'd like it to like for you, you can also tell Archie:
Although Archie offers negative options, like blocking certain users or hashtags, some unsavory auto-liking does happen on occasion. You need to be able to stomach the possibility that Archie might like something inconsistent with your brand in order to use the tool.
Here's how my hashtag settings are resulting in actual conversions (new followers) on Instagram: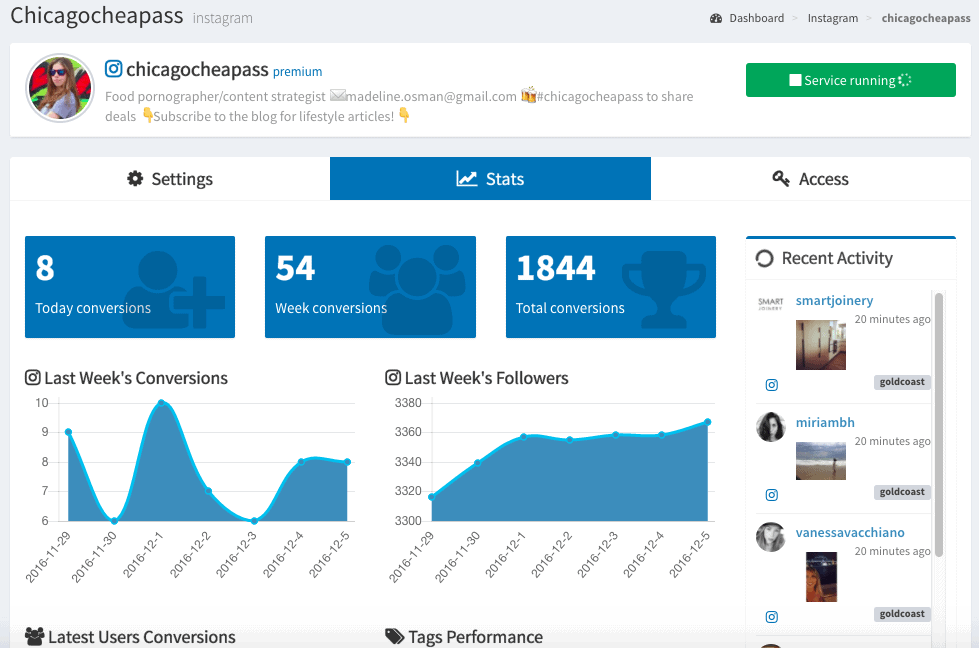 In addition to new followers in the last 24 hours, you'll also be able to see new followers over the past week, and from your entire time using the tool. Various charts show follower growth over time, and the most recent activity (including what Archie's liking on your behalf, in real time). One of my favorite features is the ability to see which hashtags are converting well, and which ones you may want to reconsider using.
Final Thoughts: Archie Review
I think I've made it pretty obvious that Archie can be an incredible tool for growing a following on Instagram or Twitter. But one thing I haven't mentioned yet is the fact that it's directly in opposition to Instagram's Terms of Service (and Twitter isn't too stoked about it, either). Archie is a "grey area" tool that could potentially get your account banned if Instagram were to catch on to what you're up to. That said, I've used it for multiple client accounts as well as my own – nothing negative has resulted up to this point (knock on wood).
Because Archie is constantly fighting changing Instagram and Twitter algorithms (without their support), it has been down a number of times over the year or so I've used it. Sometimes this downtime lasts a day, sometimes it lasts a week. Archie is slow to notify customers that this is happening (if they do at all), but they are quick to fix it. When I've complained about downtime in the past, they make sure to credit my account for any use of their service I've missed. Sometimes Archie gets disconnected from my Twitter, and I find myself going back into reconnect multiple times, for days in a row (and it doesn't do it's job for me in between these issues).
Archie isn't perfect, and it isn't something Instagram or Twitter would endorse, but I will continue to use and recommend it, based on an overall positive experience with it.
Have any of you used Archie, or some other social media engagement tool? I'd love to hear your Archie review in the comments!