Please note: this article contains affiliate links.
This is Bill Gates' definition of a think week:
If you're following, the common thread behind each of Bill Gates' requirements is a minimization of distractions to allow total focus on his goal of reading and recovering.
The goal of the reading vacation is to consider new perspectives. In the past, popular Microsoft initiatives and products were borne of ideas Bill Gates got during these retreats.
I was inspired by Bill Gates' think week idea and wanted to try to replicate it for itself. Thanks to its spartan nature, you don't have to be one of the richest men in the world in order to afford it.
My Bill Gates Reading Vacation
When planning my own Bill Gates think week, I knew that I wanted to stick to most of the original requirements. But I also wanted to adapt them to what I personally wanted to get out of the limited time off I afford myself from running a business.
I did bring my phone. I just really limited the time I would allow myself to use it.
I didn't get hyper-specific with my technology time allotment, but it was definitely less than an hour a day. I didn't carry it around with me and didn't fall asleep with it next to me, which was a welcome change.
I also purposely spent some time on things that weren't reading-related. My spouse Dan was joining me on this trip, and I'm very lucky in that he also enjoys reading, but he pushed me to get a little bit more out of the trip.
We planned to stay at two different destinations in southern Colorado to get away from our normal everyday life; Crestone and Montrose.
In both towns, our lodging was quite removed and we saw few people. The Airbnbs we booked were also both fairly close to National Parks we wanted to visit: Great Sand Dunes and Black Canyon at Gunnison National Park.
So obviously, there wasn't a total focus on reading during this Bill Gates think week.
We spent a fair amount of time traveling and visiting these National Parks. We also took our dog Lola on 2-3, 30 minute walks per day around our remote digs.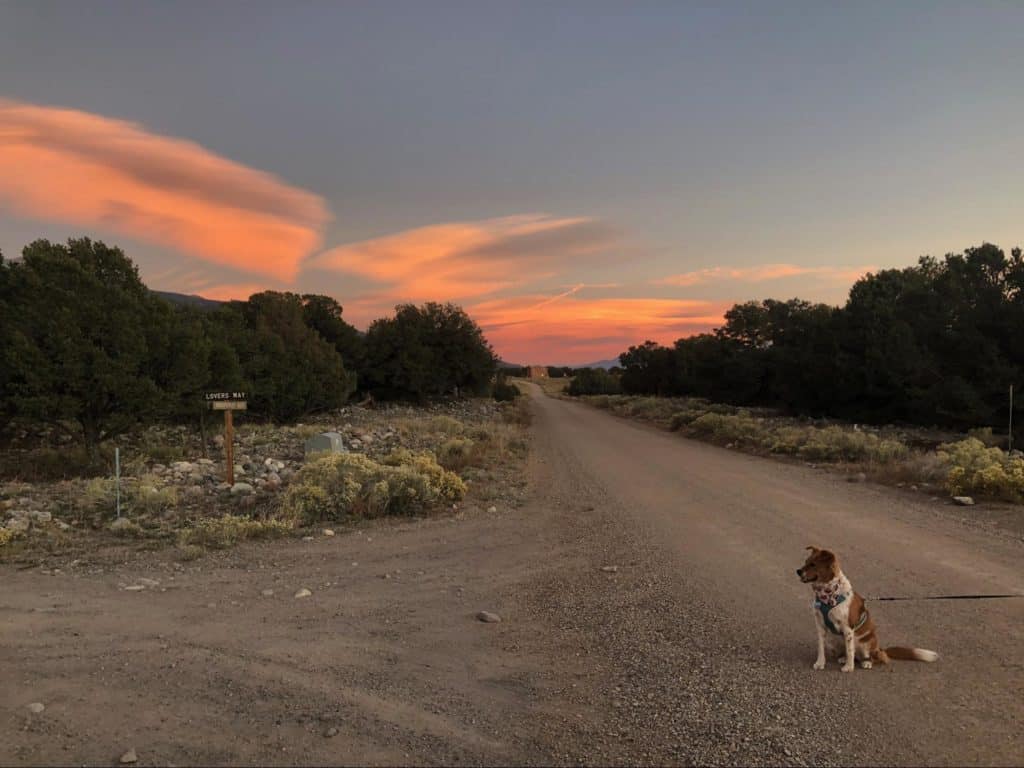 It was certainly an active trip, punctuated by similarly large periods of time spent still, lounging and reading.
Bill Gates Think Week Meal Ideas
But where we took time away from reading with sorely needed active minutes, we made up for with efficient meals.
Before leaving on our think week, we did a big Costco run for prepared meals, grabbing lunch and dinner options that included:
We also brought a lot of snacks:
We did a little bit of meal prep:
Plus odds and ends that included:
We grabbed very few meals on the road. Our Costco purchases lasted the whole trip — minus a quick stop for more bread and a frozen pizza (that we honestly didn't need) on the way to our second destination.
Not having to spend a lot of time on the preparation and clean up of multiple meals cut at least 1-2 hours of time out of our average daily routine. In turn, we gained more time for reading and exploring our beautiful surroundings!
Bill Gates Think Week Lodging Ideas
As mentioned, our reading vacation brought us to beautiful Crestone and Montrose, and nearby National Parks — Great Sand Dunes and Gunnison.
We also made a stop at a real-life ghost town between destinations — St. Elmo's:
In deciding where to stay, we evaluated several destinations within ~5 hours of home.
We wanted to be as faithful to the spirit behind Bill Gates' reading vacation setup. We prioritized places to stay that would encourage focus, away from the excitement of a busy city or downtown area.
We added some additional requirements to Bill Gates' list — dog-friendliness and a basic kitchen with a stove.
We certainly didn't have a caretaker preparing meals for us but we wanted the ability to easily feed ourselves delicious, hot food. We also wanted to bring our dog Lola on the trip, which did slightly limit our available options, as expected.
Here's the first place we stayed, the Star Huts in Crestone: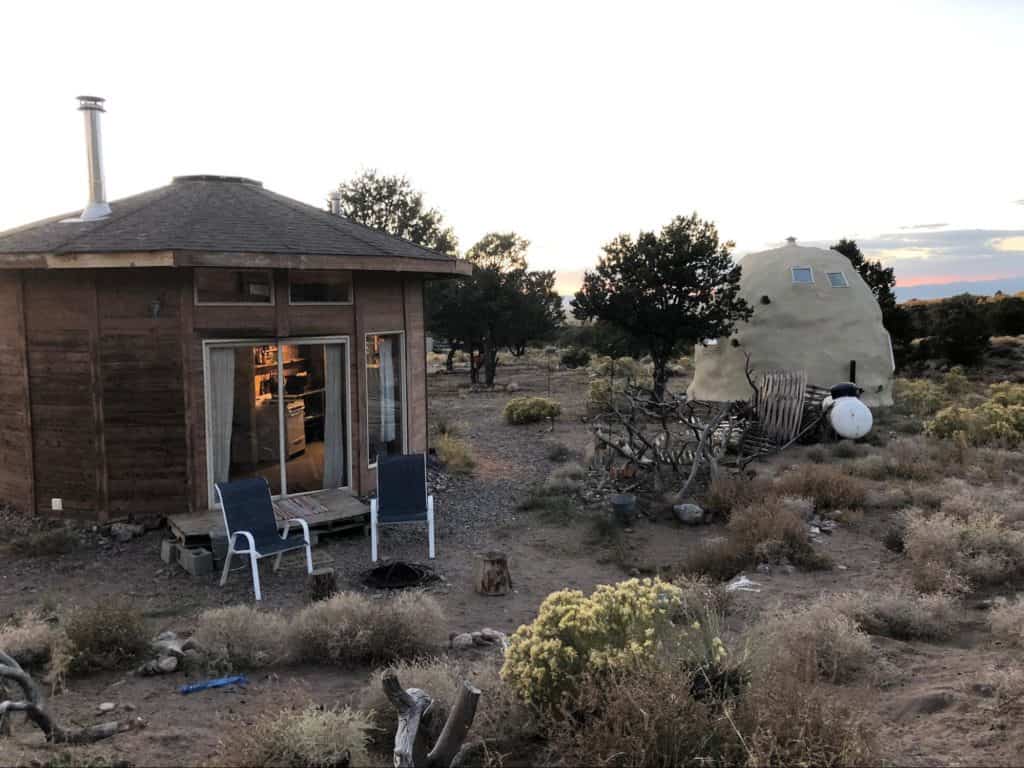 It was a small, efficient space. Technically, there were two huts that we had access to.
Dan and I were so taken by the space that we started planning how we're going to buy land and construct our own hut. With the right design, it could be a great asset for financing our own Bill Gates think week destination by renting it out the rest of the time for others to use how they please.
Within walking distance was an unmissable tower, at the top of a hill. A Ziggurat.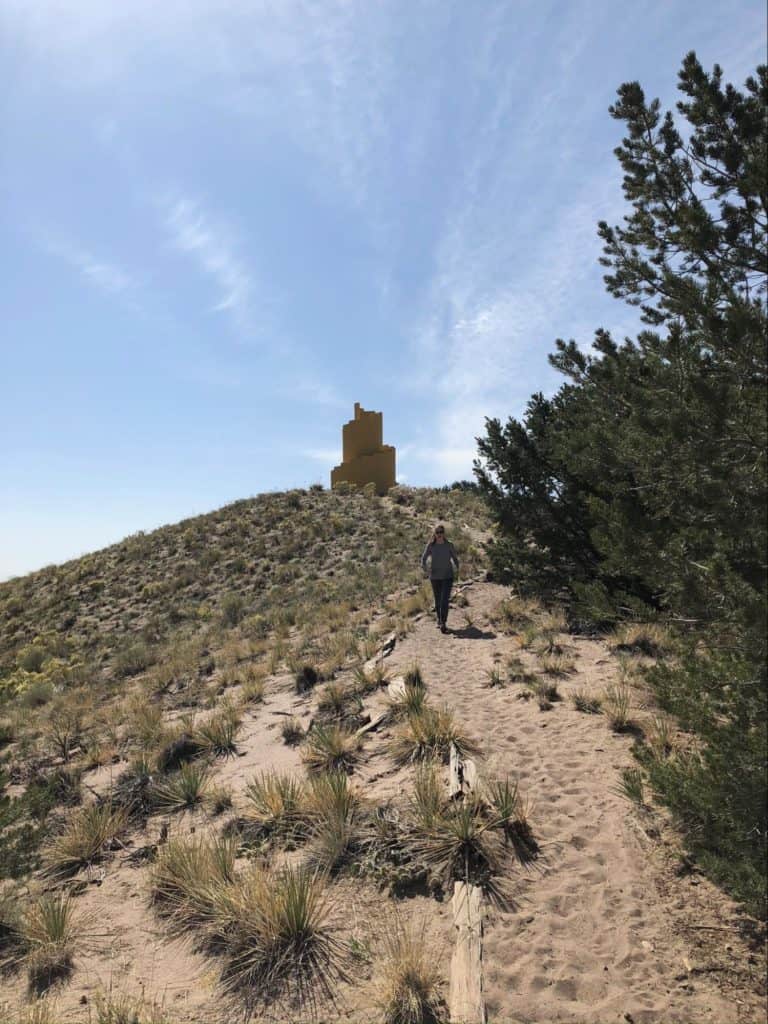 We brought Lola to the base and took turns climbing to the top. The wind made it seem like it was possible to fall over the side.
Crestone really was a beautiful place. There are a lot of spiritual centers there (temples and ashrams) and I can totally see why — the gorgeous surroundings make you feel one with the universe (plus a touch of awe).
We spent almost every night sitting out and taking in the stars, far from city lights. And we slept a few times in the smaller hut, which had windows that welcome sunlight and starlight, alike.
I've learned that setting is an important part of planning an effective Bill Gates think week.
So are comfortable chairs. I had intended for us to bring Dan's foldout, packable chairs as a backup, but they never ended up getting packed. Unfortunately, in Crestone, there was but one comfy chair — so we had to get creative.
They did have a hammock, though: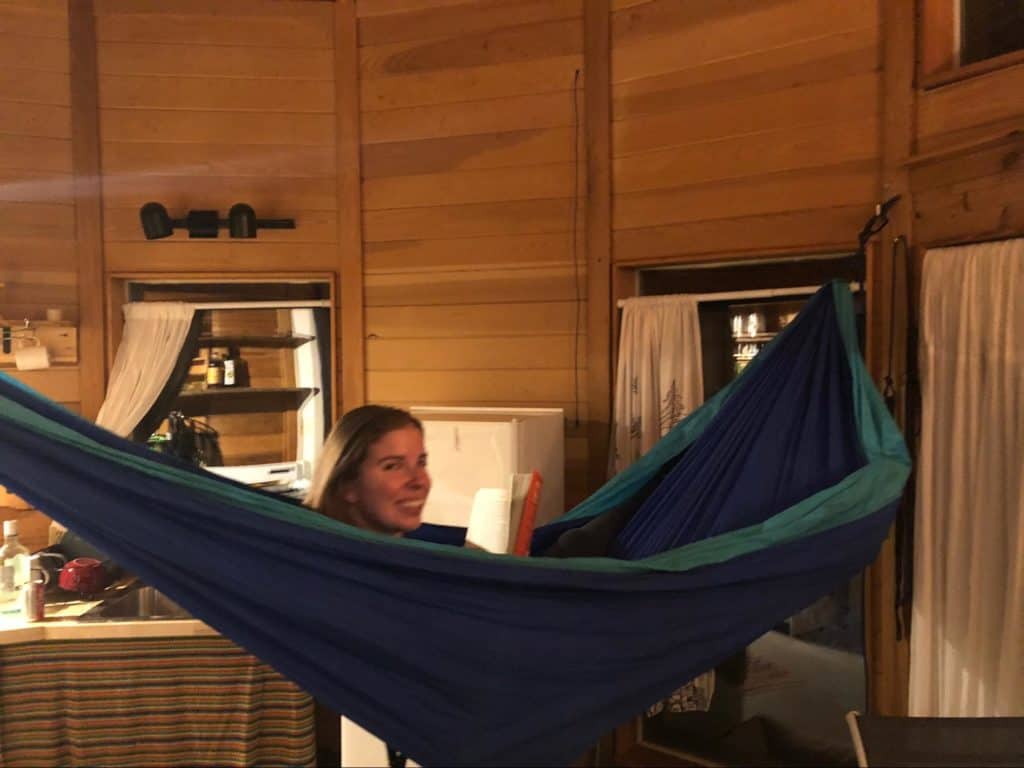 I enjoyed staying here and getting by simplistically but I was also excited to gain a little more space and comfort at our next destination.
Here's the second place we stayed, in Montrose:
This cabin was off the beaten path, several miles down a gravelly road leaving Montrose city proper. To be completely honest, I'm glad we didn't stay in the city — absolutely no one was wearing a mask when we stopped for a few groceries and gas. Yikes.
The cabin felt large for just the two of us plus Lola. But after staying in the small huts for the longer part of the trip, it was nice to have room to stretch out. This cabin had multiple couches and a La-Z-Boy chair. And several throw blankets. It was heaven.
While the huts had a microwave, the cabin only had an old timey match-lit oven. And while a microwave would've come in handy, we got by just fine and it was nice to see how easily we adapted to yet one less modern convenience.
The cabin had a nice balcony (plus a telescope!) and scenic grounds — there was a large shed and an outhouse for good measure:
There were also free range cows and other livestock scattered along the road at odd hours. I learned what cattle guards are after we drove over them multiple times throughout the trip.
Now that I've set the scene a bit, let me tell you about the books.
Bill Gates Think Week Itinerary
Here's the basic trip itinerary and what we did each day:
We have a National Parks pass that I bought during my bachelorette party in Las Vegas, which I used to visit Red Rocks. Dan and I love the excuse to visit National Parks across the US and our goal was to make use of it during this trip, so that factored heavily into our planning for where to stay.
Great Sand Dunes was so weird but so cool. You can rent snowboard type apparatuses for traveling down the dunes.
Black Canyon was jaw-droppingly steep but that didn't stop Dan and I from driving down to the very bottom.
How I Opened Up My Mind During a Bill Gates Think Week
I went into this reading vacation with dozens of ideas for what I wanted to read.
I looked through our collection of physical books for titles I hadn't gotten to yet and reviewed my Kindle library. I went through my Amazon wish list and bought a few books and got some from the library. There was a good mix of physical and digital mediums and thoughtful attention to detail to minimize spending a lot of money when I had so much to work with.
I was really excited with all my options and looked forward to knocking out as many as I could reasonably get to, which ended up being 11 books. That said, some of the things at the top of my list went unread because I didn't want to risk one long book taking me through most or all of the week — the point was to consider multiple different perspectives.
I had a copy of The Stand by Stephen King (it's huge) and the Kindle version of Thinking, Fast and Slow by Daniel Kahneman accessible during the trip. But I didn't start either book because I was intimidated by the amount of time and focus they'd require.
Here's what I read during my trip and each book's genre:
The Wives by Tarryn Fisher: thriller fiction, consumed as an audiobook in the car.
Dan and I started this at the beginning of our trip and finished it on the way to our second destination. It was super strange but interesting enough.
How to Do Nothing by Jenny Odell: quasi literary criticism, physical library book.
This book feels academic but creative. I enjoyed pondering the author's points and wrote down several cited works that I want to know more about.
The First Time by Colton Underwood: reality TV star memoir, physical library book.
Colton is trash and so am I for reading this. I certainly wouldn't pay for it which is why I got it from the library.
Death by Todd May: philosophy, recently purchased physical book.
This was one of the shortest books I read yet one of the most impactful. Since losing my dad, I've been in search of meaning and purpose and I thought this book could help. It definitely gave me some new things to consider, from multiple different philosophic takes.
The Invention of Sound by Chuck Palahniuk: horror fiction, pre-ordered & recently released Kindle book.
I always support Chuck Palahniuk whenever he writes a new book because he's my favorite author. Dan and I got to meet him a while ago when we lived in Illinois and were set to do it again in Denver but then the pandemic hit! This book wasn't my favorite of his completed works but it certainly didn't disappoint in having a few satisfying twists.
Feminasty by Erin Gibson: comedy, physical book from my collection.
One of my best friends, Samm, got me this book and I had been meaning to read it. It was delightfully nasty, indeed. Some might cringe at the level of crudeness, though it's not quite Amy Schumer-level crude.
The Basics of Process Mapping by Robert Damielo: business nonfiction, physical book from my parents' library.
Ever since adopting Process Street as my task/process management tool, I've been seeking out resources for learning more about process management best practices. I took this book from my parent's house after being in town over the summer. It was a super basic guide but a good primer to the topic.
In the Garden of Beasts by Erik Larson: historical nonfiction, signed copy from meeting the author.
There were a few authors I wanted to consider reading books by, including the aforementioned Chuck Palahniuk and Erik Larson, plus Michael Crichton. They're all favorite writers of mine, for completely different reasons. This ended up becoming one of my favorite Larson books and it really shed a new light on how the United States responded to what was going on in Nazi Germany, from the perspective of the American ambassador to Germany and his family.
The Art of Living by Thich Nhat Hanh: spiritual/buddhism, consumed as an audiobook in the car.
This was another book I wanted to read to try to make sense of life and death after suffering a great loss. It was definitely a perspective I struggled to connect with at times but challenged myself to consider regardless. There was a meditative nature to listening to this book. It was a good follow up to the philosophic Death book I read earlier in the trip.
I, Robot by Isaac Assimov: science fiction, Kindle book.
I loved the format of this book, which imagined a future where robots are commonplace in daily life and operate (sometimes in ways we don't anticipate) according to three operating rules. Science fiction has always been a favorite genre of mine, so my Bill Gates think week wouldn't be complete without one of these types of books.
To All the Boys I've Loved Before by Jenny Han: young adult fiction, Goodwill thrift paperback.
On the last day of the reading vacation, I read these last two books from start to finish. I didn't want to end with something I'd only be able to get partially through and I wanted to stop on a light note after digging into so many complex topics throughout the rest of the trip. A carefree young adult title hit the spot.
On the first day of the trip, I finished the last third of a book I started in book club — The Night Watchman by Louse Erdrich (historical fiction, Kindle). It was a great story with a lot of truth in it, worth reading for insight into a perspective I didn't know much about.
Besides constructing my own list, I also made a request for one of Dan's books to be The Five Love Languages by Gary Chapman. He complied and we took a quiz to reveal our love languages and compared results.
I had read it within the past year and thought it would be good for our marriage, which was only months behind us. This reading vacation was to serve as a quasi-honeymoon — the best trip situation we could safely achieve during the pandemic.
Because reading and writing go hand in hand, I brought a blank Moleskine notebook to record any notes and observations I had throughout the week. Although I technically had my phone on my person and usually take notes in Evernote, I wanted to keep things as analog as possible to respect the purpose of the Bill Gates think week.
For each book, I also kept a log of the words I came across while reading that I didn't know so that I could look them up and expand my vocabulary.
Bill Gates Think Week Packing List
Bill Gates Think Week Takeaways
Here are some of the various thoughts I journaled about throughout our trip:
You don't want to waste away by only reading during a reading vacation. I'm not sure if Bill Gates makes time for exercise during his but you absolutely should — even if it's just a long walk each day.
Although the purpose of a reading vacation isn't really tourism, it's nice to sprinkle in a bit. But not a lot — the point is to relax and focus on reading over anything else. If you actually want to make it through a significant number of books, you should plan for more days to be just about reading and not broken up by excursions or travel. Besides a cabin in the woods, an all-inclusive resort would also be a great setting for a reading vacation.
A Bill Gates think week is kind of the perfect pandemic trip as it's designed for isolation and space. You're basically quarantining.
Aim to pick a place without wifi, ideally without reliable cell signal. And even if you are able to get a signal, it's useful to set limits for device use so you can truly focus on reading.
Don't bring your laptop. It's too much temptation to connect to the rest of the world.
Take the time to plan things out. Set a goal then work backwards to determine how to achieve it.
Plan a library and Costo run a day or so before leaving on your reading vacation.
Plan some of what you want to read ahead of time while also giving yourself some options to pick from in the moment.
Don't waste suitcase space on fancy outfits, jewelry, and makeup. Instead, pack creature comforts.
Bring a mix of Kindle/physical books, if only to help with eye strain.
I usually alternate between fiction and non-fiction books and planned a mix of both during this vacation.
Bring a notebook to write notes while reading without getting distracted by note taking apps on your devices.
Take book club breaks (walks) with your travel buddy to talk about and process what you're reading.
Go in with a particular goal or problem to solve, planning your book choices about what you need to learn/consider/understand to solve the problem.
If possible, stay at more than one place in more than one town. Your setting impacts how you take in and recall information.
Pairing this Bill Gates think week with visits to National Parks was a great way to put things in perspective thanks to the awe-inspiring nature of, well, nature.
It's nice to fill the space a TV usually takes up with reading. It's less passive. Similarly, it's nice to not get caught up in notifications, news, and other day-to-day stressors. Before the reading vacation, I was so burnt out by everything in my daily life. I felt refreshed after taking time away from it all.
Find audiobooks you and any travel buddies would want to enjoy together so you can stay true to the purpose of the trip even while traveling to and from destinations.
Final Thoughts: How to Take a Bill Gates Think Week to Recover from Life
I took a dream of being like Bill Gates and turned it into a reality with my own tweaks and the buy-in of my amazing husband. Our reading vacation was such a great break from reality that I pitched making it a yearly event.
I hope that my experience inspires you to take a break from the norm and open up your mind in a new environment. If nothing else, you'll come back to real life feeling refreshed and ready to kick ass.
Do you have questions about planning your own Bill Gates think week? Let me know your thoughts in the comments.