Please note: this article contains affiliate links for the products The Blogsmith team uses every day.
SEO is part art, part science. You have to consider Google but not to the detriment of the human reader.
Your SEO content should be interesting and unique but you also need to do research and use data to construct meta information, headings, body copy, link copy, and text used to describe images.
The foundation is great SEO keyword research. This takes time to do well.
Once you've landed on a primary keyword option (or multiple options), you can generate reports that help you understand why top results are ranking . With these top ranking factors in mind, you'll be better informed when creating SEO content.
AI-content optimization tools like Clearscope and Frase help to ensure that you've got the SEO side of content creation covered to give you the best chance of ranking in relevant search. Before getting into how to use these tools, let's dig into what distinguishes each one with a Clearscope review and Frase review.
Frase Review: Content Briefing Tool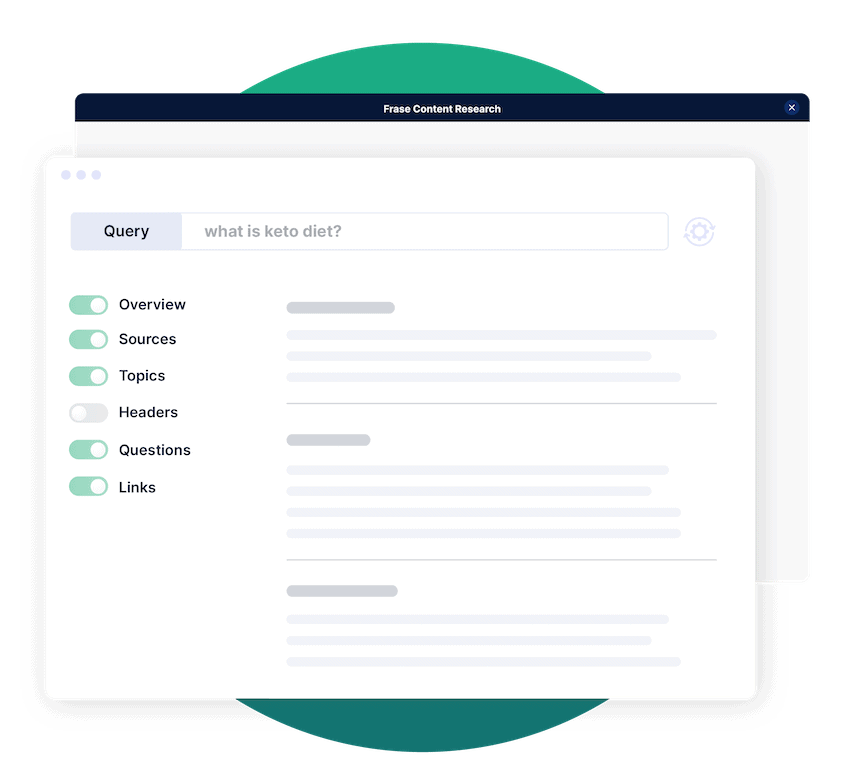 Frase is a content briefing tool that will save you so much time if you're producing new content on a monthly basis.
Frase works by sharing actionable data points. This information helps content writers create content that includes important details that searchers are expecting to see when clicking through current top ranking search results.
With Frase, you can auto-generate a content brief that includes:
Frase is constantly iterating their tool, so the screenshots you see on this Frase review may be slightly different than the current user interface. The tool is pretty intuitive, so frequent updates don't present a barrier to use.
Check out these Frase content basics for the most up-to-date how to videos >>
Best for: Teams creating any number of content pieces per month, especially agencies and in-house content teams. For the time it saves you on briefing and research, a small business owner creating just one piece of SEO content/month would probably benefit from a paid plan.
Price: Starting at $39.99/month for 30 documents and 1 user. You can purchase higher-priced plans that offer additional user access and unlimited documents.
Note that Clearscope doesn't offer an unlimited plan — most content optimization tools (besides Frase) don't.
Clearscope Review: Content Optimization Tool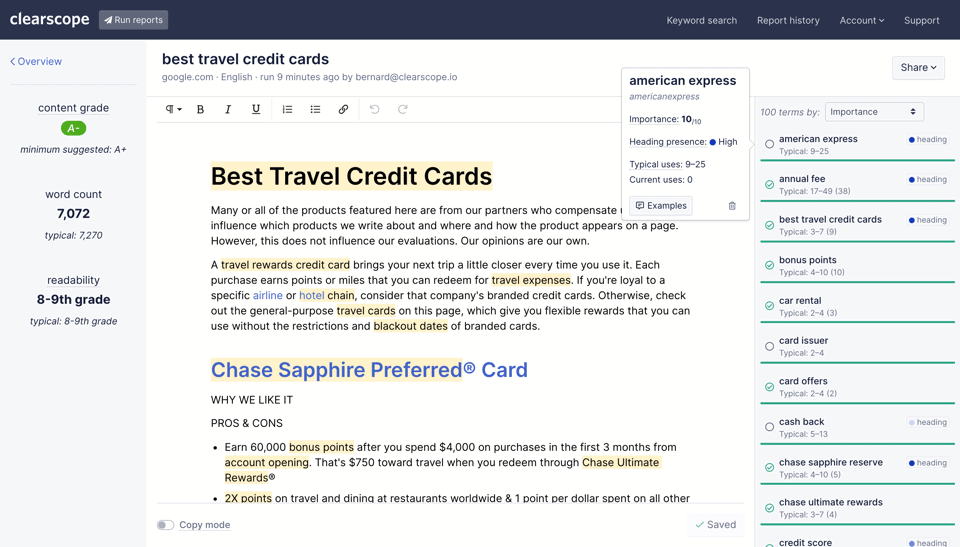 Many of the enterprise clients I work with who assign topics (versus asking for pitches) have been sending over Clearscope reports with basic details regarding how they'd like my team to approach a given topic. 
Clearscope works by analyzing entities within the top ~30 ranking search results for a given result. From there, it provides guidance in terms of how often to include a certain entity (keyword). 
Clearscope's content editor lets you know if you're over or underusing a specific phrase and if you should use the words in headings or body content for the biggest impact. It also offers a target word count range to optimize for to rank in relevant search and a target readability score.
They ask that we achieve a score of A or higher. As with grades in school, going for the A gives you the best chance of being in the top results for a search term. It's not really worth creating content that falls in the B or lower range because it may not be comprehensive enough to rank in top search results.
Because of all these data points, you can use Clearscope as a useful tool for creating a content outline in terms of headings and subpoints. In early 2021, they launched a feature to auto-generate an outline with suggested headings and topics to include under each heading.
Think of Clearscope as a data-driven tool for determining your content's ability to rank before pushing it live. It may take just a few changes to take it from page 2 to the top 10 results.
I had this call with their team where we went over how it works, optimal use cases, and how to use Clearscope plus currently ranking search results to determine search intent:
Best for: Agencies and enterprises because it's not cheap and you shouldn't purchase it without a plan to use it: credits are use 'em or lose 'em. That said, the price is worthwhile for the results it provides.
Price: The Essentials plan is $170/month for 20 reports. There are lower and higher priced plans available, depending on the number of reports you need.
Frase Versus Clearscope: Comparing Content Briefing Tools
Frase and Clearscope are very similar. With an unlimited budget, use each to their strengths. But you can probably get most of what you like about each within one tool — just pick according to the data and features that help you achieve your content goals. 
They both generate useful guidance based on a seed keyword or topic, utilizing entity processing to suggest keywords to include in content.
That said, Clearscope's entity processing produces more useful and relevant results. What you get with Frase at time of publication has to be taken with more of a grain of salt versus treating it as the Gospel truth.
I'd call Clearscope as the winner for usefulness of keyword information for ranking in relevant search.
Both tools are useful for creating a content outline. You can use either Frase or Clearscope to suggest article structure and generate an outline, as well as questions to answer as part of analyzing top search results. 
I'd say Frase is the winner in terms of generating the most complete content brief.
At any rate, using a tool like Clearscope or Frase is a great shortcut when you're creating a lot of content and trying to effectively delegate some of the ideation process to teammates. 
How to Create a Content Brief with Clearscope and Frase
Clearscope Content Brief Process
To generate a content brief in Clearscope, navigate to the Run New Reports field and enter the primary keyword you're trying to optimize for. 
Pro Tip: Generate multiple Clearscope reports per article if there are multiple primary keywords you're trying to rank for.
It takes a few minutes to generate a report. Note that you can choose to generate multiple reports at a time. 
Once you run out of report credits, you can buy more if desired through Clearscope's support team or wait for your monthly total to reset.
After each Clearscope report is generated, it's associated with a unique URL that a user doesn't have to be logged in to use. External writers can use this link to optimize copy by clicking Optimize. They'll be able to use the content grade and keyword information to make improvements. 
Note that you can also access this information within Google Docs thanks to Clearscope's add-on.
For each report, Clearscope identifies top competitor content, search volume, and semantic keywords.
Here's what it looks like from the Optimize page:
Notice that you can sort relevant terms to include by:
The user interface is very simple, which makes it easy to focus on the important nuances of creating top ranking content.
Frase Content Brief Process
The resulting document shares a lot of useful information to consider when writing about a topic.
It starts with basic technical stats, like:
A Overview section in Top Results analyzes section headings and major topics for each current top-ranking result.
Topics are like Clearscope's Relevant Terms (entities/keywords). Use this data to help determine if you're effectively including the right keyword terms for ranking.
One of my favorite sections is Stats, which offers data and source links that may be useful for proving any claims made within your content:
News is also interesting and especially useful for writing timely topics.
You can click Automate Content Brief to create a summary of all this information as a shareable content brief.
Other useful and related Frase features include Question Ideas, which can be a great source of related featured snippet ideas:
And Concept Map, which acts similarly to Answer the Public for brainstorming topics and related concepts, based on Wikipedia's Knowledge Graph:
It's located within the content editor, under Related > Wikipedia > Open Concept Map.
Frase and Clearscope Alternatives
Some Frase and Clearscope alternatives include Surfer SEO, MarketMuse, and Topic. The reason I didn't get into them in detail here is because I use them a lot less often than Frase or Clearscope.
The Blogsmith does use MarketMuse to supplement our keyword research process with another data source. We've also optimized content according to Surfer SEO topic reports and SEO audit documents. Topic is very similar to all of these tools, just a different take on the theme.
In general, these tools work much the same to generate SEO content briefs and offer a similar pricing scale — a total monthly cost based on included reports.
Final Thoughts: Clearscope Review & Frase Review — Which SEO Content Brief Tool?
Both Frase and Clearscope are useful tools for creating content structure and analyzing how effectively your content could take on currently ranking results.
At this point in time, Clearscope is the better, more precise tool. But Frase is an earlier-stage company and it's adding useful new features at a fast clip. I could see it catching up or surpassing the value offered by Clearscope if the keyword data accuracy and relevancy improves.
If content SEO is what you do, I could certainly see a use case for having access to both — Frase as a detailed brief with Clearscope as a powerful final check. Or, play around with Clearscope and Frase alternatives like MarketMuse, Topic, or Surfer SEO. Each tool offers different advantages, so pick based on your unique use cases.
What questions do you have after reading this combined Frase review and Clearscope review? Let me know your thoughts in the comments below!