These days, content optimization tools are all over the market, thanks to artificial intelligence (AI). But while this breakthrough is exciting, it also means you already have several tools to choose from.
Now it's more challenging than ever to determine which tools are worth your money.
You might know that most content optimization software offers very similar features. They use Google's natural language processing (NLP) system to analyze high-performing content and generate actionable recommendations.
But there's a lot more to talk about. I'll begin my overview of these content optimization tools by describing why they are important for SEO (search engine optimization).
Then, I'll give you a side-by-side comparison of the three popular tools' features, unique offerings, and whether you should choose just one or all of them.
Here's what you'll learn:
Why Use Content Optimization Tools
In 2019, Google released the BERT (Bidirectional Encoder Representations from Transformers) algorithm, one of its biggest updates. BERT's "brain" uses NLP and can determine a word or phrase's context and search intent based on various signals surrounding it.
That's why SEOs realize NLP, machine learning language models, and AI-powered content optimization software are game-changers.
Content writers often look for these tools to create optimized content, with most experts recommending Clearscope, Frase, and MarketMuse as the top three content optimization tools.
If you're on the fence about which of these tools you should use when you write content, then this guide is for you.
Frase is noted as the first Answer Engine Optimization platform, which helps you easily identify the questions your target audience is asking online. It is a content research and optimization software that automatically generates the most relevant content outlines and also provides a wide range of research sources.
Honestly, when I learned about AI-generated content and NLP analysis, Frase was one of the very first tools I was introduced to. Its tagline remains the same to this day: "SEO that will still work in 2030."
Let's take a look at what this content optimization tool currently offers.
One cool feature from this part is the Topic Heatmap, which gives you a clear strategy when writing your content as you can see what your competitors are missing.
It's nice to see Frase taking this feature to the next level, as I was familiar with MarketMuse's Topic Heatmap. In fact, Frase launched it last April 2021, which I was unaware of until just recently.
It is always a good practice to be on the lookout for new features of whatever content optimization software you are using.
Frase also lets you expand sub-topics under Related Questions.
Content analytics: This feature integrates with Google Search Console to analyze your page's organic growth.
Article Summarizer Chrome extension: This Google Chrome extension lets Frase users automatically summarize articles to make research faster.
Google Docs integration —You can now access Frase features from any Google Doc. This add-on is only available to Frase customers with the Team Plan.
Generate header suggestions
 Content analytics: Frase is the first content optimization software I've known to offer Google Search Console integration.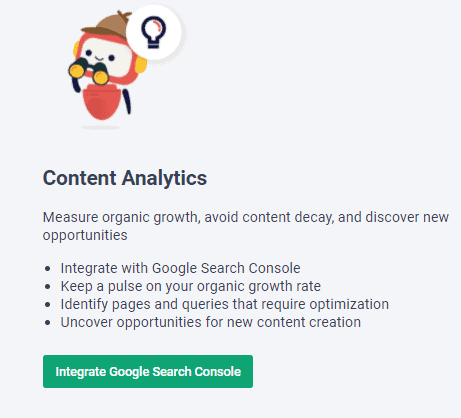 Generate documents for up to five target keywords: The rest of the tools on this list will only have you specify one keyword per report. With Frase, you can specify three queries, and with its SEO Add-on, you can specify up to five keywords to optimize for.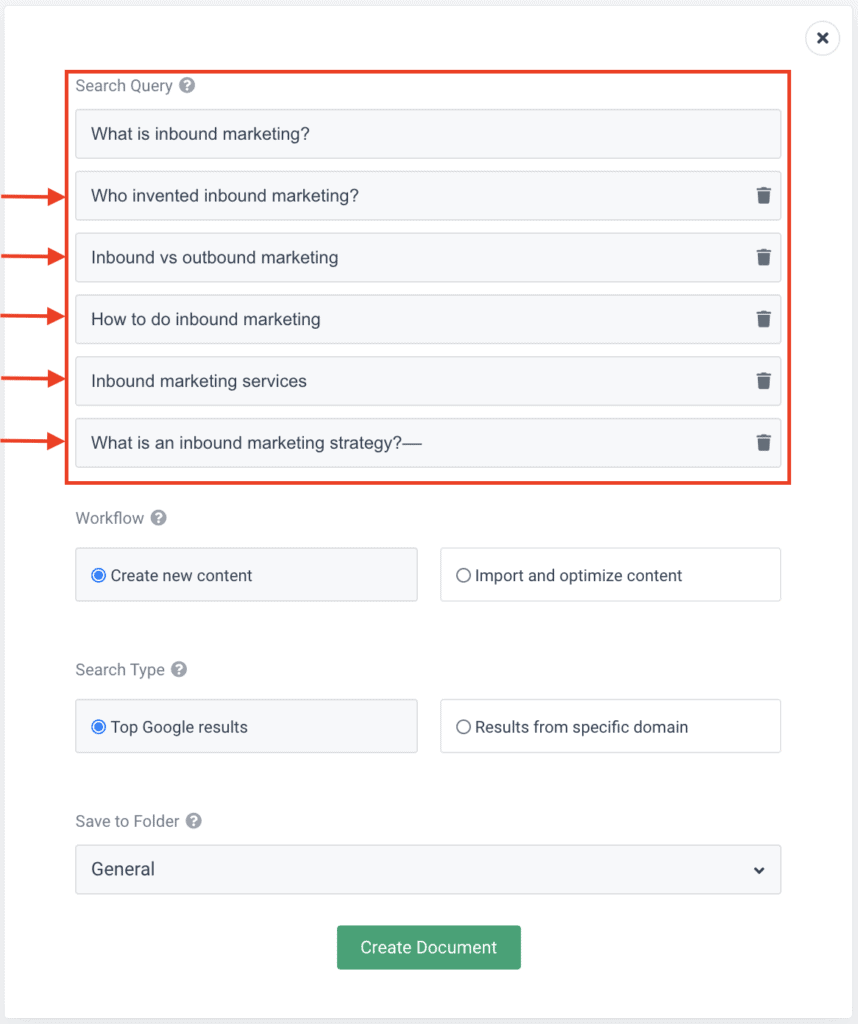 If you choose the Frase SEO Add-on, the cost is $35/month, on top of the Basic or Team Plan.
Frase's budget-friendly pricing model makes it a great choice for freelancers or solopreneurs who are just starting out. The company offered an AppSumo lifetime deal in the past, so keep an eye out for future offers.
User Experience: Frase needs a better in-app tour of how to use its product.  At first, new users might not understand all of its features without watching the demos. Another downside is that it can't generate bulk reports.
I love how Frase continually adds more features and makes it competitive to the other two content optimization tools on this list (which are most commonly used for enterprise-level needs).
Now, let's talk about MarketMuse.
MarketMuse is an industry-leading AI content planning and optimization software for SEOs or content teams. By analyzing thousands of articles across the web, the platform helps you plan and craft your content comprehensively.
The company says data scientists, engineers, and SEO experts helped build MarketMuse. So, there is no doubt that it offers useful features.
MarketMuse plan starts at $0/month with limited features, and plaid plans starts at $7,200/year . Paid plans get you unlimited projects — but it's incredibly pricey for small businesses.
The Standard plan only allows one user seat, and adding new users costs $99 per month.
MarketMuse and Clearscope seem to have overlapping pricing differences, so let's see how Clearscope compares.
Clearscope is an AI-powered content optimization tool that has helped companies across the world produce highly relevant content for their target customers. It uses Generative Pre-trained Transformer 3 (GPT-3) technology, a new version of NLP that analyzes high-quality content from search engines.
Clearscope is a popular choice because it provides the most valuable SEO data to write content and win against competitors. Plus, it is straightforward to use. Here are its features:
Most Searched
Least Searched
Most Competitive
Least Competitive
Highest CPC
Trending
In the Research tab, you can see Related Questions, Top Competitors, and External Sources, all in one place.
Clearscope plan starts at $170/month with 20 monthly reports but with three user seats.
Since Clearscope only lets you generate 20 credit reports (compared to MarketMuse which allows 50 reports at $179), the tool uses its own way of structuring credit models.
You can buy credit reports in packets of your choice for only $8.50 each, which is cheaper than MarketMuse's $25/credit.
As far as pricing models go, MarketMuse and Clearscope are mostly meant for people with teams, not solo content creators or freelancers.
Final Thoughts: Top 3 Favorite Content Optimization Tools — An In-Depth Look
So, how do you choose which content optimization software is best for you?
Your personalized needs usually determine what the right choice is.Therefore, let me reiterate the best use cases and my unbiased opinion.
You should use Frase if you are just starting out and need more topic research.
MarketMuse and Clearscope are great enterprise-level solutions. MarketMuse works best when you conduct a comprehensive content strategy and topic clusters to determine a website's topical relevance.
Lastly, use Clearscope if you have larger teams to ensure you outsource SEO content creation at scale without the need to train employees.
It's best to use all of these tools to take advantage of each unique feature. Several tools have emerged recently, and I've tested some of them, but most aren't high quality. At The Blogsmith, we use Clearscope, MarketMuse, and Frase because their features add a unique value to our content creation service.
Do you have any questions about these content optimization tools? Let me know in the comments or contact us for more SEO professional advice.