For some, artificial intelligence (AI) is an exciting development poised to catapult their careers quite literally beyond human capabilities. But for others, AI represents a very real threat to their livelihood.
Recent developments in machine learning have left copywriters and content creators wondering if their days working as a writer are numbered.
Although it is true AI is capable of writing some pretty convincing material, writers don't have to worry about a career change — at least not yet.
On the contrary, savvy writers who know how to use the "spooky" new AI-powered writing technology, GPT-3, stand to benefit from these developments.
GPT-3: The AI Writing Bogeyman
In 2020, OpenAI unveiled a technology known as Generative Pre-trained Transformer 3 (GPT-3.) 
GPT-3 is a machine learning system that uses AI to understand and write human languages.
It can handle complex tasks like:
Essentially, all the tasks you employ a writer to do.
While not the first of its kind, GPT-3 has attracted a lot of attention for being exceptional at what it does. Under the right circumstances, developers who understand how to use GPT-3 can produce results that are hard to distinguish from human writing.
The algorithms behind GPT-3 analyze incredible amounts of written text to hone their language skills — that's what "pre-trained" means. Predictive language algorithms can learn how to mimic just about any writing style.
At The Blogsmith, we believe in embracing change. Rather than looking at AI writing tools as a threat, we've added them to our toolbox.
Until AI progresses (a lot) further, the most effective way to use GPT-3 and similar algorithms is to synergize them with human writing.
Here are a few tools you can use to do that. If you're looking for other AI writing tools to play with, new options are added to the AppSumo marketplace on a weekly basis.
Niches$$ combines a business idea generator with AI writing.
It can automatically scan Reddit for business ideas and related subreddits. But more interestingly, it can create all sorts of copywriting and marketing materials.
Answer a few questions and seed Niches$ with some data, and it can produce:
Headlime is an AI-powered copywriting tool based on GPT-3 that can produce just about everything a business needs to communicate with the world, including:
Headlime excels at asking the right questions about the content you want to create. Their marketing copy tools are carefully segmented into areas like value propositions, taglines, and ad headlines.
Used carefully, Headlime does a great job at putting writers on the right track toward creating focused and purposeful copy.
Copysmith is an AI-powered tool created with human writers in mind.
Designed to help writers brainstorm, Copysmith can automatically generate suggestions as well as longform copy. It can also create outlines and introductions to get the ball rolling.
Copysmith's suite of tools is unique. It saves a lot of time with its ability to rapidly re-write content, generate product descriptions, and create copy on the fly.
In addition to its AI abilities, Copysmith has a nice interface to organize and edit your copy.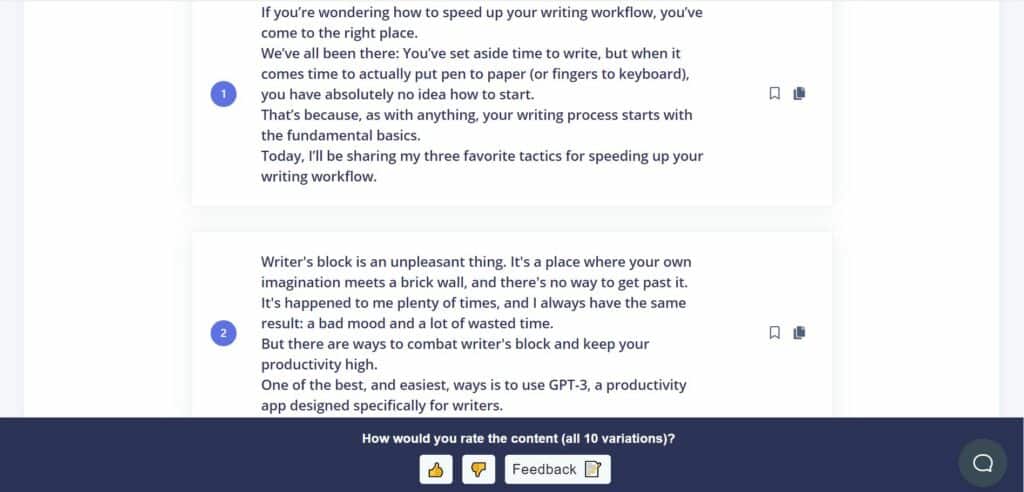 Writesonic is an AI copywriting tool designed to give you plenty of copy to work with.
Input 1-2 lines of description and Writesonic produces a dozen copy variants based on your selected template.
Writesonic's templates include:
It can also help with long-form content. Writesonic generates outlines, intros, and entire articles based on limited input.
Writesonic's output can be rapidly fine-tuned and easily revised with help from a human writer. With a bit of assistance from some other powerful digital marketing tools, you can almost automate the entire process of generating and editing basic copy. But not quite.
How To Use GPT-3 Tools Effectively
When it first hit the scene, GPT-3 caused quite a stir. Though certainly a harbinger of things to come, so far the tools powered by GPT-3 are not up to the task of replacing human writers.
The copy AI produces leaves a lot to be desired. We're unlikely to be sending anything it produces straight out for publishing anytime soon.
GPT-3 does well as a springboard for new ideas. Outlines and introductions generated from a few keywords are a great way to get the creative juices flowing.
As an automated assistant, AI can handle basic social media ad copy, effective summaries of articles, and some of the day-to-day busywork of content creation.
According to Google's Search Rater Quality Guidelines, content generated by an AI is considered spam. And it's fair to assume that Google's powerful algorithm can identify and deindex the output of another algorithm.
Google's perspective is well-founded. While GPT-3 and other AI may produce readable and human-like writing, these algorithms are fundamentally unaware of what they are creating.
AI doesn't understand the quality of the information it provides, nor how effectively it answers a question. Search engines want to connect users with useful information, and that's reason enough to exclude AI-generated writing from search results.
Although GPT-3's writing can be convincing, it lacks the subtlety and nuance of human communication. It struggles to capture a consistent voice or style the way a human writer can, and more often than not fails to create a connection with the reader.
In other words, GPT-3 and other AI writing tools should not be relied on for anything of substance.
Prepared for the Future: How To Use GPT-3 To Your Advantage As A Writer
For now, AI has a long way to go before it can compete with a human writer.
In much the same way that word processors and spell checkers have made writing more efficient, writers who know how to use GPT-3 will find it more ally than enemy.
If you're trying to find quality written content, look away from AI. Instead, take a look at the incredible content capable human writers can produce. Get in contact to learn about The Blogsmith's writing services. We'd love to put our expertise to work for you.