Updated 10/4/18. Please note: this article contains links for my favorite AppSumo products.
My life changed for the better when I discovered AppSumo deals.
But what is AppSumo?
AppSumo is a lifetime software deal marketplace. It works like this:
WPCrafter likens it to Groupon for lifetime software deals:
I'll be sharing my top rules for buying lifetime deals (without getting addicted!) but first, let's get to know the company who first popularized them in this AppSumo review.
What is AppSumo? The Company's Humble Roots
AppSumo first started in 2011, established by serial entrepreneur Noah Kagan (who's also behind software tools Sumo and KingSumo). David Garland shares how Kagan built the business for $50 in a weekend — it became a million dollar plus business less than two years later
Kagan is in good business company with thought leader partners like Neville Medhora, who helped grow AppSumo's email list from zero subscribers to 750k. The Prey sales page was Medhora's first sales page/email campaign — it was so successful that he wrote every sales page for the next two years.
AppSumo has turned into a 
growth hacking engine
 for many of the businesses who run a lifetime deal on the marketplace. Thanks to AppSumo, 
NinjaOutreach
 recruited 2,000 new users and 
PixelMe
 made $176,826. To date, AppSumo has made millions for the companies that run with them and has 
saved
 billions for their customers. How's that for an AppSumo review? I reached out to Noah Kagan on Twitter to ask about the first AppSumo deal ever and I was delighted when he responded:
imgur pro

— Noah Kagan (@noahkagan) September 6, 2018
Now that you have a slightly more detailed answer to the question, "What is AppSumo?", let's dig into the rest of this AppSumo review.
AppSumo Review & Helpful Rules for Considering a Lifetime Deal Purchase
It's easy to get addicted to seemingly good deals. But not all lifetime deals contain equal value. In fact, some lifetime deals may be completely unnecessary for your business: both now and as you grow.
My AppSumo review wouldn't be complete without a blanket statement that you should carefully consider each new software tool purchase. Here are the rest of my tips and rules for investing in lifetime deals:
#1: If you're a content creator, say yes to credits for various media assets.
One of the most popular AppSumo deals every year is for DepositPhotos. Claiming that they'll raise the price next time it runs, DepositPhotos' last AppSumo deal was $49 for 100 image credits. They recently launched a new AppSumo deal for 2018, though focused on stock videos.
Since paid stock photo image credits tend to start at $1/image, this was a real steal for stocking up (pun intended). Using only free stock photo sites can mean limited options that are sometimes easily recognizable for what they are.
Another recent AppSumo deal involved another type of media — audio. AudioHero grants the user thousands of credits to their ever-growing library of 250,000+ audio files. Since I'm trying to get more involved with video marketing, it seems like a good idea to invest in royalty-free audio assets.
In other words, when AppSumo offers a comprehensive library of stock content material, as a content creator, you grab that shit up.
#2: Seek Outside (Non-Biased) Reviews
The minute a new AppSumo deal goes live, the countdown begins.
The best deals sell out — but none are immune to eventually running their course, so you can't spent too much time shuffling your feet in indecision. As the lifetime deal fan community starts to discuss the pros and cons of a certain deal, FOMO (fear of missing out) strikes hard and fast:
But there are rumors that AppSumo review sections are a little more, er, moderated than you'd hope.
To be fair, you should always expect a company's website to tip the scale in their favor when it makes sense to do so. This isn't to say that onsite AppSumo reviews aren't insightful — just that you should consider both the most positive and most negative reviews before making a decision.
#3: Audit Your Existing Software Tools
AppSumo knows their customer base well – a mix of solopreneurs, small teams, and even some agencies. It seems fair to assume that they choose to run most of their deals based on functionality the average small business owner inevitably needs.
On that note, some of the same types of deals run within close proximity of each other on AppSumo. This tends to trigger another kind of FOMO, after buying one deal than watching a better one come onto the marketplace.
So before you disturb your existing workflow and the tools you've already got a good handle of, ask yourself if this shiny new thing is really necessary. Is it revolutionary enough to add to your tech stack?
I made the mistake of getting caught up in the idea behind Knowlocker — which I thought could be valuable for storing and presenting contractor onboarding documentation and training. After spending some time playing with the tool, I went back to my existing solution: a Google Sites website that provides secure user permissions functionality.
It's worth mentioning now that AppSumo has a generous 60 day refund period with a self-service refund process. You can test drive a new software tool for up to 2 months with the option to refund at any point during that time. Because of AppSumo's ridiculously low deal prices and this risk-free refund process, the risk for investing in AppSumo deals is very low. That's one of the most important takeaways of my AppSumo review.
So why did I stray when I had a perfectly good free solution already in place? It's that FOMO. And the shiny new thing factor. The only way to beat it is intense introspection.
I'm sure that Knowlocker will grow exponentially with time. I just wasn't ready to deal with a buggy UI (user interface) when my business is at a point where I can afford high-quality software tools. The decision to refund versus keep a flawed MVP (minimal viable product) is certainly a personal one.
On that note…
#4: Check out the Lifetime Deal's Product Roadmap
It seems like a lot of businesses use AppSumo to raise some needed funds in lieu of going after more traditional venture capital investments. For the entrepreneurial consumer, this results in a once-in-a-lifetime opportunity to eliminate future subscription payments for what could turn out to be an invaluable tool that they use every day.
Just realize that some of a featured deal's true value may be tied to a certain feature that won't be released for a few more months. For useful features, the wait is worth it. But buying a lifetime deal and waiting for a certain feature means that you're locked in without a future opportunity to refund.
A buggy tool with no product roadmap (a schedule of new feature releases) is a pretty obvious red flag. It can also be a sign of a company's impending doom.
Yes, some lifetime deals are for companies that quickly go under and sometimes a deal's terms unexpectedly change (despite promises made otherwise during the initial AppSumo run). This situation is rare but worth mentioning as a risk for those who invest a lot of time in getting to know a new software tool.
Here's a recent example of an AppSumo lifetime deal, Epictions (also known as EpicBeat), unexpectedly shutting down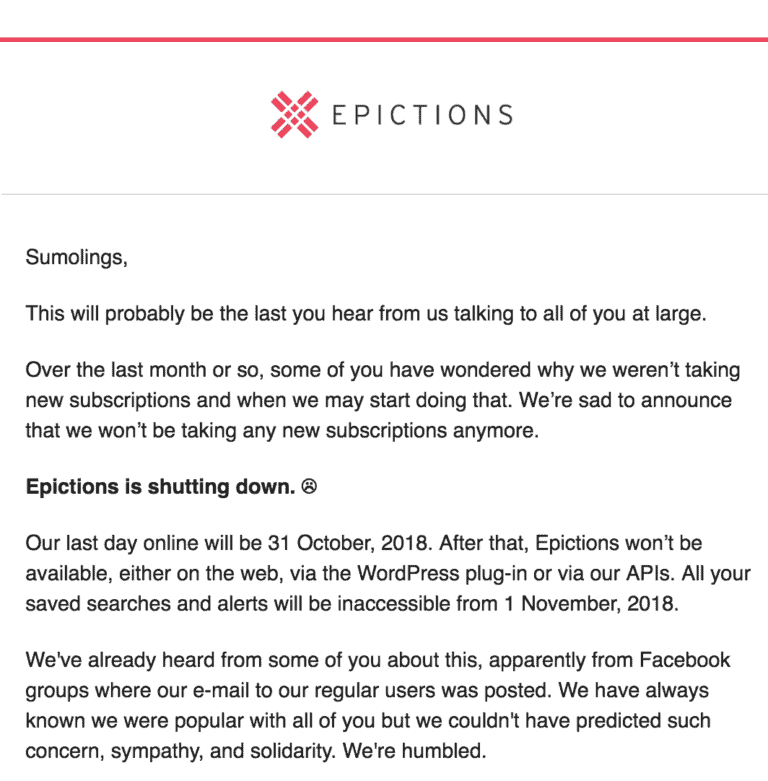 This "lifetime" deal lasted little over a year — I bought it on 4/21/17.
#5: Determine if the Lifetime Deal Integrates with Other Favorite Tools
Is tool interconnectedness important to you? Integrations can chop time off various business processes. Before buying a new lifetime deal, check to see which tool integrations exist and those that are on the product roadmap.
It's generally a good sign if your tool connects with Zapier, where many apps can create seamless connections to each other (with additional customization options available). While evaluating a lifetime deal, check out the zaps and triggers available for your favorite tools.
#6: Ask Yourself the Tough Questions
Even if you're saving money, learning a new tool and configuring it for your business needs is still time and mental energy you take away from other tasks.
Before buying a new lifetime, ask yourself:
Also make sure to ask yourself, "Can I afford enough codes to grant enough access for my entire team?". If a lifetime deal in question is for a collaboration tool, this is an especially important consideration.
#7: Find a Support System for Non-Biased AppSumo Reviews
When it comes finding useful AppSumo reviews, it helps to be a part of a non-biased community of lifetime deal aficionados.
I'm a huge fan of the LTDFans (Lifetime Tech Deals Fans) group run by Tracey Lee Lorenson. Every time a new AppSumo deal goes live, a lively discussion begins — sometimes involving a company founder for high-level AMA (ask me anything) access. LTDFans members are particularly sharp in picking holes in deal structure and access limitations, which is so necessary during the consideration stage.
The LTDFans group also alerts members about lifetime deals on other platforms besides AppSumo, making it a comprehensive resource for finding a lifetime deal in a certain software category.
Says Tracey Lee Lorenson about her group,
"We carefully curate the offers we share exclusively in the group (BigMarker, Landbot, Brandquiz) and spend hours prior to launch to make sure they [the deal company founders] are super prepared for all the questions people will ask (these are highly predictable)".
On a related note, she says, "We also require deals to be willing to come into the group and actually explain the product and deal so people can make an informed choice without needing to spend a lot of time testing to see if it's a fit. We also turn away far more than we launch so we are really selective and expect that the LTD founders will keep updating and educating people in the group".
LTDFans also focuses on showing people how to best make use of deals in terms of supplementary education for business basics, such as how to run Facebook Ads, how to run a webinar, and so on.
And her expert tip for picking the right lifetime deal?
"I don't suggest buying roadmaps – we [LTDFans] launch products that are operational, not early beta, and frankly don't trust overpromising".
This goes slightly against what I said earlier (point #4) but since Tracey knows her stuff, you should definitely keep her advice in the back of your mind when considering AppSumo reviews on a lifetime deal you've got your eye on.
The Best Lifetime Deals I Bought From AppSumo:
I've bought so many AppSumo deals but these are some of the best of the best:
Final Thoughts: What is AppSumo? AppSumo Review & Tips for Buying Lifetime Deals
By now, you have a fairly detailed answer to the question, "What is AppSumo?"
AppSumo is a goldmine of invaluable deals for entrepreneurs. Like anything that involves risk, sometimes you win, sometimes you lose — but a good investment can offset several bad ones by spreading out the inherent risk of buying a lifetime deal from an unproven startup.
By setting certain rules for when to buy a lifetime deal, you'll be able to beat lifetime deal addiction caused by FOMO. Stay in the loop about new lifetime deals by signing up for AppSumo's newsletter and joining the conversation on the LTDFans Facebook group.
What rules for buying lifetime deals would you add to this AppSumo review? What are some of the best lifetime deals you've ever purchased? Let me know in the comments!