B2B buyers don't make impulse buys. Considering every investment they make is scrutinized for the value it returns, can you blame them for taking their time to make a purchase decision?
Investing in content marketing will help you earn their trust. After all, a 2022 Demand Gen Report discovered that 55% of B2B buyers rely more on content to research and make purchasing decisions than they did in 2021.
But for your content marketing strategy to lead them along a path that ends in a purchase, you must guide them by the hand through every step.
And that means mapping your content across the sales funnel stages. If you want to learn more about the sales funnel and how to develop content for each stage, keep reading.
A sales funnel represents the journey potential customers go through on their path to a purchase, from casual website visitors to engaged prospective customers to paying customers.
Every sales funnel is different, but the goal is the same: help brands move a potential lead one step closer to becoming a customer.
You can think of the funnel as a vetting process to help narrow down your list of leads to a smaller group of highly targeted prospects.
Pro tip: A sales funnel has many moving parts, but you can equip your salespeople with customer relationship management (CRM) software to automate lead generation, send follow-up messages, and automate sales funnel movement. Consider CRM tools like HubSpot, Salesforce, or your own homegrown solution using a no-code platform like Airtable.
What Are the Stages of the Sales Funnel?
Awareness stage (top of the funnel): The prospect becomes problem-aware.
Consideration stage (middle of the funnel): The prospect is aware they have a problem and is now considering solutions.
Decision stage (bottom of the funnel): The prospect is ready to buy and is now narrowing down their options.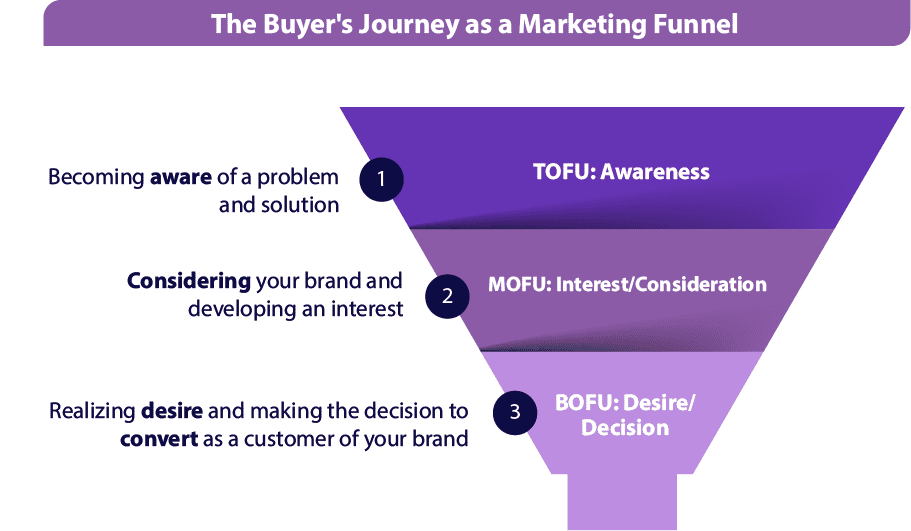 Thinking in terms of these three stages is only helpful when considering them in terms of your target audience. So, let's go over how to use the buyer's journey in your content.
How To Use the Buyer's Journey for Content
Consider your buyer personas (your ideal customers) through the lens of the buyer's journey. That will help identify the channels and touchpoints prospects typically interact with you before they become new customers.
You can then use those insights to develop content assets that address pain points, streamline the buying process, and remove friction across all touchpoints in the buyer's journey.
Each sales funnel component requires different content pieces, such as: 
Social media posts
Email nurture sequences
Landing pages
Comparison pages
Case studies
However you develop content for your sales funnel stages, the goal is to seamlessly move prospects through the funnel. That way, they'll be ready to act when you gently hit them with a relevant call to action (CTA).
To pull this off, it helps to use a visual of the buyer's journey as a sales funnel.
Here's an example. Meet Sarah, a senior communications manager of the startup advertising agency Creativeops (a fictional company).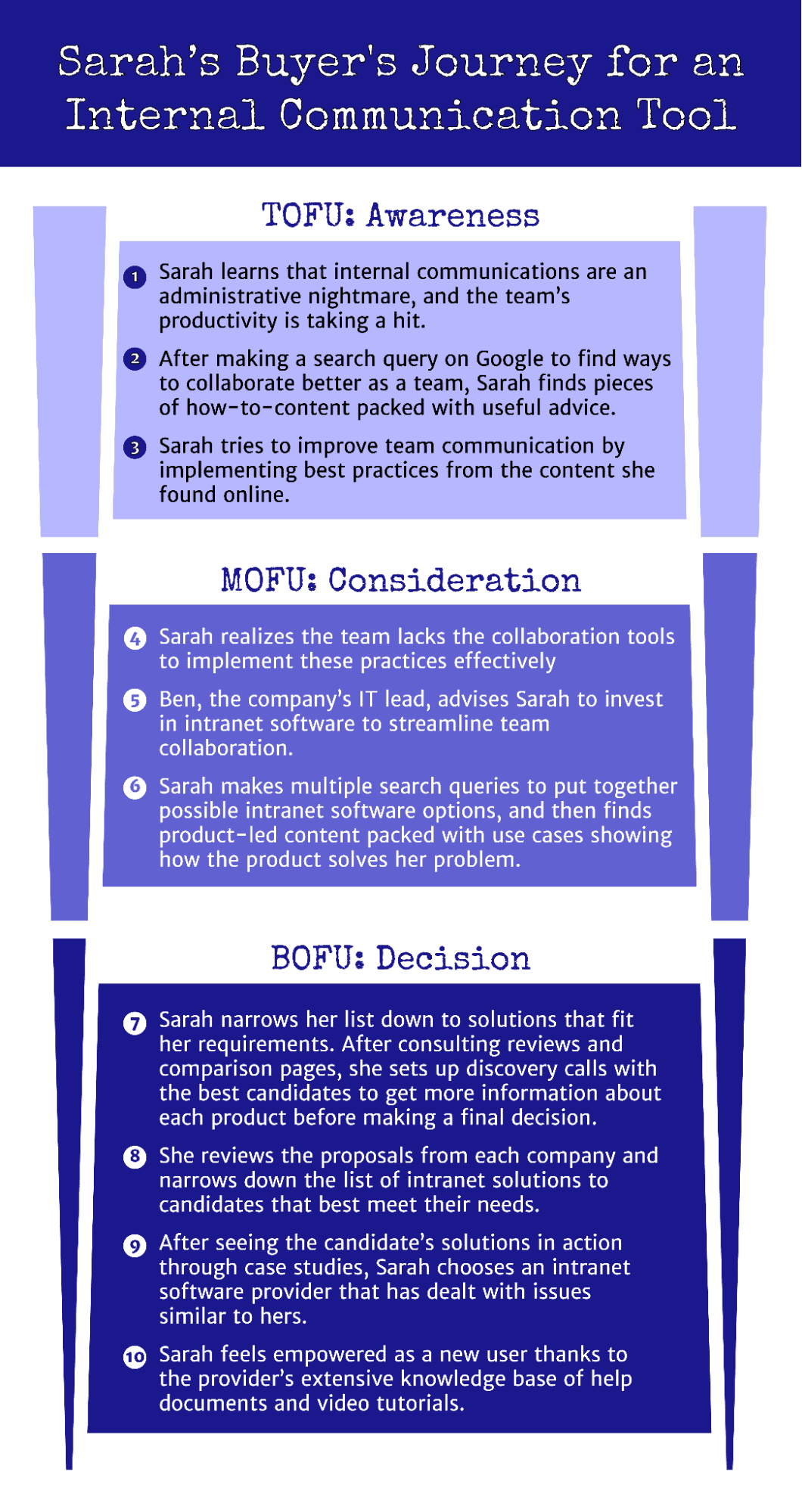 Once you've mapped out a specific persona's journey, you'll find it easier to come up with ideas for developing content for each stage of the sales funnel.
How To Optimize Content for the Stages of a Sales Funnel
Prospects may enter or move along your sales funnel through different entry points, be it a how-to blog post, a piece of product-led content, a review article, a case study, or a comparison page.
So if you want to keep generating quality leads and move them toward a sale with ease, you need to create content for each stage of the sales funnel.
As Sarah from our previous example would attest, the road to sales is paved with valuable content that satisfies search intent.
Simon Ensor, Director and Head of SEO at Yellowball, says search intent should be at the core of every search marketing activity.
"Focus on searcher intent. This should underpin all of your activities — research, creation, and distribution. What is the searcher really trying to achieve, and how is your content helping them reach this goal?"
The Blogsmith offers an advanced keyword research process as part of our services for this reason. We look into search intent as we research keywords and develop content for each sales funnel stage.
This way, we can help our clients fill their sales pipeline with high-value leads and facilitate the sales process.
The Blogsmith's working model of search intent defines four distinct types:
Informational intent
Navigational intent
Commercial/investigational intent
Transactional intent
Starting at the top of the funnel, we'll examine how each type of search intent fits into the sales funnel stages. Then, we'll list the content types you can use for your persona for each stage.
Using Sarah from the previous example, let's determine which stage of the sales funnel each type of search intent correlates with.
Searchers use informational intent keywords when they want to learn or seek a solution to a problem. Most informational intent keyword phrases start with "how to" or "what is."
What Sarah would do: To seek answers, Sarah types in the informational intent keywords "how to communicate better as a team" on the search engine. 
Use informational intent keywords for the following types of content:
How-to guides
Infographics
Blog posts
Whitepapers
Searchers use navigational intent keywords when looking for a specific brand or company, often to visit their website. They're at the consideration or interest stage of the sales funnel.
Queries with navigational intent often involve branded keywords and phrases in a pattern similar to "product name + product feature + software" or "feature + in + product name."
What Sarah would do: After asking a colleague for suggestions, she types in the navigational intent keywords "Slack features."
The types of content that work best for navigational intent keywords include:
Product guides
Support pages
Product updates and release pages
Forum pages
Sign-in pages
Commercial/Investigational Intent
Searchers use commercial intent keywords when comparing products or brands for pricing, features, and more.
They're not ready to buy yet, but they're creating a short list. Users who perform a Google search with commercial intent use keywords that include:
Best
Affordable
Cheapest
Comparisons
What Sarah would do: Sarah enters the commercial intent keywords "best internal communication platforms" to look for different options.
The best types of content for commercial/investigational keywords include:
Comparison blog posts
Product review pages
Client testimonials
Case studies
Searchers use transactional intent keywords when deciding to buy or sign up for a service. They just don't know where to buy it yet.
As such, these keywords involve action or sales words/phrases like:
Buy
Discount
Download
Order
Purchase
Reserve
Sale
What Sarah would do: After deciding on an internal communications platform, Sarah uses the transactional intent keywords "download Slack."
For a more in-depth guide on the buyer's journey and search intent, check out Maddy's book  —  "Writing for Humans and Robots: The New Rules of Content Style."
Final Thoughts: Intro to Sales Funnel Stages & How To Craft Content for Each
Prospects buy from those they trust. You can earn that trust by developing content that speaks to their pain points and needs at every stage of the buyer's journey.
Generating new leads and increasing sales can be a tricky exercise. Yet developing an effective sales funnel makes it all come together by helping you:
Get a deeper understanding of the customer journey
Deliver relevant messages at the right time
Shorten the sales cycle
Boost conversion rates and increase revenue
Need help developing content that aligns with your sales funnel stages? Get in touch with The Blogsmith today.