Crafting corporate communications without a style guide is like driving in a new city without a map.
You'll likely end up confused and lost.
Many elements go into creating on-brand content. Without a handy reference to guide their efforts, your writers and editors may end up making your business writing appear inconsistent. And that will likely confuse your audience and could lead them to stop doing business with you.
According to Bynder's 2023 State of Content report, 50% of creative and marketing professionals prioritize creating consistent content experiences on all platforms. To achieve this, creating your own style guide is a step in the right direction.
A business style guide is an official document outlining guidelines to present your brand to an audience from a visual and language perspective.
It ensures different contributors to your brand's communications can create clear, cohesive, and consistent content for multiple channels. That way, all your content will sound like it's coming from the same source.
Don't know where to start? We'll explore who needs a style guide and how to use one for your business.
Here's what you'll learn:
Benefits of Using a Style Guide for Your Business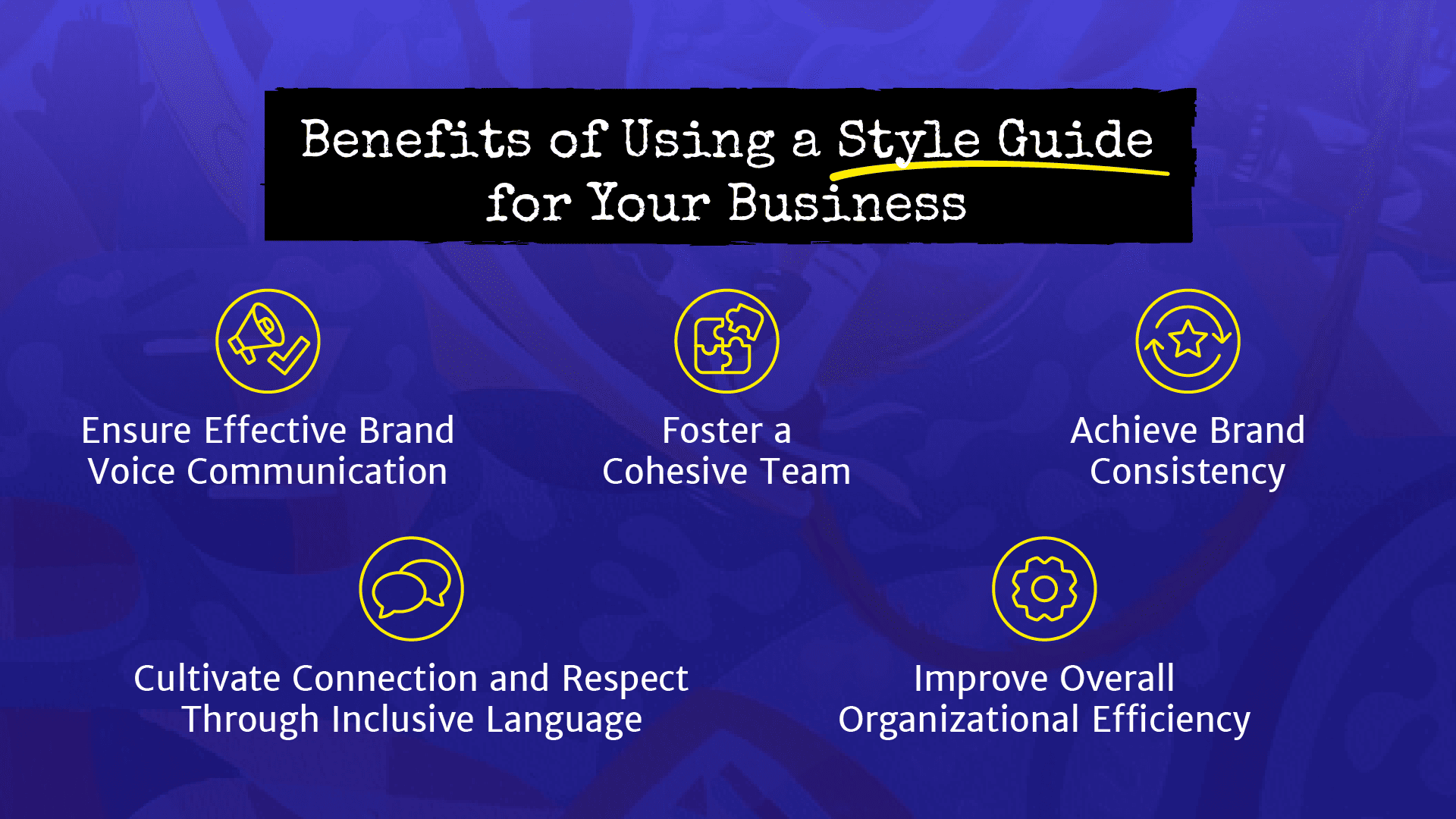 Ensure Effective Brand Voice Communication
Audiences remember brands with a distinct voice.
Is your business casual and friendly? Or is it direct and informative? Or maybe your approach is to shift your brand voice depending on the context or medium.
It can be hard to keep up with these content specifications. But a style guide identifies your tone of voice, making the content production process more effective.
One thing a business style guide does is tell your content creators which brand voice to adopt for each scenario. This ensures consistent brand communication across all channels and helps you stand out.
After all, "speaking" to your audience in a way that accurately represents who you are, what you do, and what you stand for can create a sense of familiarity that will endear them to your brand.
A style guide helps your writers and editors, whether in-house or freelance (or a mix of both), understand your brand's tone and how to deliver it best.
Brand communication can come from different teams. And a company style guide prevents your brand from sounding like a random collection of different writers when each department produces content.
Achieve Brand Consistency
A style guide ensures brand consistency by documenting your content preferences.
It keeps track of important style rules that define your brand. This means you don't have to reinvent the wheel each time you produce content.
A style guide can be a checklist to help your content team remember brand rules and frequently forgotten guidelines.
For example:
Do you want your writers to use bold formatting when highlighting a company's products?
How much slang do you allow, and what kind?
Are you pro-Oxford comma or against using it?
Your team won't remember all your preferences off the tops of their heads. The good news is they can always refer to the style guide to achieve consistency.
Cultivate Connection and Respect Through Inclusive Language
Staying on-brand goes beyond addressing a target audience. If you want to cultivate a meaningful connection with your readers, use language that makes every individual feel valued, heard, and represented.
In other words, you need to harness the power of inclusive language. And what better way to do that than by creating an inclusive language style guide?
The goals of inclusive language include:
Fostering an environment that includes rather than excludes (e.g., using "they/them" instead of "he/him" or "she/her")
Avoiding terms that perpetuate harmful stereotypes (e.g., using "person with a disability" in place of "handicapped")
Using references that reflect the diversity of your audience (e.g., using "parental leave" instead of "maternity leave")
Consistently using inclusive language can be a struggle for many people. After all, it's hard to break with ingrained (and often decades-old) collective habits. Even well-meaning writers aren't always prepared to confront their personal biases.
But with a business style guide that instructs writers on how (and why) to use inclusive language, you can reach a wider, more diverse audience.
When your business communications make customers from various backgrounds feel seen and heard, you're creating experiences that enhance their perception of your brand. Plus, you can create a deeper connection with your audience by demonstrating your commitment to making each customer feel valued.  
Improve Overall Organizational Efficiency
A writing style guide can reduce the time spent correcting mistakes related to formatting, grammar, tone, and spelling. This empowers you to focus on publishing content that's engaging and clear to readers.
A style guide can also speed up the editing process. When editors have brand guidelines to refer to in a style guide, they can identify errors and inconsistencies faster. All they need to shape your content according to your company's preferred style can be found in one place, saving valuable time and money.
You need a style guide if you regularly create content for your brand — whether that's on social media, your company's blog, or anywhere else that reaches your target audience.
Here's who can benefit from a business style guide: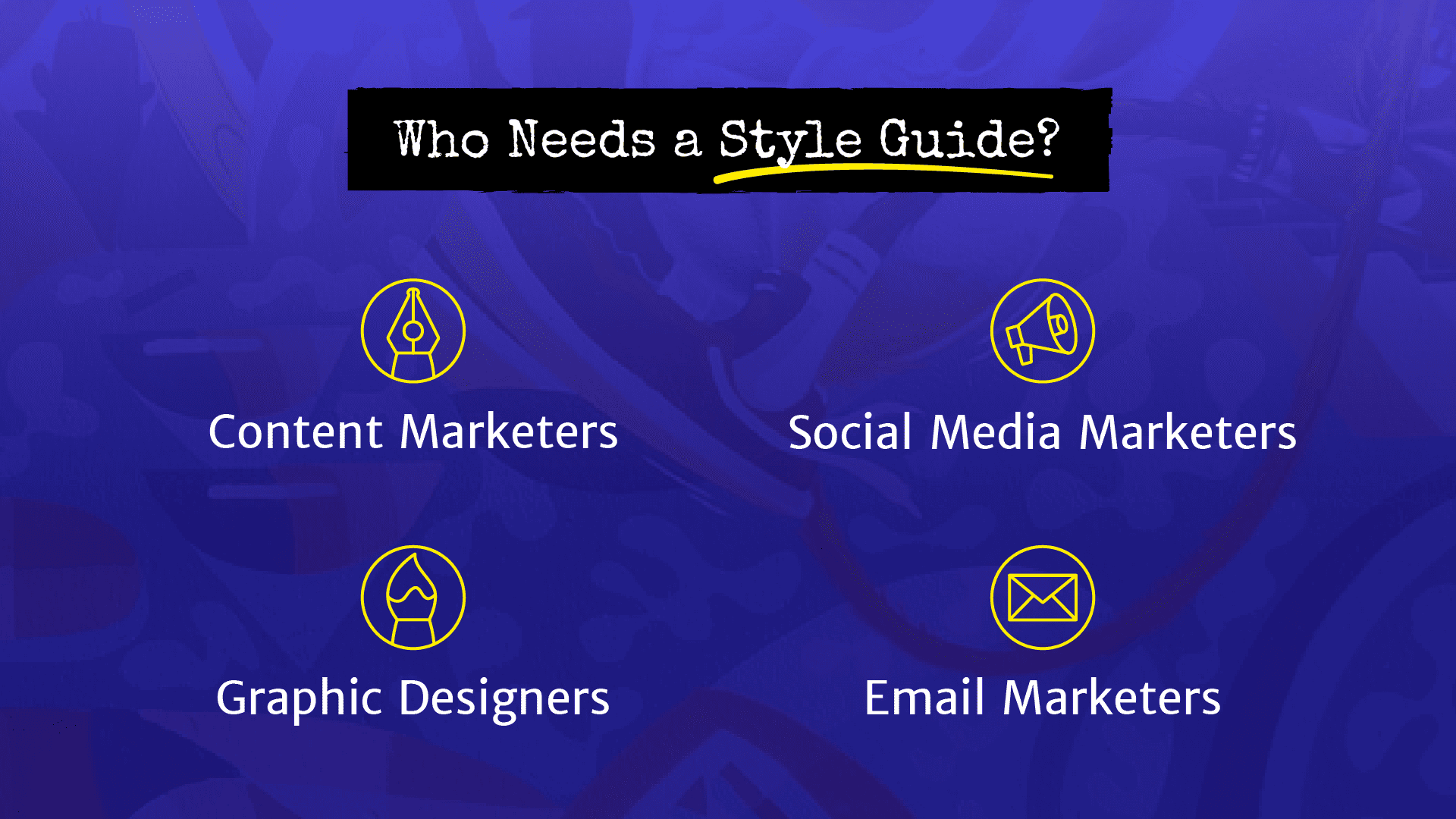 Whether your business has a dedicated content marketing department, an active content strategy, or lacks a clear content structure, you need a style guide.
Because let's face it — in a crowded marketing landscape, you need to consistently publish content that reflects your brand's identity and values to stand out. And that goes for all content channels, whether articles, social media posts, or email campaigns.
Inconsistent branding can confuse customers. And confused customers don't tend to stick around.
In fact, a McKinsey survey notes that 80% of consumers want a consistent, seamless experience across all channels.
That said, maintaining brand consistency can be tough, especially when you increase content production and use multiple channels.
But providing your writers and editors with a content marketing style guide makes it easier for them to stay on brand. 
With a business style guide that identifies your brand's specific goals and how to achieve them, you're giving writers the resource they need to create content that aligns with your brand's identity. Plus, they'll know how to craft content that resonates with your audience — regardless of the content channel they're on.
Graphic designers need a design style guide to keep images consistent on all marketing platforms. This type of style guide has rules for commonly used design elements like icons, typography, and headings.
These guidelines will ensure uniformity when using design elements. Graphic designers can follow them to ensure a consistent visual identity and branding.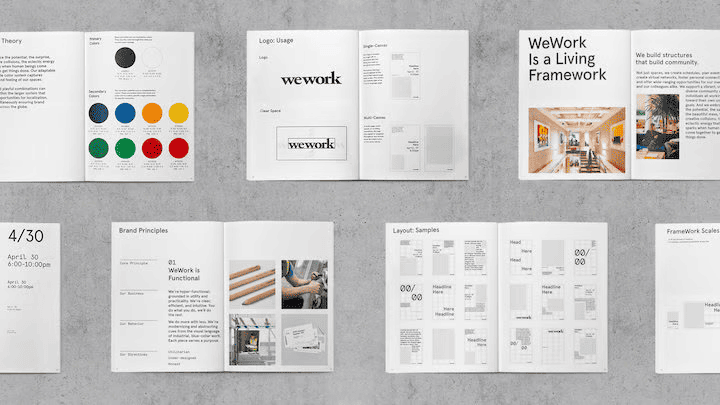 Your design style guide can include rules for visual elements such as:
Brand color palette and hex codes
Icons
Typefaces
Dropdowns
Buttons
You need a style guide if you run a social media channel. Top brands like Vodafone, Starbucks, and Audi use a style guide to ensure consistency on social platforms, and you should do the same.
A social media style guide informs how creators should approach content on those channels.
This shapes the target audience's thoughts when they see your brand assets on social media. A typical social media style guide will include recommendations for specific elements such as:
Personality
Tone
Meme usage
Emoji usage
Pop culture references
Trademark hashtags
These recommendations will help social media marketers develop a unique, unmistakable brand personality on social networks.
Take it from Warby Parker, a popular eyewear brand that consistently embodies its quirky, engaging, and authentic brand voice on social media.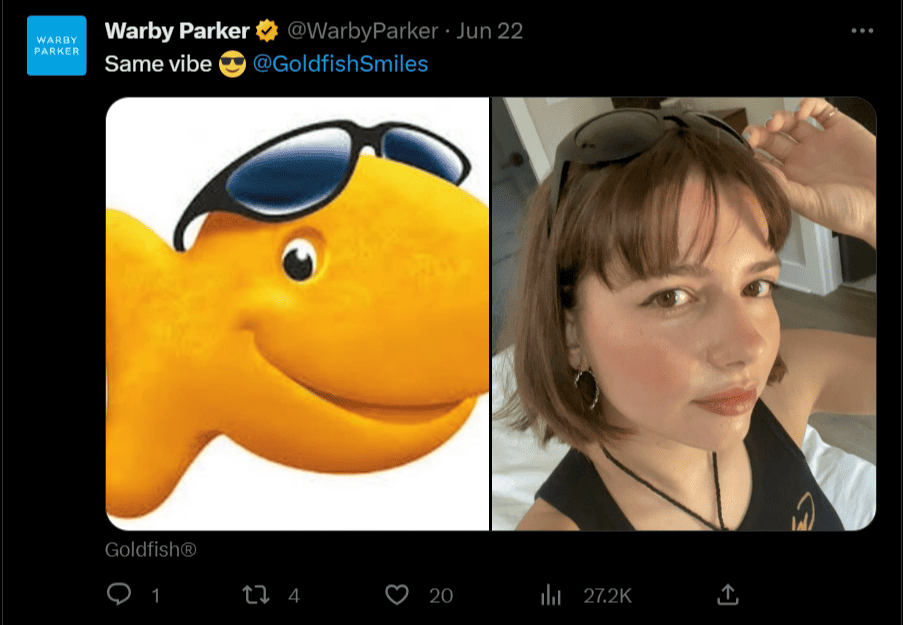 Whether you manage a one-person email campaign, use automated email programs, or run a newsletter, your process can easily go awry without a style guide to guide your efforts.
A business style guide ensures a uniform layout for your email campaigns. It should contain guidelines for key elements such as:
Subject lines: Provide recommendations and best practices for writing subject lines that entice recipients to open your emails.
Fonts: Your email style guide should include preferred font styles for body copy and headlines.
Alt text: Specify your brand's approach to writing alt text for images and other web accessibility elements.
According to Mailmodo's State of Email 2023 report, over 78% of marketers cite email marketing as their top-performing marketing channel in 2022. One way to achieve similar results is by using an on-brand tone in your email campaigns.
Your style guide should answer questions like:
How do you speak to the target audience in your emails?
Do you use emojis in the body copy and subject lines?
Should the content have a conversational or formal tone?
Is there room for personality and funny quirks in your emails?
Email marketers also need a style guide to keep track of how to use the following brand elements:
Images
Navigation bars
Taglines
Bullet points
Call to action (CTA) buttons
Email footers and headers (including unsubscribe links)
Key Elements of a Style Guide for Your Business
Your style guide can document your buyer personas, define industry-specific terms, and describe your company's voice. These elements will finetune your brand communications.
Your official content guidelines can include rules for:
It should also include other brand-specific elements that reinforce your company's unique voice and style.
You can take inspiration from existing style guides. For example, two of the most common style guides brands use are The Chicago Manual of Style (also called Chicago style) and The Associated Press Stylebook (or AP style).
Both style guides have rules for grammar and punctuation that you can adopt for your brand. For instance, the University of Chicago Press started developing Chicago style in 1891, which explains why its preferences tend to lean toward academic writing.
Similarly, AP style started with news reporting, and the influence is evident in the way its rules encourage brevity. You can include these preferences in your brand style guide if they fit your company.
In our case, we've chosen the AP Stylebook as the foundation for The Blogsmith Style Guide because it encourages clear writing and inclusive language. If you have similar goals for your content, we recommend that you look into AP style as a trusted resource to base your style guide on.
Exceptions to Official Style
You don't have to follow every rule in the AP Stylebook — even if that's your official style guide.
If there are any rules you want to change, your business style guide is the place to include them.
For instance, say you want to capitalize all the words in your headings. This is an exception to both AP and Chicago style and should be included in your style guide.
Brand-Specific Names and Words
Your style guide should include the right way to spell your company name, along with rules for using brand-specific words. These are unique words or catchphrases you've created for your products or services. Your brand name or words may have specific:
Spelling (e.g., Lyft)
Abbreviations (e.g., FedEx)
Capitalization (e.g., Apple iPhone)
Writers or editors may forget how to spell or use these terms correctly. So, be sure to add these brand-specific words to your content writing style guide to ensure the same treatment across all brand communications.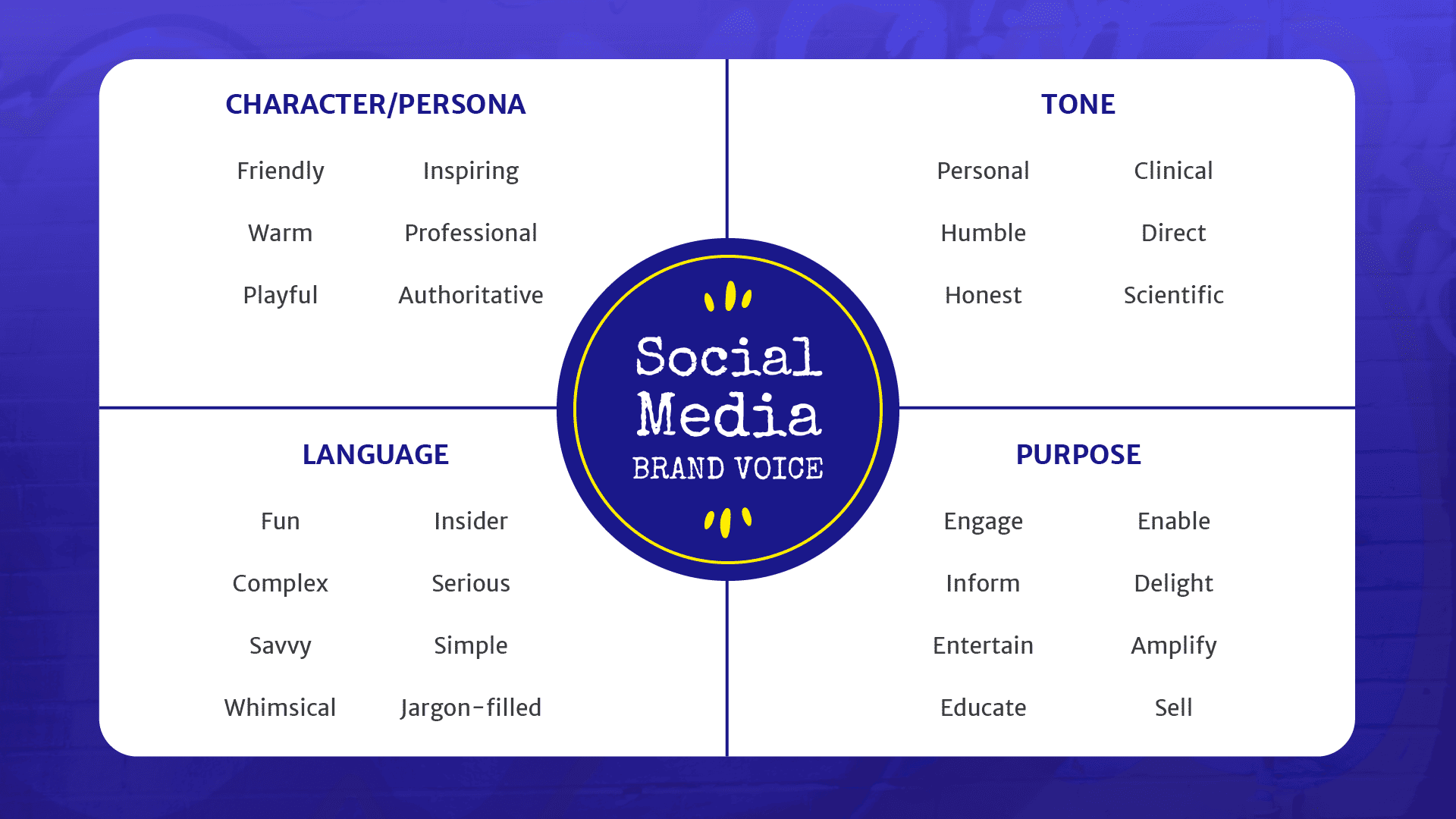 Infographic showing key components that make up a brand voice for social media platforms.
Your brand's tone and voice are key elements of your style guide. It should define your brand's ideal message and approach to sharing information. You should also note if your brand voice changes on different platforms.
For instance, your brand tone could be humorous and casual on social media but more formal in blog posts.
Your style guide should also include examples of copy that match the tone you want. This provides a reference for editors, writers, graphic designers, and other content creators.
A style guide should incorporate visual guidelines for branding. This helps content creators avoid visual mistakes that go against your brand identity.
Design guidelines range from logo design and placement to spacing rules. Adding them to your style guide creates a professional, consistent feel across all brand assets.
Last but not least, design guidelines help your writers understand how to effectively incorporate images into written content. For example, if you want your blog posts to be more visually engaging, you can specify in your design guidelines how they can follow best practices for blog images.
Creating a style guide doesn't have to be daunting. For more advice, check out our article on how to create a style guide for your business
Final Thoughts: Who Needs a Style Guide? + Business Style Guide Benefits
Anyone who creates written or visual content for a brand needs a style guide. This includes content marketers, graphic designers, social media teams, and email marketers.
A style guide is important because it ensures brand consistency and effective communication with your audience. By creating a style guide, you can equip your team with the tools they need to maintain a unified and recognizable brand voice across all business communications.
The sooner you create a style guide for your business, the faster you can create cohesive, on-brand content that leaves a lasting impression.
To learn more about implementing a style guide that empowers your teams to create content that connects with your target audience, check out The Blogsmith Founder Maddy Osman's book, Writing for Humans and Robots. It's available on Amazon in print and Kindle editions.