Please note: this article may contain affiliate links.
I've been following Nick Westergaard's career almost as long as I knew I wanted to get into marketing.
Nick Westergaard: From Branding Agency Owner, to College Professor, to Author
I went to college at the University of Iowa in Iowa City, Iowa, where Westergaard runs branding agency Brand Driven Digital. But that's not where his proximity to campus ends—he also teaches about social media marketing and branding within the college itself!
I'm sad to say that I never had the opportunity to take one of Westergaard's classes, but I would have liked to. My schedule didn't have much room for anything but requirements as I minored in Spanish and got a certificate in Leadership Studies, in addition to my major in Marketing!
I made up for this by attending Westergaard's Social Brand Forum event year after year, which has always taken place in Iowa City. Coming to Social Brand Forum as a graduate makes for a nice excuse to come home, outside of the ruckus of more traditional alumni events, like Homecoming.
Social Brand Forum is also a great opportunity for networking and learning, in ways that other digital marketing conferences haven't quite hit the mark for me. Westergaard frequently rubs elbows with a lot of big names in the industry (like Jay Baer, Ann Handley, Joe Pulizzi, Gini Dietrich, and many others) and does a great job of enticing them to make a stop in Iowa City for Social Brand Forum.
Shortly after graduating, Westergaard approached me to help create content (social media and blog posts) to help promote Social Brand Forum (in addition to live tweeting at the event). He also interviewed me for his On Brand podcast. The topic? Why Better Blogging Still Makes a Better Brand.
Now, Westergaard is adding a new facet to his decorated collection of titles. Besides keynote speaker, branding agency owner, and college educator, he can now also be referred to as author.
To be fair, he's already been able to use this title for about a year now. His first published work is Get Scrappy: Smarter Digital Marketing for Businesses Big and Small.
If you haven't read it, I'll give you a little bit of insight before getting into my Brand Now review.
Get Scrappy Review: Smarter Digital Marketing for Businesses Big and Small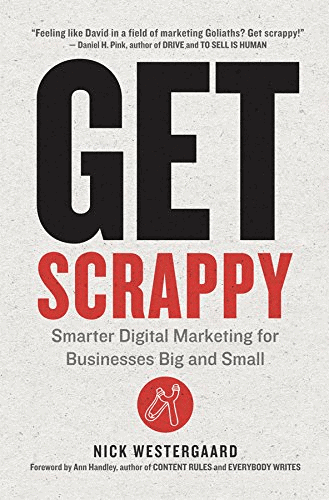 As with his new book (we'll get to that in just a moment!), I was excited to get my hands on a review copy and dug right in.
Get Scrappy distills all of the branding/marketing knowledge that Nick Westergaard has picked up during his many years in the industry, focusing on the tricks and strategies that businesses can use to be effective with less.
It challenges the idea that even if you have a big budget, that doesn't necessarily mean that you should use it all up on something big and flashy. Sometimes, the most effective campaigns are grassroots in their execution.
The good news for small businesses? You can effectively compete with the big guys if you adapt a scrappy mindset. If you're having trouble being effective with your given marketing budget, you'll definitely want to pick up Get Scrappy.
Brand Now Review: How to Stand Out in a Crowded, Distracted World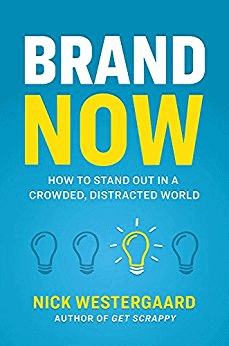 As for my Brand Now review…
Brand Now is a nice complement to Westergaard's first book, Get Scrappy.
While Get Scrappy focuses on doing more with less, Brand Now focuses on the fundamentals of establishing a brand, regardless of whether you're a global enterprise or a freelancer (with targeted tips for both and everyone in between!).
Branding can seem like an intangible concept but thanks to Westergaard's expertise and a plethora of colorful examples that highlight brands doing it right, Brand Now arms the reader to take action. No big idea stands alone without being broken up into an action plan at the end of each chapter (this is the businessman and teacher coming out in Westergaard's writing)!
We can also add one more title to Westergaard's decorated resume as the result of publishing Brand Now: illustrator. Westergaard breaks up Brand Now with several fun illustrations in each chapter—it makes for quite the inviting reading experience!
Brand Now is broken up into two parts: Brand Now Dynamics and the Brand Now Toolkit.
Brand Now Dynamics is the real meat and potatoes of the book, with a chapter each on what Westergaard defines as essential branding building blocks: Meaning, Structure, Story, Content, Community, Clarity, and Experience.
The Brand Now Toolkit offers a bonus chapter on Humor, as well as several resources for applying lessons learned in terms of B2B branding, branding for politics, and more.
The book goes deep enough to get you excited about brand building without going so deep that you get overwhelmed. As such, it's a fairly quick read—the perfect business book to add to your reading list!
Final Thoughts: Brand Now Review: Nick Westergaard's Latest Book
With two successful books out to market, I'm wondering, what's next for Nick Westergaard?
Thanks to a multitude of connections built in academics, the media, and with fellow keynote speakers, the sky really is the limit. Whether "what's next" happens to be a new exciting event or another in-depth business resource, I'll be on standby!
Have you read Brand Now or Nick Westergaard's first book, Get Scrappy? What's your Brand Now review? Let me know what you thought in the comments!