Competitor analysis isn't about sneaking up on your competitors to see what they're up to and how you can replicate it.
A big part of scaling your online brand is analyzing your competition to see where you stand in the market, where your audience is going, and how you can drive them to your brand instead. Through this, your competition gives you the basis to stand out and better yourself.
Think about it.
If there is no competition, how will you assess your brand's performance and raise the bar?
Assessing your competitors informs you about the good and bad sides of your brand. It gives you insight into what they're doing right, where you are lacking, and how you can improve to outrank them.
But tracking dozens of competitors is challenging.
Enter competitor analysis tools.
These tools use data to demonstrate how you are faring against your rivals. They assess your competitors on several metrics and can provide better direction to your decision-making process. 
Here's what you'll learn:
5 Best Competitor Analysis Tools
Wondering which competitor analysis tools to use? Here are five of the best and why we recommend them:
Google Analytics is one of the most convenient solutions to track your competitors.
This free tool helps you understand your audience through data. You can use these insights to:
More importantly, you can use the benchmarking feature to analyze your competition better. By enabling benchmarking, you can see how you're doing against different companies in your industry. You can filter this data by location, channels, and devices.
Besides benchmarking, you can also study your competitors' behavior reports on Google Analytics. These reports will inform you about how their users are engaging with their website.
What you must try: The Proactive Insights feature brings you the data on trending industry opportunities. The knowledge of these new opportunities can give you an edge over your competition.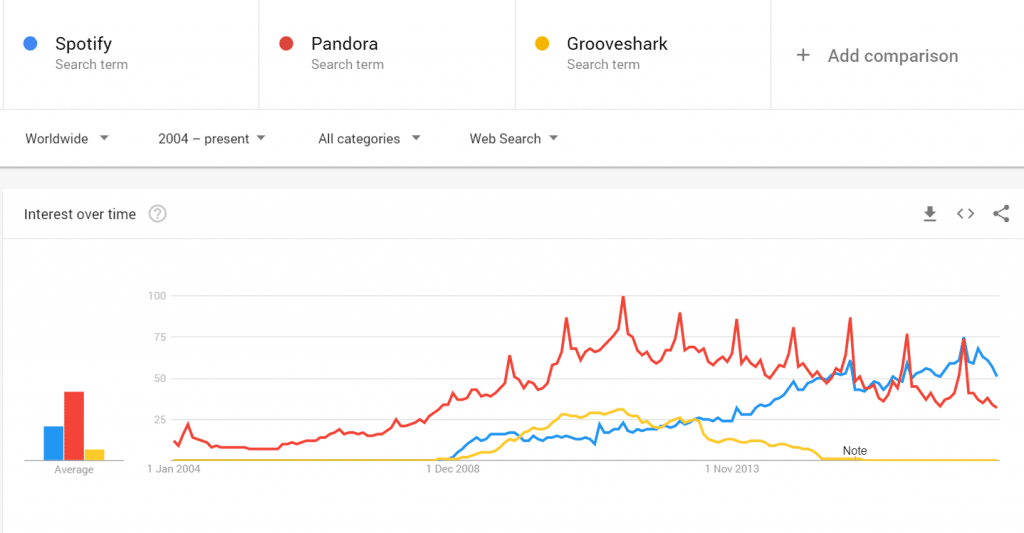 Ahrefs helps you track your competition primarily for improving your search engine optimization (SEO) game.
Ahrefs' Site Explorer simplifies the market research process. It helps you assess your competitors' performance with detailed data on organic traffic, keywords, and backlinks.
Using free Ahrefs tools — like Website Checker and SERP Checker — will give better insights, but the paid version will empower you to leverage the data with more freedom.
You can use Site Explorer to evaluate these parameters:
What you must try: The Pages feature is an interesting part of Site Explorer. It enables you to see which pages on your competitors' websites have the most social shares and backlinks.
Semrush helps you build, implement, and track your SEO campaigns. Along with boosting your SEO performance, it gives you a peek into your competitors' strategies.
This freemium tool offers a unique set of features to monitor your competition. You can find keywords, audit websites, analyze search engine results pages (SERPs), and evaluate your rivals' backlinks.
You can use SEMrush to track your competitors on three major grounds:
What you must try: If you want to outrank your competition, the Keyword Gap and Backlink Gap features offer great insights.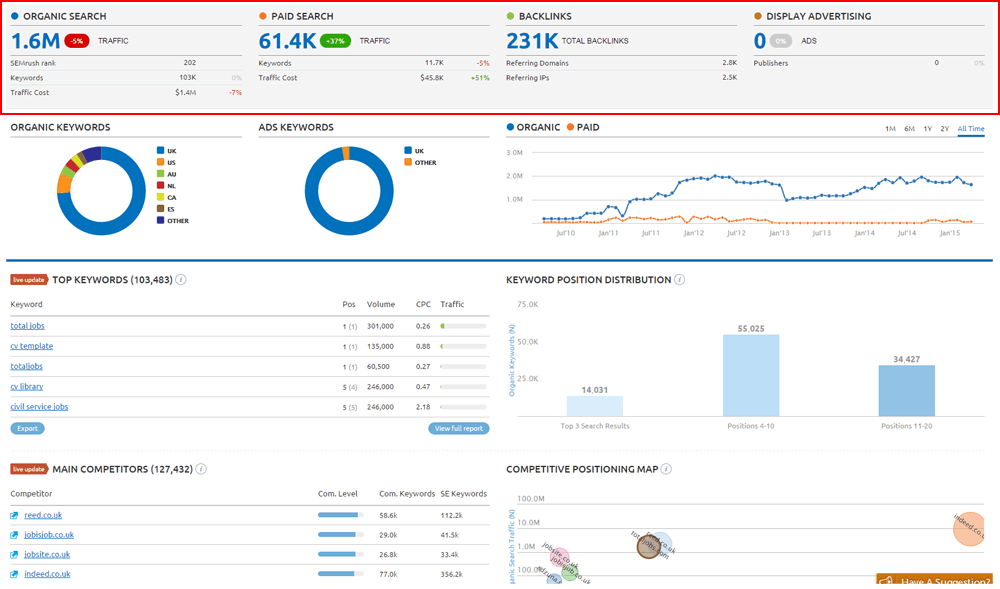 BuzzSumo's Competitor Intelligence tool is among the most sophisticated competitor analysis tools available. It analyzes your rivals' content and produces reports on key metrics, including which content is performing well, what the engagement rate is, and who it's engaging.
The tool helps you discover your rivals' best content pieces. You can use this information to build similar content and outperform them. It also collects a list of backlinks for a content piece that you can target as well.
BuzzSumo's keyword analysis ranks SERPs according to their performance. This analysis will help you understand what kind of content to create for specific keywords.
A detailed study of these results can also define the ideal headlines, content length, structuring, and keyword density — a wonderful way to get more insight into your competitors' strategy and ensure you don't make any keyword research mistakes.
You can set alerts for your top competitors and track them consistently. The tool's Competitor Comparison Reports also come in handy for competitive research.
What you must try: BuzzSumo empowers you to see who shared the content with their social networks. Checking their authority can boost your influencer marketing efforts too.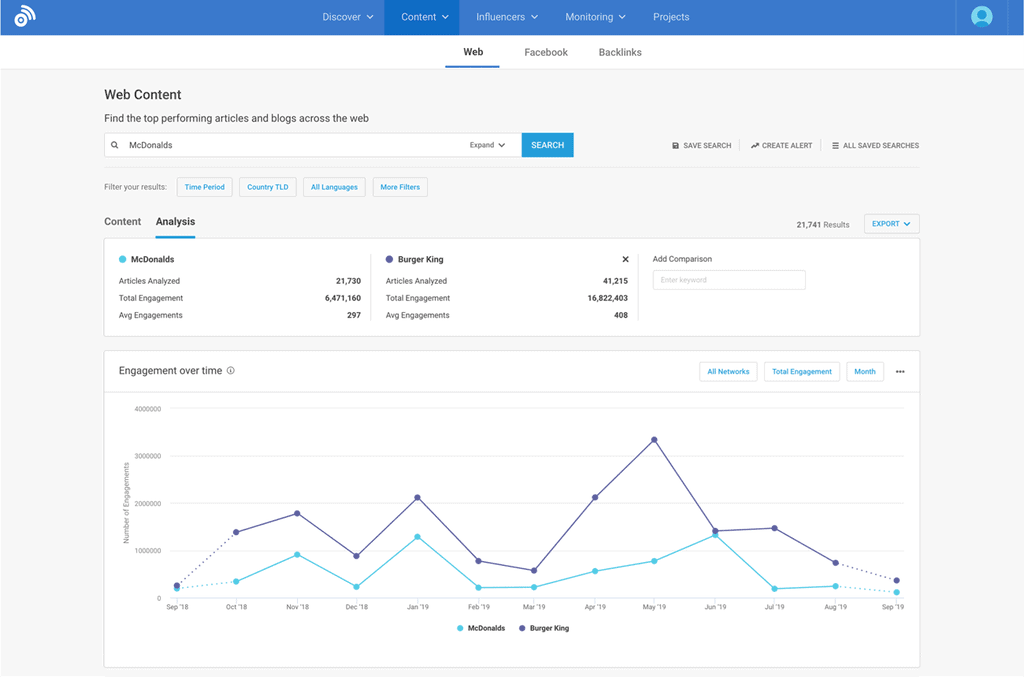 MozBar is one of the most convenient competitor analysis tools on this list. Offered as a  Chrome extension by Moz, this tool works as an SEO toolbar to analyze any webpage instantly. It gives you a summarized view of the website's SEO performance based on multiple metrics.
MozBar gives you a brief insight into every website's page and domain authority score, domain rating, and number of backlinks. You can use this tool for a rather passive competitive analysis.
MozBar also informs you about how well or poorly your competition is performing, which helps identify areas to outperform them. Assess your rivals on Moz's metrics of SEO success:
What you must try: MozBar's key data points give a detailed analysis overview, enabling you to compare your standing against your competitors'.
Final Thoughts: How To Use Competitor Analysis Tools Efficiently
Keeping a healthy tab on your competitors is crucial for building your brand. Competitor analysis tools offer a simple and convenient solution to study your competition with detailed insights.
These tools can help in many ways, from assessing domain authority and page rank to keyword analysis and traffic volumes. Use any of the tools mentioned above to automate your competitor tracking process.
You can then use these data-packed insights to make better decisions and outrank your competition.
What's your favourite competitor analysis tool? Let us know in the comments or get in touch today.