Please note: this article contains affiliate links for Semrush.
Marketers often fight for the mental real estate of their customers. Getting your brand and your content discovered in the sea of content on the internet poses a serious challenge. 
Not to mention the difficulties involved in keeping up with ever-changing platforms and best practices.
It's easy to feel like a needle in the haystack of other brands, despite your best efforts. 
That's where tools like Semrush come in. 
In this Semrush review, we'll cover exciting new updates and share how you can use them to supercharge your content marketing.
Keep reading to discover:
Semrush's comprehensive online marketing toolkit delivers game-changing insights for millions of content marketers. The company offers tools to help with competitive research, SEO, PPC, and visibility management.
Over the past 12 years, Semrush has helped brands of all sizes create transparent processes, deliver great content, and manage their online visibility. 
The company began with a mission to create transparency and equal opportunities in online competition. 
Semrush's impressive growth includes bringing on larger clients and expanding its knowledge database to contain 20 billion keywords.
In 2020, the brand released several improvements focused on creating the most comprehensive and flexible all-in-one marketing tool.
What's New With Semrush As of 2020
Although it's known for the Semrush keyword tool, the brand believes in creating tools that support a flexible marketing strategy. 
New releases in 2020 demonstrate Semrush's commitment to forward-thinking and adaptable marketing. With this focus in mind, Semrush also updated their brand identity with a new logo.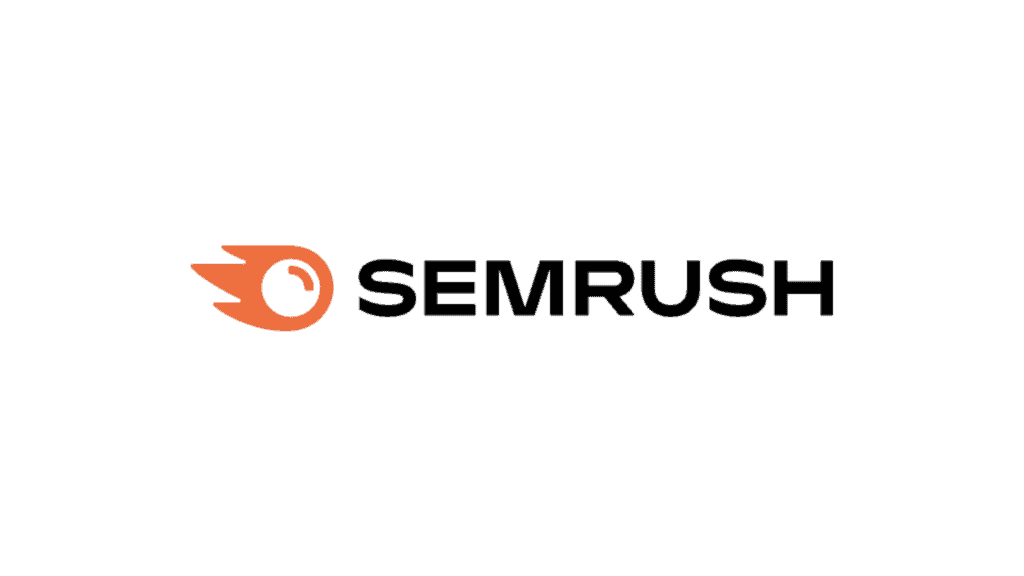 Critical updates include improvements to:
Here are a few of the new features marketers will love:
Let's take a look at these new features and see how they can amplify your online presence.
1. Step Up Your Keyword Research With the Revamped Overview Page
No Semrush review is truly complete without discussing the company's Keyword Overview tool.
In particular, marketers can now see the global volume for keywords to better estimate your keyword ideas' potential. The newly added Bulk Analysis lets you use the SEMRush keyword research tool to analyze keyword lists of up to 100 keywords at one time.
The new SERP features display the top 100 Google results for each keyword and provide competitive insights on each URL. Information such as backlinks, search traffic, and other keywords paint a thorough picture of the competitive SERP landscape.
Updates to the Keyword Overview Report empower you to find the best opportunities for your brand in less time.
2. Uncover Missed Opportunities With the Keyword Gap Tool
Do you ever wish someone could take a look at your content and tell you what you're missing? 
Well, now Semrush can. 
The Keyword Gap tool finds untapped content opportunities (paid and organic) in your marketing strategy.
Integrated with Keyword Manager, the Keyword Gap tool lets you quickly find different opportunity groups such as missing or weak keywords.
With these insights, you can build a data-driven content marketing calendar that finds the best opportunities before writing, rather than waiting to understand your content's impact after you publish it.
3. Integrate Easily With Yoast
For marketers working directly with WordPress, integrating Semrush just got easier. Semrush and Yoast SEO announced a new integration in October of 2020.
Yoast users now have access to the vast Semrush keyword database and collection of tools directly in WordPress. 
The power-duo of Yoast SEO and Semrush gives marketers unprecedented insight into how people search for content online.
Content marketers can use this powerful combination to find valuable keyword metrics for their posts. Semrush also identifies related keywords and suggests relevant keyword opportunities. 
With this integration, marketers can adapt their content in real-time to target the right audience and drive more website traffic.
4. You Can Now Use Prowly With SEMRush to Help With PR
When you're focused on keyword analysis and SERP results, it's easy to forget critical brand-building activities such as public relations. 
Integrating PR tools with SEMRush features can help you see the bigger picture of your brand value and marketing impact.
SEMRush has acquired a 100% stake in the PR SaaS company Prowly. Prowly helps companies publish stories by giving them access to a comprehensive PR database and PR-specific insights. 
Prowly's database includes more than one million journalists and influencers. Not to mention it comes with CRM functionality and email campaign support. 
Marketers can use SEMRush and Prowly to understand how PR activities impact SEO objectives and overall brand health. 
Prowly will continue to operate independently, but as part of the SEMRush ecosystem, it will have access to SEMRush's data tools to increase its PR reporting power.
5. Follow Your Performance Using Position Tracking
Among the various online metrics you should be tracking for your brand, share of voice (SoV) isn't always the easiest. Share of voice measures your brand's relative popularity in search results, and it's an essential part of competitive analysis.
Unfortunately, measuring your online share of voice accurately proves challenging for most marketers. 
Here's the good news:
SEMRush's new Position Tracking tool helps you understand how much of the SERP pie you actually occupy for your target keywords.
You can even use Position Tracking to avoid keyword cannibalization. The SEMRush review of keywords identifies content clusters and can suggest if you need to merge or split certain content pieces. 
Analyze Position Tracking results on your own time with Export Scheduling, which you can set at daily, weekly, or even monthly intervals.
6. Analyze Your Content With ImpactHero
ImpactHero is an exciting new addition to the content marketing features of SEMRush. If you find yourself struggling to understand your content's impact at each stage of the buyer journey, ImpactHero can help.
Powered by AI, ImpactHero analyzes your content at various buyer stage journeys. The tool lets you identify your best-performing content, but it doesn't stop there.
ImpactHero AI provides actionable insights and recommendations to improve your content strategy and help you attract and convert more leads. 
You can dive into each of your content pieces' impact scores to understand where you can improve your assets. 
However, if you want a bird's-eye view of your content strategy, you can use the customer journey mapping tool to identify insights at each stage.
7. Use Backlink Analytics To Banish Broken Links
Earning backlinks is an essential part of your SEO strategy. But performing a competitive analysis on backlinks can be challenging. 
In this Semrush review, we're pleased to find the company has added some much-needed backlink tracking and audit capabilities. 
Specifically, Semrush included Backlink Analytics and Backlink Audit in their 2020 feature updates. 
Backlink analytics lets you monitor the backlink profiles of your competition. You can use this tool for opportunities to find broken competitor backlinks and offer your content as an alternative. 
SEMRush also updated the accuracy of the Toxic Score metric in its audit tool. You can use your Toxic Score to uncover any bad signals you're sending to Google that may negatively affect your SEO. 
Finally, you can explore the new Target Pages Report to identify the best-performing pages (in terms of backlinks) on your website.
8. Dig Into Industry Trends With Market Explorer
When it comes to analyzing your online marketing strategy's effectiveness, you need to measure more than just your performance. You have to understand where you stand in your industry. 
SEMRush's Market Explorer provides a solution for marketers that want better benchmarking and trend-spotting capabilities. 
Market Explorer gives you a big picture view of your industry, so you can monitor market leaders and up-and-comers.
Use the Growth Quadrant to categorize top performers by competitive advantages such as niche, game-changers, leaders, and established players.
Once you understand the full playing field, you can better understand your brand's unique competitive advantage and play to your strengths. 
For the most-tailored information, create a Custom Market of up to 20 competitor domains, or use the new Benchmarking Report for an in-depth comparison of audience characteristics and critical traffic sources.
9. Make Data-Driven Decisions With Traffic Analytics
Of all the Semrush review features, the Traffic Analytics updates are two of the most compelling.
In 2020, Semrush increased its traffic estimation algorithm's accuracy, empowering you to dive into subdomain-level analysis for organic keywords.
Traffic Analytics also provides unprecedented insights into your audience's mindset. The update features a new Audience Insights report as well as a Traffic Journey report so you can compare audiences with your competitors and find out where you appear on your audience's online journey. 
With these new organic traffic insights, you can adjust your content to make sure you meet your audience at high-intent stages to maximize your conversions.
10. Eliminate Technical Issues Using Site Audit
If content marketing is the bread and butter of your SEO strategy, your UX is the plate. In other words, your content quality doesn't matter if you can't deliver it well.
Items such as page load speed and URL schemas have a significant impact on your SEO performance. The issue becomes figuring out how to prioritize technical improvements.
The dynamic new Semrush Site Audit not only finds technical improvement suggestions, but it prioritizes them.
In the new Site Audit, you'll find Semrush's one-of-a-kind Markups report that alerts you to implementation errors and a big-picture view of your markup usage.
Combined with the other keyword research features and content marketing features in this SEMRush review, the Site Audit improvements will help your team create a competitive organic search advantage.
Semrush Plans and Pricing
Semrush offers several pricing tiers to accommodate anyone from freelance marketers to agencies and multinational brands. 
There are three tiers: Pro, Guru, and Business. Prices range from $99.95 to $374.95 per month when billed annually. 
If you require more tailored solutions, Semrush also offers Custom Solutions for enterprise organizations.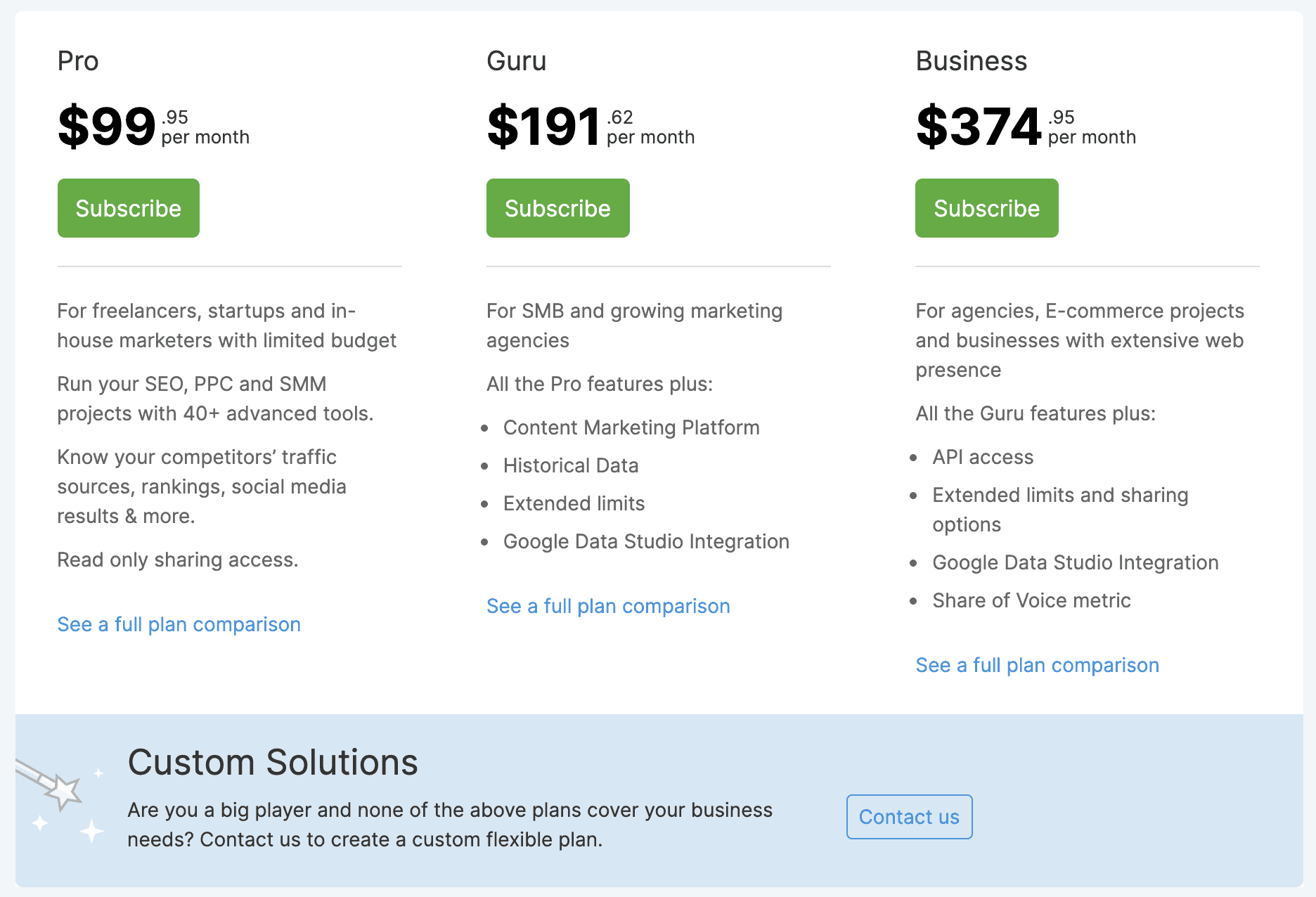 Final Thoughts: Semrush Review: 10 Ways to Take Advantage of the 2020 Semrush Update
The world of online marketing shifts constantly. New trends emerge, and technology and marketers need to catch up. 
Semrush remains committed to providing marketers the tools they need to stay competitive no matter how much the online landscape evolves.
To complement frequent tool updates, Semrush also provides industry-grade education to help you make good use of them. For free. Skill up with the approachable Content Marketing Toolkit — a series of nine lessons and three hours of video content.
With the recent 2020 updates, you can take your content marketing and SEO strategy to the next level. To discover which features are right for your business, explore Semrush tiers today.