This is a sponsored post written for LinkGraph.
There is no shortage of strategies you can try when it comes to digital marketing for your business.
SEO or search engine optimization is one of them.
SEO is important if you want to capitalize on organic traffic. It can help you avoid the ever-changing social media algorithms and social media platform outages.
But there's a lot that goes into optimizing your website for SEO. That's where a content analysis tool or content optimization platform like LinkGraph's SearchAtlas SEO Content Assistant comes in.
Let's see what the SEO Content Assistant is and what it offers in terms of user experience and features:
SearchAtlas SEO Content Assistant — What's Special
The SearchAtlas SEO Content Assistant is a content optimization platform that helps you optimize your site's content for the search engines and helps you monitor your SEO efforts.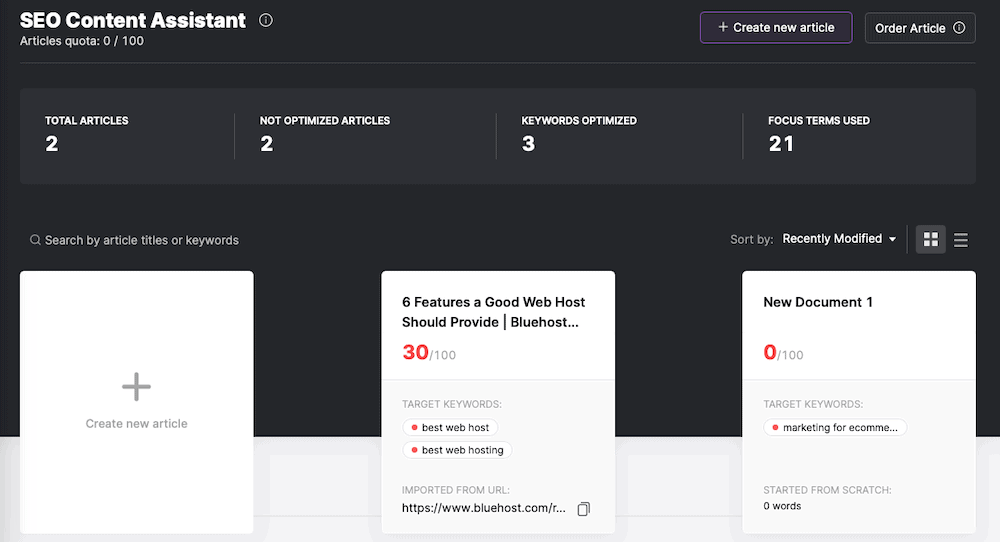 Published/Unpublished Optimization
With this content analysis tool, you can optimize both new content or an existing piece of content after importing from a URL. You can make sure that your content marketing is optimized right from the get-go.
You can optimize landing pages, blog posts, and even the content you create for off-site link building or digital PR campaigns.
Optimization for Multiple Keywords
In this content analysis tool, you can specify more than one primary keyword from the keyword research you want to optimize the piece of content for. You can also conduct in-depth keyword research and discover similar keywords within the tool with relative ease.
If you have secondary keywords you want to rank for, you can significantly benefit from this feature. It makes the SearchAtlas SEO Content Assistant stand out among its competition as only a handful of other tools have this functionality.
Another perk of SEO Content Assistant is that you can focus on a target audience and keywords using geolocation to help your local SEO marketing strategy. This makes it easier to hone in on your optimization and messaging to suit a specific, local target market.
Besides the standard SEO features, SEO Content Assistant offers several quality-of-life improvements for SEO professionals.
Thanks to its proprietary content score, you can see how strong/weak your new content ideas are and take the necessary steps to improve them right away.
This content optimization platform also comes with a Google Chrome extension you can use to conduct a real-time content analysis.
Beyond the features mentioned above, this powerful tool has several other valuable features to help you optimize your website for search engines.
We can group them into two recommendation categories: content and technical.
First, let's look at different content keyword recommendations that you'll find within SearchAtlas SEO Content Assistant's sleek dashboard.
You can view the terms you need to incorporate to optimize the content, and SEO Content Assistant will automatically move the words you use to the Complete section.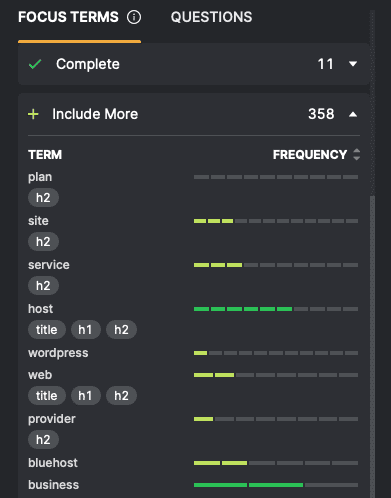 The interactive highlighting and color-coding help writers focus on using the necessary terms and avoid keyword stuffing their content.
Keyword Search Volume and Keyword Difficulty
This content analysis tool provides relevant keyword metrics for each keyword — keyword density, keyword search volume, keyword difficulty, and real-time CPCs.
You can also target related keyword suggestions — a unique feature compared to other content optimization platforms. SEO Content Assistant lets you add those suggestions as secondary keywords you want to rank for.
Besides that, you can see recommended keyword frequency for each keyword to know how often you should target that keyword within your content.
Word Count Recommendations
Another helpful feature you'll find within SearchAtlas SEO Content Assistant is the recommended word count based on top ranking pages.
With this feature, you can determine how long an individual content piece should be if you want it to rank the same or better than existing results.
You can also check on competitors' pages from Top Ranking Competitors and see the focus keywords your competitors are using.
You'll also get writing style recommendations that tell you the grade difficulty you should aim for in your content creation.
Before creating your content, you will know whether you need an academic piece for a knowledgeable audience or a simple blog for a general audience.
Technical Recommendations
We've covered content recommendation features. Let's get technical.
But before that, it's worth noting that technical recommendations are only available if you try to optimize a published page or pull content from a URL.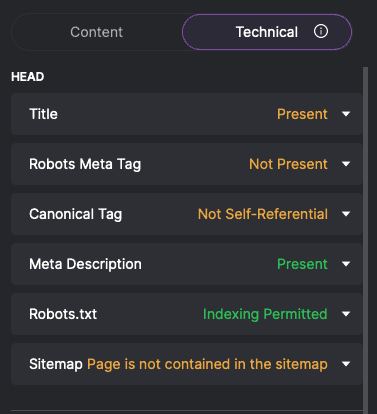 Technical recommendations will help you analyze your content on the page from a technical SEO perspective to see if you have correctly optimized the page.
Head section includes recommendations for SEO meta title tag and meta description. This content analysis tool will tell you if you have optimized the meta title and meta description for the target keyword.
Head section also includes information to ensure the page is being crawled by the search engines correctly by indicating:
The Rich Media & Tags section will provide you with the following information:
Schema Markup, Socials, and Scripts
Besides that, this content analysis tool can confirm whether the page uses valid schema markup and any social media resources.
LinkGraph can also recognize the JavaScripts built on a webpage that serve as a reference when you test how the page is being rendered, crawled, and indexed by search engines.
SearchAtlas SEO Content Assistant also comes with the quality of life improvements that simplify how you optimize your website.
This content analysis software has clear in-app instructions that walk you through the core features and show you how to navigate around the dashboard.
Auto-Copying of Heading Structure on Import/Export
The content optimization platform automatically copies the heading structure when importing or exporting a document on the text editor.
In other words, the tool automatically detects text formatting and can recognize if the text is formatted as H1, H2, or similar.
Import/Export Google Docs
You can also import and export to Google Docs by connecting your Google account. Besides that, you can use its browser extension to optimize the content while working directly on Google Docs.
If you're working with clients and need to share data, you can collaborate with them directly with this software for content analysis.
You can manage the collaborators and their privileges as well.
We've covered the features and the ease of use of the SearchAtlas SEO Content Assistant.
But what are the pricing options?
SEO Content Assistant comes with both free and paid plans.
If you want to use the full range of their content analysis tools, you'll need to upgrade to a paid plan. Paid plans come with a 7-day free trial — so you can try it out and find out for yourself.
The SEO Content Assistant plan starts at $49 per month, which allows users to work on up to 15 projects and analyze up to 40 keywords.
Besides that, all plans offer the same features. The only difference lies in the allowed number of projects, keyword lookups, competitor analysis, and website content strategy lookups.
You can also get a custom enterprise plan if you have specific requirements — well suited for larger brand names.
If you're a website owner with a single website and want to do basic SEO just for yourself, the SEO Content Assistant plan has more than enough features to get you started and serve you well for a long time.
But if you're a freelancer or an agency with a workflow that involves multiple clients, you'll want to upgrade to one of the paid plans.
Final Thoughts: SEO Content Assistant — The Content Analysis Tool You Need
SearchAtlas SEO Content Assistant has plenty of features to help you optimize your content for search engines. It's an all-in-one content analysis tool that can work as an on-page SEO analysis tool, a technical optimization tool, and more.
With this content analysis tool, you can avoid signing up for several SEO tools, ultimately saving time and money.
It's a great option for both freelancers and agencies. Take advantage of its trial to explore everything that SearchAtlas SEO has to offer.