The majority of my career has been built around social media — how to write copy for it, engage a follower base, and reach new audiences through advertising.
While the clientele may vary, from a master gardener to an industrial analytics platform, the ask I most often hear remains the same.
What hashtag(s) should we use?
If I had a dime for every time I was asked to help a brand "go viral" with the use of either:
    a) a branded hashtag or
    b) trending hashtag
I'd be #blessed with dimes. Seriously.
I'd be taking daily money swims a la Scrooge McDuck in my bank vault of dimes, conveniently attached to an otherwise modest ranch-style home in the Colorado mountains.
The details of my daydreams are neither here nor there but hashtags certainly are. In fact, they're here, there, and everywhere.
Not without good reason (my snark aside). Consult that textbook chapter on hashtag history and you'll find their use originated from pure motives. They provided social users with the means of gathering around discussions in a centralized, relevant way.
And, to a degree, they still function as such. Until you factor in content saturation and the rise of hashtag exploitation by bots and spammers.
Why Your Hashtag Game Needs to Be Strategic
If you haven't given up on organic social just yet, firstly — keep the dream alive. Second, you're probably hard at work incorporating the word strategy into as many conversations with your boss as possible.
It's not an easy thing to do. Nor is it cheap when you break down the man-hours. What you're saving in ad spend, you're making up for in time and hashtag research. This is especially important on Instagram where the art of hashtagging is alive and plentiful (if not always "well").
The platform is a hubbub of activity with users posting to be seen. From a business standpoint, that's a beautiful thing. Especially when you consider that 80% of accounts follow a brand on Instagram. And that 72% report making purchasing decisions based on products seen while browsing the app.
The buying influence force is strong with this one, assuming that you know how to harness it.
Now, this is not the point where I tell you that perfecting your hashtag strategy on Instagram is the key to amplifying your presence. But it is where I say it can't hurt.
Outside of slapping a trending hashtag on your own quality content (see again: quality), relevant hashtags to your brand provide a window of sorts into your audience.
You can use them to engage proactively with your potential customer base and, on occasion, even gather the masses around a common goal — like an egg beating Kylie Jenner for the most-liked post.
Enter: Flick. A self-proclaimed, all-in-one hashtags app (for Instagram).
They promote offering a better way to find, manage, and optimize your Instagram hashtags. Which, for a gal often asked to produce the right ones and gauge their impact on content performance metrics, sounds like music to my ears.
The functionality they provide is fairly straightforward — search, manage and optimize.
Flick's hashtag search allows you to surface other tags relevant to the ones you're already using. So when you search #blessed, for example, you'll pull other tags often used in conjunction with it across posts that rank high in engagement.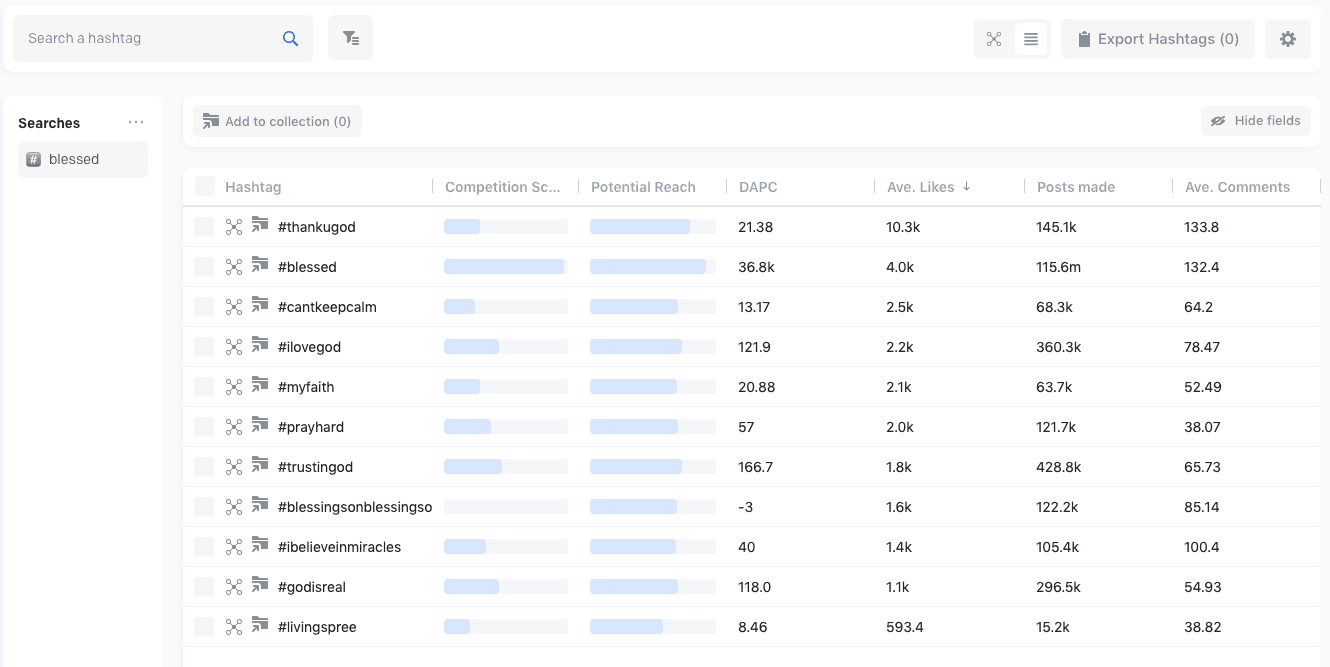 They also offer a "viral post finder" for better understanding the types of content performing well across audiences. You can download surfaced images directly from search results.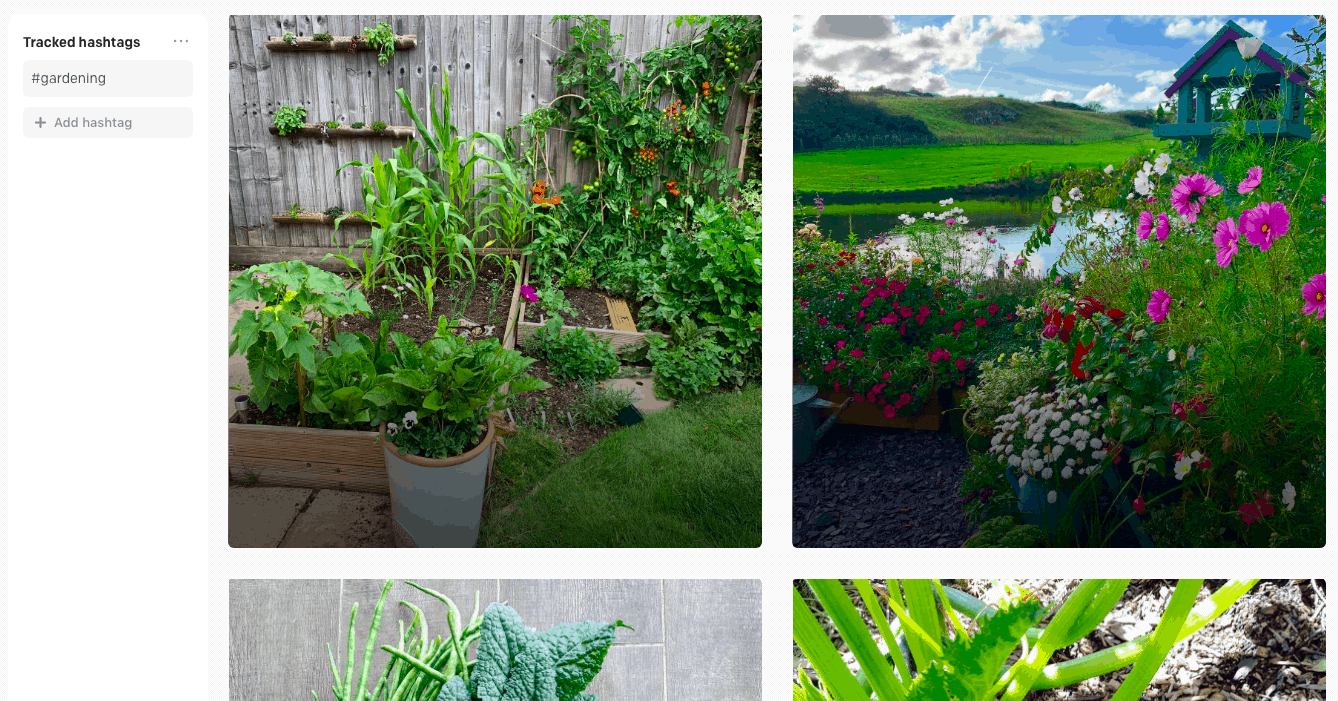 The management side of Flick comes through with hashtag collections. Here's where you can build out a library of hashtags to reference and use for future content. You can also export saved lists of hashtags for easy application when posting.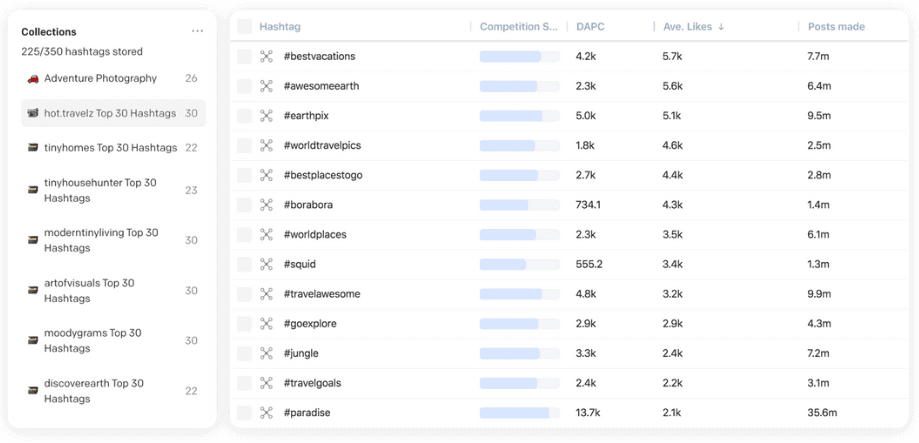 Their recently launched mobile app allows you to access hashtags stored in your collections on your smartphone, for easy access.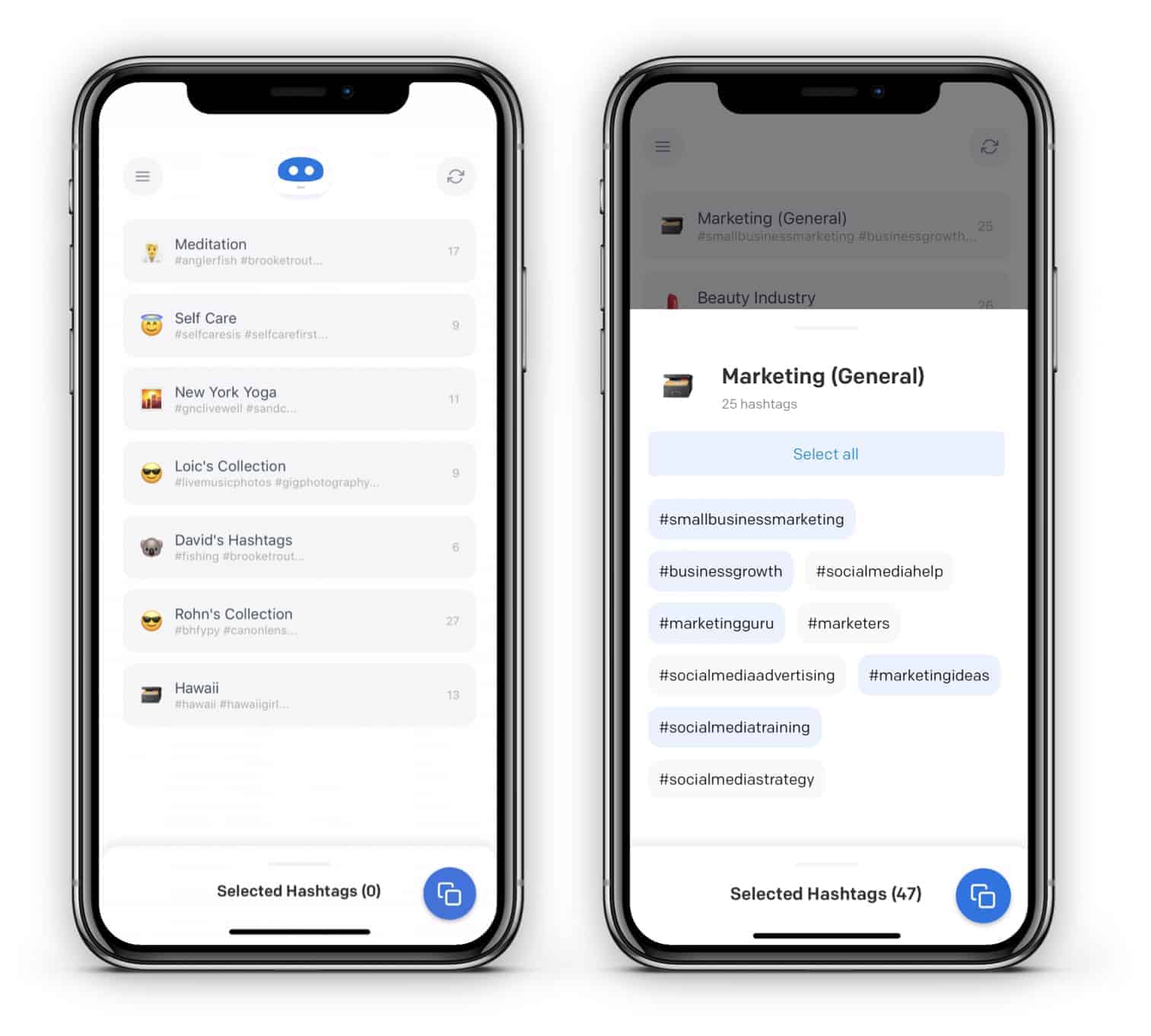 Lastly, there are the hashtag metrics.
For all intents and purposes, these are data points relative to hashtags and the content that ranks well in association with them — not your own content. They'll present you with numbers around potential reach, daily average post count, average likes, and more to help you narrow in on which hashtags will seemingly provide the best return.

Set-up is fairly simple. Once logged in, you'll be asked to connect your Facebook account in association with whatever Instagram business profiles you're wanting to manage hashtags for.
There will be a number of walkthrough pop-ups that appear as you complete new user onboarding: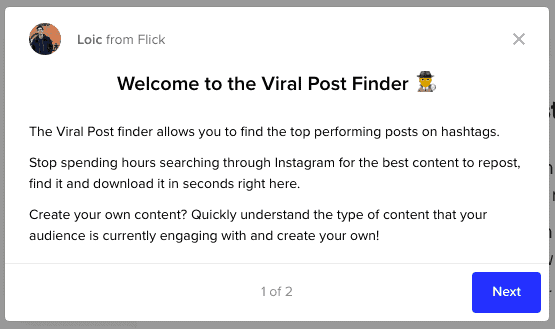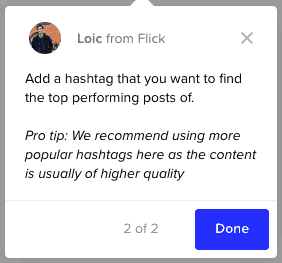 And then bing, bam, boom — the strategic hashtag fun begins.
Flick's pricing starts at £4.99/month for their Lite version. You'll be able to connect one Instagram account while making use of basic search and analytics functionality.
The £9.99 plan is perfect for getting started, as this allows you access to hashtag search, collections, and suggested filters.
At the high end of the spectrum is their Professional plan for £49.99/month. For those working across multiple Instagram accounts, this version unlocks up to 6 connected accounts, 500 saved hashtags, and all the advanced functionality bells and whistles to boot.
They offer a free 7-day trial across all pricing plans.
By this point, we're all aware of how I feel about dimes. What's yet to be determined is how I feel about Flick.
Without a doubt, it's one of those tools you have to take for a test drive before fully committing to. Because ultimately, everyone has their own social media management preferences.
What I will offer up though, are some subjective pros and cons.
Flick Review: Pros
As far as hashtag for instagram strategy goes, non-enterprise level, useful tools that exist on the market are few and far between. The only one that I return to with any kind of regularity is Hashtagify — and even then, it's only relevant to Twitter.
Flick appears to be trying to fill that gap in offering an Instagram-specific hashtags app solution. And since Instagram is the channel where hashtags en masse make sense, if that's where your focus is as a brand, it might be worth investing in something geared towards driving their effectiveness.
The UI is clean and easy-to-use. Set-up is fast.
I also appreciate the various onboarding/user guiding pop-ups presented throughout the product. For newbies, this provides further context around icons used — helping you navigate from one feature set to the next. Not to mention the easily found link to Flick Resources and a feature request portal.
An ability to download photos from top-performing content is also a win in my book. For someone who often has to work with creatives in content creation, being able to pull and create visual inspiration boards is a nice-to-have. At the very least, it sure beats the ol' screenshot route.
Flick Review: Cons
With all of the above said, the tool is still in its infancy. And one of the biggest things missing, as far as I see it, are metrics around a user's own branded content. Having insights into the hashtags used by others is one thing, but at some point, you'll need to report back on the impact they're having relative to your own content.
It does appear as though Flick is currently working on expanded hashtag metrics for tracking the position of your posts, however. This is in addition to pending competitor search functionality.
As a full-time freelancer in the social media space, I heavily rely on non-fluffy numbers to prove my worth among clients. The Flick platform doesn't appear to be all there yet in terms of reporting. But with their Coming Soon feature call-outs and prominent feedback portal, they're clearly working towards living their #bestlife.
The right hashtags may not be solely responsible for your success on Instagram but with a thoughtful strategy in place — and the right tools (like a hashtags app) — there's worth in knowing what to use and when.
To succinctly package and end this piece with some vague advice, it's this: Stay true to your brand, proactively engage as much (if not more) than you react, and create to connect. 'Cause "Likes" are going away anyways.
Has your Flick review curiosity been sparked? Take it for a test drive with a free 14-day trial.