This is a sponsored post written for LinkGraph.
If you're serious about optimizing your website for the search engines, you must have considered using an SEO reporting tool to help you in your efforts.
Google, Google Analytics, and Google Ads provide several powerful tools to help you understand your website's SEO.
The Google Search Console tool is one such SEO reporting tool.
But it can overwhelm you with raw data. If you need actionable insights, you require additional reporting tools. For instance, if you use an SEO platform like LinkGraph's SearchAtlas, you can use its GSC Insights tool to make sense of Google Search Console's data.
Let's find out what the GSC Insights tool offers and if it's worth it for you.
SearchAtlas: GSC Insights Tool
The GSC Insights Tool lets you integrate Google Search Console with SearchAtlas SEO. It's easy to set up. You can add your Google Search Console account in just a minute or two.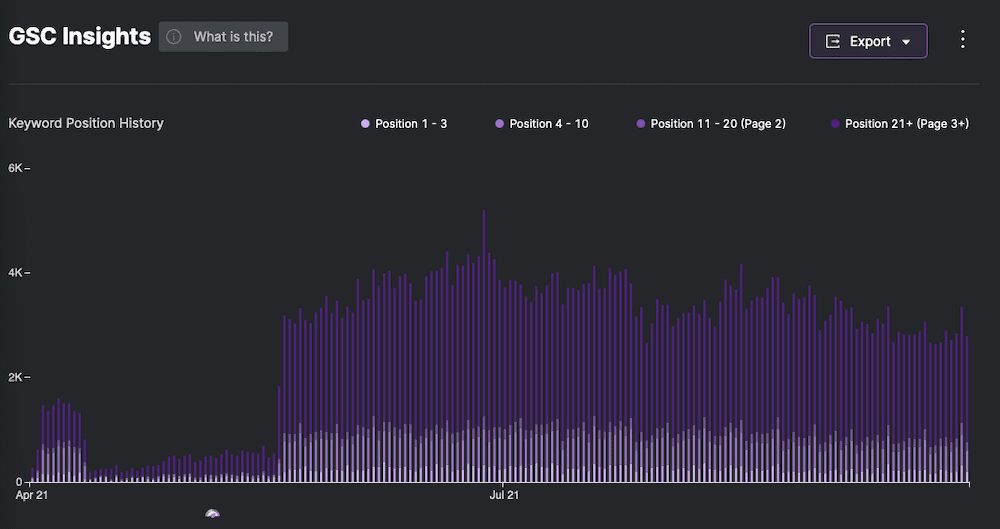 Once you enable this integration, you can track keywords and position history as far back as it's available via Google Search Console. This gives you an organized view of the data from your Google Search Console so you can view it all in one place and save time.
What It Brings to the Table — Standout Features
What's unique about SearchAtlas's GSC Insights tools?
For starters, this SEO reporting tool boasts a unique page grouping feature. Page grouping enables you to group your website's pages and use content analysis tools to measure their performance.
You can group similar types of content to see how your audience responds to different content types — short blogs, long guides, and how-tos. Or you can group pages relevant to an SEO strategy or advertising SEO campaign.
You can group pages in just a few clicks. Choose the URLs of the pages you want to group and add them to a Page group. You no longer have to deal with spreadsheets while doing a website audit.
Once you've grouped pages, you can compare the SEO metrics such as Impressions, Traffic, and Traffic Value. With this data, you better understand the pages you need to prioritize during site audits for SEO optimization.
You can also understand how effective your social media, page readability, and content optimization are.
Another standout feature is the ability to track keywords and position history of those keywords in the SERPs dating as far back as what's available in the Google Search Console data.
GSC Insights Tool also informs you of potential keyword cannibalization issues — keyword cannibalization happens when you have too many of the same or similar keywords throughout your website.
When this happens, search engines fail to select the content they should rank higher, and as a result, they either prioritize the page you don't want to prioritize or lower the rank of all the pages that share those keywords.
SearchAtlas's GSC Insights Tools can warn you and help you resolve this issue. 
Besides the features mentioned above, the GSC Insights Tool also offers the staple features of an SEO reporting tool.
You get to understand how your website is performing and how your SEO efforts are paying off.
Worldwide Tracking of SEO Performance
GSC Insights makes it easy to track your SEO performance worldwide with custom reporting. The dashboard gives you an at-a-glance overview of the most important SEO factors in one convenient spot.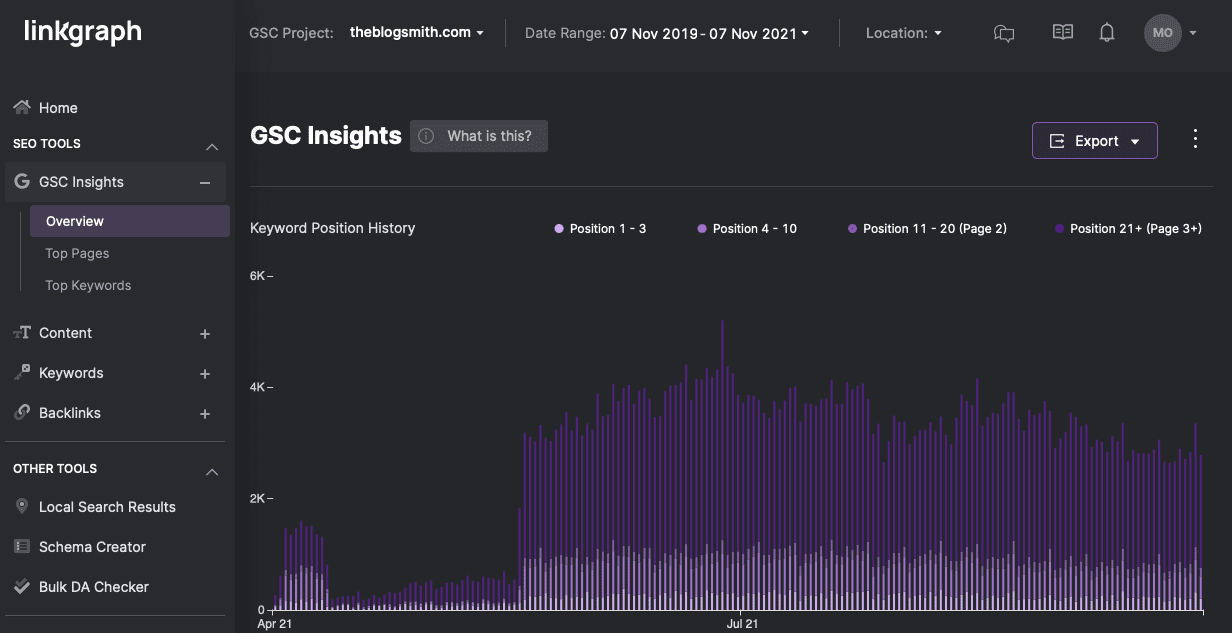 For instance, you can see the Top Pages and the country breakdown in one glance compared to how you do in Google Search Console, where you have to navigate between different tabs to see this data.
Overview of SEO Performance KPIs
You can also see an overview of SEO performance KPIs such as the Economic Value of Traffic data. The Economic Value of Traffic data estimates the total monetary value of traffic gained and is calculated using the keywords' cost-per-click (CPC).
Other KPIs you can see with GSC Insights Tool include impressions and organic traffic over the last 30 days.

If you're a website owner, you can easily see the most important metrics at a glance. If you're a digital marketing agency, this lets you share those KPI metrics with client reporting every month in the form of marketing reports.
SEO Performance Visualization Graphs
Data is always easier to understand when you can visualize it. That's why the GSC Insights Tool helps you visualize your SEO performance with several graphs via SEO audit and automated reports. It also includes Overall Rank Change and Site Performance Graphs.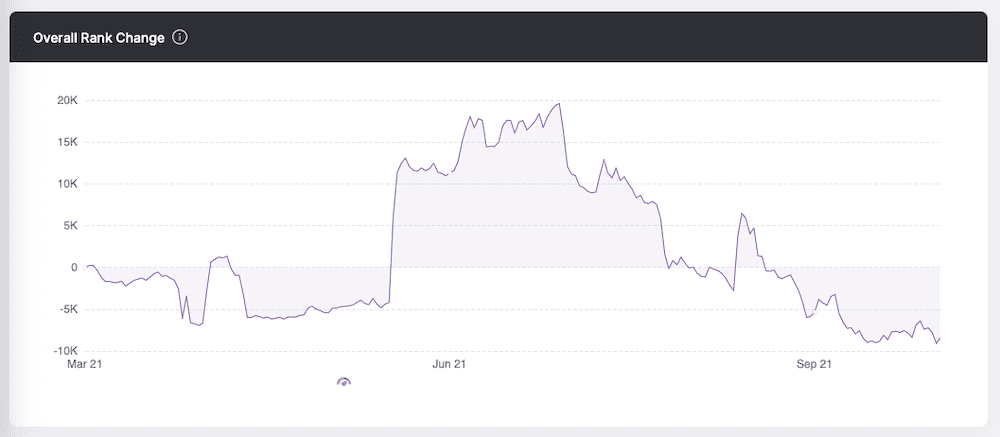 The Overall Rank Change graph gives you a visualization of the total number of positions gained or lost each day across all your keywords.
The Site Performance graph shows you a percentage of overall organic visibility and the degree of the search engine rankings changes (ranking volatility). You can use it to find webpages that are unstable in terms of SEO.
The Traffic by Keyword Position graph shows you the accumulated Traffic, Click-Through Rates, and Impressions from all across the keywords you are ranking for on different ranking positions. With these SEO metrics, you can find out if the top positions are helping you get more visitors or not.
In addition to the reporting features mentioned above, GSC Insights Tool provides additional insights and details to help you understand your traffic and the website's sitemap data.
For example, you can see a complete traffic breakdown based on your target audience's device and compare the percentage of mobile vs. desktop visitors.
You can also see the content type — video or written — getting you the most organic search traffic.
On top of that, you can see an overview of your sitemap and see if it contains any indexing errors.
SEO Strategy — Simplified
SEO often sounds complicated, especially when you're just getting started.
You have hundreds of different ranking signals and dozens of metrics that you need to be aware of. An SEO reporting tool like the GSC Insights Tool empowers you to simplify and demystify that.
First up, you can easily see how all of the pages on your website are ranking and which pages have the best rank. Additionally, this SEO reporting tool grades each of your pages for the SEO potential they exhibit.
Once you know the pages with the highest technical SEO potential, you can optimize or update those pages to improve their rankings.
Similar to top pages, GSC Insights Tool also lists the top keywords your website is ranking for. You can use that list to view their SEO potential. The higher the SEO potential score, the lower the rank of that keyword is in this SEO reporting tool.
For example, if a keyword gets an SEO potential score of 90. It means you are not benefitting from its SEO potential. You can then take appropriate measures to optimize those keywords to improve your click-through rate (CTR).
You can also see real-time data, historical rank data, and keyword metrics to see how keywords' rankings changed over time.
Keyword movements are another critical feature that makes it easy to track how keyword ranking changes over time. This is useful for understanding how the website content creation strategy you've created over time impacts your rankings.
With the GSC Insights Tool, you can conduct a competitor analysis checker — with yourself. This lets you see instances where two or more pages on your website compete for the same term.
It is a great selling point for this tool, as many SEO reporting software lack this functionality.
Historical Keyword Performance
Historical Keyword Performance lets you measure and analyze the entire history of your keyword rankings — from the moment you registered your domain. You can track and compare the data over weeks, months, and years to visualize how your keyword rankings have evolved. This empowers you to analyze your SEO efforts and adjust your strategy as necessary.
Historical Page Performance
Similarly, you can track your entire page performance history over time. You can compare data over days, weeks, and months to see how your page SERP position changed over time and prioritize the pages that need to be optimized first.
Another useful feature that the GCS Insights Tool offers is the ability to see how your traffic changes over time by keyword position in the SERPs. This helps you understand the impact of your SERP ranking position on your click-through rate and your overall traffic.
GSC Insights Tool lets you analyze every page on your website. You can see how each of your pages is performing from a technical and content standpoint and figure out any issues that need addressing.
The page audit will show you page speed information for a page, how many impressions you're getting from that page's rank, and more.
You can also create page groups for similar pages. By grouping similar pages, you can see which content drives the most organic traffic to your website.
With this information, you can adjust your content strategy to include similar content and spend less time on content that doesn't bring you results.
Final Thoughts: GSC Insights Tool Is the Best SEO Reporting Tool — Here's Why
Google Search Console can give you insight into your SEO efforts, but you need another tool to make sense of its raw data.
Thanks to the integration between SearchAtlas and Google Search Console, you can easily parse the Google Search Console's data and get a detailed overview of how your SEO efforts are paying off and how any new content you've created is performing.
We have found this SEO reporting tool to be a complete deal and one of the best SEO reporting tools for its price.
The tool itself is unique because it offers on-page and technical optimization, SEO performance monitoring, keyword research, backlink SEO analysis tools, and more.
It is an all-in-one package. So you can let go of multiple subscriptions and use this SEO reporting tool to handle every project. Whether you're a solo freelancer making portfolios or an SEO agency building conversions for e-commerce websites, you can benefit from it.