Updated 6/3/18
Please note: this post contains affiliate links.
In the middle of last year, I took a risk.
Up until that point, most of my income was based on services I provided to customers—primarily relating to SEO content creation.
But… the more content I create, the more I start to recognize the toll it takes on me.
Don't get me wrong, I love to write (otherwise, I wouldn't bother creating this article!). It's just something that requires a lot of focus and creative energy. It gets draining and I don't want to burn myself out before achieving all the things I'm hoping to get out of it.
At any rate, I'm becoming increasingly drawn in by the idea of passive income—especially as it relates to online course creation. To me, Skillshare represented a low barrier to entry and a way to test the waters with regards to this type of passive income opportunity.
The following represents my own personal Skillshare review as a teacher on the platform, including everything you need to know about making money and setting up your Skillshare classes for success.
Let's start with the money, shall we? After all, that's probably why you're interested in reading this Skillshare review!
Furthermore, it's important to be able to find a return on your efforts, since you're not getting paid a flat rate for each class you publish on Skillshare.
Essentially, you want to be promoting the platform as much as you're promoting your classes, in order to diversify the revenue you make on related efforts.
I also think there's also a third way to make money off Skillshare.
With the right strategy, building a following on Skillshare can transcend the platform. Proactively design your class and related materials to funnel traffic to your website and email list. This way, even if you don't make more than a modest sum from Skillshare each month, you're still growing your following for future classes and offerings that don't necessarily have to coincide with your Skillshare efforts. More on that in a later section of this article!
On that note, creating a Skillshare following for your classes can also support business goals that include creating robust online courses and becoming a paid speaker. If you're just getting started, Skillshare has a low barrier to entry. The best classes are capped off at an hour runtime and Skillshare provides teachers with a built-in marketplace of members who are hungry to learn new skills!
I published my first Skillshare class in July 2017, after getting drawn in by a new teacher challenge. If you sign up for their email updates, you may be privy to something similar in the future.
The challenge offered a lot of class creation support/materials and the promise of a minimum payment ($100 after a teacher's first two months on the platform), as well as the possibility of special feature opportunities for top new classes.
So I went for it, publishing my first Skillshare class, "How to Write a Kick-Ass Blog Post". If you've been following me for awhile, you'll recognize it as essentially the same topic I recently spoke on for WordCamp Denver.
Because of this fact, I already had my slides ready to go. The only additional effort that went into creating this class related to filming it.
With regards to filming, there are two essential tools I'd recommend:
As far as investments you'll want to consider to be successful, that's really it. And keep in mind that once you have these tools, you can keep using them to create additional Skillshare classes—and other online courses!
As of April 2018, I'll have been on Skillshare for almost a year (my first payment was in July 2017). It wasn't until late 2017/early 2018 that I published more than one class—and that's when my earnings really took off.

Here's how much I've made from Skillshare to date: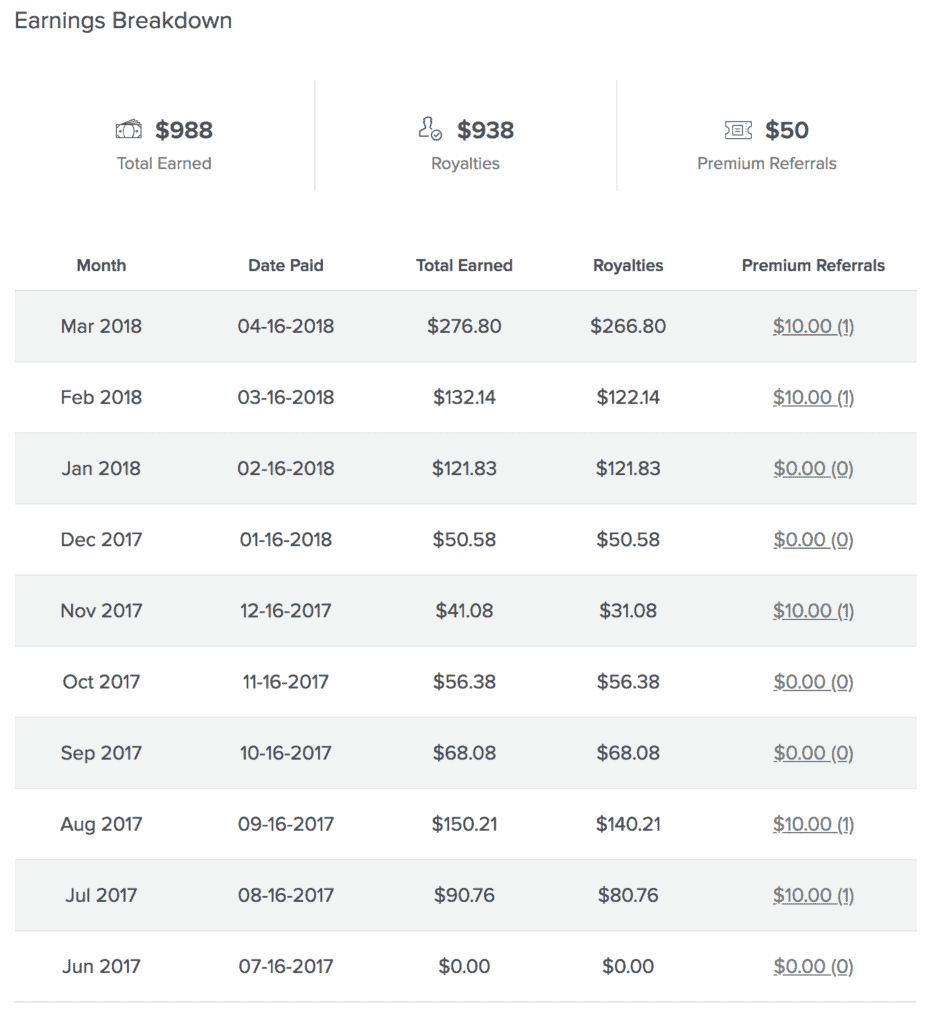 In essence, my first class has paid off to the tune of $450 in 2017 alone. Recurring revenue from that one Skillshare class has resulted in a consistent $50+/month moving forward. I have every reason to believe that each additional class I publish will follow a similar pattern over time.
Here are some of the stats related to my payments:

These stats do take into account all five of my currently published classes.
Check out my total minutes watched since November 2017: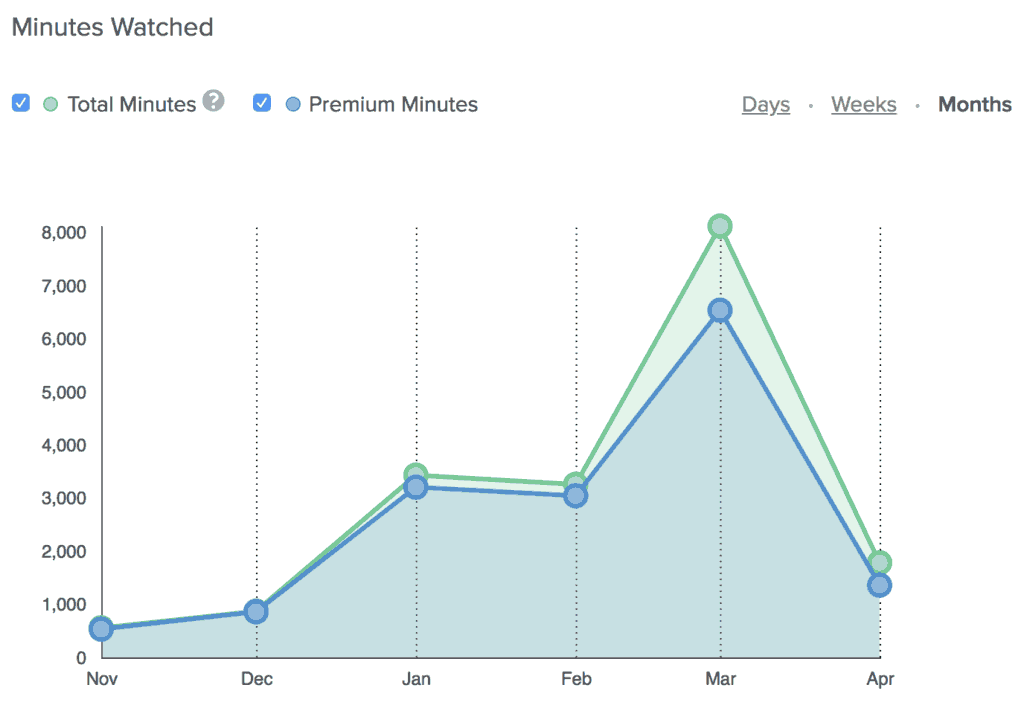 Notice that huge spike in January, thanks to my new classes! Almost 3000 premium minutes this month, alone. Then, in March, I got a special email feature—that was a game changer with over 6000 premium minutes watched by students.
And the trend line for new students in all of my Skillshare classes: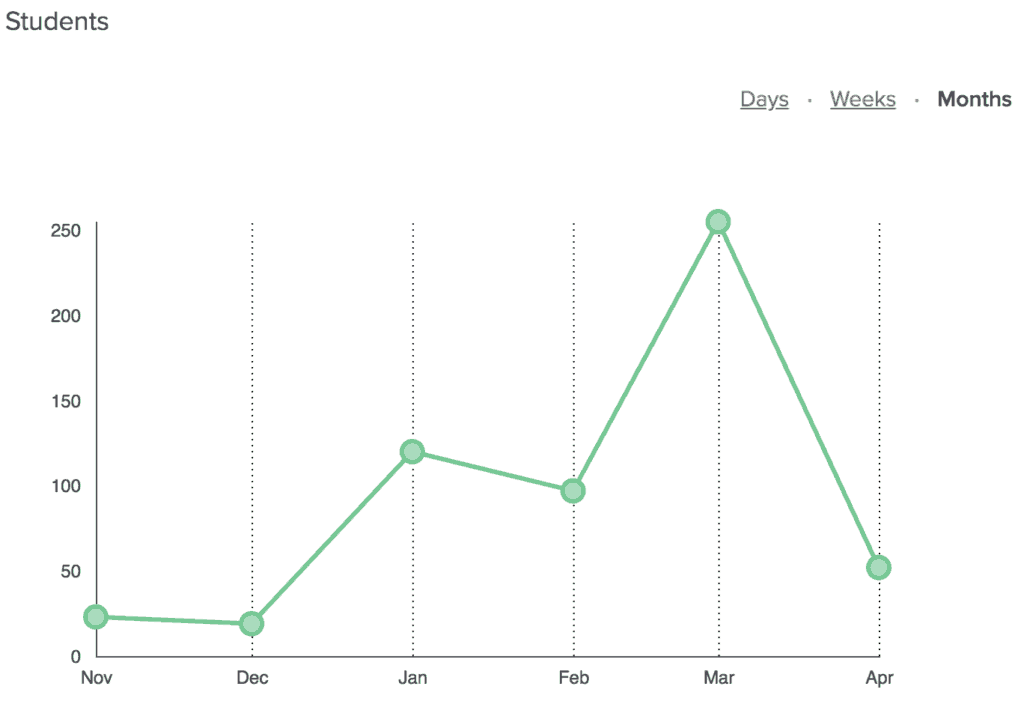 Again, notice the huge January and March spike.
To me, these numbers lead me to believe that each new class should result in a decent initial spike in students and minutes watched (thanks to an existing student following), followed by a recurring monthly revenue of about $50/month/class.
Of course, this is making a lot of generalizations—especially because some of my classes have been way outperforming others! Regardless, my 2018 marketing strategy involves investing my time in more passive income opportunities such as those available on Skillshare. To me, working with Skillshare seems like a low risk/high reward way to test out the earning possibilities relating to online course creation.
So… Skillshare. Perhaps it's for you? If that's the case, let's continue this Skillshare review by focusing on how to get started on the platform.
Creating a class may sound overwhelming but it's a lot less to think about than developing an entire online course.
Think of an online course as being made up of several modules and lessons within that module. A Skillshare class can be thought of as one module and a few lessons.
Essentially, you want to hone in on one specific topic and give it your all!
It's important to realize that some topics will inevitably be more successful than others on Skillshare, specifically. You have to keep the general Skillshare audience in mind: mostly people looking to learn new things applicable in a professional setting.

That said, there are also many classes that aim to help people learn new skills in terms of hobbies.
Regardless, you'll find the most success (and money) by focusing on in-demand and trending topics. Skillshare publishes a regularly updated list of class ideas and invited prospective teachers to get in touch via email to collaborate on class topic ideas.
I've found their staff to be incredibly helpful throughout the process, so make sure to use them! Remember that your success is in their best interests, too.
So far, my own Skillshare classes have all involved repurposing topics/slides from prior speaking gigs. For now, this keeps my time investment relatively low as I continue to evaluate my efforts on the platform.
Thanks to a lot of recent success, I'm considering developing completely new topics exclusively for the platform on a monthly basis (and hey, for future speaking gigs, too).
Skillshare is pretty flexible in terms of the types of classes they allow to be published on their platform. That said, there are a few guidelines you must follow to remain in good standing with them:
Compared to an online course creation platform like Teachable, Skillshare offers mercifully few areas for class customization. The focus is really on the content.
For each class, expect to complete: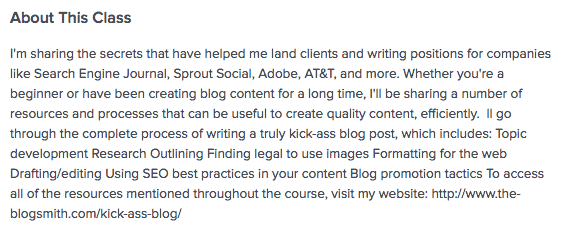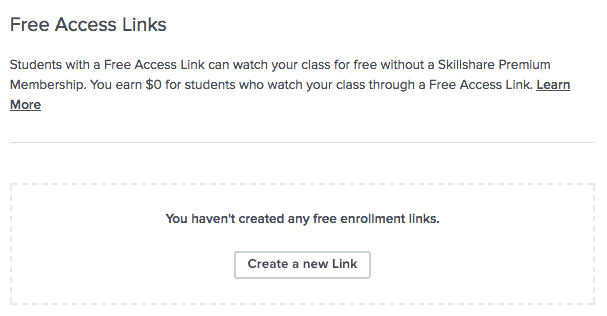 It's extremely straightforward and these are really the only decisions you have to make when uploading your class videos.
Continued success on Skillshare means not just publishing one class but creating a consistent teaching strategy. It all comes back to your Skillshare profile, where prospective students can learn more about you and the classes you're teaching.
Merchandising your Profile Page
Aim for the most complete possible Skillshare profile page. Here are the fields you'll be able to affect:

Here's what mine looks like: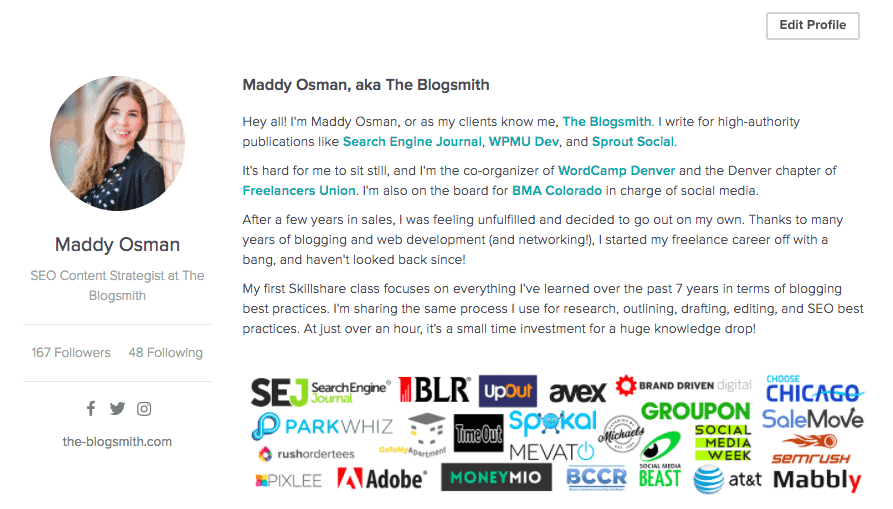 At the bottom of your profile, your Skillshare classes will be listed out, with details regarding length, students, and whether or not they're new: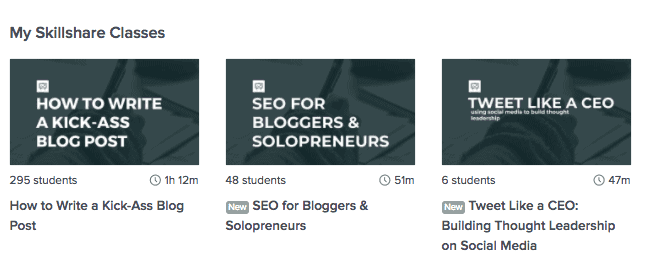 The better job you do of merchandising your profile page, the more compelled prospective students will be to check out your class offerings and follow you to stay abreast of future class updates.
The Power of Positive Reviews
Social proof is important for influencing action. Reviews mean that someone took your class and loved it—essentially vetting it for new students. You can encourage reviews with a call to action in the "About" section, or at the end of the final lesson of your class.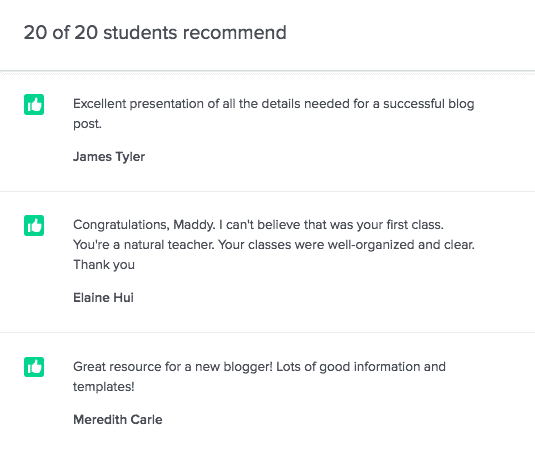 As an added bonus, you can repurpose these testimonials for use in your other digital marketing efforts: on social media, email marketing, and even your website copy.
Having a large online audience is not a requirement when it comes to finding success on Skillshare. That said, things will definitely move faster if you have a bit of a following and make it part of your regular promotional strategy to remind people to check out your Skillshare classes.

Promoting your Skillshare classes will help you earn money in two ways: premium minutes watched for existing Skillshare users and premium referrals for those that you bring to the platform.
Make sure to use your class referral links to enable this dual-earning mechanism: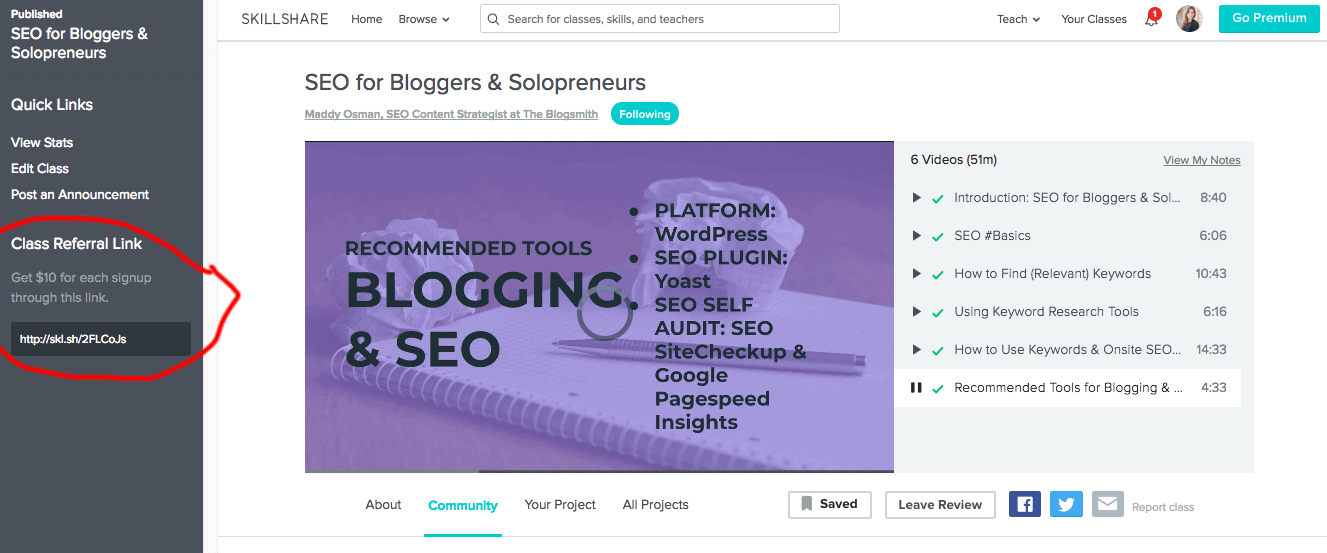 I attribute a lot of my early success on Skillshare to the feature opportunities they've given my classes. To date, I've been featured three times:

I'm told that this is something that happens to less than 1% of all Skillshare classes:

But if I can do it three times, I'm positive that you can, too. Don't allow that number to discourage you.
Watching them and paying attention to how I've structured them can give you an idea of how to find a fair amount of early success on Skillshare, in addition to the lessons shared throughout this Skillshare review.
I hope that this Skillshare review has been eye-opening. In my experience, it's more useful to hear from a third party than the company itself—though Skillshare has so many awesome resources for new and returning teachers, alike.
Ready to take the next step and start teaching on Skillshare? I'll help connect you to all the lovely people at Skillshare who can help you find success: just fill out this short form with your contact information!
Now that you under the basics as a result of this Skillshare review, what questions remain? What worries do you have about pursuing this type of revenue stream? Let me know in the comments below and I'd be happy to help you as best as I can!