User experience (UX) design is the hot new trend in the digital world for good reason.
Businesses are starting to realize that just because something looks pretty, it doesn't mean that it actually serves the purpose it was constructed for. UX design focuses on providing a frictionless experience for users that's mindful of potential frustrations. Also, though the connection is hard to effectively measure, UX is an unofficial search ranking factor.
To summarize, great UX design can help with conversions, SEO, and making customers happy while they're browsing your website or app.
So how do you know if your UX design is up to the task? You'll need to conduct a UX audit to know for sure.
A UX audit involves designing a basic test for a group of users to determine where improvements can be made on a website or app. The object is to prove or disprove a specific hypothesis, so it helps to treat the situation like a science experiment—using proper process.
Here's how to structure a basic UX audit:
#1: Know your target persona
In order for your UX audit to produce useful results, you must focus your testing efforts on users that represent the demographics of your target market. This isn't to say that you won't come across eye-opening insights by conducting user testing with people outside of your target audience—just that they shouldn't be your major focus.
Most user testing platforms make it easy to narrow down your testing pool to specific demographics.
Though you could certainly take it upon yourself to recruit users, you'll move through the process quicker and with less stress if you outsource this task to a platform with an existing database of users.
The premium option on the market is UserTesting. It's perhaps best suited for enterprise businesses, as simple tests are rumored to cost ~$50/user.
Though less regulated, the budget option is Fiverr, where you can score a basic user test starting at $5/user.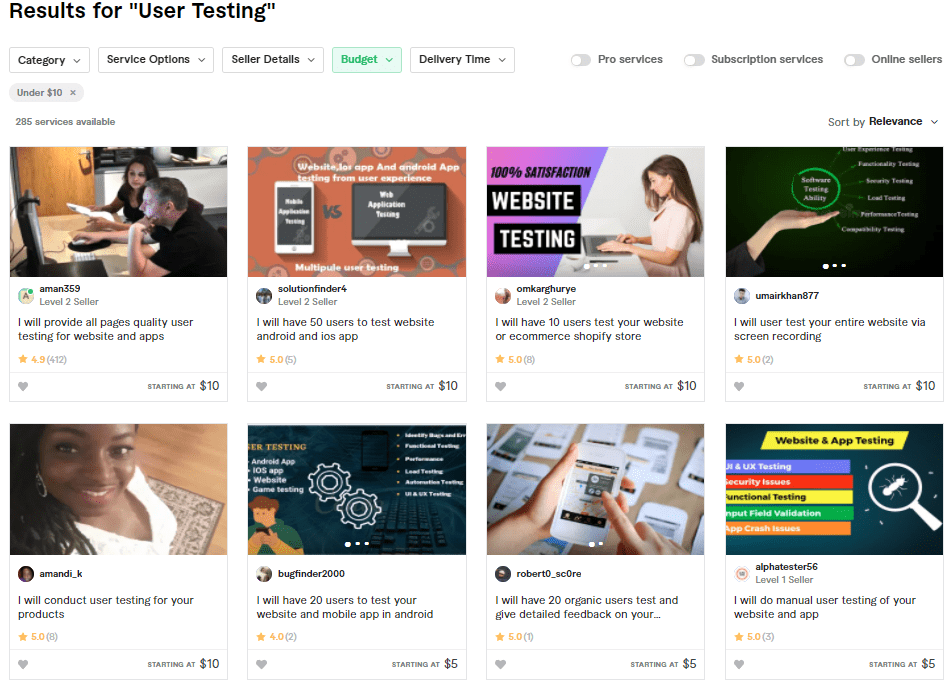 In either situation (and on essentially every user testing platform), users already know the drill regarding what constitutes a great UX audit. More than likely, they'll be able to better articulate their experience with your design than users you recruit on your own, who don't have experience.
Besides paid tests, you can technically do some of your user testing behind the scenes. Though you have little control over the results, the following freemium tools can help you to gain useful insights if you want to conduct a UX audit on a budget:
#3: Construct a hypothesis
Before starting a UX audit, ask yourself: Am I noticing a particular problem or do I just want general feedback before launching a new design?
Let's say that you've started to notice that conversions have gone down during the current year. An example hypothesis may be, "Conversions have dropped this year because we changed our checkout form".
In order to start your UX audit, you'll want to construct a simple task based on what you hope to learn. To follow the scientific method (and get useful results), this task should be exactly the same for everyone.
Construct your brief based on the specific questions you want users to answer. UserTesting provides an in-depth resource for effectively constructing questions that produce useful results.
While coming up with your brief, make sure that you're giving people an objective but don't provide directions for how to get there. That's their job!
If you've done your own user recruiting and are working with people who aren't used to the standard process, make sure to tell them not to be polite, as that won't help anyone. Another great piece of advice for first-time user testers? Remind them to narrate their entire experience out loud, even the most seemingly insignificant details.
#5: Construct the testing environment
In the ideal situation, you'll invite user testers to come into your office so that you can ask questions as they come up, to dig deeper into the user experience. If this is what you plan to do, you should pick up a copy of the book Don't Make Me Think, which provides an easy to follow, step-by-step process for designing an in-person user testing environment.
Of course, it will likely make more sense to work with online user testers who have some training regarding how to give useful feedback. In these situations, you'll want to ensure that they're using some sort of screen recording tool (which is probably provided by the user testing platform).
To understand if your website has a great user experience or a bad one, you'll want to create some "success" markers to determine if users passed your test.
Revisiting the previous hypothesis example, you might define success by how long the checkout process takes. For example, if it takes more than five clicks to go from a product page to a completed order (your success marker), that may indicate a problem with your user experience.
While evaluating results of your user tests with relevant team members, ask questions such as:
Final thoughts: How to conduct a UX audit in 6 steps
No matter what tools you use, a UX audit should provide a simple process for user testers to share insights. Remove the potential for bias to get the most useful results. Remember, negative feedback isn't personal—it's necessary for finding potential design improvements.
If you need help conducting a UX audit for your website, The Blogsmith can help. We offer in depth audit services that can help discover what you need to improve your business. Contact us today!