Whether you manage one website or 10, you'll want access to the tools you need to create functionality that aligns with website goals.
And if you're working with clients, you'll want to have some level of mastery when it comes to the plugins you install on client websites, so that it doesn't feel like reinventing the wheel whenever you take on a new project.
If you can handle everything from hosting to website management in one dashboard: all the better.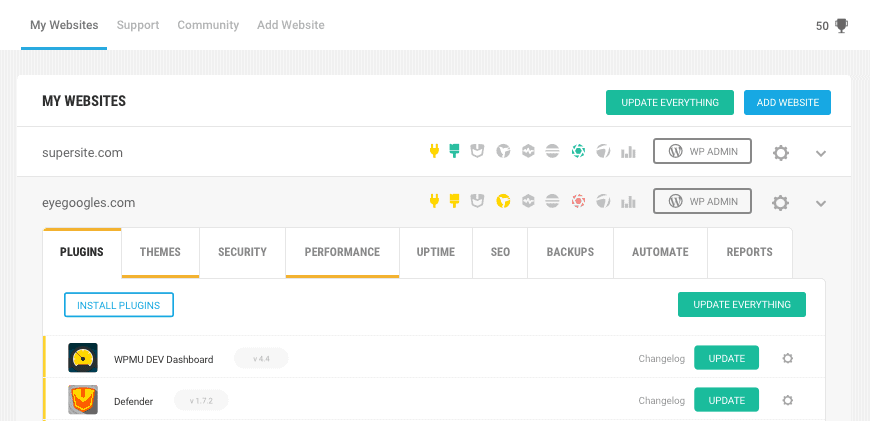 A monthly subscription to WPMU DEV plugins and web hosting grants the user access to a powerful suite of tools for a low monthly cost that scales based on how many websites you manage: from one to unlimited.
I'll tell you why it's such a steal after explaining how I first got involved with WPMU DEV.
#1 Writing about WordPress for WPMU DEV
My relationship with WPMU DEV goes back several years. I don't write for them currently, as they recently transitioned to hiring full-time writers instead of a network of contributors.
But WPMU DEV was one of my earliest and most favorite clients to write for.
I applied to write for them soon after I first started freelance writing, back in 2016. Then, I was rejected — and I totally get why.
I was green to freelancing and to writing more technical WordPress articles. I needed to pick up more experience in both before I'd be a good fit for them.
So, I started writing more about WordPress, for other outlets — including my own website.
A year after my initial application, I saw another call for writers from WPMU DEV and shot my shot.
I'm happy to say that after committing to getting more experience, this led to the first of many articles that were some of my favorites to create.

I worked hard to come up with topics that other WPMU DEV writers hadn't already covered comprehensively. It was a great early challenge for me in the WordPress space that ultimately helped me to decide that this was the industry I wanted to specialize in writing for.
While I wrote for them, I had premium access to their suite of plugins and got to know them well by putting them to use in order to understand how to write about them.
#2: How WPMU DEV benefits freelance WordPress developers
If there was one quality I could say is true of every WPMU DEV offering (blog, plugins, support documentation, and so on), it would be attention to detail.
I knew I had to bring my A-game to writing for them because their customers (and my readers) relied on accurate information when making decisions and working with WordPress.
WPMU DEV offers so much of their stuff for free that you know their paid stuff is going to be good. As a bonus, the pricing for their premium offerings is totally justifiable — and you can pass on the cost to clients who benefit from your access.
Ok so tell me specifically what makes it so great! You say.
I'll share my WPMU DEV review in terms of these major categories:
Let's get to it then, shall we?
All-in-one freelance WordPress developer plugin subscription (with an option for unlimited websites)
WPMU DEV's plugin subscription has historically been WPMU DEV's bread and butter, their tried and true secret sauce.
And that's not just my subjective POV — they've earned plenty of industry accolades. Most notably, Torque's Plugin Madness competition (more than once).
Most of WPMU DEV's plugins offer access that begins with their high-quality free versions.
I'm a big fan of their suite of WordPress SEO plugins in particular, which include:
Their remaining free plugins include Hustle, for opt-in forms, and Forminator, for building contact forms and other feedback widgets.
Just accounting for WPMU DEV's free tools includes a near-complete suite of WordPress marketing tools that fit the needs of any modern freelance WordPress developer.
But that's not even all of their free plugins.
WPMU DEV shocked the WordPress community when they announced a Pareto principle approach to their business moving forward. Specifically, they decided to stop updating 90% of their plugins.
Then, they invited WordPress developers to use these files for their own purposes, for free, via Github.
But let's switch gears and talk about their premium plugin offerings.
Besides the pro version of the WPMU DEV plugins already mentioned — Defender, Hummingbird, Smart Crawl, Forminator, Hustle, and Smush — a paid WPMU DEV membership includes access to:
In general, you could categorize WPMU DEV's plugins (and other resources) in terms of the following major functions:
Whether or not you host websites with WPMU DEV, you also get access to useful features like Automate, which automatically updates plugins, themes, and core WordPress software to the latest versions. The same can be said for useful client reporting tools.
Site management tasks, hosting, and more are all organized in The Hub.
When you're ready to try out WPMU DEV's premium plugins, tools, and hosting, paid plans start at $49/month, which you can currently use for unlimited sites. At this time, $49/month also gets you a bonus $30/month hosting credit.
I have it on good authority that this pricing could change in the future, so my suggestion is to scoop up this unlimited sites deal with the bonus hosting credit to be grandfathered into this plan!
A WPMU DEV subscription is ideal for a professional web developer with a few (or many) clients. As you add clients to a website maintenance business or other ongoing website management service, it's easy to spread out the cost amongst clients.
You should definitely be building in a budget for premium tools with every new project you quote.
#4: Kick-ass expert WordPress content
Obviously, I'm biased since I've contributed to the WPMU DEV blog…
…but! Here are some more non-subjective facts about why WPMU DEV is so great:
WPMU DEV is #2 on Feedspot's list of the top WordPress development blogs. It's second only to WordPress.com.
WPMU DEV is well-liked and well linked. It's because they hold themselves to high standards.

If you're a freelance WordPress developer, you'll be pulled in by all of the unique angles WPMU DEV takes with content.
Hello, WP! is a WordPress podcast that discusses topics of interest for WordPress beginners.
Then, there's the blog. Some of their most useful articles include:
But I think that the most valuable part of a WPMU DEV membership is access to their 24/7 live support chat, staffed by experts. They don't limit you to WPMU DEV-related support questions: they'll help you solve any WordPress-related issue. They'll even login to help you make a fix!
New! WordPress website hosting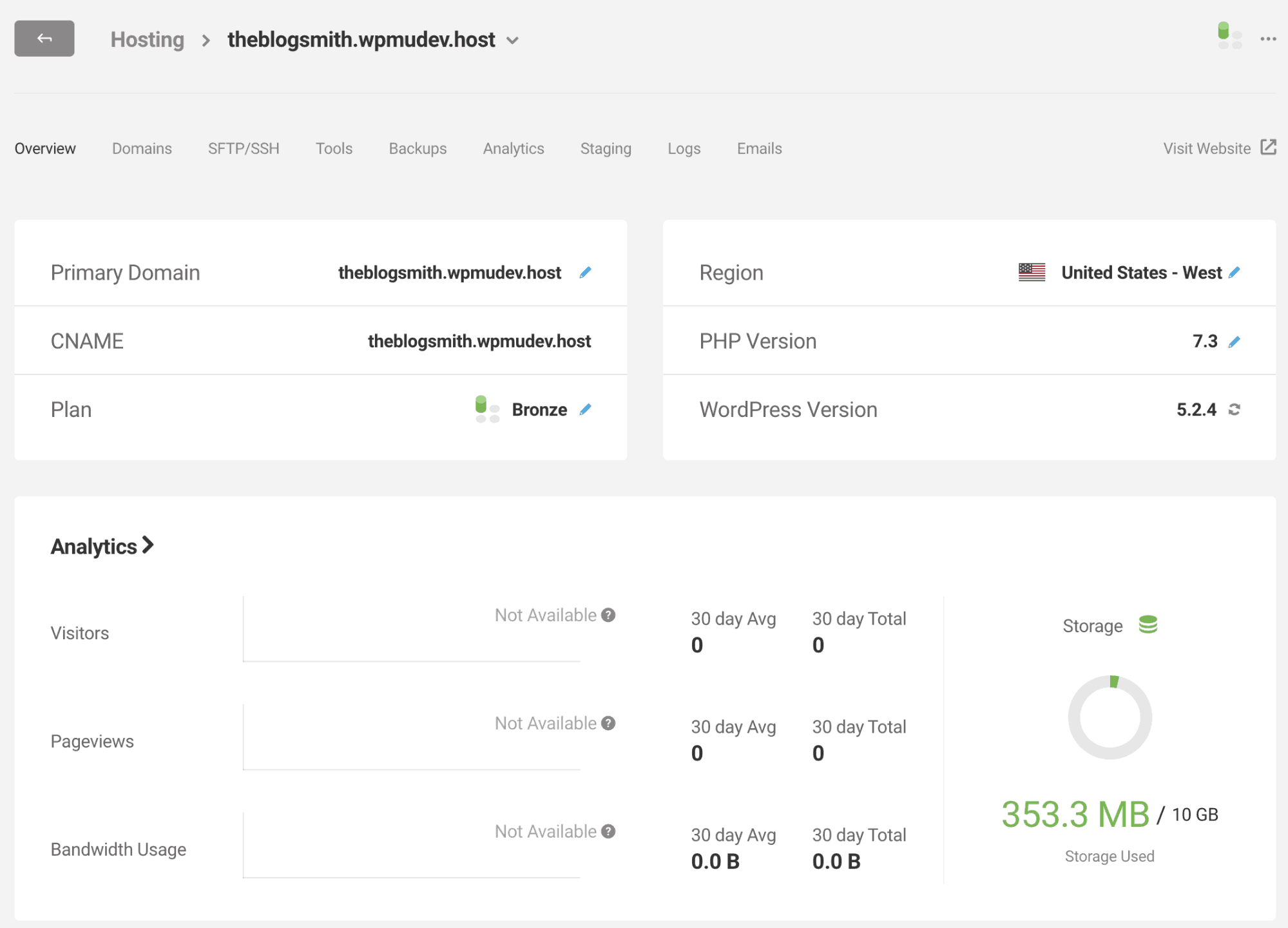 There certainly is no shortage of quality web hosts out there, so you really want to pick from the unique perspective of what you need from a web host.
For example, when it comes to ecommerce websites, speed and high bandwidth are important. If you facilitate payments of any sort, security is paramount. If you run a fashion blog, you'll want a lot of storage space.
TL:DR; Everyone's web hosting needs are different.
As a freelance WordPress developer or agency, having easy access to backend tools for each client site, all in one place, is essential. You lose efficiency when you have to log in to multiple different web hosts to manage various client sites and maintenance tasks.
Useful dashboards aside, there are certain bare-minimum features that you'll want to have in place to ensure that your clients are in good hands in terms of web hosting.
One of the most important web hosting features is responsive and easily accessible customer support. Ideally, this includes live chat so that you don't have to wait in line on the phone.
WPMU DEV's chat line is open 24/7 for even the seemingly most mundane WordPress questions.
Site speed and performance are so important when it comes to ranking in relevant search and providing a great user experience when someone clicks through to visit your website. Since you want to put your best foot forward with client sites, staying away from shared hosting is ideal.
WPMU DEV hosting provides dedicated hosting resources for every website you host with them.
Features like backups, site security, and additional performance optimizations (like a CDN) are important baseline features to want access to via your web host. WPMU DEV offers all of these, with advanced customization options, thanks to their combined hosting and plugins offering.
Check out how WPMU DEV compares to other top website hosts.
Here are some other important details to be aware of: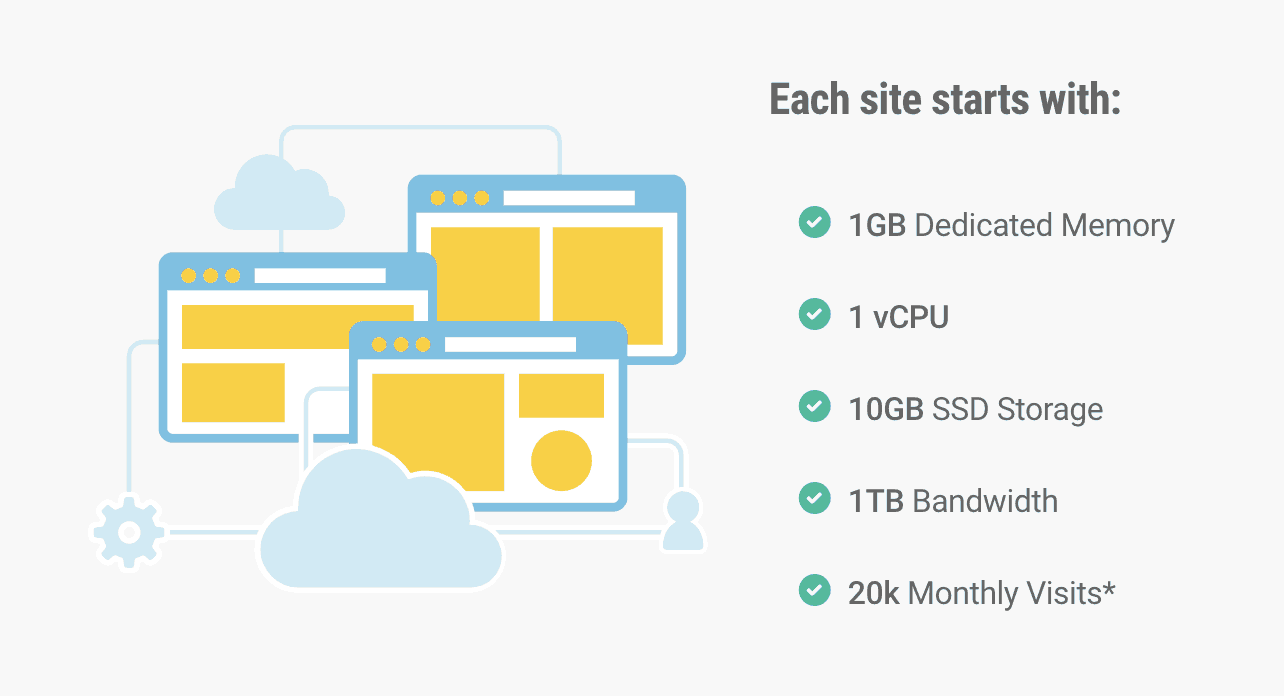 And several things you want as a freelance WordPress developer — for yourself and clients (included with each hosted website on WPMU DEV):
You can upgrade quite affordably as you scale up and manage web hosting for additional clients.
Here's what to expect in terms of monthly costs as you add more hosted websites to your subscription plan: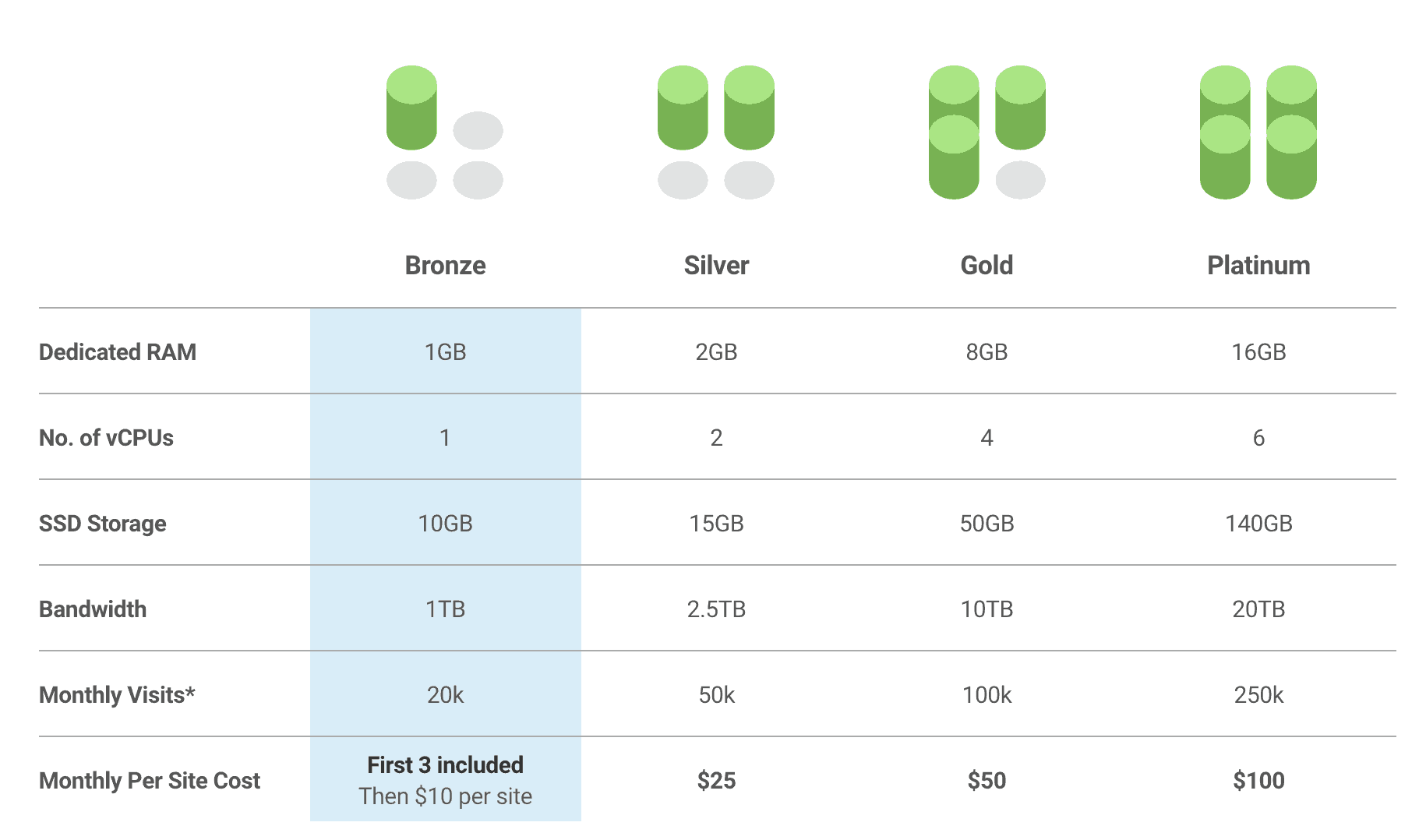 #3: Offering a WordPress maintenance service with WPMU DEV
One of the best ways for freelance WordPress developers to earn recurring revenue is by retaining clients for monthly WordPress maintenance services.
As we all know, WordPress needs regular updates in terms of plugins, themes, and even the core software code. Sometimes, conflicts between these things cause code and design functionality to break down after an update. The ideal clients appreciate the peace of mind that comes with having a team available to help them maintain a professional web presence.
By managing hosting and creating expertise around using WPMU DEV's plugins to achieve goals for clients, they'll want to keep you around past one-off website design projects.
#4: Final Thoughts: WPMU DEV Review: Web Design Client Management in One Dashboard
With WPMU DEV, you get so much access to a lot of useful tools and expertise without paying a penny. When you go all-in, starting at just $49/month, you get so much more — including credits to host your website with WPMU DEV.
The freelance WordPress developers who make the most money while working the least hours have their clients on retainer. Offering maintenance services to clients can help to justify your paid access to tools like the WPMU DEV suite.
If you have your own WPMU DEV review, I'd love to hear about your experience. Or if you're just learning about them, I'd love to help answer your questions. Sound off in the comments, below!