A lot has changed since Google first launched its search engine results pages (SERPs) in 1998. Google has fine-tuned its search algorithms and added many SERP features to improve the searcher's experience. 
In addition to the list of hyperlinks, modern Google SERPs now have rich features that include featured snippets, People Also Ask, and related searches. These SERP features supplement organic search results and help users find answers quickly, refine their searches, or dive deeper into specific topics.
Today, we'll specifically focus on Google's related searches and how you can use them to boost the visibility of your website.
Let's dive in.
Google's Related Searches SERP Feature
Let's say you typed "What does SEO mean" in the Google search box. Scrolling to the bottom of the Google search results, you'll see a set of queries under the heading "Related searches."
This is the SERP feature known as Google's related searches. 
In a nutshell, related searches help you refine your search. For example, if you search "SEO tools," Google's related searches will suggest search queries to help you find exactly what you're looking for.
Here's what that looks like:

The point of this SERP feature is to help searchers explore the different angles associated with an initial search query. It's especially useful whenever you want to dive deeper into specific topics or products.
In the above examples, Google provided eight related search queries. However, depending on the initial query, the related searches SERP feature may include various details in different formats. Depending on the presentation format, the feature label might also change. That's why you'll see the "Related to this search" label instead of the original "Related searches" label. 
For example, if you search for "best SEO tools," Google displays two expanding drop-down lists of SEO tools for different use cases in the related searches panel.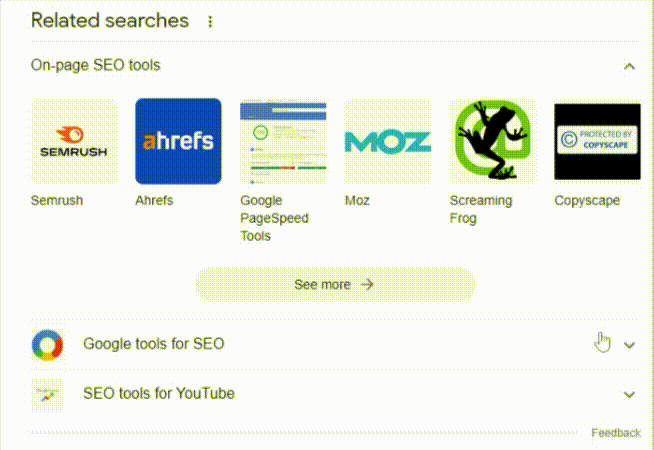 That said, how does Google decide which queries or products to feature under related searches?
How Google Determines Related Searches
According to Google, related searches are fuelled by a number of factors, such as the context of the query and the history of search activity.
In essence, Google's algorithms analyze queries to understand the meaning behind specific semantics. The algorithms also determine search intent (i.e., the purpose of the search).
Whenever you search for something, Google goes through the history of user queries to find queries that match the semantics and intent of your query. It also factors in your location, and the relevance of the related terms — and that's how you get related searches.
For example, when you search for good coffee in New York, Google understands you're searching for good coffee shops in New York and likely intend to buy a coffee. As a result, the related searches will suggest queries revolving around coffee shops in and around New York.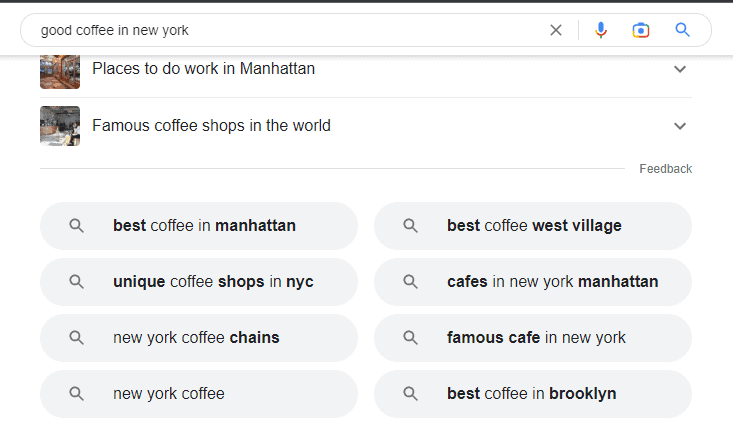 Now that you know how Google's related searches work, let's explore how you can use it as part of your SEO strategy to optimize your content for search engines.
Using Google's Related Search for SEO
Undoubtedly, Google's related searches are a treasure trove of helpful information. But if you own a website or online business, the usefulness of this SERP feature doesn't stop at helping you expand the scope of your initial search query.
Think about it:
What better way to enhance your content and search engine optimization (SEO) efforts than having a better understanding of what your audience is looking for?
That's why The Blogsmith uses Google's related search queries to elevate the keyword research process for the content we create for our clients.
Google's related searches are strong keyword idea generators. For instance, take this piece on content optimization tools on The Blogsmith blog. The primary keyword for it is "content optimization tools."
Google's related searches gave us some insight into the specific tools people are looking for in relation to the parent query — namely "Clearscope" and "MarketMuse." So we made sure to include them in the article.

Considering that Google's related searches may yield terms based on the latest trends, they can be an excellent asset for on-page SEO optimization. Just note that since people look for new trends using new terms in search, some of them may not appear in your keyword research tool's database.
But the perks of related search terms and how we interpret them don't stop there. With Google's related search terms, we also:
Get a Better Understanding of Your Audience
One of the key drivers in creating effective content and converting users is understanding the user's search intent. That's why we ask ourselves: what is driving them to search that term in the first place?
For example, let's say we find these keywords in the related searches:
Content optimization tools
MarketMuse vs. Clearscope
These two keywords can represent searchers in different sales funnel stages.
Someone searching for "content optimization tools" might be interested in learning about them, which means we can create content that caters to the informational intent behind the search. We checked the dominant interpretation of this query and found that the searchers are looking for the best content optimization tools. So, we created a short list of some of our favorite content optimization tools — Frase, Clearscope, and MarketMuse.
The related search term, "MarketMuse vs. Clearscope," shows that the searcher has narrowed down to two options and is trying to figure out which one to buy. It shows a transactional intent. In that sense, we could create an article that directly compares MarketMuse and Clearscope, including a comparison infographic that will also help us rank high on image search.
While doing the keyword research for our content optimization tools article, we also saw "content optimization tools and techniques" as one of the suggested terms.

The term didn't match what we're going for, but it's something we kept in mind for a future article.
Speaking of which…
Using Google's related searches, we can explore the different aspects surrounding a specific topic and create new content.
That makes Google's related searches an excellent resource to help build out topic clusters, which play a crucial role in developing topical authority.
For example, let's look at the suggestions under related searches when we search for "how to write website content":

Interesting, right? Creating content for search terms like "website content examples," "website content ideas," and "web writing format" could offer users immense value that ties back to the main idea we started with (how to write website content).
Related searches might also suggest ideas worth exploring in other content formats. For instance, if you search for "Adobe Premiere tutorial," the suggested terms include PDF files and courses, which you can use to determine what types of content formats you are going to create. 

Long-tail keywords and content ideas are one thing. But did you know the related searches feature can also give you great insights into what people think of your brand?
Let's see how related search keywords help you read the pulse of your target audience.
Work on Brand SERP Optimization
Picture this:
After six months, your SaaS startup has begun to gain traction in search engines. However, when you search for your company name on Google, the related searches suggest the following: "[Your brand name] expensive."
People may not fully understand the value of your product, and that's fine. But if users are unsure about your value proposition and the first thing they see is the word expensive tied to your company name, that might influence how they perceive and talk about what you offer.
Related searches give you a clue about how people perceive your brand and help you optimize your brand's SERP image.
Brand SERP optimization means optimizing your brand's SERP to track negative remarks, image-harming reviews, or links. You should look into the search terms associated with your brand and the general questions people have about your brand. A quick way to do that is by seeing the suggestions in Google's related searches.
Take the related search terms that pop up when you search for the bankrupt cryptocurrency company FTX, for example. Suggested terms like "FTX scandal" or "FTX collapse" show people's negative sentiments toward the brand.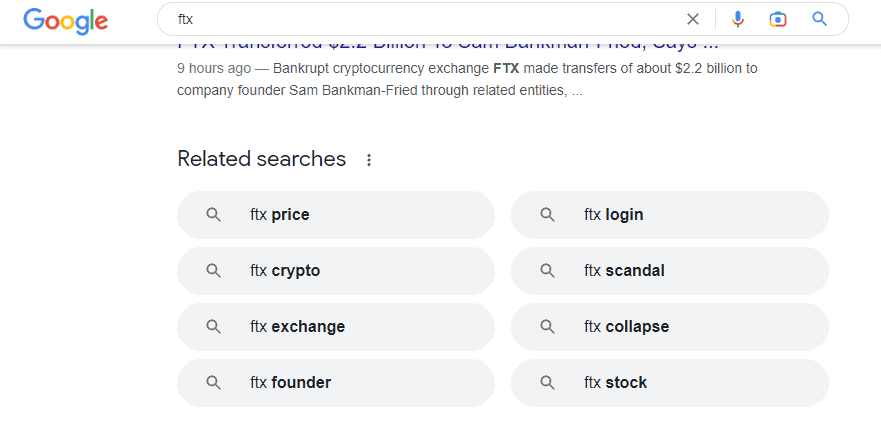 This is an extreme example of recent negative sentiment — not something most brands deal with on a regular basis.  But some words might alter the perception of what you have to offer. If your brand's SERP has related search terms with negative sentiments, you want to improve your image.
While you have no direct control over what appears on your brand's related searches terms, you may provide Google feedback on the negative phrases. But it doesn't guarantee that Google will remove these terms.
It's helpful to explore the root cause of the negative sentiment and take measures to change it. For example, if your brand is perceived as expensive, clearly communicate your value proposition.
Creating online content and social media advertisements around this might change the target audience's opinion.
Another option is to create great content to project yourself as a thought leader. Working with a content creation agency like The Blogsmith will help you plan and write content to improve your brand's image.
Content Refresh and Optimizing On-Page SEO Elements
Google's related search terms aren't just helpful in creating new content. You can also use this data to optimize your existing content. At The Blogsmith, we often do content refreshes to incorporate the most recent information.
We often look at Google's related search terms when we rewrite an article fully or partially. They help us identify new talking points and customer questions we must address in our article.
For example, we had written an article on the SEO checklist for publishing in 2022. It focuses on the on-page SEO elements to check before publishing. However, the related searches show that people also search for an "off-page SEO checklist." So, including an off-page SEO checklist whenever we refresh this article would be an excellent idea for the content refresh.
Related search terms also help us improve our content's on-page SEO. For example, we check if we can include related search terms in our webpage's meta title and description. We also try to incorporate related search terms in image ALT texts or filenames.
Final Thoughts: How Google's Related Searches Feature Can Help Your Content Rank Higher
Google offers several SERP features to help searchers easily find information. Related searches is among many SERP features that allow users to find information quickly and help brands to optimize content by finding related keywords to the search query.
If you are looking for a reliable content partner who can create great content that leverages these SERP features and more, get in touch.