A 2021 HubSpot study shares that 82% of marketers actively invest in content marketing. If you're reading this, you're probably one of them, and you know how crucial quality content is for your website.
That said, you may have discovered that building an in-house marketing team or trying to do it all alone is costly and time-consuming.
Growing your business can be challenging as a business owner when you also have to dedicate a few hours to creating content. So knowing how to choose the right marketing agency will help you find a team of experts who can do this for you and help you reach your target audience.
An expert marketing firm can help you attract the right customers, speak in your brand's voice, and propel your business to new heights.
As the right digital marketing agency can be the key to your success, you shouldn't settle for the first agency you find. It's critical to work with a marketing company that's strategic, collaborative, and caters to your business needs to get the results you want.
We've compiled some tips to help you choose the best digital marketing agency for your company.
Here's what you'll learn:
Identify Your Content Needs
Before you search for the right content agency, you need to establish your content needs. This will help you hire an agency that will cater to your ideal customer personas and produce content that converts.
Here are three ways to help you identify your content needs:
1. Define Business Goals and See How Content Can Help You Achieve Them
When creating a content marketing strategy, your brand, audience, and goals will be crucial pieces of the puzzle. Use these to your advantage to develop a detailed content marketing strategy.
Content Marketing Institute shares that 60% of the successful B2B content marketers have a documented content marketing strategy.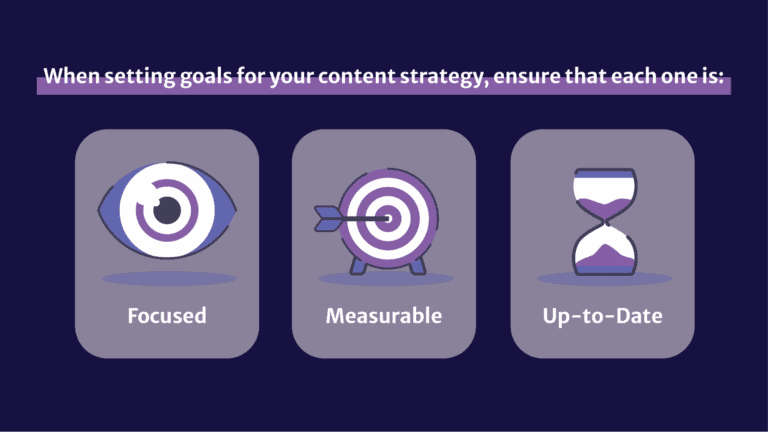 2. See What Your Competitors Are Doing
If you want to be recognized for excellent content, you must observe what your competitors do. You can capitalize on their failures and better position your content in the marketplace by monitoring their content strategies.
Competitor analysis will give you valuable insight into what works and what doesn't. It will also help you track your performance against industry leaders.
However, when analyzing your competitors, be specific about what you're looking for and how it can help improve your position. Instead of borrowing ideas, find out your competitors' strengths and weaknesses and your brand's competitive advantage.
Use these tools and tips to keep a close eye on your competitors:
3. Decide What Part of the Process You Need Help With
Your content marketing campaign is bound to deliver under-optimized results without a solid strategy. 
For every content piece you invest in, you need to know how it contributes to your business goals. You should also be able to explain why you chose a particular topic and what results you expect from it. 
So as you create your content marketing strategy, identify which stages you need help with.
Do you need help creating the strategy itself? Or is it writing blog posts, social media content, and case studies?
Knowing what kind of help you need will breathe sense into your marketing efforts and help you make the right decisions.
How To Choose the Right Marketing Agency
When choosing the right marketing agency, here are some qualities you need to look for:
1. Is the Agency Obsessed With Your Success?
A decent content agency does more than provide you with excellent marketing services. It looks for ways to add value to your experience, prioritize your needs, and use the feedback you provide to drive continuous improvement.
A digital marketing agency obsessed with your success will also review your marketing needs and create a long-term strategy to fulfill your desired goals.
Besides that, it will structure a long-term plan highlighting where to start and what will have the most significant impact.
For example, at The Blogsmith, we gather as much information about your company as possible. We do this by sending out a client intake form to get to know your brand guidelines, goals, and audience.
That said, here are questions to ask the marketing agency to determine if they're genuinely interested in your success:
2. Can the Agency Back Up Its Claims With Measurable Data?
When seeking a marketing agency to work with, look for an agency that can back up its claims with measurable data or key performance indicators (KPIs).
If a content agency has trouble proving its marketing efforts' return on investment (ROI) with reliable metrics, that's a red flag.
A results-oriented agency will have an entrepreneurial drive like yourself. It will work with you to identify areas you can improve. As a result, you'll build on successful aspects of your company and achieve optimal results.
For example, Fractl advised Porch.com — a home improvement networking website — to move from on-brand to tangential content to pursue topics that would engage the masses and result in significant high-authority press mentions.
With the insight from Fractl, Porch.com gained 931 unique domain links in a single year.
Ask these questions to the marketing agency to determine if they're result-oriented:
3. Are the Agency Members Easy To Get in Touch With?
Have you worked with people who claimed to be the best but were terrible communicators?
It's not a fun experience.
The best content marketing agencies make it easy for potential clients to get in touch with them.
They work with you to achieve your objectives. You don't want an agency that only takes orders, but a team that listens to your goals and recommends ways to achieve them.
Here are questions to ask a potential agency to determine if they're good communicators and collaborators:
4. Does the Agency Provide Social Proof?
Social proof such as previous client reviews and testimonials can give you valuable insight into what it's like to work with that agency. 
For example, here's what happy clients say about The Blogsmith's SEO content writing services:
Successful marketers know the significance of showing social proof on their websites. So if you can't find any, the agency is either new or lacks the understanding of content marketing you require.
You can also learn about the content agency by exploring their about page to understand their skill set and experience.
Ask a full-service agency these questions to determine if they're worth your time:
5. Does the Agency Treasure Money or Value?
What language does the marketing agency speak, money or value?  
They may be all talk and no action if they promise enormous returns without getting into the specifics of how they'll help you achieve your goals.   
For example: 
One agency says: "We can help you fast track your way to Google's top spot." 
Another agency says: "Through continuous content creation and an effective search engine optimization strategy, we'll get you to the number one spot on Google in a couple of months."  
The chances are that the first agency is unrealistic and might be leading you astray. 
Note the promises and claims they make. Ensure they align with your knowledge about the industry. Outlandish promises are major red flags.  
Ask these questions to determine if the content agency is worth your time: 
6. Do You Share the Same Core Values?
Since the marketing company you choose will represent you by content, it's crucial to work with an agency that shares your values and operate in a similar environment. This will ensure the agency blends and works well with your team members.
For example, one of The Blogsmiths' core values is supporting and giving back to the community. Since April 2021, we've donated at least $1000 each month to a cause that resonates with our values.
You can track our progress and learn more about the organizations we support doing incredible things.
Look at the phrases a digital marketing agency uses to describe itself. Is it consistent with your core values and the results you expect?
Ask these questions to determine if the potential agency partner shares the same core values:
7. Does the Agency Want To Collaborate for the Long Term?
You ideally look for a long-term marketing partner when hiring a marketing agency. Your business should be their business, and your goals should be their goals.
A content agency that wants to have a long-term partnership will sell you relevant services, following a consultative sales process. And they'll advise you before you invest big bucks into outdated tech and swing you a favor if it makes the difference between success and failure.
In short, their strategy should be a layered approach that prioritizes your goals.
For example, it can take 4-12 months to see results from an SEO strategy. The duration depends on the state of your website structure, your competition, inbound links, and the content you produce. It helps to have a long-term partner by your side throughout the process.
Ask the agency these questions to know if they intend to form a long-term relationship with you:
8. Does the Agency Have an Experienced and Specialized Team?
It's essential to ensure the content agency you hire has the right team members that suit your project.
Look at the agency's about page to see if they show their team members and whether they are well-equipped to handle your content.
For example, at The Blogsmith, we have a team of experts who contribute to the content creation process: content strategists, SEO experts, writers, editors, project managers, and account managers.
LinkedIn can also be an excellent place to check the company's team members. And you can always ask questions about their team during your consultation. 
That said, ask the marketing agency these questions to learn more about their team members: 
The Blogsmith Could Be a Good Fit for You
At The Blogsmith, we strive to understand your brand's voice, products, and business goals. We also offer multiple add-ons for articles over 1,500 words to enable us to dig deeper and make your content more personalized.  
The add-ons include:
Besides these crucial inclusions, you'll receive up to $1,353 in added value per every 1,000 word article.  
We use data-driven tools that produce better results and save you these monthly costs: 
If you need a content agency that will offer you outstanding value, The Blogsmith might be what you're looking for.
Final Thoughts: How To Choose the Right Marketing Agency for Your Needs
Every project deserves the attention of an industry expert. However, it takes time and effort to find the right agency partner. But the more diligently you look, the more likely it is that you'll make the right decision.
Do your homework well to ensure you make the right investment for your business.
To get started, contact us today and discuss how we can help you grow your business.