As a freelance business owner, I've found that becoming a lifelong learner is the surest way to succeed.
The more you learn, the more likely you'll be on the cutting edge. You gain that crucial 1% advantage over the competition to take over the market.
But with limited time and energy, you have to be purposeful with what you learn.
iThemes Training brings experts together in one place to teach what they know best. Although all of iThemes' offerings are geared towards WordPress-centered businesses, the breadth of information is relevant to a much wider audience.  Their free training library offers a lot of value but the best learning content is shared as part of a paid membership
I've interacted with iThemes Training in different capacities over the years. I've watched several expert sessions and have been also shared my content creation and management expertise in multiple iThemes webinars. Besides that, I'm friends with fellow iThemes instructors who regularly share their insights on web design, WordPress development, and running a successful business.
Read on to learn more about iThemes Training and how learning from their instructors can be a game changer for your business.

iThemes Training is an educational offering by the WordPress plugin and hosting company iThemes. It exists to help business owners learn more about WordPress, search engine optimization (SEO), and website management — to name just a few topics covered on the platform.
I've learned so much from iThemes Training instructors. Particularly, the Freelance Leap Year classes led by business coach and iThemes employee, Nathan Ingram, have helped me create business efficiencies.
iThemes Training: Stand Out Features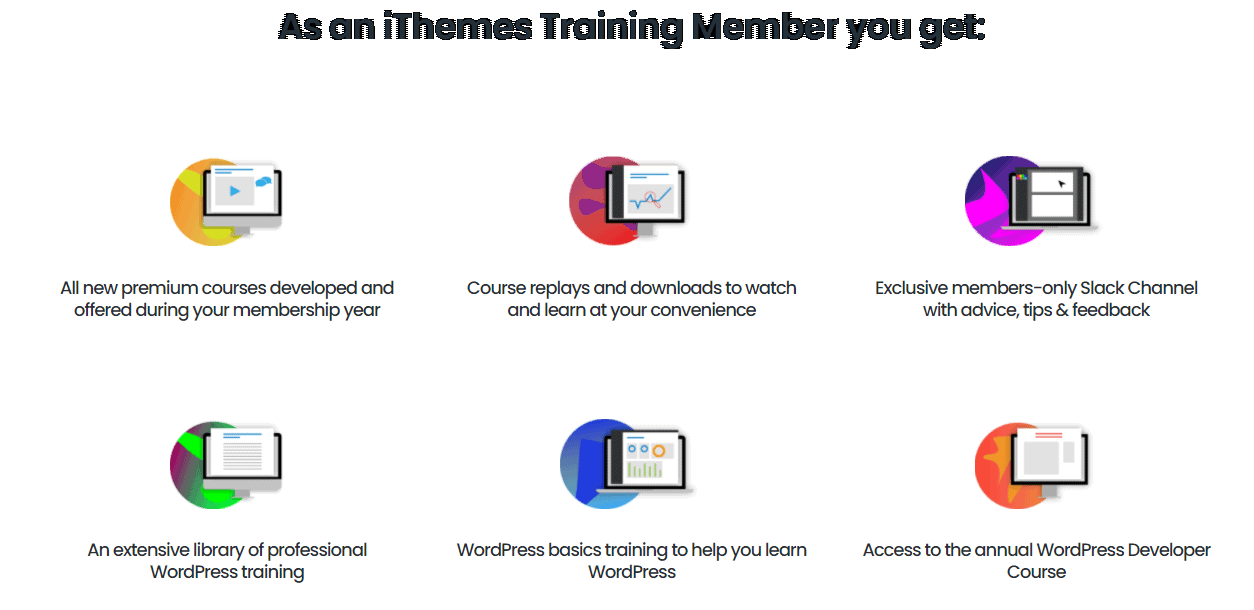 iThemes Training stands out for multiple reasons.
1. Experts With a Track Record
I like to hear from experts who can back up their claims. Theory helps, but with developing practices like SEO, website design, and user experience, a lot of things aren't written in stone.
iThemes Training offers an advanced level of insight compared to the typical webinar. You get boardroom advice and best practices from instructors with a proven track record.
For instance, my good friend Erin Flynn teaches freelances to take charge of their businesses. And she has the experience to back herself up: She started her company in 2012 and has trained over 10,000 students on best practices to streamline their business processes. Her intro packet workshop directly influenced The Blogsmith's intro packet and welcome packet that we send to prospects and clients.
Similarly, another friend, Joe Casabona, shares his expertise in creating with WordPress and how to succeed with podcasting. He's been building websites since 2001 and has worked with some of the biggest names in WordPress. If you're an iThemes Toolkit or Training member, you'll get included access to his podcasting workshop.
I've worked with both of the aforementioned individuals in different capacities — they really know their stuff.
In other words, you get nothing short of quality with iThemes Training.
2. Collaborative Sessions
All iThemes Training sessions have a live chat where you can ask questions with dedicated time for instructors to answer at the end of the lesson. You can also interact with other webinar attendees to brainstorm together.
I love this feature since it takes away the feeling of isolation that's often the hallmark of self-learning. Every time I log in to an iThemes Training session, I meet enthusiastic and dedicated people looking to grow their businesses.
3. Access to an Extensive Learning Library
You can access an extensive training archive after signing up for an iThemes membership. It includes training sessions you missed and premium courses, such as:
The cost of iThemes Training really is a steal when you consider the expertise contained within. And if you're cash-strapped, you can benefit from free webinars, as well.
So many free online courses and webinars include high-level material you already know.
iThemes Training is different. Their free webinars focus on the latest insights from industry experts.
Here are some free webinars I loved watching:
The most recent iThemes Training webinar I hosted, Writing for Humans and Robots: The New Rules of Content Style, shared actionable advice for marketers and content creators. 
The Team Behind iThemes Training
One of the reasons I trust iThemes Training is because of their excellent team.
Learn more about the experts behind the iThemes Training platform:
Nathan has been a freelance web developer since 1995 and has become one of the most influential voices in the WordPress sphere.
He's the organizer of Freelance Leap Year, an annual program that drills deep into topics of interest to freelance business owners. Nathan has run the program for 2+ years and is the host of most iThemes Training webinars, as well.
His expertise can help set your business up for success. His book, Dealing with Problem Clients: Building Fences Around Friendly Monsters, is another great resource for web designers starting their business.
We all have dealth with clients from hell — Nathan teaches strategies to handle those clients and other important considerations for running a company.
Cory Miller is the founder of iThemes and a thought leader in the WordPress space.
He started and grew iThemes from a home office to a seven-figure business, leading a team of over 25 people across four countries. Now, Cory dedicates his time to inspiring and raising the next generation of software developers and tech talent. He also recently became a partner at Post Status, a community that brings together many WordPress professionals and businesses.
iThemes Membership Pricing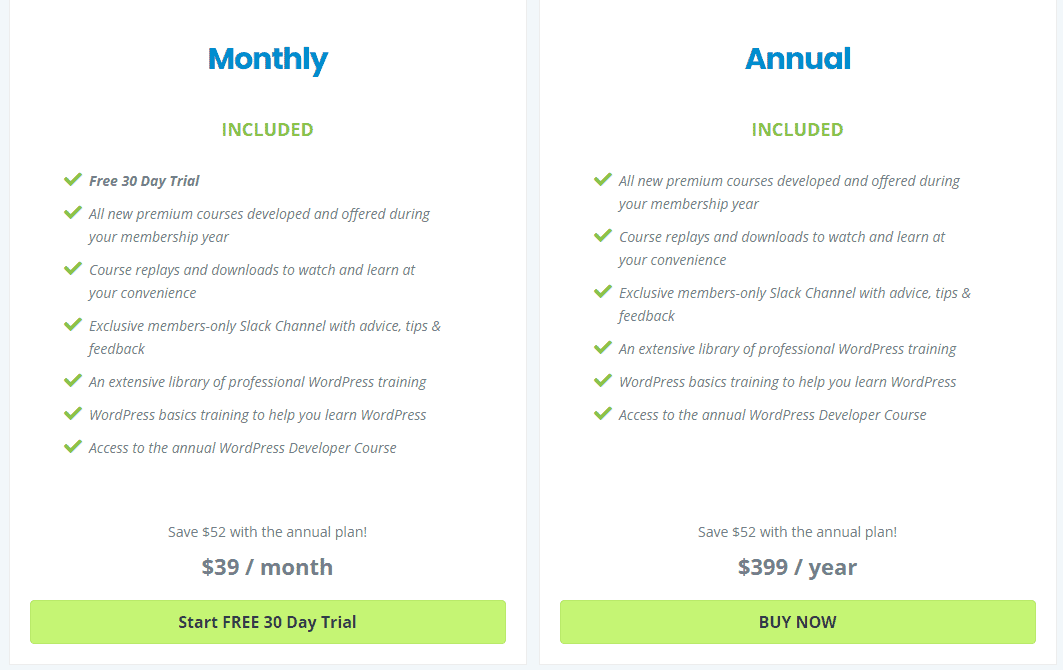 iThemes Training comes with two plan options: a monthly plan priced at $39 per month and a yearly plan priced at $399 per year. And if you're an existing iThemes Toolkit member ($799 per year for unlimited access to themes and plugins licenses), you get access to iThemes Training for no additional cost.
You can check out the 30-day trial with the monthly plan to see if it's right for you.
Both monthly and annual iThemes Training membership plans have the same features:
Premium courses
Course replays
Exclusive Slack channel
Extensive library of training
Basic WordPress training
Access to the yearly WordPress developer course
Final Thoughts: iThemes Training Review — The Best WordPress Training?
iThemes Training is one of the best WordPress training programs.
If you're looking to sharpen your web development skills or leverage your website for increased business, iThemes membership is a great place to start. You'll gain the required skills to better understand your business and find ways to remove inefficiencies.
Have any questions? Let me know in the comments, and I'd be happy to help.