Whether you're a content marketer or a team leader, anyone managing a team of writers knows the struggle of inconsistent and poorly-written first drafts.
Sure, they're well-written in terms of language and grammar. But editing can drain your time and energy when drafts fail to meet client requirements, lack the correct keywords, or link to competitors.
If you spend hours on revisions, it's time to tell your writers precisely how to create content correctly — with a detailed content brief.
Don't worry if you're unsure where to start or just wondered aloud, "What is a content brief?" I'm about to answer that question and explain how to build a time-saving, consistency-creating content brief for your team.
Jump Ahead to a Specific Section:
A content brief is a set of instructions that tells the writer everything they need to include to produce complete and effective content.
Your content brief should be a uniform guide your content creators can follow when they craft media for your company or a client, including:
Well-designed content briefs can minimize edits and streamline the entire content creation process.
The Blogsmith is focused on content marketing. So, our briefs are centered on Search Engine Optimization (SEO) to ensure our content ranks high on search engine result pages (SERPs).
Your business's goals may differ, but the core elements of a content brief are:
If you're creating your own brief, read on for more detailed information. Our content brief templates can also give you a head start.
Why You Need a Content Brief
Once you learn what a content brief is, the benefits become apparent. Let's take a look at the key advantages it provides.
Content Briefs Save Time and Money
When writers produce weak drafts, editors have to spend more time revising their content. Major changes need to be done by the writer — and you have to hope they get it right the second time.
A lengthy editing process wastes time and costs money.
A content brief provides writers with clarity before they craft the first draft. It tells them what to focus on and guides them throughout the content creation process. This information helps them produce better content the first time.
Content Briefs Increase Consistency
Remote work is slowly becoming the norm. A 2020 survey from Flexjobs revealed 65% of respondents wanted to become full-time remote employees post-pandemic.
When marketing teams have writers and editors worldwide, it's critical to keep everyone on the same page. If everyone works from a central instruction set, they can consistently produce quality content that meets your and your client's expectations.
Content Briefs Ensure Delivery Deadlines
When a content marketer handles multiple projects, their editorial calendars are filled to the brim. A missed deadline can create a domino effect of late deliveries and client complaints.
A content team without a brief will waste time on gathering essential information or running work through multiple edits — wasted time leads to missed deadlines.
A well-informed team knows what's expected of them and how to deliver it on time.
But the first step in punctual content creation is to create an editorial calendar. Alternatively, our editorial calendar creation services deliver an effective, customized content plan for a month, year, or longer.
How to Write a Content Brief
Your content brief is a universal guide for your writers and editors.
Here's an example of what a content brief at the Blogsmith includes: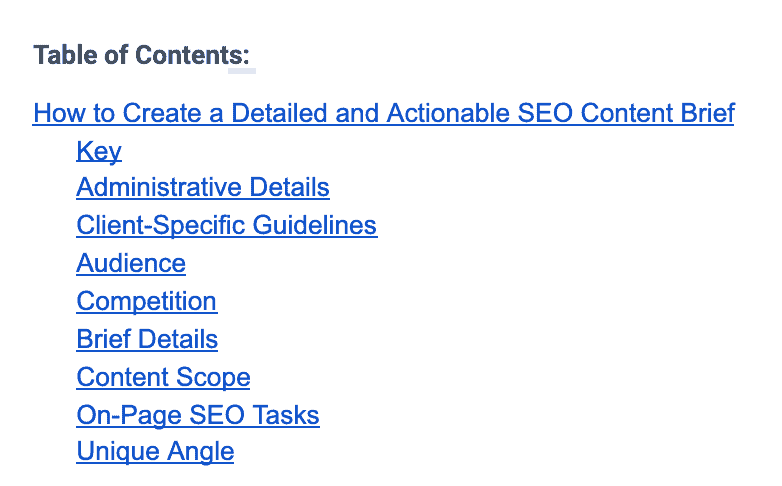 Your brief doesn't have to look the same or be as detailed. It can be shorter or have different fields, but it must clearly define the following:
Every content agency or freelancer must perform interviews with clients before they plan a content strategy.
Content interviews help you understand what the client wants and who their primary target audience or buyer persona is. Today, most companies aim to connect with more than one persona.
Hubspot has a detailed guide on how to find your target audience.
Once you know who your target personas are, you can perform an audit to analyze existing content and see if it adequately addresses the target audience's needs.
After you gather all of this information, create a content brief to tell writers, SEO managers, and editors who their content should be aimed at and how to address a target persona's needs.
The target persona also gives writers an idea of the tone and type of content a client wants.
For example, if the target audience is "financial experts," writers know they can skip past introductory concepts and focus on research-based content.
Keyword research is critical for every content plan. Comprehensive keyword research gives you a cluster of topics to focus on and tells you whether your ideas are worth the effort.
Marketers often use tools like Frase and Clearscope to identify target phrases, determine search volume, and form content outlines and structures.
Your content brief should include your keyword research, so content creators know what to focus on when they choose an angle.
Here's an example of a Clearscope report: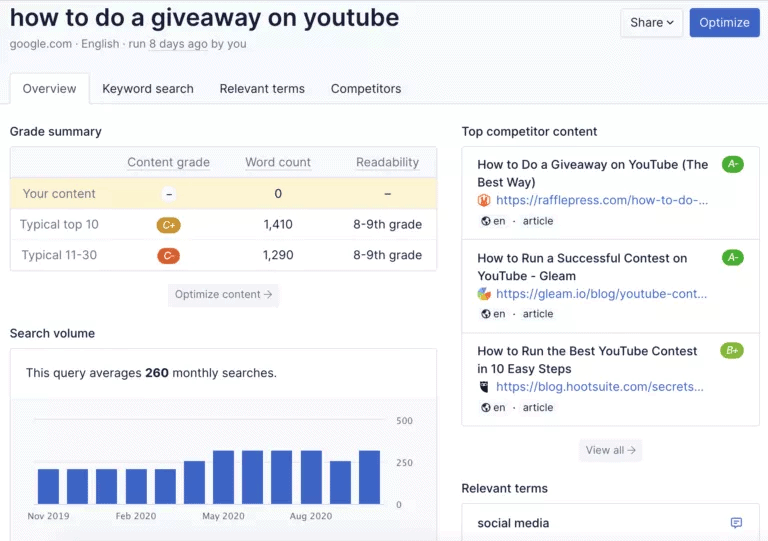 SEMrush estimates that the optimal number of keywords to include in articles is 15.
Provide instructions on where to use keywords. For example, use the primary keyword in the title, high-volume keywords in the subheadings, and low-volume keywords in the paragraphs.
Every blog or landing page needs a call-to-action (CTA) that encourages readers to take the next step, like subscribing to a service or buying a product.
For example, an article explaining keyword research could have a CTA that links to a keyword research tool or it could link to your paid webinar that focuses on a related topic, such as "what is a content brief?".
Your brief should have clear instructions on the CTA's goal. What do you want people to do?
Tell your writers if the CTA should look a certain way and what tone of voice to use.
The brief also dictates where the CTAs must be. Some clients prefer a CTA at the end of a post to summarize the main points and lead users to a specific service or product.
Other clients might have research that indicates their readers don't always make it to the bottom of a blog post. So, they want multiple CTAs throughout the post. This method is increasingly common due to decreasing reader attention spans.
You can also provide helpful links for writers, such as this piece by Grammarly on crafting CTAs.
Keywords are just one aspect of effective SEO.
Your brief should also address:
A meta title is what people see on search page results, while a meta description is what people see underneath it. They're concise, punchy, and make users want to click through.
Here's an example of the meta title and description for The Blogsmith Blog's landing page:

A topic focus is a brief explanation of the content angle. It helps writers construct an outline or structure via suggested themes, sources, and titles.
The links section explains how writers should incorporate internal and external links. It also states which links to avoid, such as those from competitors or unreliable sources.
This section notes crucial information about the client you're creating content for and any specific information they want to include in the piece. It also lists competitors to avoid quoting or citing.
Ideally, your client details section has:
Include any information that might be important to the writer.
For instance, let your writers know if the example articles the client provided aren't the best for SEO-focused content. In that case, instruct them to use the articles for guidance on the client's writing style, tone, or content length. Then add notes about what to avoid or improve upon.
These are only five components of a detailed SEO content brief. They give you a basic understanding of what a content brief is. You might need to give your writers more information, like visual guidelines or miscellaneous quirks of a product or client. Whatever you include, make it easy for your content team to interpret and implement.
Final Thoughts: What Is a Content Brief? — Building an Effective Marketing Process
Your content brief should be the single point of truth for your team. Anyone involved in the content production process must be able to access it and use it as a foundation to produce consistent, effective, timely, and correct content.
The best content briefs clear up doubts or confusion and act as a checklist to help writers create high-quality, engaging content.
Creating a detailed content brief is a lengthy process. It can be tedious for marketers who handle the bigger marketing picture for their company, especially if they're unsure of what a content brief is.
If you're in charge of multiple projects, check out The Blogsmith's SEO content brief template. Our template, which includes an editorial calendar template, was featured on Content Harmony's roundup of the best content briefs! Grab a copy today.