Every contemporary business needs a website. And every website requires someone to write the words that fill the pages.
If you are an entrepreneur, you may handle the writing yourself, but before long — you need help. Between posting long-form articles multiple times a week, sharing content across every social media, and writing sales copy to close the deal, you soon find yourself doing more writing than anything else.
That's when you search for a contractor — someone who can create stellar content for you while you get back to what you do best.
The question is: Do you need an agency or a freelancer?
A freelance content creator is a self-employed specialist in their field who can help you complete small projects. An agency is a team of employees or freelancers with multiple specialties to help you complete larger projects.
When it comes time to outsource content writing, one type of writer isn't necessarily better than the other. Hiring an agency vs. freelancer depends entirely on what your business needs.
How so? Let's take a look:
Content Agency: Behind the Scenes
First, here's a little insight into how content agencies work.
A content agency consists of many professionals, full-time employees, or freelancers. People perform many different roles within the agency — client account managers, project managers, accountants, editors, and writers.
Because a content agency is an in-house team of people, they usually operate during standard business hours, offer regular communication, and work with a standardized writing process.
At The Blogsmith, we facilitate clear expectations from the start by sending out a client intake form that nails down your goals, audience, and brand guidelines.
Once we have a topic to work on, we typically have an outline sent back to you in seven business days. Then comes the final article, fully edited, with images, and ready to be uploaded. (Which we can do too!)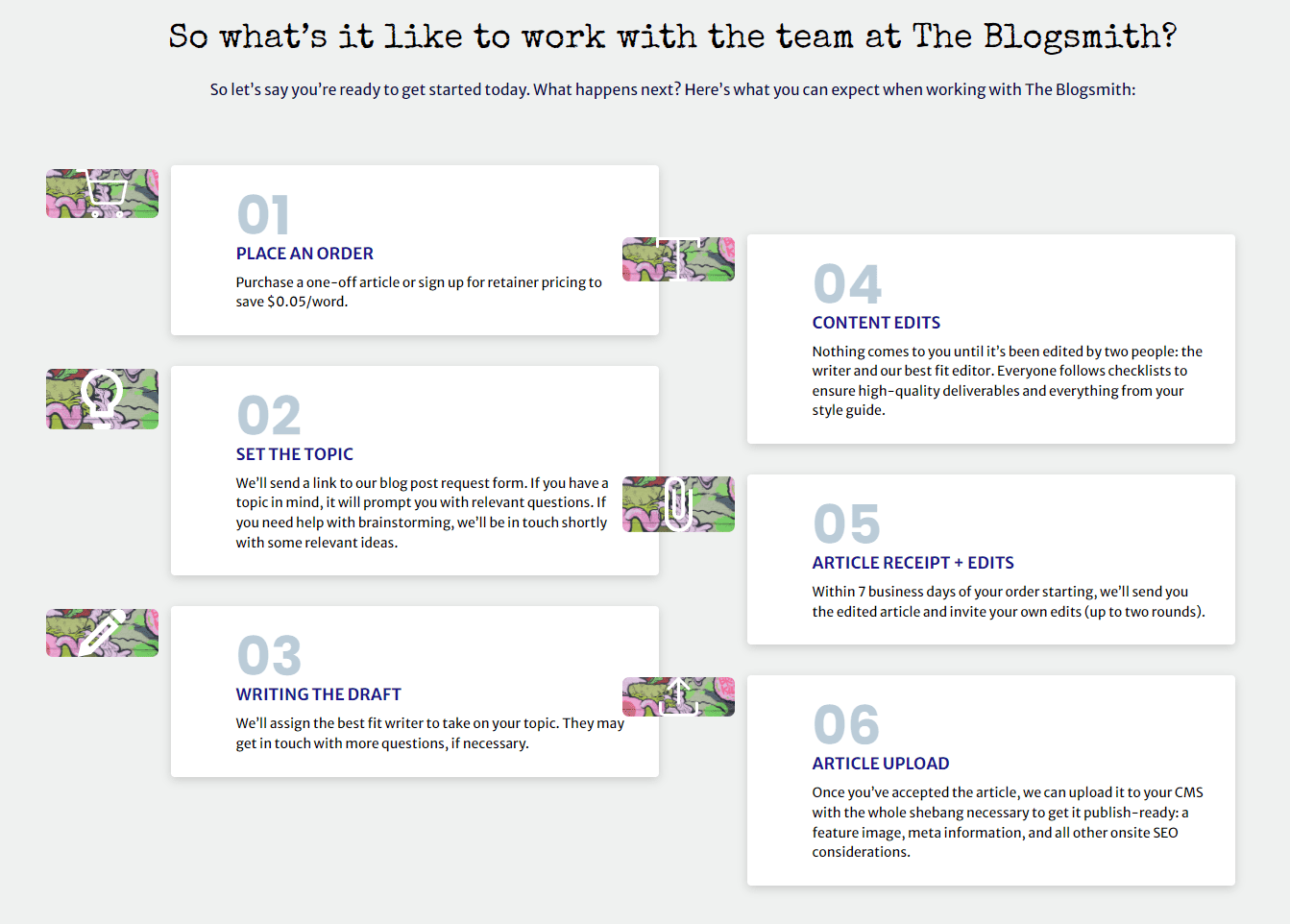 Freelancers: Behind the Scenes
Freelancers are solo business owners. They usually work alone to find clients, conduct research, draft content, and edit articles. They do it all by themselves, which means lower overhead costs.
But this makes the life of a freelance writer a hectic one. While they can be helpful for late-night requests, their communication can be somewhat unreliable due to irregular schedules.
As they work alone, some freelancers don't have much flexibility to work on last-minute content requests as they're already booked.
Considerations When Outsourcing to Agencies vs. Freelancers
Before outsourcing content creation, you must consider three factors:
If cost is a concern, individual freelancers tend to be more cost-effective, as they have lower overhead costs associated with their business. A survey from the freelance payment platform Payoneer found that the average hourly rate for freelance content writing is about $16.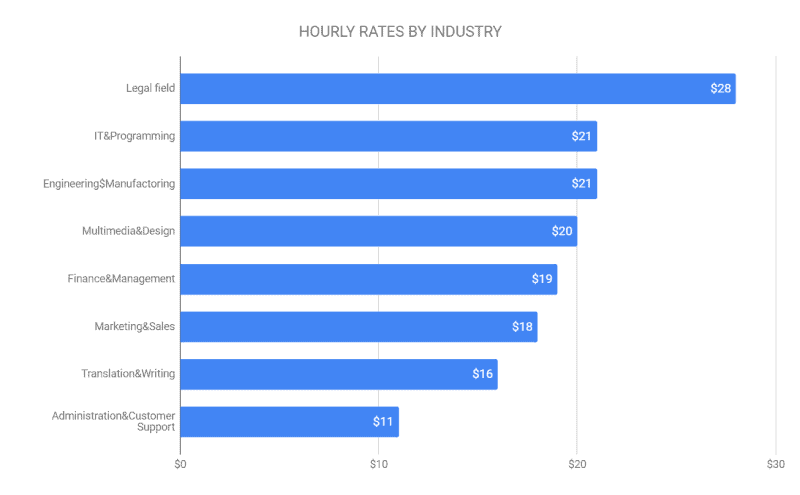 But the final cost for your projects may be harder to estimate if your workload requires several freelancers. Hiring a search engine optimization (SEO) specialist, a writer, and an editor may bring higher costs and time-consuming hurdles.
In agency vs. a freelancer, agencies tend to cost more upfront. This is because agencies must cover the expense of staff and tools. The upside is that more people touch your projects and ensure you receive consistent high-quality content. However, with agencies, the combined value of services and expert insight ultimately makes them a much greater value.
At The Blogsmith, we bring together a number of experts who all contribute to your content.
These are just the employees who make our work possible. You also benefit from all our data-driven tools that create better outputs and  free you from these monthly expenses:
So in a single 1,000-word article, you'll receive up to $1,353 in added value.
For pieces over 1500 words, there are add-on services that provide a unique edge:
And the add-on services we can use to give pieces over 1500 words a unique edge:
A single freelancer is fallible because they're just one human. An agency consists of many team members that can make up for any single person's mistakes.
How Complex Is Your Project?
If your project requires multiple skill sets to complete, you will need to outsource content creation to more than one person to complete it.
A prime example of this is articles that require graphic design elements. If you work with a freelance content writer, you will also need a designer to complete the in-post visuals. And if you want help making it look nice on your website, you'll also need a freelance developer.
Another example is keyword research for SEO. Very few freelance writers provide this, since SEO tools like Ahrefs are expensive. To tackle your digital marketing strategy as a whole, you'll need to find a freelance writer that offers this or hire an SEO content expert.
Keep in mind, in many cases, even freelancers who offer SEO only conduct minimal keyword research. There are many different levels of keyword research, and single freelancers may only spend a few minutes grabbing a couple of keywords that sound OK and call it a day.
That's why more complex projects lend themselves to agencies.
At The Blogsmith, our keyword research takes 1-2 hours on average. That's because our dedicated SEO expert considers search intent, what competitors are ranking for, and digs into the SERP data for each primary keyword. Then they leverage data-driven tools like Frase, Clearscope, Ahrefs, and MarketMuse to fill in any gaps.
Even within the writing field, one freelancer may not have expertise in all the specific niche topics or types of content formats you'd like to cover. Freelancers usually offer either content writing or copywriting — and that too within a particular domain.
So if you're looking for one service that can tackle your SaaS blog content and write e-commerce landing copy that converts, an agency may be a better fit for you. Their in-house marketing team can produce quality work to cover all your marketing needs.
How Much Work Do You Need Done?
Do you just need help with a one-off project, or is your work ongoing? Do you have one specific task, or are there multiple content ideas you just can't wait to get out?
This can help you decide agency vs. a freelancer for yourself.  
A freelancer will probably only handle a handful of projects each month, depending on their current client workload. You can rely on them for the short-term, but their availability and interest aren't guaranteed for ongoing work. So if you have a lot that needs to get done, outsourcing content creation to an agency will probably better serve your scoping needs.
An agency can handle a larger workload and take things off your plate, like editing. Most freelancers don't work with an editor before they send their content to you. That means much of the editing for grammar and style falls to your team.
If you require a high content volume, this editing can be a lot of work and may be better handled by a content agency.
At The Blogsmith, we anticipate you'll need a high volume of ongoing work, which is one reason why we offer a retainer that ensures we maintain a pipeline of content to fulfill your ongoing needs.
With the retainer structure, you'll predominantly work with a single freelance writer who will become familiar with your style and goals as the relationship continues. That means content that hits the mark every single time, with minimal extra burden on your team.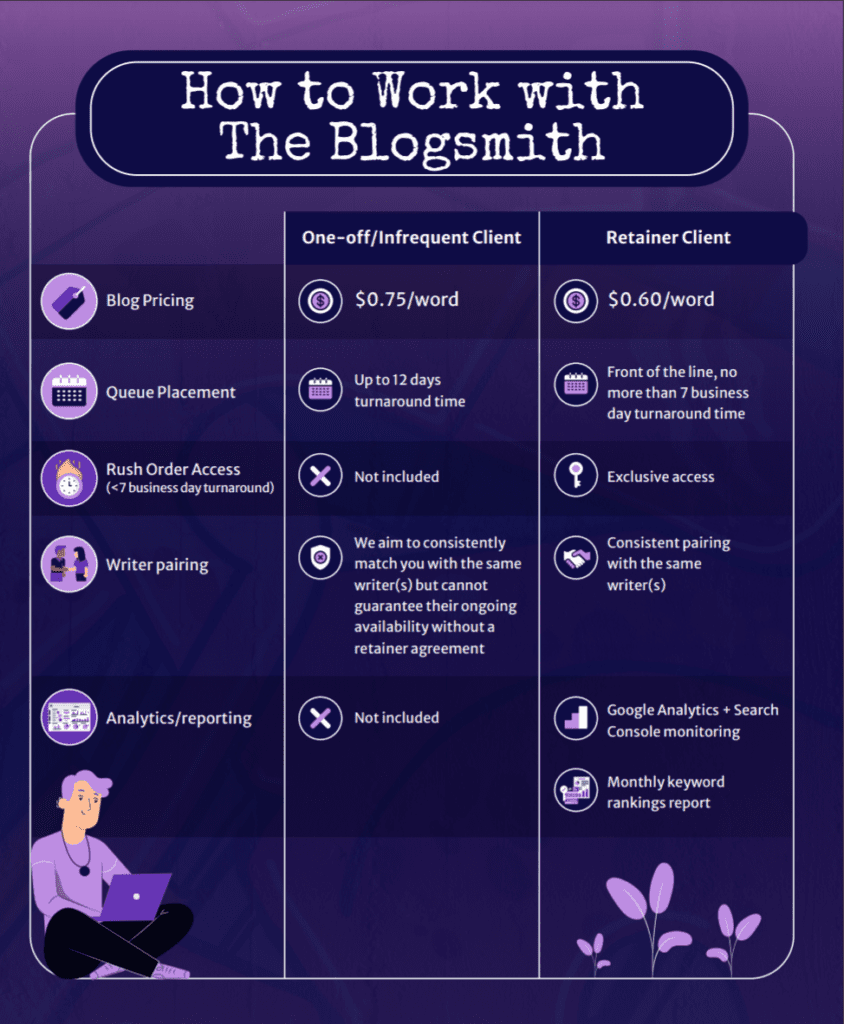 Freelancer vs. Agency — The Advantages and Disadvantages of Hiring
With a good idea of your content needs, let's dive a little deeper into the pros and cons of an agency vs. freelancer:
One of the main advantages of outsourcing content creation to an independent freelancer is lower cost. Besides this, they also provide flexibility in their working hours, which means they are more likely to work over the weekend or at night to meet your deadlines.
As they are lone contractors, you will likely have a more personal relationship with your freelancer than at an agency.
But freelancers typically bring specific skills unsuitable for complex projects. And their smaller workload capacity can't keep up with an enterprise organization's needs.
Freelancers also tend to be less consistent in their work and communication due to the absence of an external structure. It could mean missed deadlines or frequent miscommunication.
Comparing an agency vs. a freelancer, one significant advantage that agencies offer is services bundled in a single, convenient contract.
Because they can draw upon the diverse skills of their team, content agencies can work as your partner towards your content goals, rather than just fulfilling one task and leaving the rest up to you.
You can rely on them to handle large volumes of content and provide clear communication.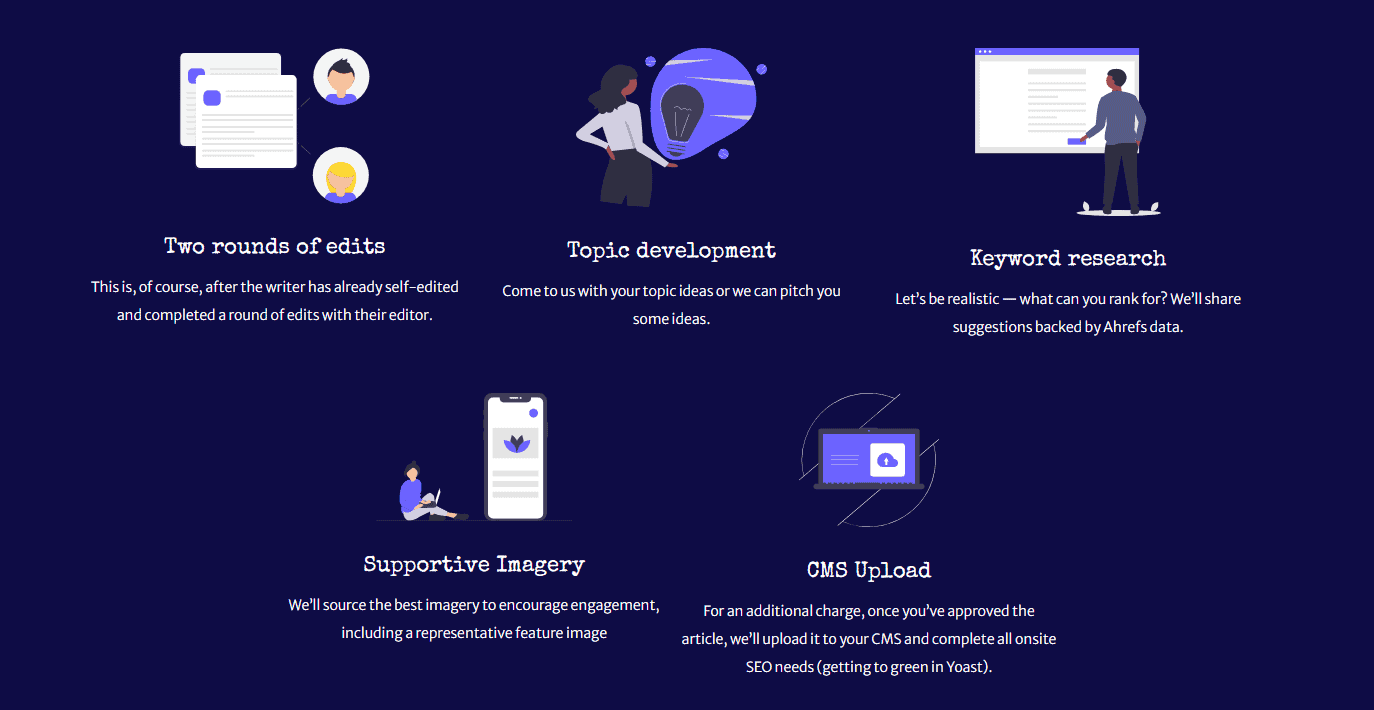 But these conveniences come with a higher price tag.
Also, you may have several people working on your projects at once or at different times in your relationship with your digital agency. For some agencies, this may result in a less personal connection and a slightly reduced understanding of your overall brand.
The Blogsmith combats these typical agency issues by setting regular standing meetings to connect, and sending Friday emails to ensure we're in constant contact.
We use our intake form process and heavy emphasis on consistent style to create high-quality content. And we maintain an ongoing guideline document for each brand so each freelancer can access up-to-date edits and insights about your brand.
Why Choose an Agency Over a Freelancer
In agency vs. a freelancer, choose an agency if you have a large ongoing project that you constantly need help on. Or choose a content marketing agency when you have a content project that requires many skills, like editorial calendar planning, SEO research, writing, design, and editing.
Similarly, if you don't mind a slightly higher cost and feel confident the work will get done well without close management, hire a content agency.
What To Look For When Hiring an Agency
Once you decide to outsource content creation with a content agency, you still need to find the best agency for you.
Look for agencies with experience in similar industries, preferably with successful case studies. You should be able to find examples of their previous work to demonstrate their know-how.
Look for reputable agencies in their field that are asked to share thought leadership on SEO, marketing, and content creation. This could be on their own blog, as a guest writer for a reputable brand like Search Engine Journal, or as a guest on an industry podcast.
Another thing to look for is positive client testimonials. This is proof that an agency can do what it says. Here are a few testimonials from The Blogsmith's happy clients: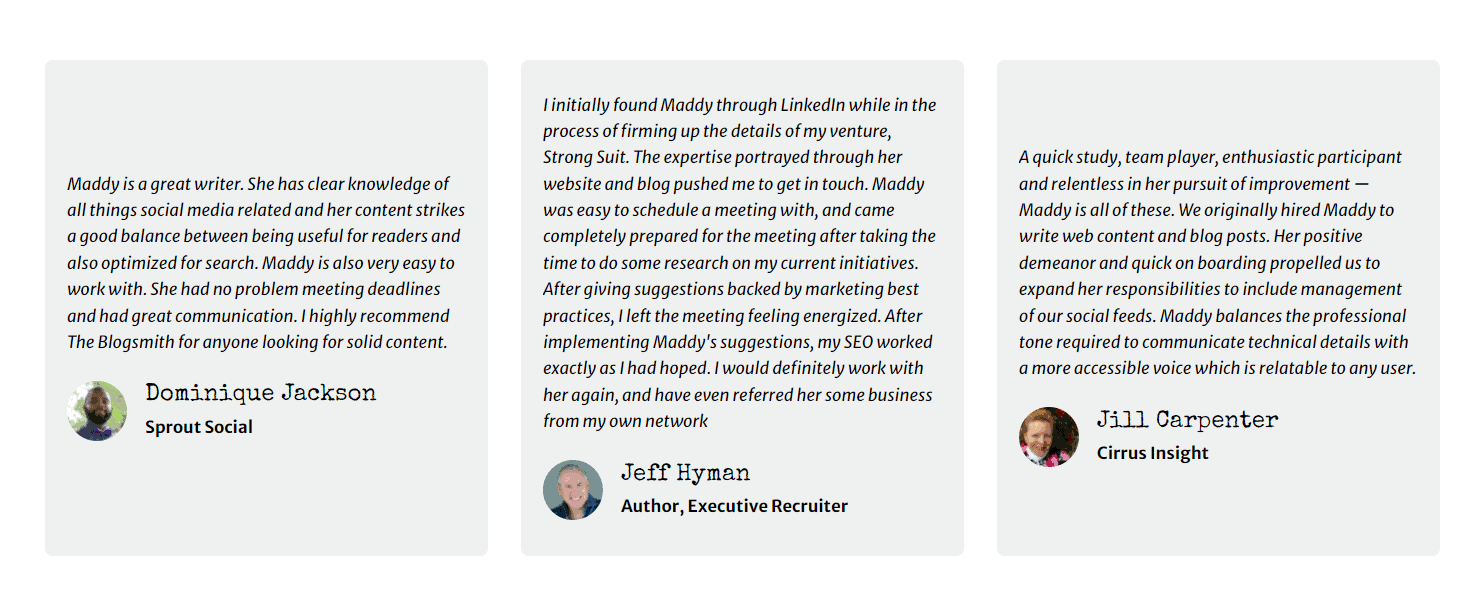 Check for a data-driven process. In today's highly competitive online marketing field, precision is critical.
That's the reason why The Blogsmith uses a 13 step keyword research process informed by multiple data points and tools. This ensures your content is well written and set up to perform well too.
Final Thoughts: Agency vs. Freelancer — The Differences for Content Creation
Choosing the right partner to outsource content creation depends on your particular needs. If you're a small business or entrepreneur and want to get the most out of your budget for a few specialized content pieces, hire freelancers.
But if you're looking for high-volume, skilled content creation that consistently delivers results, go with an agency. Make sure they have a proven track record in their industry, are transparent about their process, and use data-driven insights to elevate their process.
The Blogsmith can deliver all that and more. Get in touch today to tell us more about your brand and content goals.