This is a sponsored post in partnership with National Business Furniture. Please note that I've included affiliate links for products that help me solve business problems.
You don't have to work in a factory to be exposed to unsafe working conditions. Surprisingly, an employee can face certain dangers even while sitting in their chair doing work.
A report by Digby Brown Solicitors found that a large percentage of workplace-related injuries are linked to outdated and unsafe workplace furniture.
Technology has changed the way people work. The digital age has created new efficiencies for workers while also creating new issues. Though it certainly has made accomplishing tasks faster and easier, it also brings inherent risks to workers' health and well-being.
Nowadays while working, people hardly get up from their chairs and move around. They also forget about proper working posture, which exacerbates the issues around a more sedentary work style.
Thus, ergonomics — the study or process of designing workspaces, products, and systems to fit the people that use them — was born.
One of the simplest ways to implement ergonomics in the workplace is through ergonomic furniture.
What is Ergonomic Furniture?
Ergonomic furniture is specifically designed for efficiency and comfort in the work environment. It is designed in such a way that the user's body is kept in a safe and upright position to reduce stress on the spine, neck, and hips.
Investing in ergonomic furniture can certainly be pricier than normal furniture but it's worth it. As with other healthy living best practices, an ounce of prevention is worth a pound of cure. It's better to proactively create an ergonomic office environment versus waiting until problems arise that may or may not be fixable.
Ergonomic office furniture, especially ergonomic chairs, are especially helpful because most office workers spend about 8 hours seated at their desk, Monday through Friday. Though it's not completely custom, ergonomic furniture can be adjusted to suit every individual employee's needs.
But let's be realistic:
You may not be in a place where it makes sense to upgrade your entire office to ergonomic best practices. With this in mind, we'll primarily be focusing on how to get results with one particular change: investing in an ergonomic office chair.
Here's more on why you should get an ergonomic office chair:
Why You Need an Ergonomic Office Chair
I've already hinted at the reasons why an ergonomic office chair is worth incorporating into an ergonomic home office (and corporate offices, too).
Let's dig a little deeper into the specifics:
What to Look for in an Ergonomic Office Chair
Ok, so you're considering the upgrade to an ergonomic office chair. But how do you pick between all of the options available on the market?
Start by understanding the characteristics that define a truly ergonomic chair: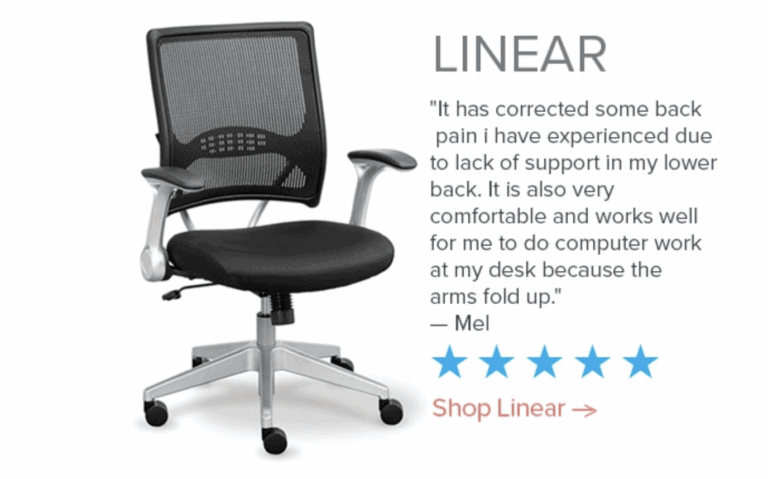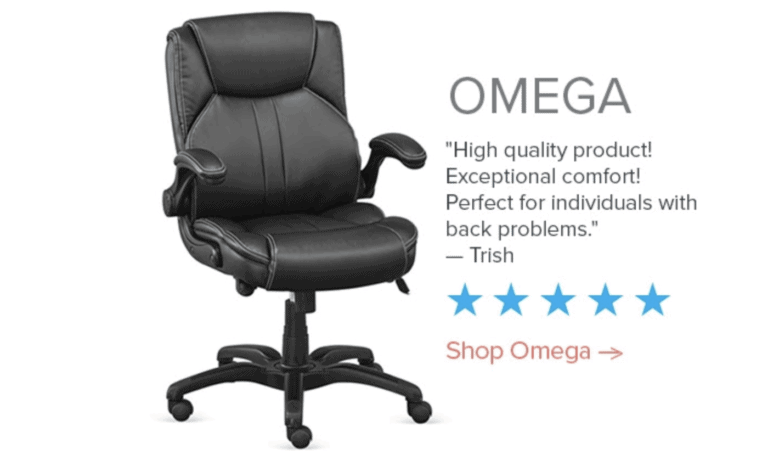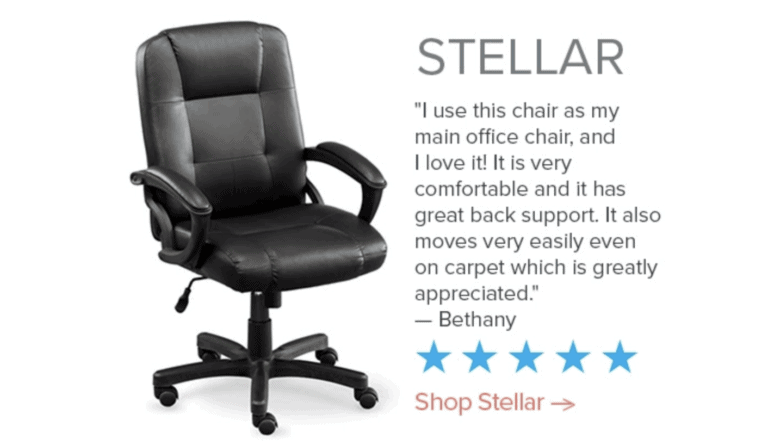 Designing an Ergonomic Home Office
Three stressors can be prevented when you design an ergonomic workspace.
Ironically, these three things are also the common causes of poor ergonomics:
Knowing this, here are some tips to design an ergonomic space:
With a good handle on how to pick an ergonomic chair and initial thoughts for designing an ergonomic home office space, here are some tips to max out your space with other useful ergonomic office products:
Ergonomic Office Products to Bring it All Together
Investing in an ergonomic office chair is perhaps the single best change you can make to create a healthier and more productive home office workspace.
If you want to maximize the benefits of an ergonomic home office, consider these additional pieces:
An Ergonomic Office Desk
Specifically, standing desks are becoming popular in workplaces to lessen the number of hours in a seated position.
A Bank of France study found that having a standing desk contributed to almost 2.5 times higher muscle activity, further reducing the risk of sustaining a related workplace injury. The study also found that a standing desk can reduce the risk of aches, injuries, and cardiovascular disease by up to 40%.
You can find standing height and adjustable height desks in almost any size and style. Combining standing desks with ergonomic chairs will enable you to move freely through the workday, increasing both mental and physical activity — which all contribute to productivity.
My fiance recently upgraded his home office with this National Business Furniture standing desk and an ergonomic chair of his own.
Check out how it looks at regular height vs standing: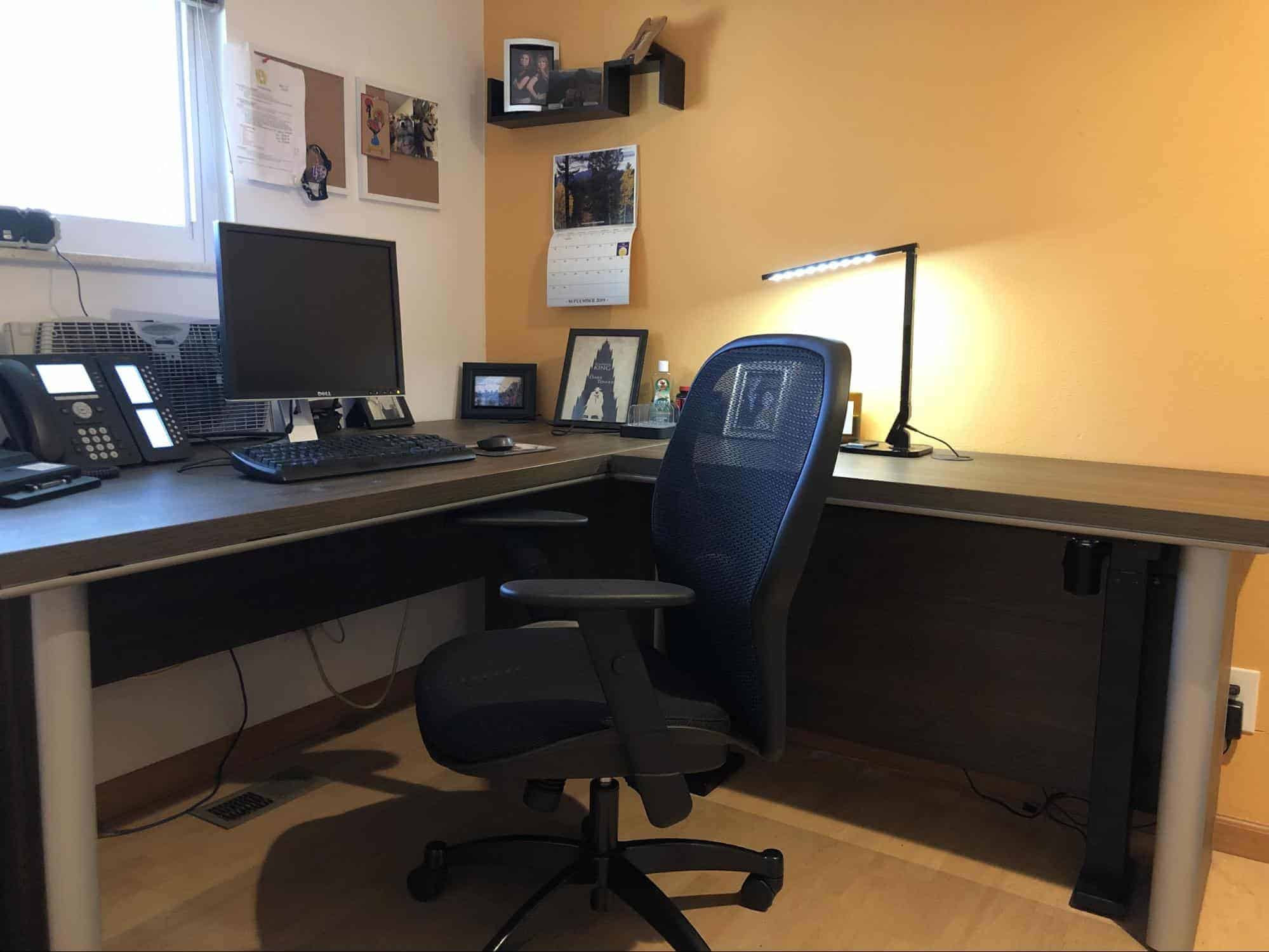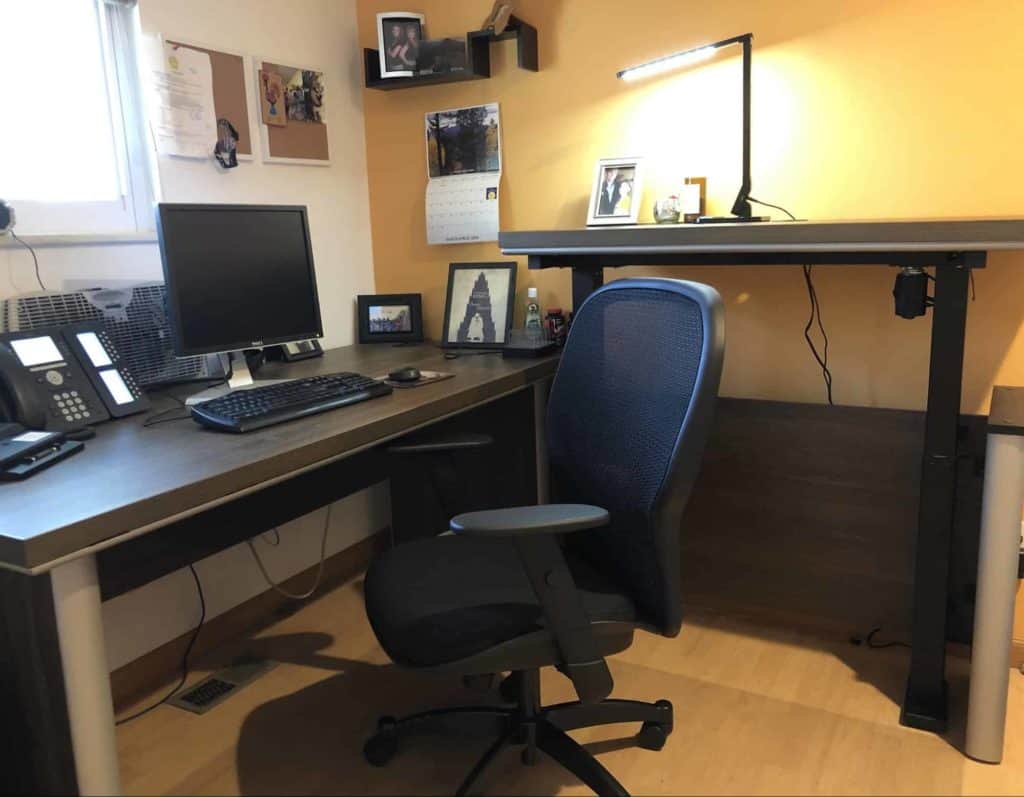 Although I'm not sure I would personally thrive when using a standing desk, my fiance uses it every day — especially when he's on calls or reading (versus doing intense work). This particular desk is actually motorized: you just hit a button to move it up or down!
Even if you're not interested in a standing desk, at least make sure your desk allow you to position your arms at the sides and keep your elbows at a 90-degree angle for proper ergonomics.
An Ergonomic Keyboard
An ergonomic keyboard can help increase typing speeds by reducing repetitive reaching and stretching.
On a related note, you'll also want to consider gel wrist rests. These provide support by alleviating the aches and pains associated with hours of computing by encouraging a neutral wrist posture.
Computer Monitors that Pivot/Tilt
This allows you to focus on your screen for longer periods of time, by reducing eye strains and headaches. Blue blocker glasses can also help if your job involves a lot of screen time.
Additional Tips for Achieving an Ergonomic Home Office Space
Armed with the right ergonomic office furniture and supplies, you're well on the way to a healthier work situation.
Here are just a few final tips to max out your ergonomic #gains:
Final Thoughts: Everything You Need to Know Before Buying an Ergonomic Office Chair
People spend about a third of their day at work and technology keeps most knowledge workers at their desks. Without the proper workspace setup, this poses occupational hazards that can lead to several health risks.
Luckily, most negative health risks can be mitigated by investing in ergonomic office furniture, which is designed in consideration of the body's natural shape and movement. But before investing in a new ergonomic office chair or ergonomic office desk, consider the characteristics that make a piece truly "ergonomic".
Do you have other tips to share for creating an ergonomic home office space? I'd love to hear your thoughts in the comments!