Please note: this article is brought to you in partnership with National Business Furniture. I've also included affiliate links for products that I use.
I've had a lot of experience with, er, flexible workspaces.
I've worked in crowded agency settings where there was little space between myself and the person next to me.
When I quit my job to run my own business, my first at-home workspace consisted of my futon and a coffee table.
It's cringeworthy to think about.
Setting up a home filing system can be a pain, but seeing a pile of documents crowding your workspace is an even bigger pain.
Sloppy filing systems — or, worse yet, no system at all — can distract you and ruin your productivity. 
The reality is that you're better off dealing with these types of messes as soon as they start bothering you (if not before). 
It's time to deal with it, once and for all.
I tried to make my college corner desk work as a professional, grown-up workspace but it seriously made me feel claustrophobic. As if that wasn't enough, the cheap particle board that made it up was starting to fall apart after being assembled and disassembled so many times across so many moves.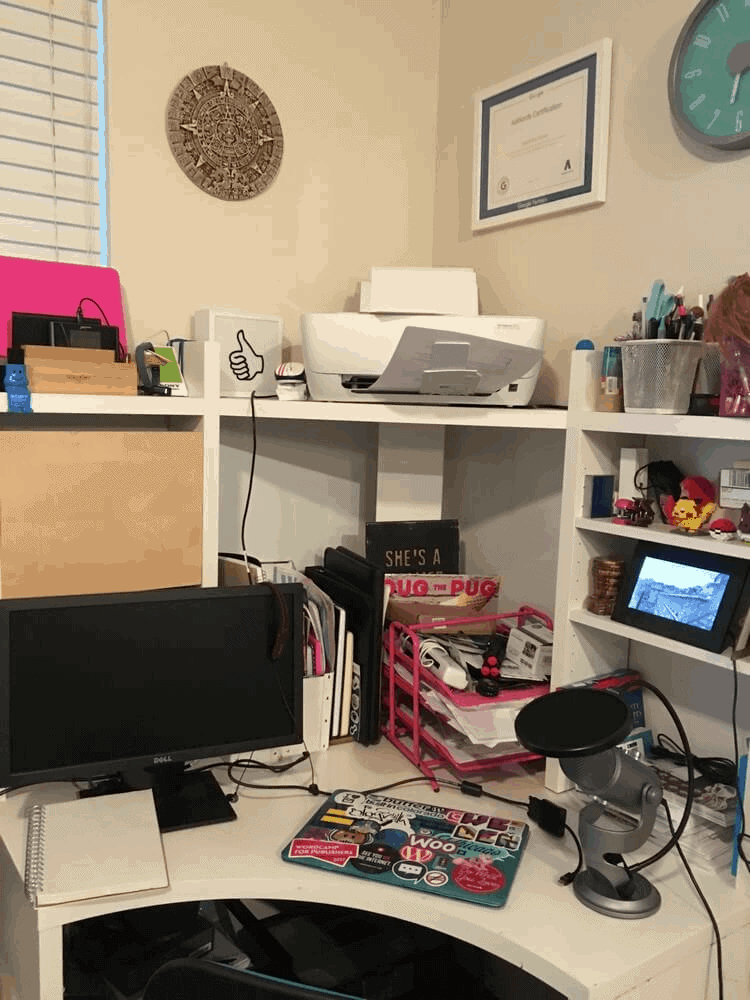 Finally, about a year ago, I created a better space for myself within the limitation of occupying the living room in my 2-bedroom apartment.
As I write this in May 2019, for the first time in my life, I've finally achieved home office #goals: a dedicated office space, just for me and my work!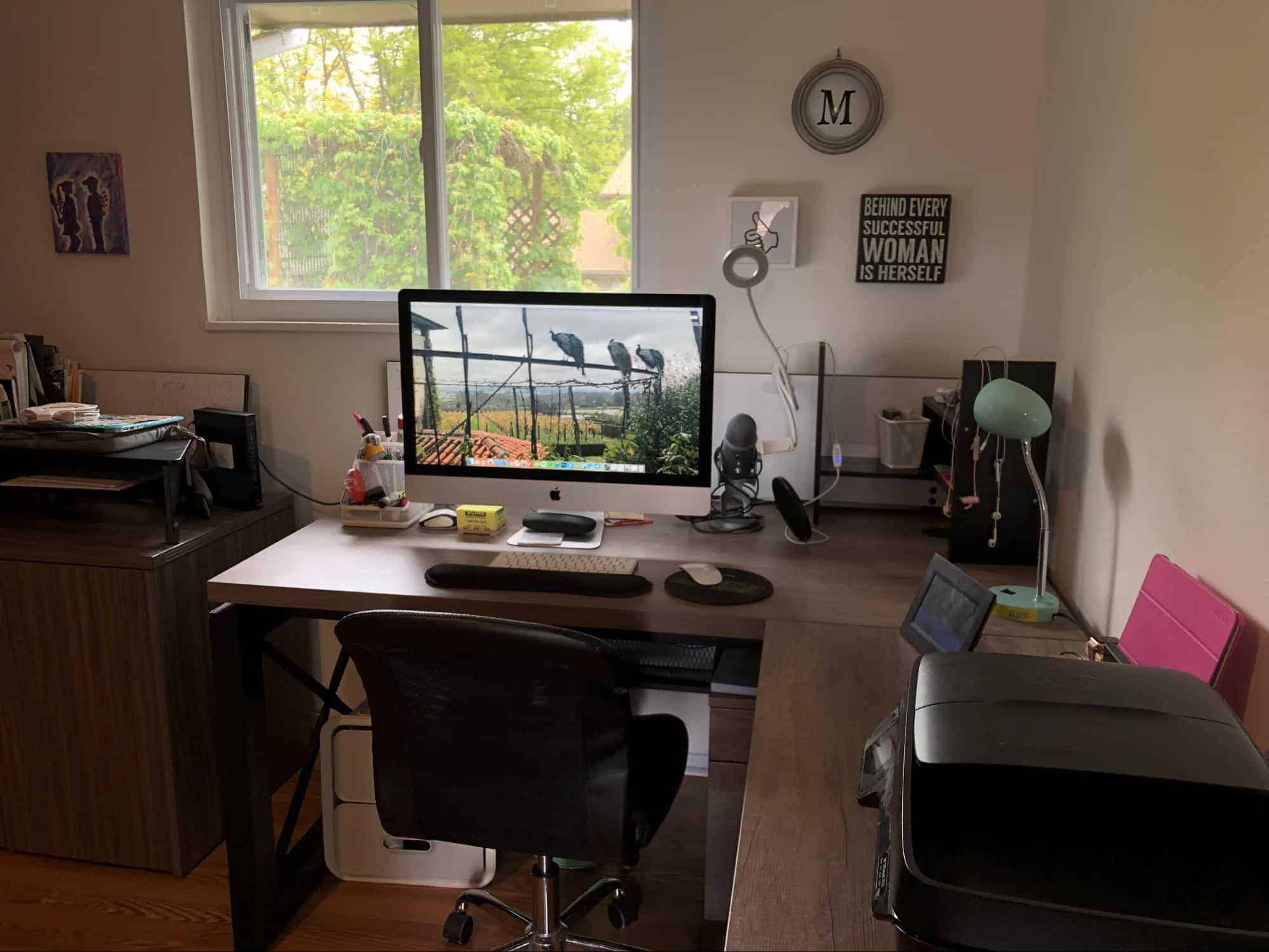 Ok, ok. I'm also using it as temporary storage for my vast shoe collection and other odds and ends that won't yet fit in a house that's heartbreakingly devoid of closet space.
I'm honestly going through a bit of an existential crisis in terms of what to do with my stuff. I've already decluttered, KonMari-style, in preparation for moving away from an apartment with 2 walk-in closets.
While I sort through my emotions, here are some new homeowner tips based on my personal experience upgrading to a dedicated home office space:
1. Say goodbye to the unimportant things piling up on your desk.
That trinket that someone brought back from vacation five years ago? Old snacks you'll never eat? Moving and upgrading your workspace is the perfect time to declutter.
When you declutter, there's less stuff to pack. And getting rid of the old stuff that doesn't make you happy frees up space for new things that do.
In fact, I saw moving as the perfect opportunity to get rid of my ancient printer and ordered a new one straight to my new address! It's nice to be able to print from my computer again.
2. Add a pop of color and personality.
If you have time to do some work on your new house before moving in, I'd encourage you to focus on the tasks that would be exponentially more annoying to deal with after moving your stuff in.
Like painting.
Before setting up my home office in the new house, I envisioned how I wanted to configure everything. Specifically, I knew that I'd be using my office not just for doing client work, but also for recording video content for my Skillshare classes and live streaming my UX audits.
I decided to add some of my brand personality to the portion of my office walls that would be visible on camera. I painted them purple and I'm pretty excited about how they turned out and how they get me into work mode whenever I see them.
My next home office upgrade idea? Getting a green screen (or some kind of backdrop) and stand to hold it up for a more consistent and distraction-free background when recording video content.
3. Upgrade your furniture.
True story: my fiance's apartment office consisted of an office chair we bought from someone in the building community for $25 and a ~$100 Walmart desk that was held together by binder clips.
We both agreed that the chair and desk wouldn't be making the move with us.
In need of replacement furniture, he embraced the opportunity to coordinate with my existing National Business Furniture desk set.
His take on the perfect home office setup?
An L-shaped stand up desk powered by a motor (!!!):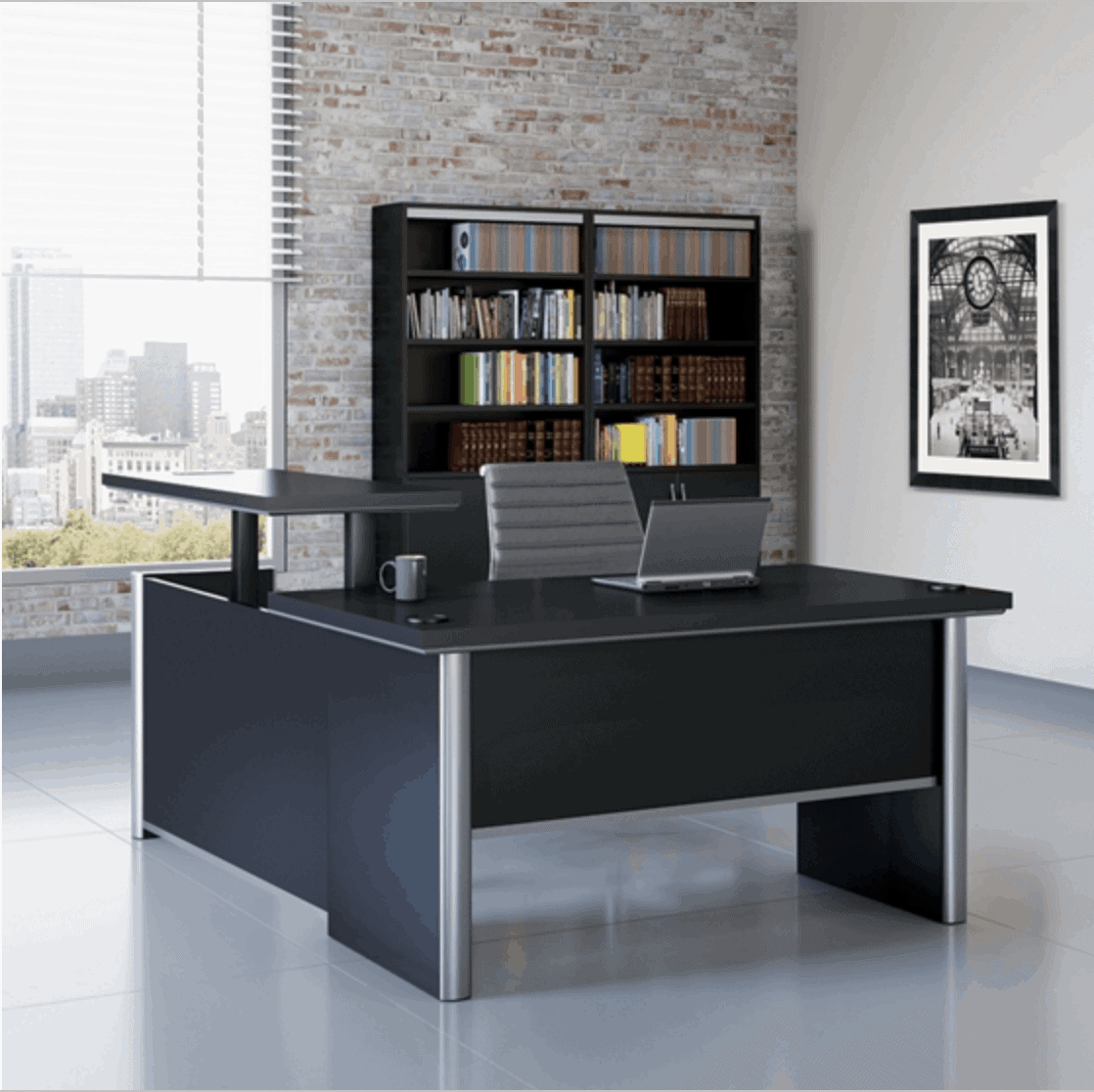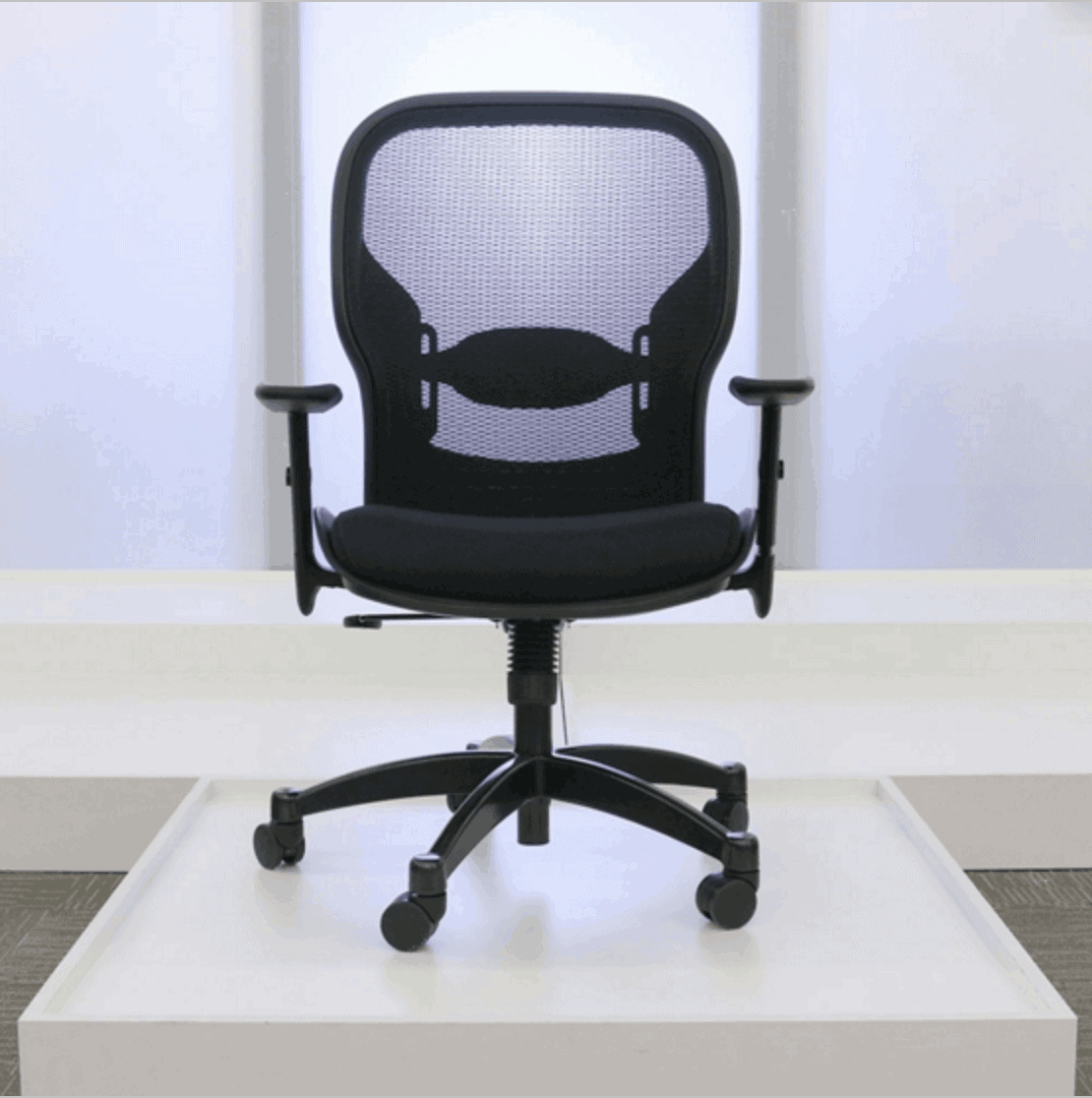 The upgrade was so necessary. Everyone deserves to feel like an executive in their own office space. I definitely believe that the right setup positively impacts your outputs.
If you can't justify a new chair on top of all your other moving costs, achieve basic ergonomics with some keyboard and mouse gel pads that ease the tension on your wrists caused by long stretches of computer use.
4. Get organized with filing cabinets and shelves.
A dedicated home office room offers ample space for adding shelves to help you organize or display things.
My home office has built-in bookshelves that I absolutely took advantage of to ensure that my favorite business books are on hand for easy reference.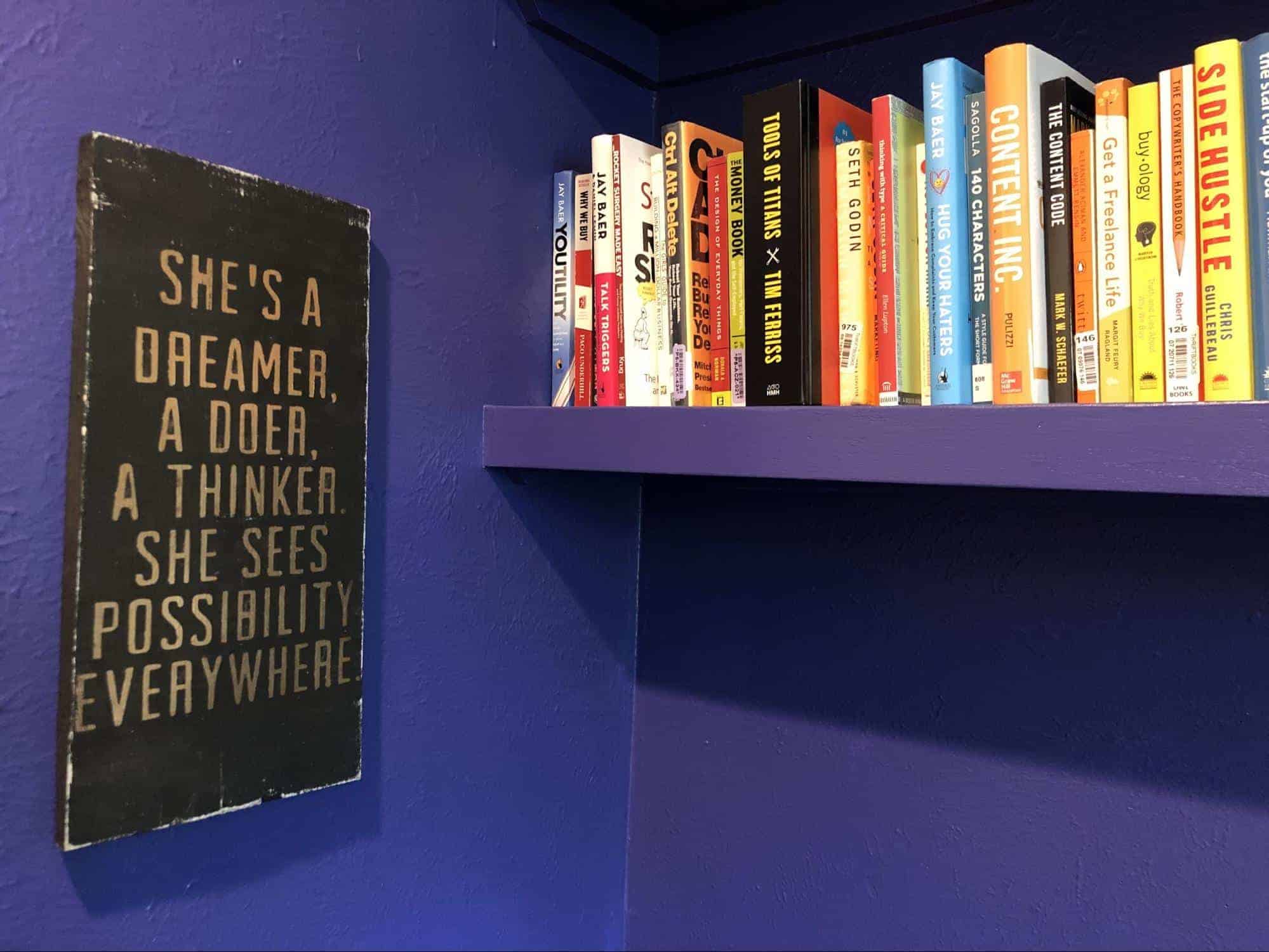 I also have a mobile filing cabinet that lives under my desk and another storage cabinet that's big enough to properly store supplies and other business-related tools out of sight.
TL:DR; use this dedicated space to your advantage. And keep it organized so that it doesn't become a place that you dread coming to.
5. Adorn the walls with decorations (and functional pieces, too).
In my home office, I surround myself with uplifting quotes and sayings. They pump me up to do my best work!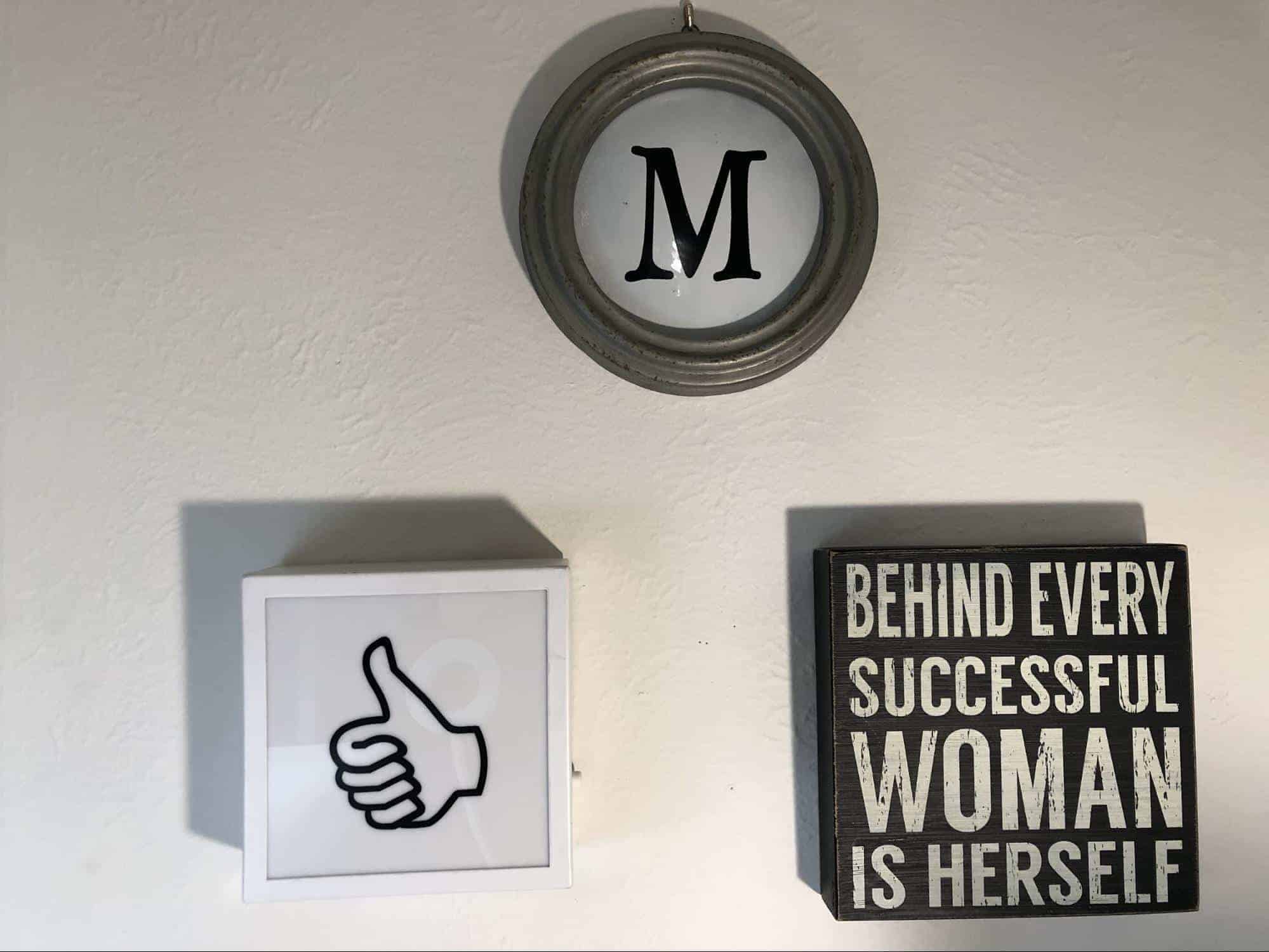 Make your office feel more personal to you by decorating your walls with pictures and other wall ornaments that inspire you to do your best work. If you're regularly filming on camera in your home office, these decorations can help shape the backdrop associated with your content.
My current wall obsession? These light up social media symbol signs: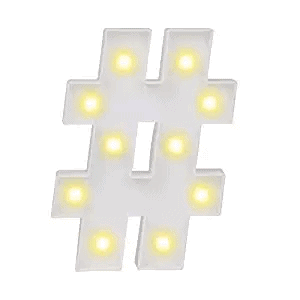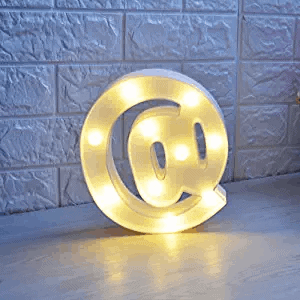 Don't forget to also leave space for functional pieces, like a dry erase board. I have a large dry erase board that acts as my calendar for the week, with room for reminders about important things. I use it to keep track of client projects on the docket, at a glance.
6. Pick a room with a view.
If you have choices when it comes to the specific room that will act as your home office space, I'd encourage you to pick the one with a view. Or at minimum, pick one with a good window for letting in natural light.
One of the major selling points for the house I ended up buying was its backyard. It's a bit wild and eclectic. We're working on getting it under control but want to maintain its cool personality.
At any rate, it makes for a great view out of my office window: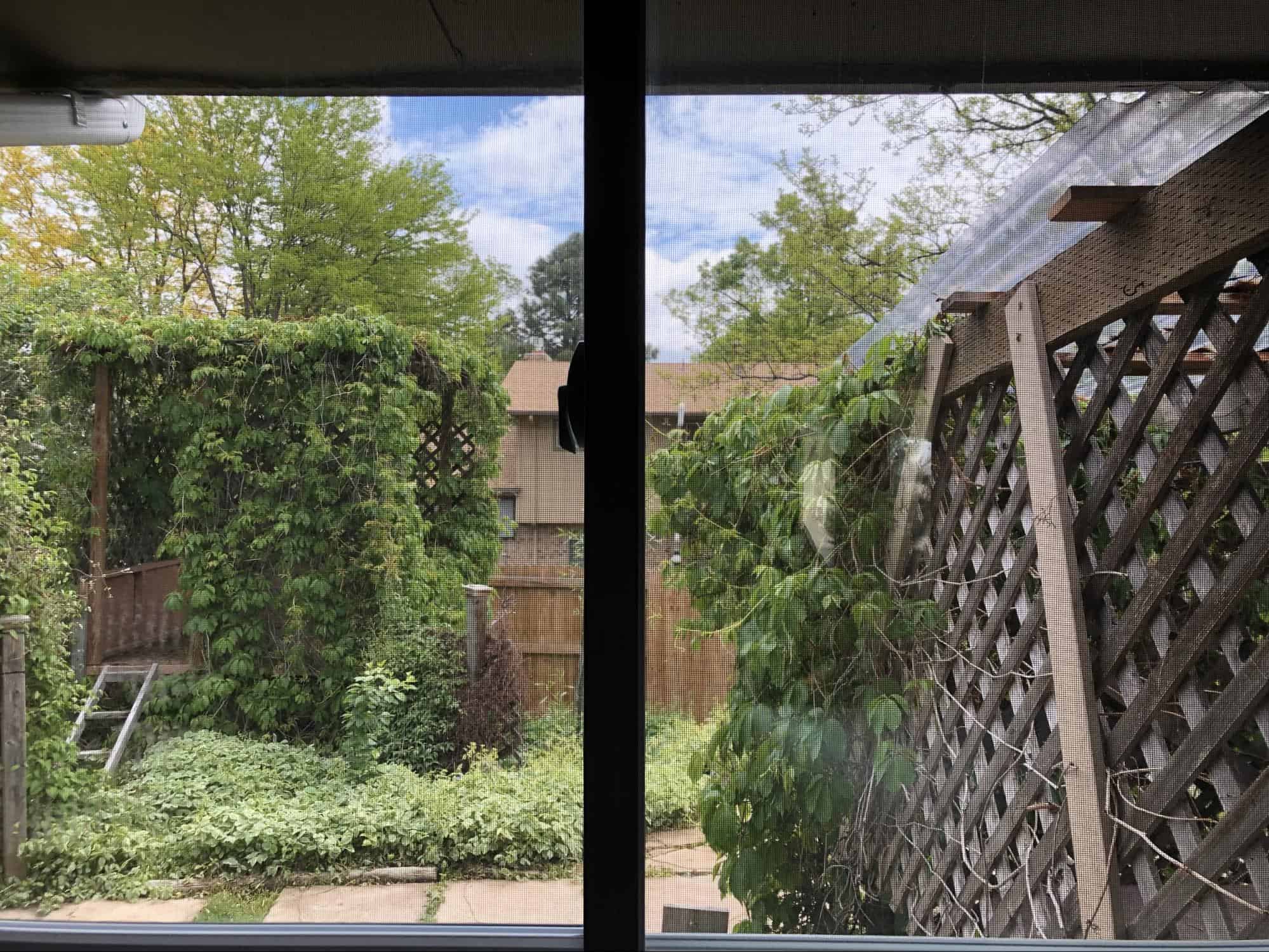 If you get direct sunlight, breathe some life into your workspace by filling your window with an easy to maintain plant, like a succulent.
My recommendation? Customize a planter to match the feel you're going for at a Yaymaker Plant Nite event.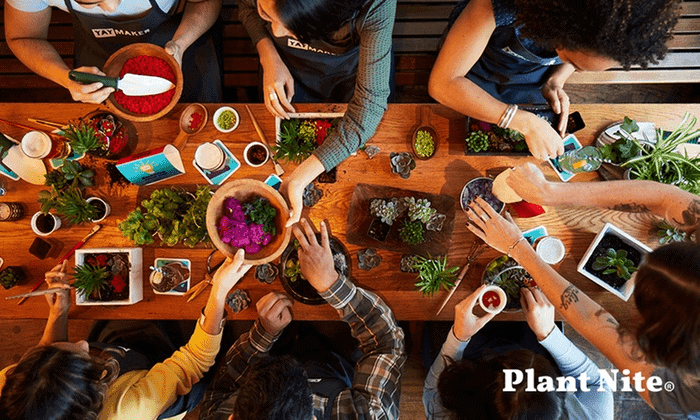 7. Use your office door to communicate your availability to others living with you.
Whether you live with kids or your significant other, having the ability to shut your door is such a wonderful option. And for when you absolutely can't have interruptions, a door with a lock can help you to send this message without words.
And as I've said in the past, I'm planning on getting one of these radio "on air" lights to make it crystal clear when I'm busy and can't be disturbed: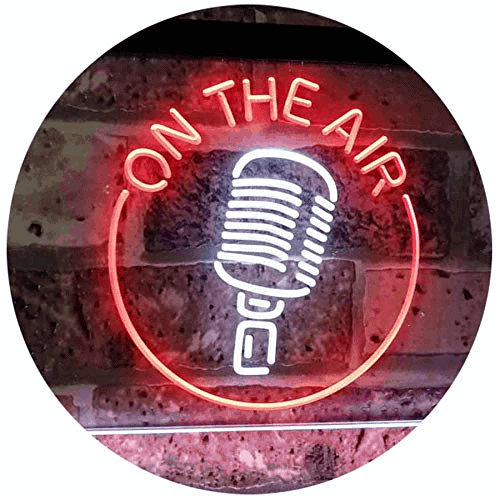 How perfect is this for a podcaster or course creator?
8. Take advantage of the home office tax deduction.
Let me start by making it clear that I'm neither a lawyer or an accountant. For those who need one, I recommend connecting with your local small business advisory center for some free basic assistance.
All that said, if you own the house that encompasses your home office space and it's dedicated solely to functioning as your workspace, you're likely justified in taking the home office expense.
If you're not sure how to calculate your home office tax deduction, Nerdwallet breaks down the equation. The simplest method is to multiply the square footage of your dedicated office space by $5/square foot, up to 300 square feet.
With all the money you inevitably bleed out as a new homeowner (I write while pouring one out for the current balance on our Lowe's credit card), it's nice to know that becoming a homeowner can have some positive tax implications for your business.
Note that an excessive claim for a home office deduction is a rumored IRS red flag. So make sure that you can back up what you're stating in the event of an audit.
It's also worth mentioning that having a dedicated office space isn't only useful from a tax perspective. There's definitely something to be said about having an office space that exists solely for your work.
My apartment office was in our living room and if anything else was going on in that space, it was hard to concentrate. Because it was part of a shared space, I had to work hard to make sure that the backdrop wasn't messy whenever I had reason to be on camera. To be sure, I still have to do that — but at least now I have more control over what adds to the mess.
Having a dedicated office space is also nice because it allows you to physically close the door on work at the end of the day. It helps you create boundaries and a better work/life balance. Essentially, when you're in your office, you work and when you're not, you don't.
9. Get on top of your work schedule before moving and starting house projects.
Since most of my moving experience pertains to hopping from apartment to apartment, I vastly underestimated how time-consuming closing and initial house projects would be. As we've been told by more established homeowners, it seriously takes three times longer than expected to do just about any home improvements!
Even after moving in, the work required to get this house where we want it has been a constant battle — with no end in sight.
My business has absolutely suffered in the process of achieving this major life milestone. My energy and output is at an all-time low and I'm limiting the work I accept so as not to completely alienate my awesome clients.
Do whatever you can to insulate your business from the stress of moving and becoming a new homeowner. Adjust your expectations around output and available hours for new projects. Do whatever you can to get ahead. If you can justify it, take time completely off work during the peak of your most important home projects and while moving the bulk of your stuff.
Many employees of corporate enterprises don't have access to the flexibility that a freelancer or business owner technically does when it comes to prioritization as a new homeowner. But don't forget to establish boundaries for work over house projects when necessary.
10.Plan your next vacation so that you can look forward to a break.
In tandem with taking time off for your house, you should also consider planning a vacation in the not-so-distant future to try to unwind from all of your work and new homeowner stressors.
I'm starting to realize that I have a breaking point and I'm just about to hit it. Once I get caught up again with client work, I'm insisting that my fiance and I take a long weekend break somewhere close by to focus specifically on relaxing.
If you keep pushing yourself after you're already burnt out, there won't be anything left. So don't forget a little dose of self-care.
Ladies — I've got an awesome mask spa day ritual to share with you to help you unwind from the daily grind during your initial weeks and months as a new homeowner.
Final thoughts: New homeowner tips: How to upgrade your workspace
Becoming a new homeowner is stressful as hell. It will test you in so many ways but the end result is your own place to call home — and that's 100% worth it.
Check out National Business Furniture to start planning out your dream office space. Then, let me know how you've designed your space and share your own set of new homeowner tips in the comments below.