Please note: this article contains affiliate links for Google Workspace, a service The Blogsmith team depends on.
Whether a business has one employee or one thousand, companies need access to appropriate technological infrastructure. It's necessary for everyday tasks like sending emails, tracking invoices, and providing customer support.
Smaller companies without multi-million dollar technology budgets usually have to get creative  — that is, find ways to use existing, reasonably priced platforms to meet their needs.
Google Workspace certainly fits that bill. It's relatively low cost, has an array of capabilities, and comes from a widely recognizable brand.
But can it add value for your small business?
Here's what we'll cover in this Google Workspace review:
The Challenge: Getting Employees Access to What They Need
When you work with a team of people, it's important to nip the problem of information gatekeeping in the bud.
Two of the most basic requirements for a successfully collaborative business are:
 Workflow management systems to track progress
 Information access rights management
Employees need to access organized information to do their jobs properly. But, you also need to maintain some kind of control over that access.
Many inexpensive and free tools can help with workflow management. But establishing a system for access rights is a harder nut to crack.
Larger companies tend to build their own architecture to spec. Complicated sets of permissions allow employees access to information they need without making everything accessible to everyone — at all times. 
But custom software systems are a pricey proposition for smaller companies without an IT department.
The Blogsmith's business revolves around a constant, collaborative workflow between writers, editors, SEOs, project managers, and clients. And that's where Google Workspace comes in.
On any given day:
One solution could be to upload every file to the cloud and give everyone access. Another option is to hire a company to build a complex, proprietary file-sharing system with different access levels. 
Neither of these solutions is ideal — or practical for a small business.
However, in this Google Workspace review, we'll look at how the email alias feature presents a useful, if not obvious, solution. The trick is to create email addresses linked to specific business functions or processes instead of individual people. 
Say there's a team of three editors: John Smith, Mary Jones, and Jack Williams. Instead of individual email addresses, like John.Smith@theblogsmith.com, all three editors use a single address: content@theblogsmith.com. This lets everyone track completed content without the risk of work being sent to the wrong editor or getting lost in someone's inbox.
In other words, giving everyone easy access and visibility to relevant files and communications reduces the issue of things falling through the cracks.
Similarly, edits@theblogsmith.com is accessible to writers who need to make content edits, and accounting@theblogsmith.com is for sending invoices and receiving payments. Making sure to reserve each inbox for it's intended purpose helps to reduce confusion and makes it easier to focus on the task at hand.
By hacking the email alias function, Google Workspace becomes a simple, elegant, and fairly low-cost solution to a tricky problem. You can have up to 30 aliases for each inbox instead of needing a create (and pay for) a new user account for every email address.
This feature is also useful for redirecting various instances of your brand domain. For example, when I purchased the domain theblogsmith.com, using Google Workspace aliases made it easy to redirect my previous email of maddy@the-blogsmith.com to my new email, maddy@theblogsmith.com, without worrying that I'd miss out on messages from people with my old address.
Google Workspace Review: Key Tools and Features
Google Workspace is a one-stop-shop for the core technology and collaboration tools you need for a professional environment, including:.
In exchange for all of these tools, your business pays a monthly fee.
"But wait!" you might say, "Isn't all of this already available for free as part of my personal Gmail account?"
Yes, it is.
But Google Workspace offers a unique, additional advantage — custom-branded email addresses. This feature is significant if you're trying to establish credibility with customers, vendors, and the general public. Info@yourbusiness.com looks a lot more professional than Yourbusiness@gmail.com.
It's also worth noting that in the business world, having a professional company email may be a prerequisite for signing up for a service you want to use or webinar you want to watch.
The Blogsmith also makes use of the calendar management functionality to provide visibility on assignments and due dates, plus other important recurring events to follow up on.
But that's not all you get.
Here's a Google Workspace review of key features:
All of these features come neatly packaged in a Google Workspace account, which is your company's main access point to everything.
Google Workspace Review: Pricing
Now you understand the basics of Google Workspace and how it can fulfill your company's technology needs. The next part of this Google Workspace review will dig into choosing the right plan for your needs.
If you run a larger company or have complicated processes, you'll need more robust specifications — and a pricier plan.
Google Workspace offers four pricing tiers: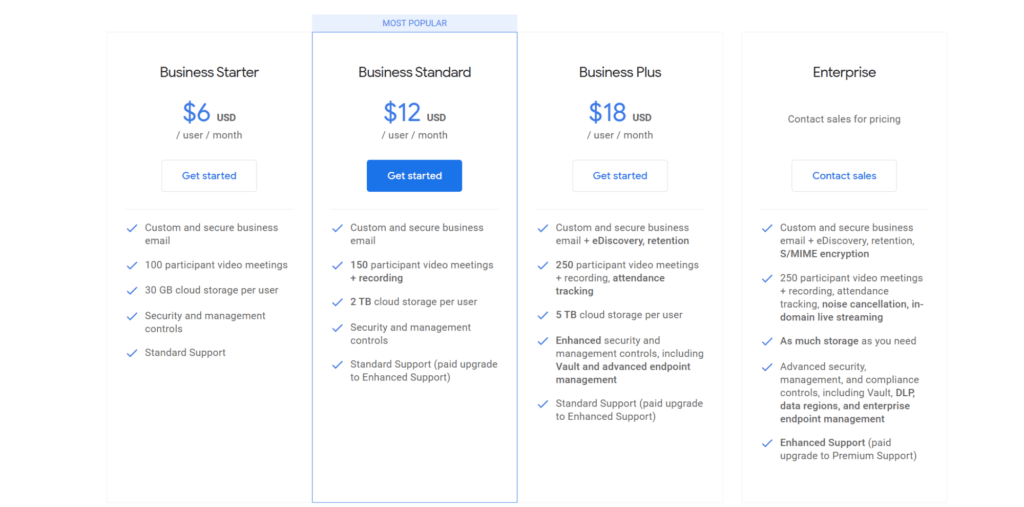 Typically, the pricing for collaborative software tools is based on the number of users. However, Google's only user limitations are a maximum of 300 on Starter, Standard, and Plus. Enterprise has no limit on users.
In this context, a "user" is defined by a personal email address. Again, alias emails, like sales@yourcompany.com or support@yourcompany.com, don't count.
If you have less than 300 employees, then the best plan for your company will be based on your predicted use of the account. If you're mostly using Google Workspace as a way to get custom email addresses, the $6 per month Starter tier is enough.
But let's say you're heavily reliant on Drive for file storage. Maybe you expect most employees to conduct multiple video conferences every day. In those cases, the Plus plan is probably a better choice.
Final Thoughts: Google Workspace Review
Google Workspace is an excellent option for small businesses that need a simple, reliable platform to manage collaboration between employees. Company-specific email addresses are crucial to professional brands — and getting them for as low as $6 per month is a bargain. Setup is a breeze (support chat is available) when connecting your domain to Google Domains.
Plus, the alias feature means you can create emails for specific business processes. You can maintain a level of access control usually reserved for more robust (i.e., costly) technology services. And Google Workspace offers the same environment as a personal Gmail account, so employees will likely be comfortable navigating and using the interface without additional training.
If you'd like to learn more about clever hacks and alternative tools for your small business, sign up for The Blogsmith's weekly newsletter now. Or if you want to see what our team can achieve for your business, learn more about SEO content services.