When you initially dive into the freelance game, there are two thoughts running through your head at any given time:
"Must book clients" and "must meet deadlines".
If you're a cool, calm, and collected cucumber mapping out the perfect client intake form process from day one, then look at you go — avoiding future pickles.
No one advertises this career choice as an easy one, though. And if they do, they're trying to sell you something (see: "must book clients").
The flexibility, fame, and fortune — it takes time to build up. It's not all digital nomad-ing and exploring the hobbies you're most passionate about.
The real buzzword you should be focusing on relative to freelancing? Process.
You become so much more cognizant of every hour ticking by in the day when you and you alone are on the clock to knock out a blog, optimize client ads for social, and kick off new client onboarding.
When time is finite, it's process that will lead to success. No, not that trendy Instagram photo of your feet dangling from atop the highest mountain in Malaysia. The digital nomad lifestyle is unproductive, especially without systems in place to simplify your todos.
Cue me hopping off my soapbox and actually getting to the meat of this Paperform review.
If you're unfamiliar with the service, here's the gist:
Paperform is a form builder.
Do you need to be a web developer to use it effectively? No. Do you need to be a designer? No.
It's a form builder for the everywoman (or man) that enables you to create branded forms as simply as you would type up a doc.
But wait, there's more!
With Paperform, you can also accept secure payments, donations, and subscriptions. All this is in addition to generating personalized emails, success pages, and downloadable PDFs upon submission.
With Paperform, you can basically create the perfect blend of form and landing page — and a follow-up to help round-out the customer experience.
Easy-to-use and comprehensive? Be still my freelancing frenzied heart.
But seriously, here are three ways Paperform can help take your client intake form process to the next level.
#1: Gather Necessary Information in a Polished Client Intake Form
There comes a tipping point in every freelancers' freelancing life when the processes (or lack thereof) they got by with in the early days no longer fly. You have to find ways to accommodate a growing client base while continuing to serve those already on the books.
For some, this may mean hiring virtual assistants to alleviate the direct workload. Or, depending on the scale of operations, you find more efficient ways and tools to use in getting the job done.
Client onboarding is one such aspect of the freelance journey you should work to streamline sooner rather than later. It's not enough to rely on your notes and notes alone from that initial 60-minute phone call.
Enter: the client intake form.
This is a beautifully automated, hands-off approach you can take in gathering pertinent information on your client, relative to the work you'll be doing for them.
And what do you know — Paperform makes it easy to build one of these puppies out.
If it helps, map out a list of common questions you've found necessary to ask clients before starting work with them. Start out broad and then narrow in. The idea is to generate a quality of answers you can actually rely on to hit the ground running with promise deliverables.
Here's some of the basic information Maddy asks on her new client intake form: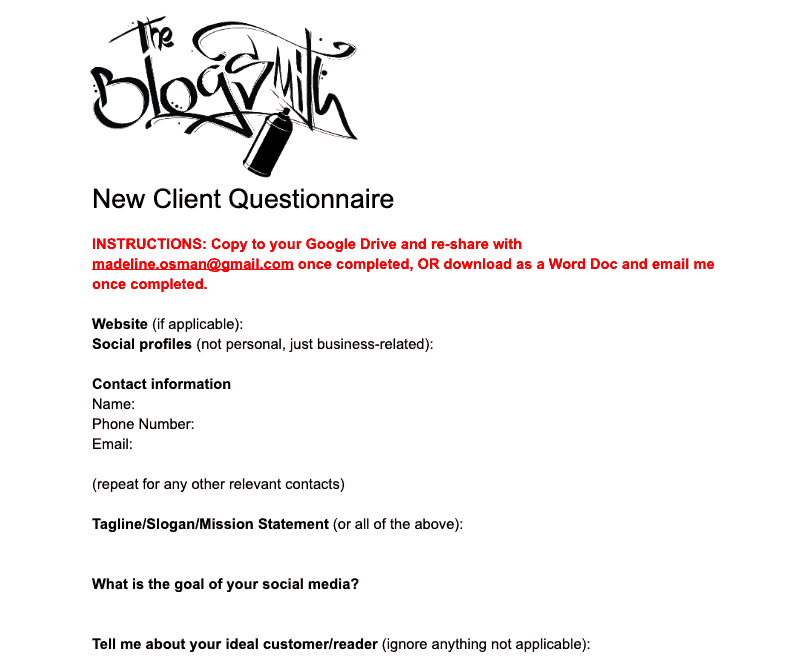 With an idea of what you want the form to cover, create your first on Paperform. You can either start from scratch or jump right in with one of their many templates.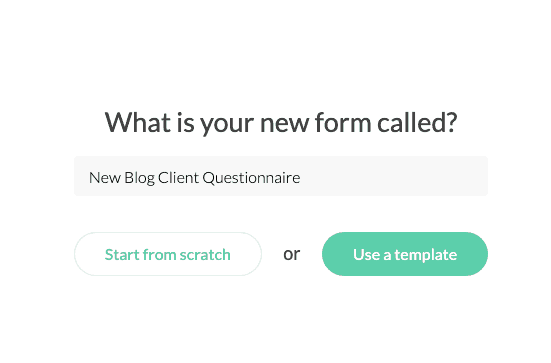 They have something for just about every form/landing page scenario you can think of — from conference registrations to trade quotes and product marketing surveys.
If you're not interested in reinventing the wheel, here's a glimpse at their Marketing Client Onboarding template: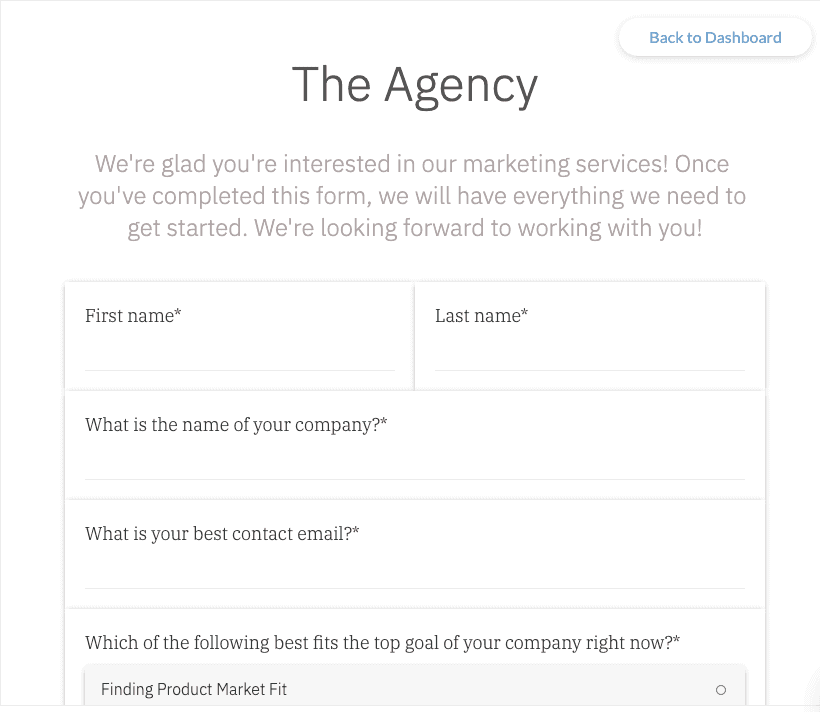 Once you select a template to roll with, their edit functionality is wrapped in a beautiful, easy-to-use UI package. Simply click, type, choose an entry type, add an image — you get the picture.
One really great Paperform feature is the ability to configure the page you've created with Google Analytics, a Facebook pixel, or other third-party scripts. The ability to tie page performance back to your larger website or social advertising initiatives is huge for ROI optimization over time.
#2: Organize Client Details in a Centralized Location
The ability to organize all of your client information into one centralized location is also key when it comes to process.
That's great, Katie. But I already organize all of my docs in the Drive. Having to check in on another tool for exporting isn't my idea of "efficient".
To that I say, you're totally right. Which is why it's also a plus that Paperform integrates with a plethora of tools you're probably already using. Like Google Drive.
You can basically set up Paperform (in conjunction with Zapier or Integromat) to automatically save updated forms as files within your Drive. This cuts out the need for manual export and puts more time on the clock for you to actually deliver on the customer experience as promised.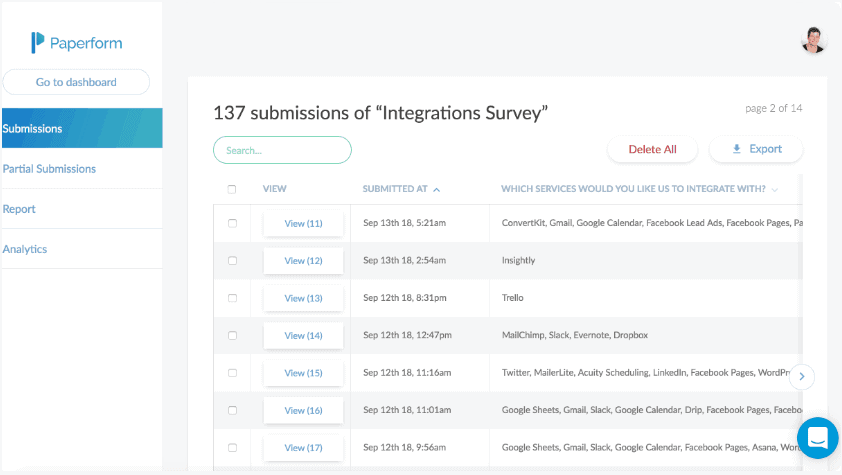 #3: Create Simple Landing Pages
One of the biggest bonuses of Paperform is the ability for forms you create to also function as landing pages. As if that weren't enough, they can also accept payments.
Even if your freelance business isn't at the stage where you're hosting mini-conferences or selling subscription-based content, that doesn't mean it won't be someday. And that's what you need to be perpetually planning for: someday.
As freelancers, we can be extra picky when it comes to aligning business activities with the use of certain tools. Most don't have an endless supply of cash or investment money to dip into for the sake of building out a suite of toolbox mastery. But most also don't think about the investment they're making in their own business when pulling the trigger on tools worth the price.
If you can find a tool like Paperform that knocks out one need, while also leaving room for others down the road, it may very well be an investment worth making. To have the ability to streamline form and landing page creation, payments, and analysis in one centralized platform certainly makes their platform one worth evaluating.
Final Thoughts: Use Paperform to Take Your Client Intake Form Process to the Next Level
If your client intake forms currently consist of a Word doc attachment haphazardly sent to clients whenever you get around to it, it's time to completely rethink this experience — as it relates to both you and your client.
There's already enough on your plate when it comes to retaining and gaining new clientele. Nix some of the busy work and look beyond today when it comes to business investments that scale.
Take Paperform for a test ride with their free 14-day trial. The best part: no credit card required.