Updated 10/16/19. Please note: this article contains affiliate links for products that I use and love.
We've all been there, scrolling on Facebook and getting sidetracked by a silly quiz.
"What kind of potato are you?", "Who's your celebrity boyfriend", or something of the like. While some of the most irresistible quizzes are personality quizzes, there's also something to be said about the compelling nature of quizzes that test your specialized knowledge on a subject.
Interact quizzes provide useful quiz software to easily configure both types of quizzes. But before we dig into how easy it is to use this tool and deploy it on WordPress, let's look into the numbers behind why you should bother.
Why Focus on Lead Generation Quizzes?
According to BuzzSumo, the average quiz is shared 1600 times. Another statistic, though dated, found that in January 2015, 9/10 of the most shared Facebook updates were quizzes. Inc shares several other reasons why lead generation quizzes are the key to building a qualified email list, but here are a few of my major reasons for being interested in this tactic:
Lead generation quizzes are interactive.
According to Ion Interactive, 70% of marketers claim that interactive content (such as lead marketing quizzes) is effective at converting site visitors. On that note, 88% of marketers claim that interactive content is an effective method for differentiating their brand from competitors.
Think about it this way: would you rather surrender your email in exchange for the promise of yet another email subscription? Or would you rather learn a little bit more about the nature of the company who wants to connect with you while completing a fun quiz?
Lead Generation Quizzes Can Help Automate Personalization.
Thanks to a number of useful integrations with popular email service providers (ESPs), you can use Interact quiz taker's answers to segment them into various lists or activate certain triggers, automatically.
Lead Generation Quizzes Convert Better than Traditional Email Marketing Tactics.
According to LeadQuizzes (who shares a number of interesting quiz marketing statistics that I'll be referring to throughout the rest of this article), an average quiz has a lead capture rate of 31.6%. Compared to the average email opt-in rate, which The Balance claims to be 1-5%+ (up to 20% with a dedicated landing page) and you're looking at some pretty incredible conversion possibilities.
Interact: Quiz Software & How to Set Up Your First Lead Generation Quiz
Interact quiz software is trusted by top brands like Eventbrite, Forbes, the American Red Cross, and HelloFresh. And now? The Blogsmith, too.
Interact quiz software is ridiculously easy to use and navigate. When I first started testing out this tool, I was struck by how clean and user-friendly the user interface is.
Let's walk through the process I took to create my first Interact quiz.
When you create a new quiz, or edit an existing quiz, you're given several quick links to choose from: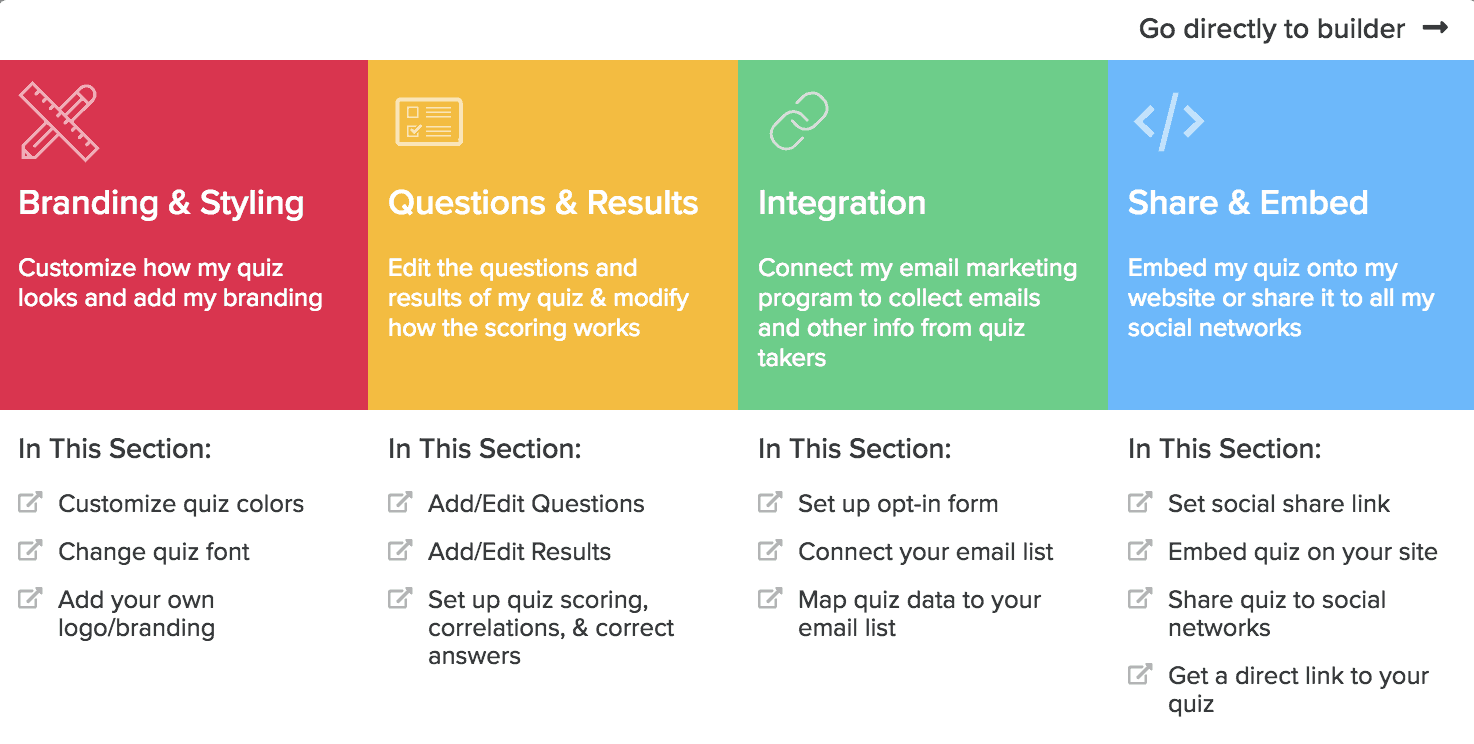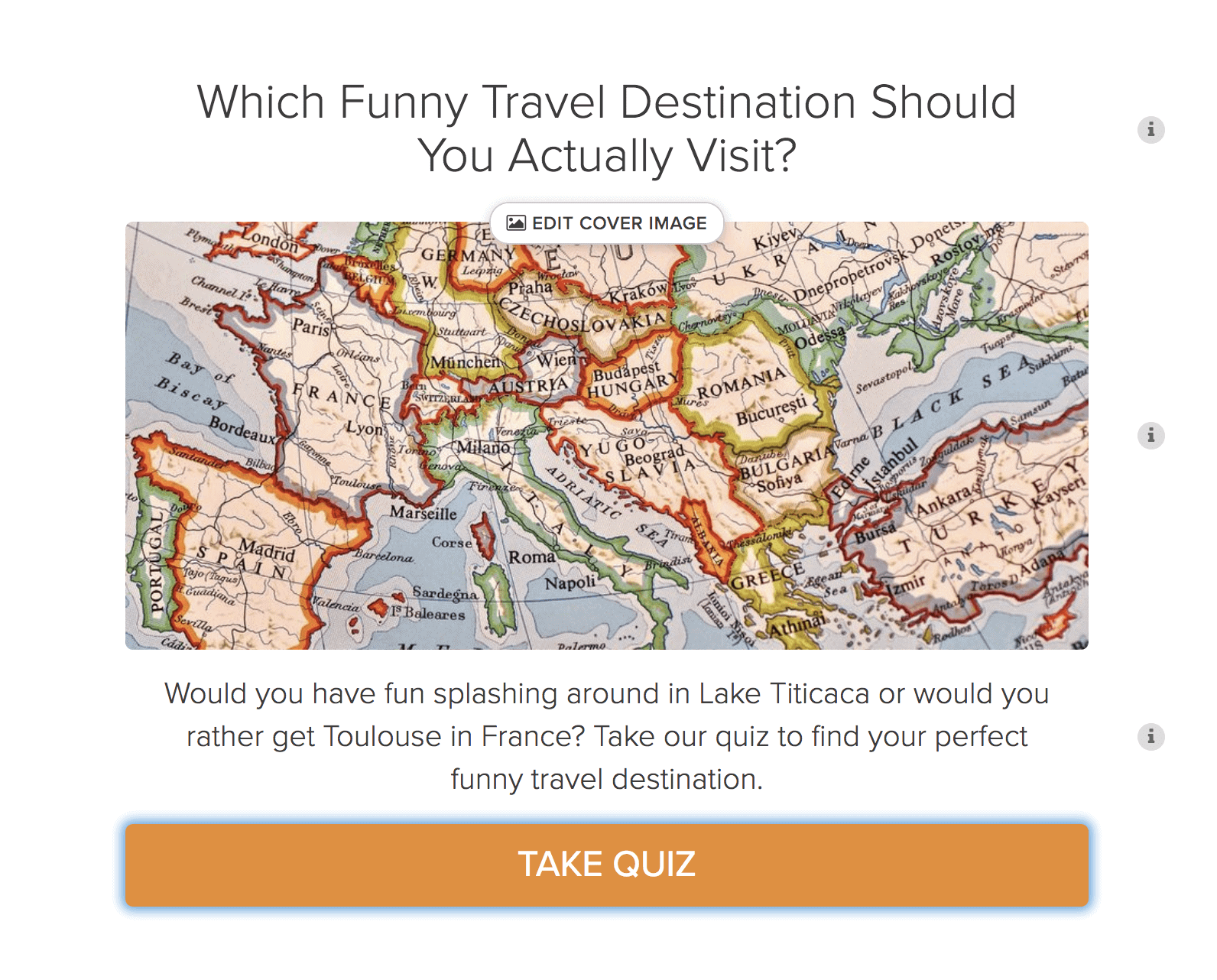 From there, you'll be prompted to add in quiz results that you'll be referring back to as you create questions and answers. You can do this ahead of time or as you develop questions.
That's the beauty of Interact quiz software—you can focus on whatever step you want, when you want, as you get ideas to build out your quiz. You can easily jump back to a specific section as necessary throughout the process.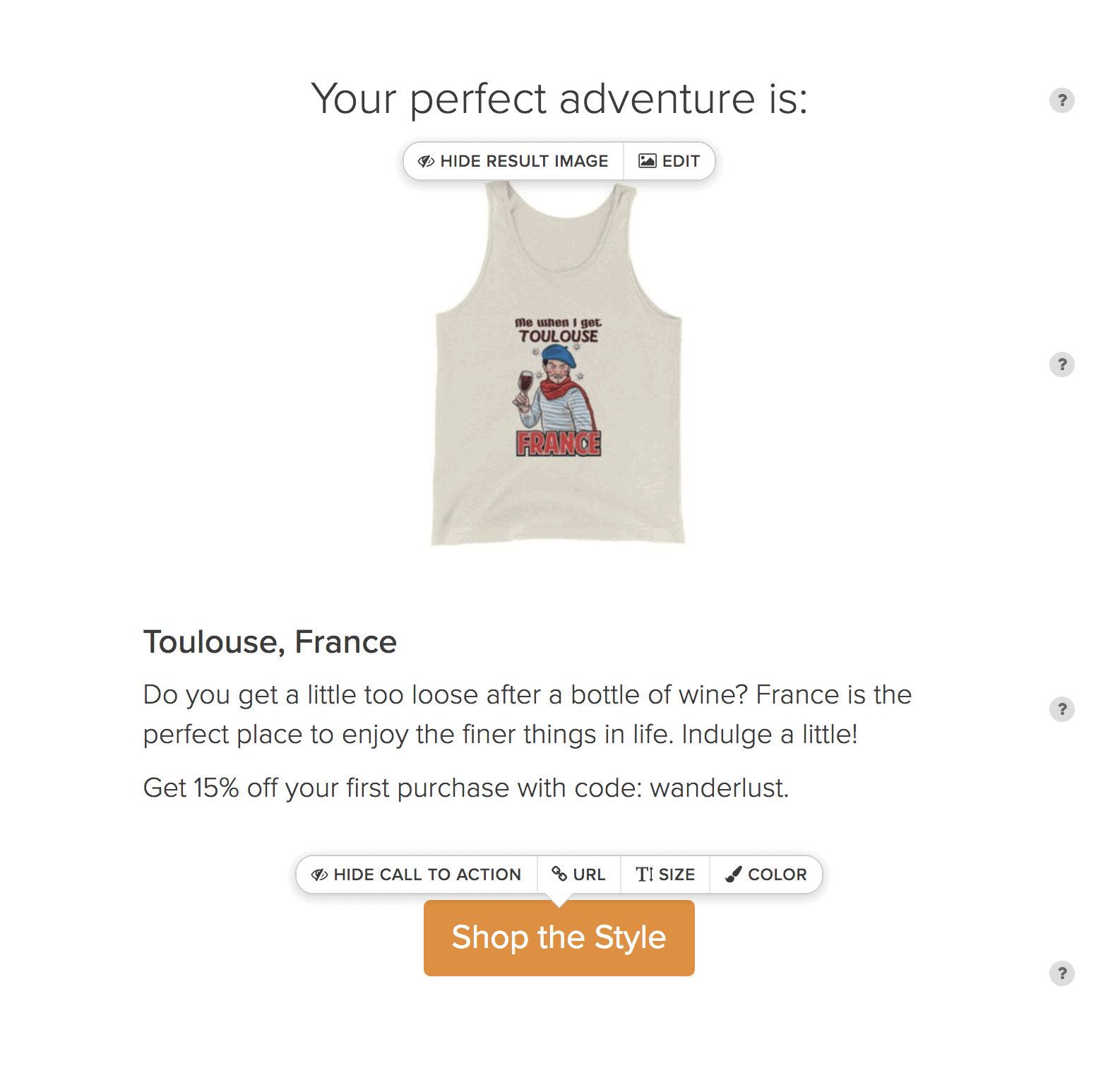 Next, start developing your questions and answers. These can be text-focused, image-focused, or a combination of the two (which is what I decided on for my first quiz):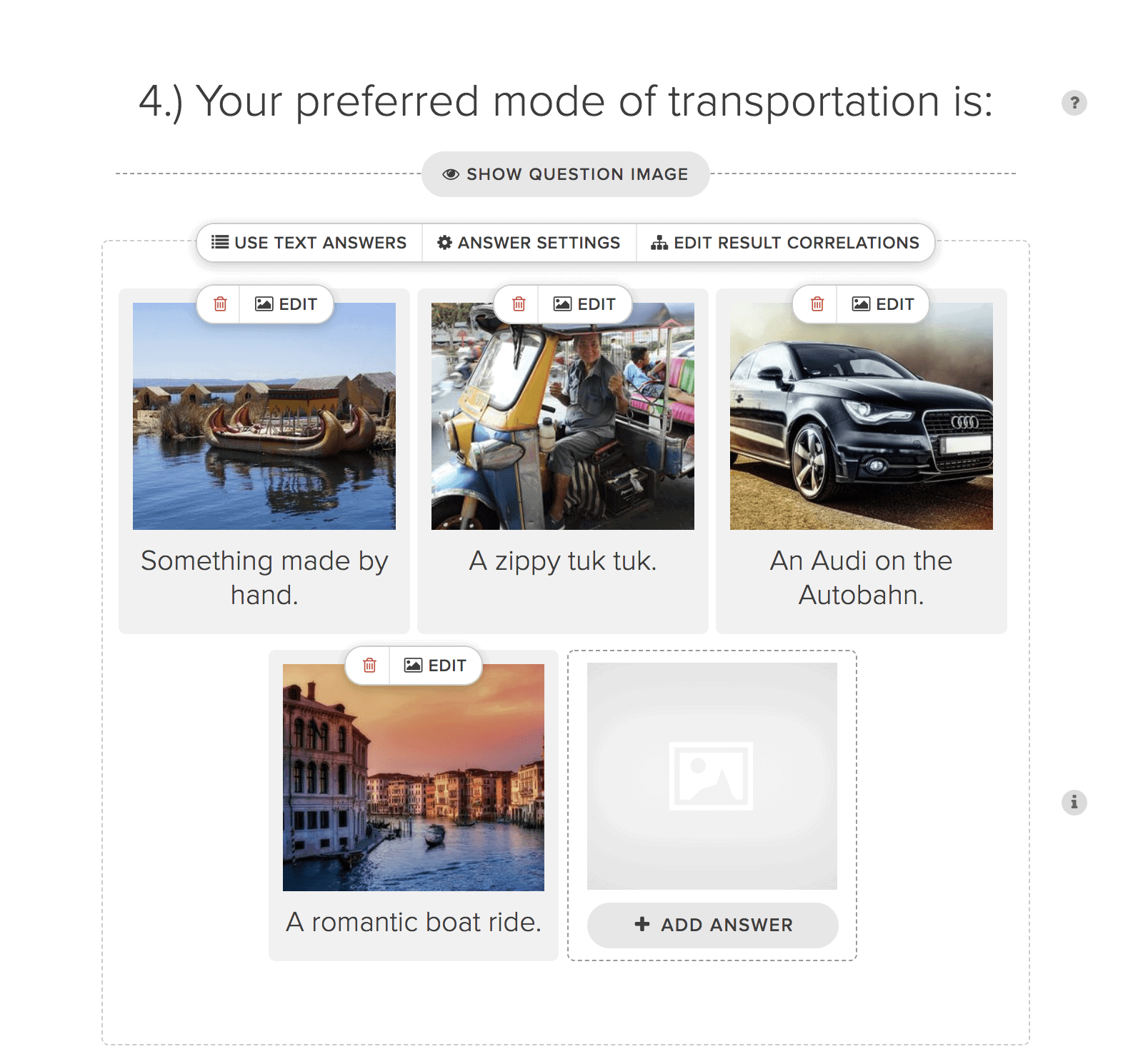 What's really cool is how you can edit question and answer correlations using Interact quiz software: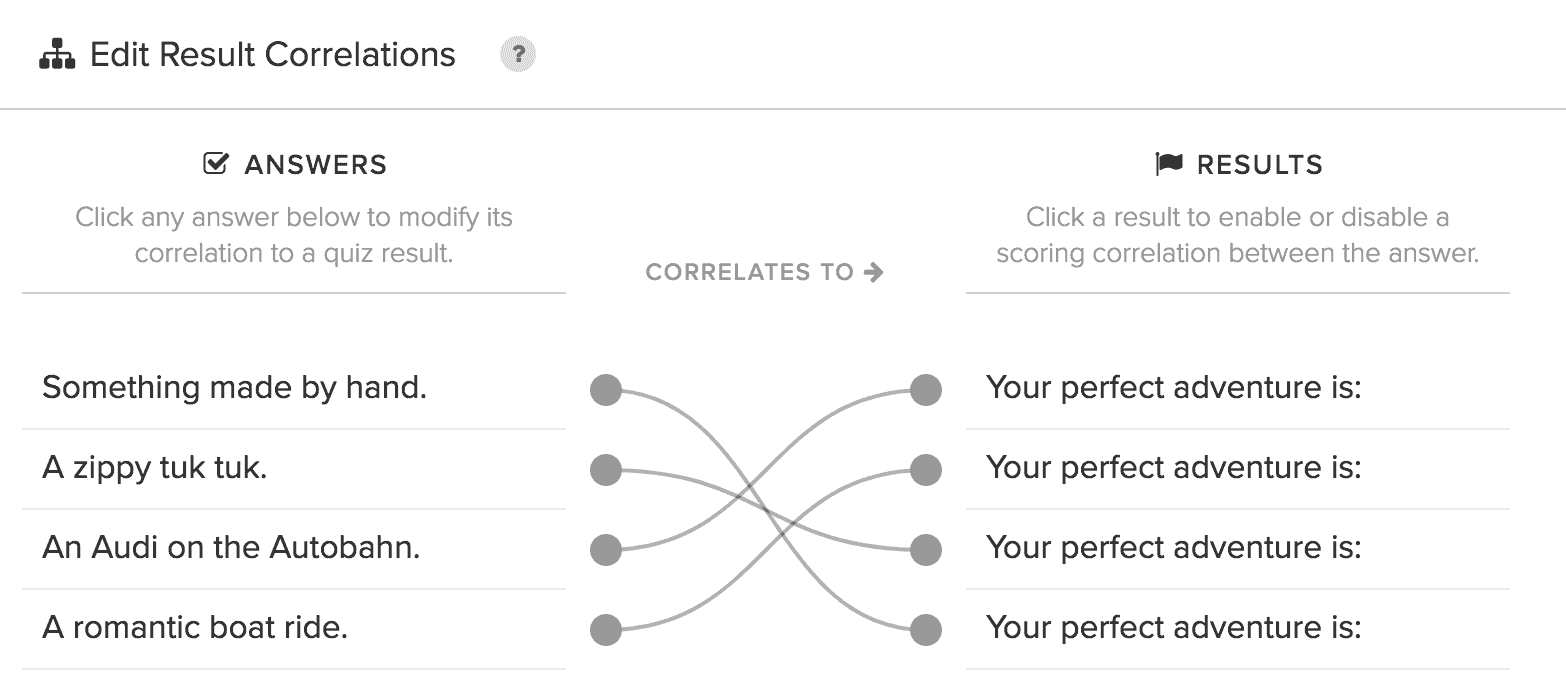 Note that you can make it so that one answer has multiple result correlations—it's super flexible.
It's worth mentioning that Interact quiz software can handle multiple different types of quizzes: personality traits quizzes, knowledge tests, and scored quizzes. I could see myself using all of them for different reasons, but I started with a personality type quiz.
zJust to give you some context into the other quiz types you can take advantage of, I love this graded quiz by the people at Barrel Roll.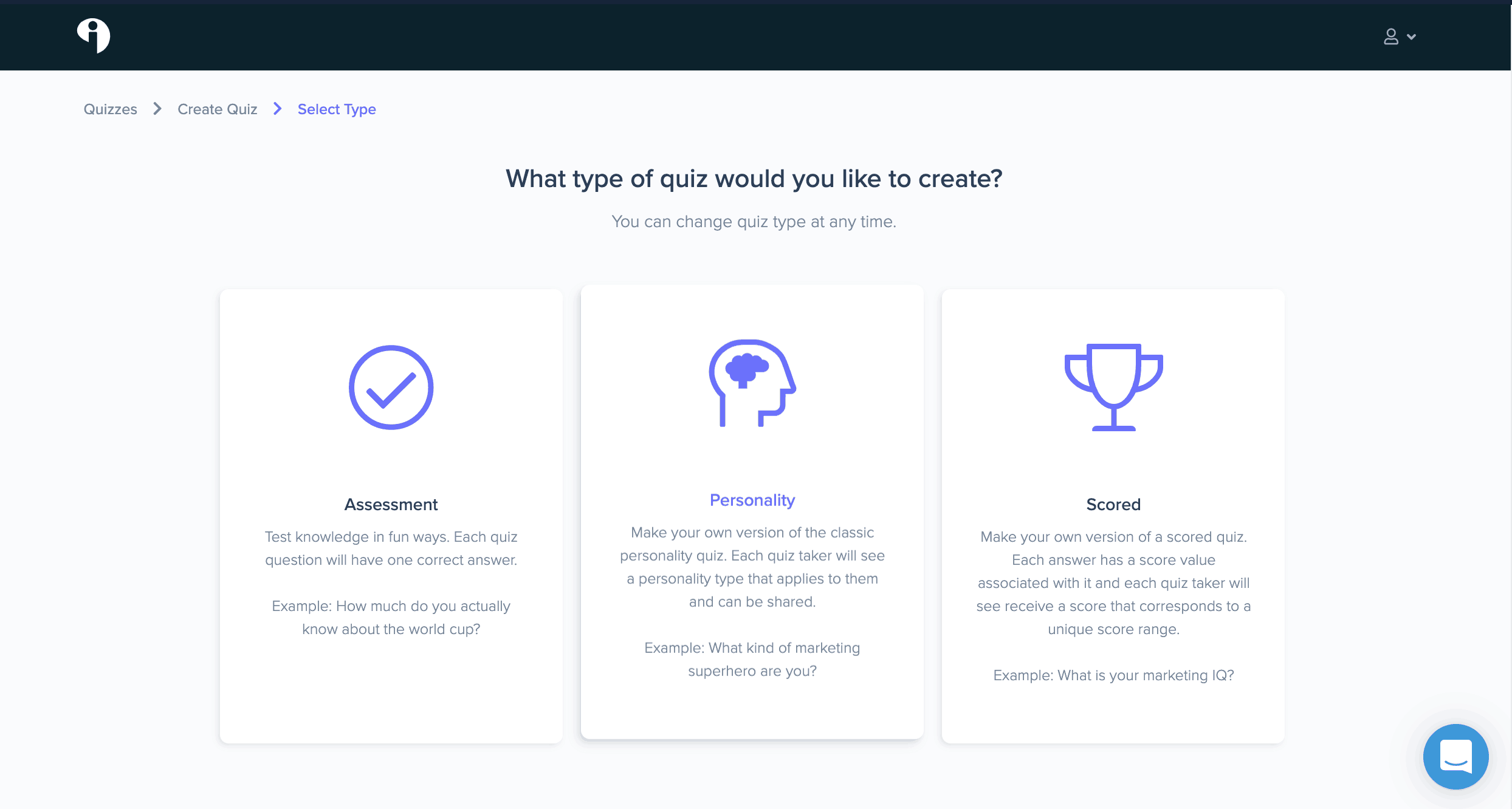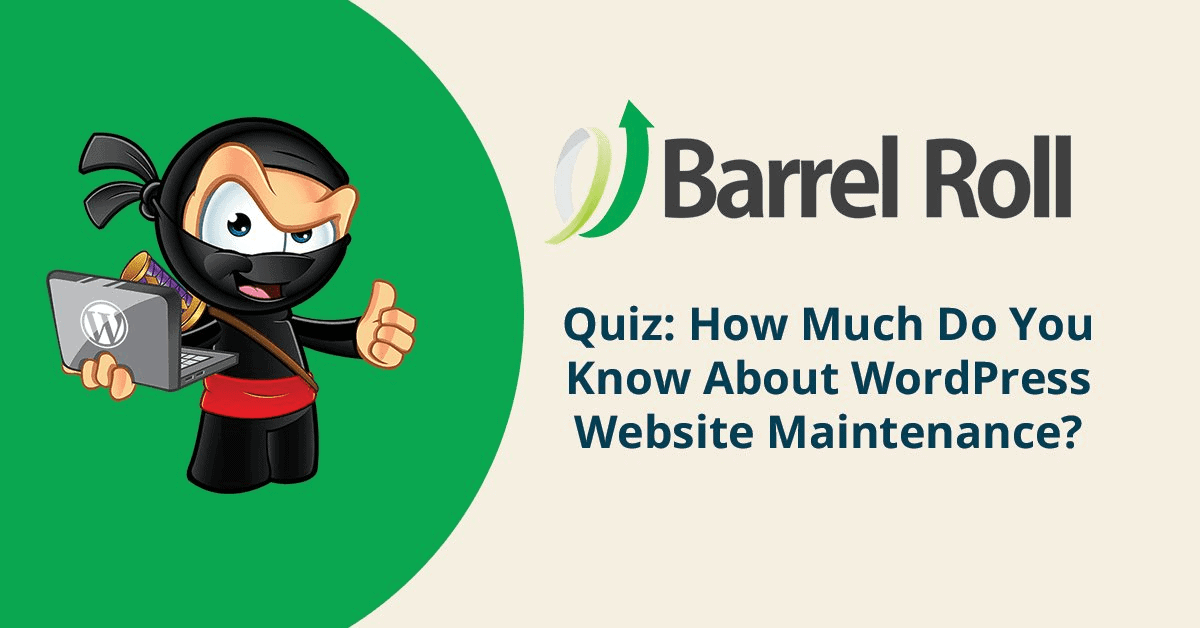 It was about WordPress website maintenance and while I should've gotten a 100% (I only got 90%), I certainly couldn't resist taking it and sharing my results. It worked on me!
Depending on how much you customize the available quiz templates offered by Interact quiz software, filling out questions, answers, and result correlations will likely be the most time-consuming step of the whole process. I'm not ashamed to admit that I spent a good two hours perfecting my first quiz (and, granted, getting used to this new tool).
This isn't necessarily because setup is a hard process—it's more about the fact that I was determined to hunt down relevant images for each step from my own Flickr repository of travel photos.
The next stage is setting up your opt-in form and ESP integrations: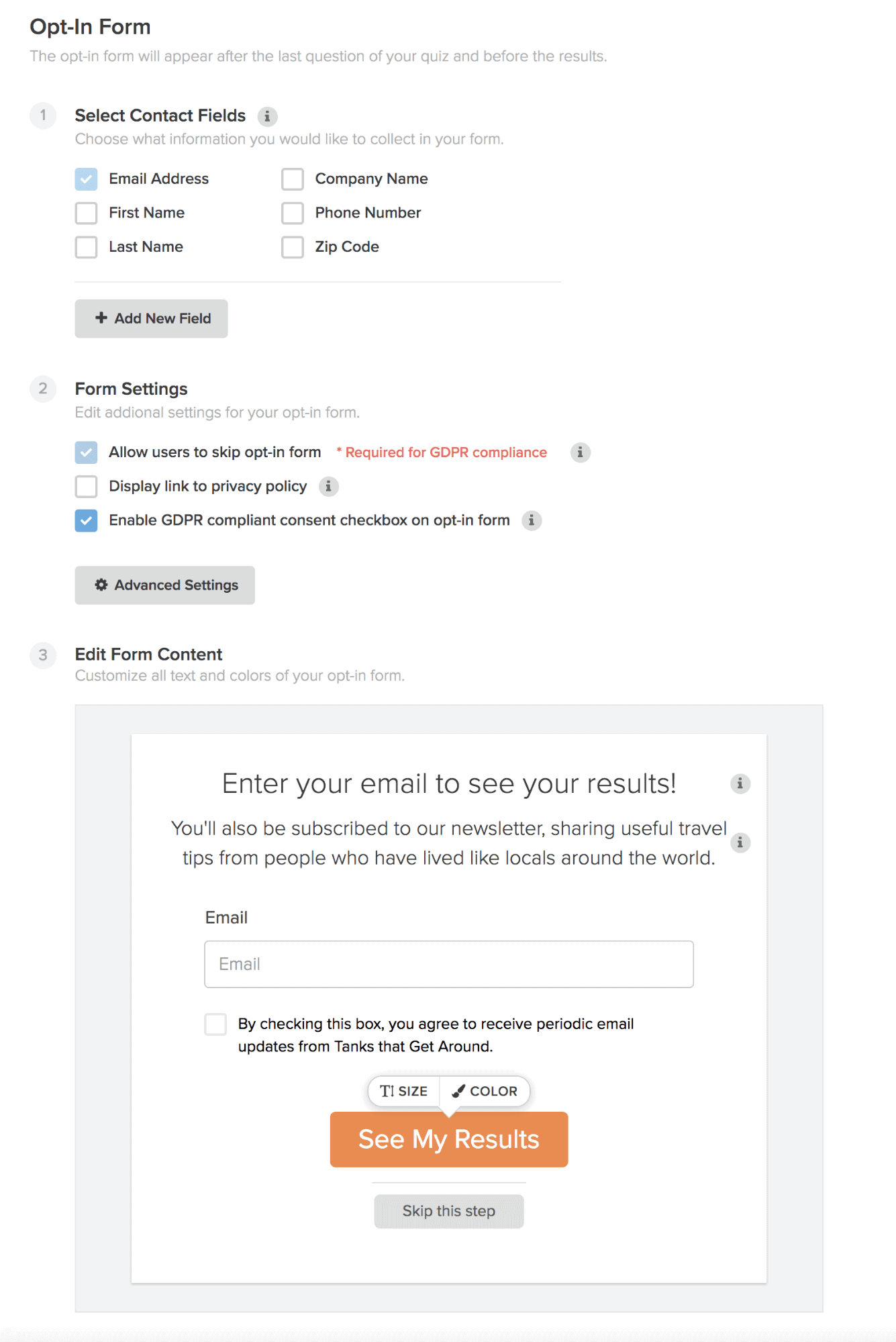 As mentioned earlier, you can map results to certain email lists for easy segmentation: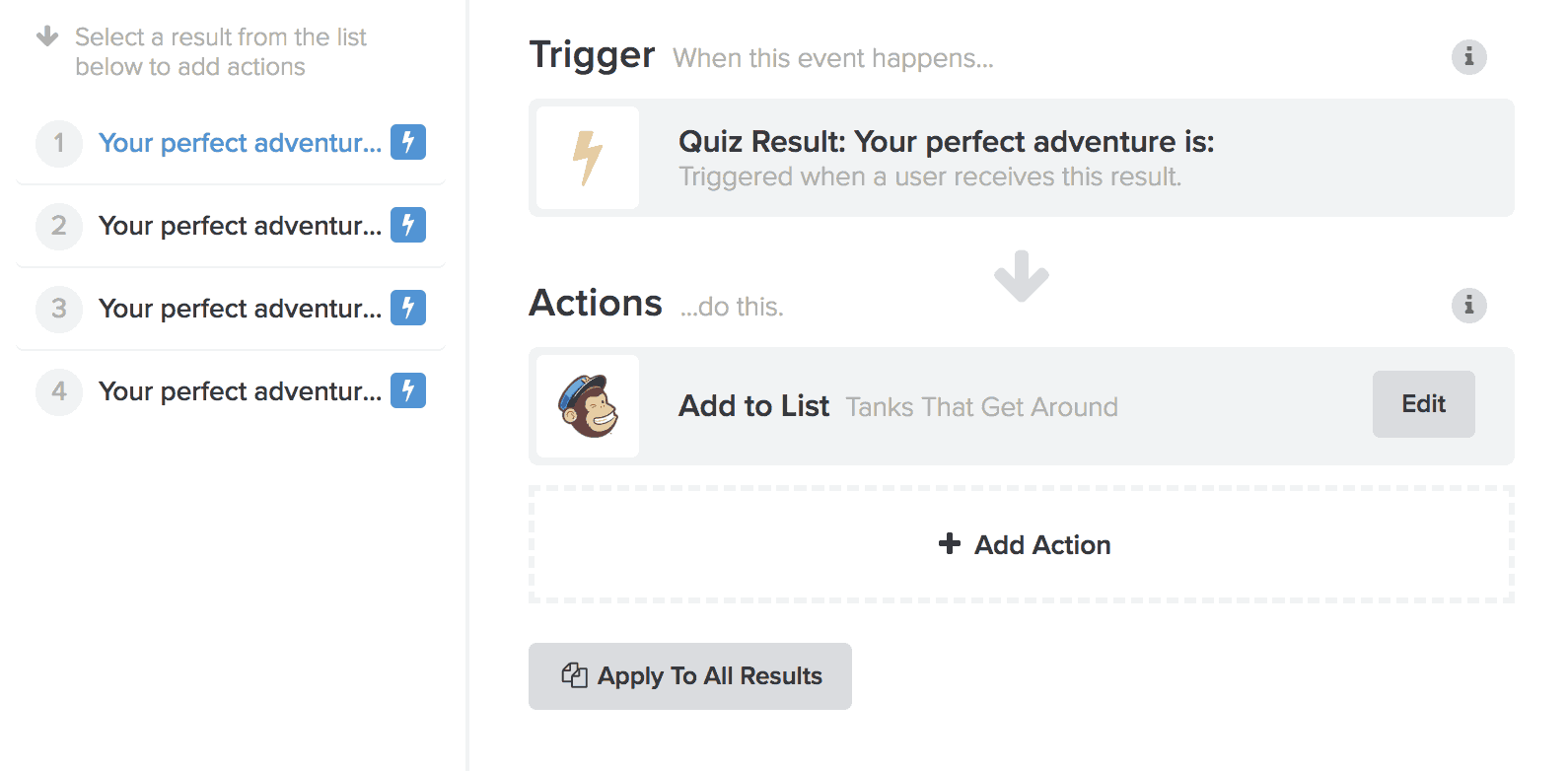 One of the real gems of Interact quiz software is how easy it is to deploy upon publication, in a number of different ways and mediums (including Interact's straightforward WordPress plugin):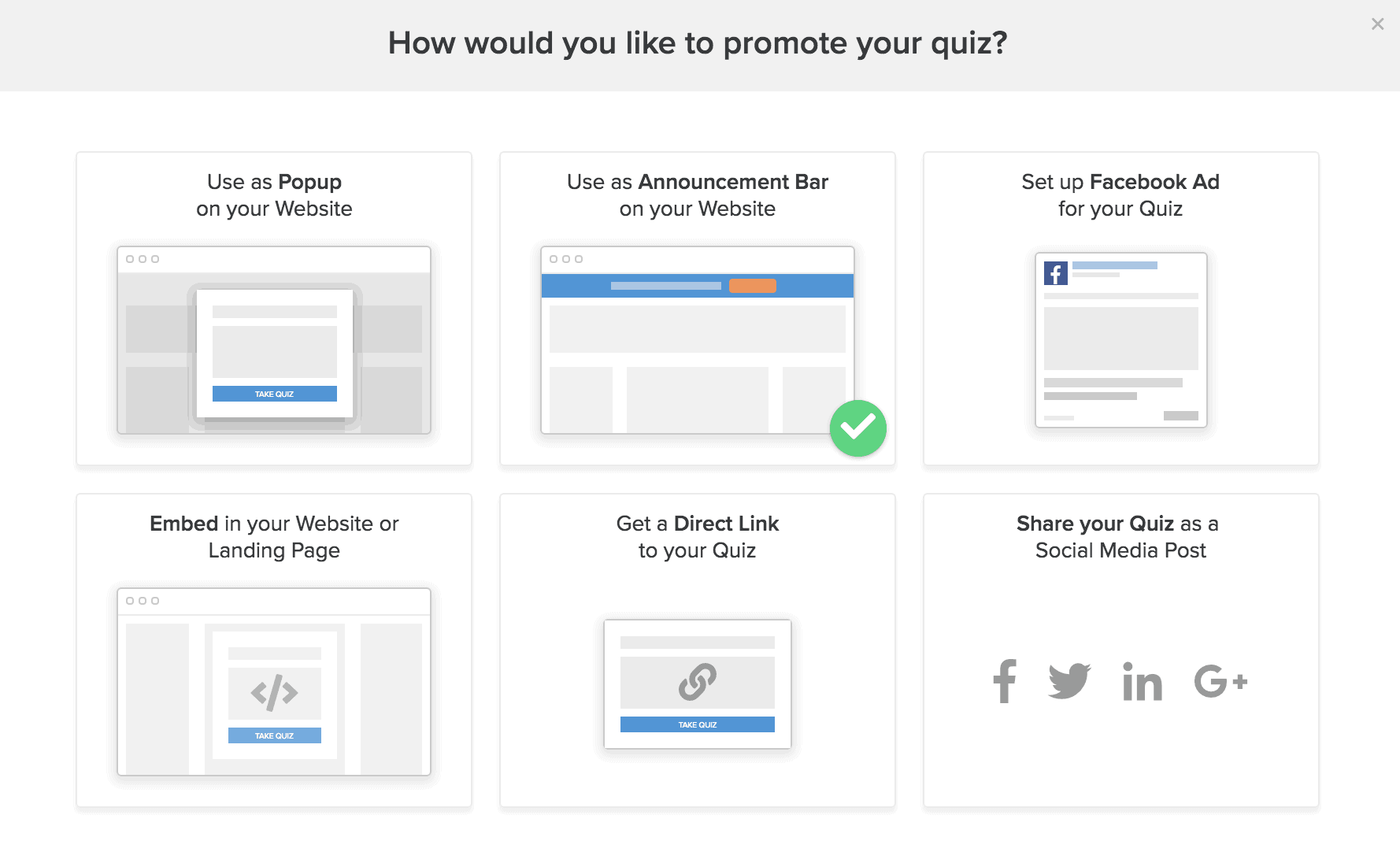 See the finished results of my first Interact quiz (and take it for yourself) on the top bar of my ecommerce website, Tanks that Get Around.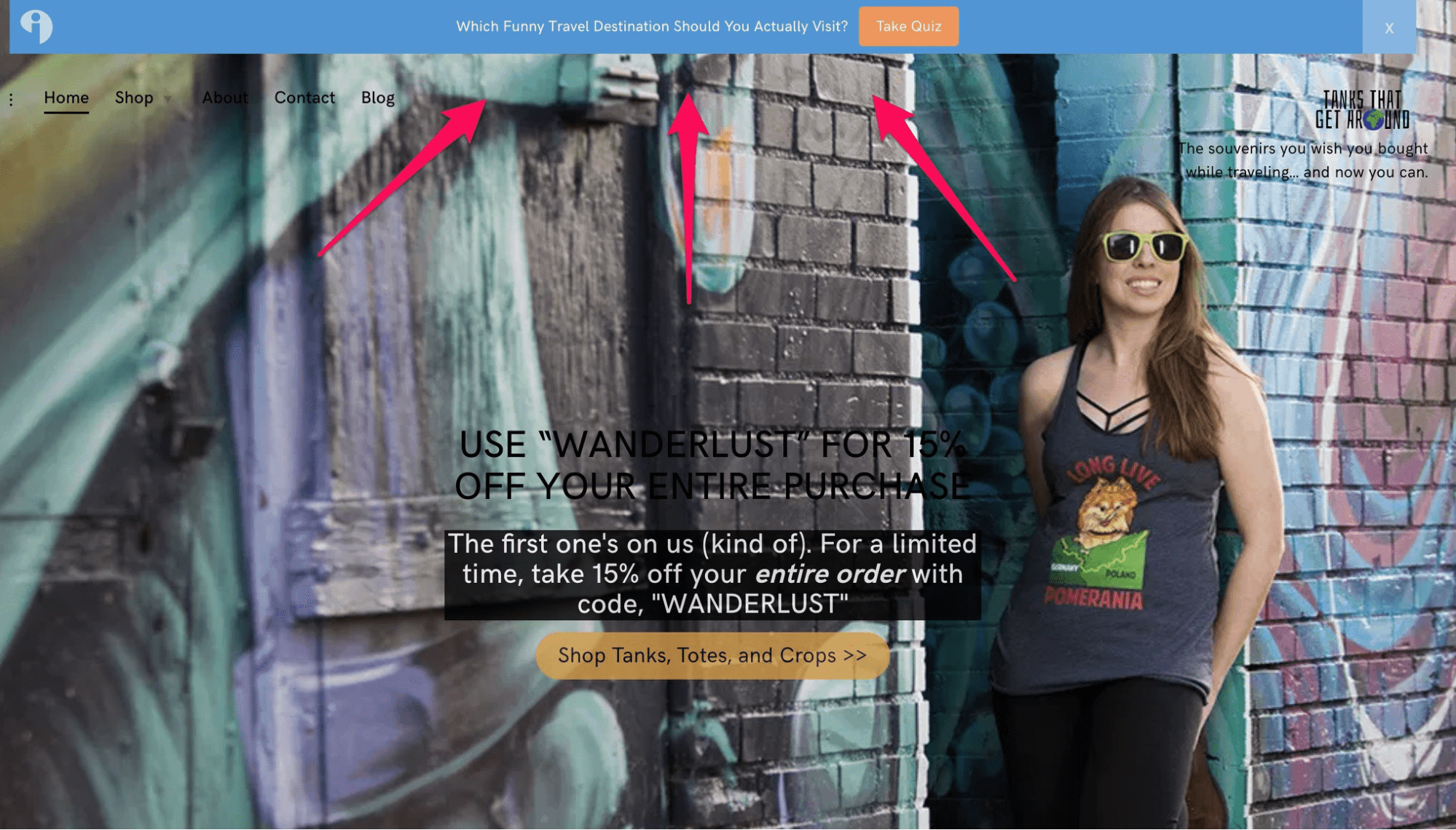 Case Studies: Quizzes that Are Killing it
According to Mashable, 75%+ of Buzzfeed's quiz traffic comes from social media. Although Buzzfeed is just one lead generation quiz example, they are frequently referenced in tandem with quiz marketing thanks to their runaway success with this tactic. To me, this statistic also demonstrates that if you're not sharing your quizzes on social media, you're not doing all that you can to make them successful.
In fact, Kristen Poborsky successfully used Interact quiz software to run Facebook ads that cost just $1.50-$2.25/lead. Though it's impossible to say what the average cost per action (CPA) is with Facebook Ads, without digging into specific industries, a 2018 WordStream study claims that it's $18.68 across all industries.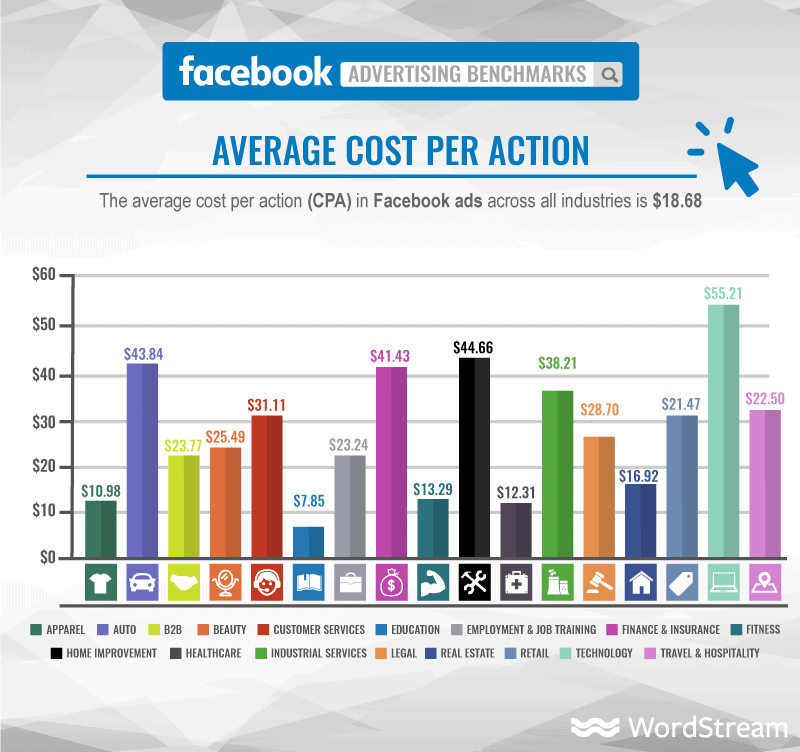 Another Interact customer, Charlotte Ohara, shares how Interact quiz software has helped her build her email list, with deeper insights as to why this lead generation tactic works (and an example quiz you can use for inspiration).
Interact quiz software provides a number of useful templates for just about every industry and use case and I'd highly suggest you start with these.
First, you're prompted to choose your industry from a wide range of options (note that not all are listed here):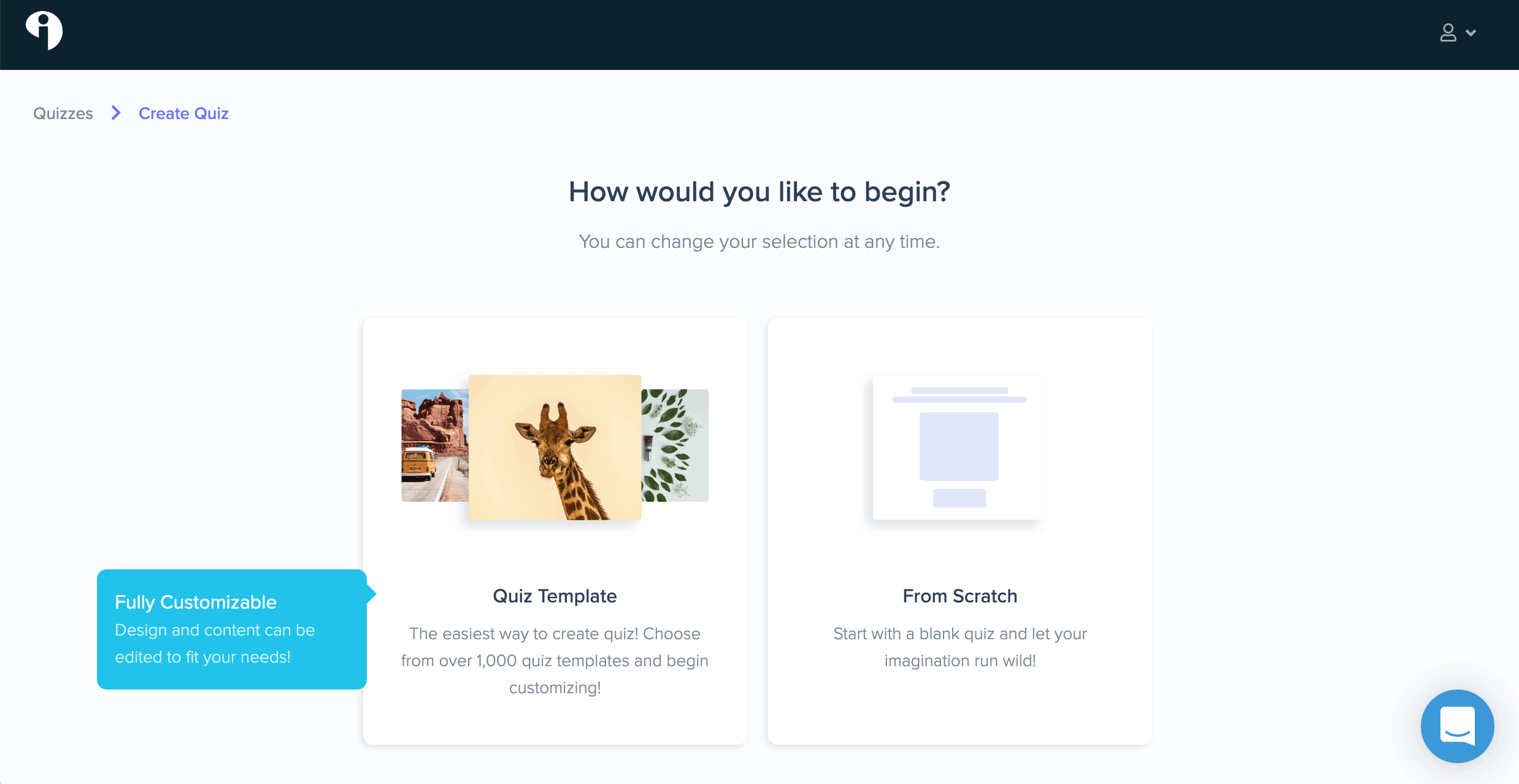 Then, based on the industry you selected, and your target quiz type (personality, scored, etc.), you're presented with the most relevant template options: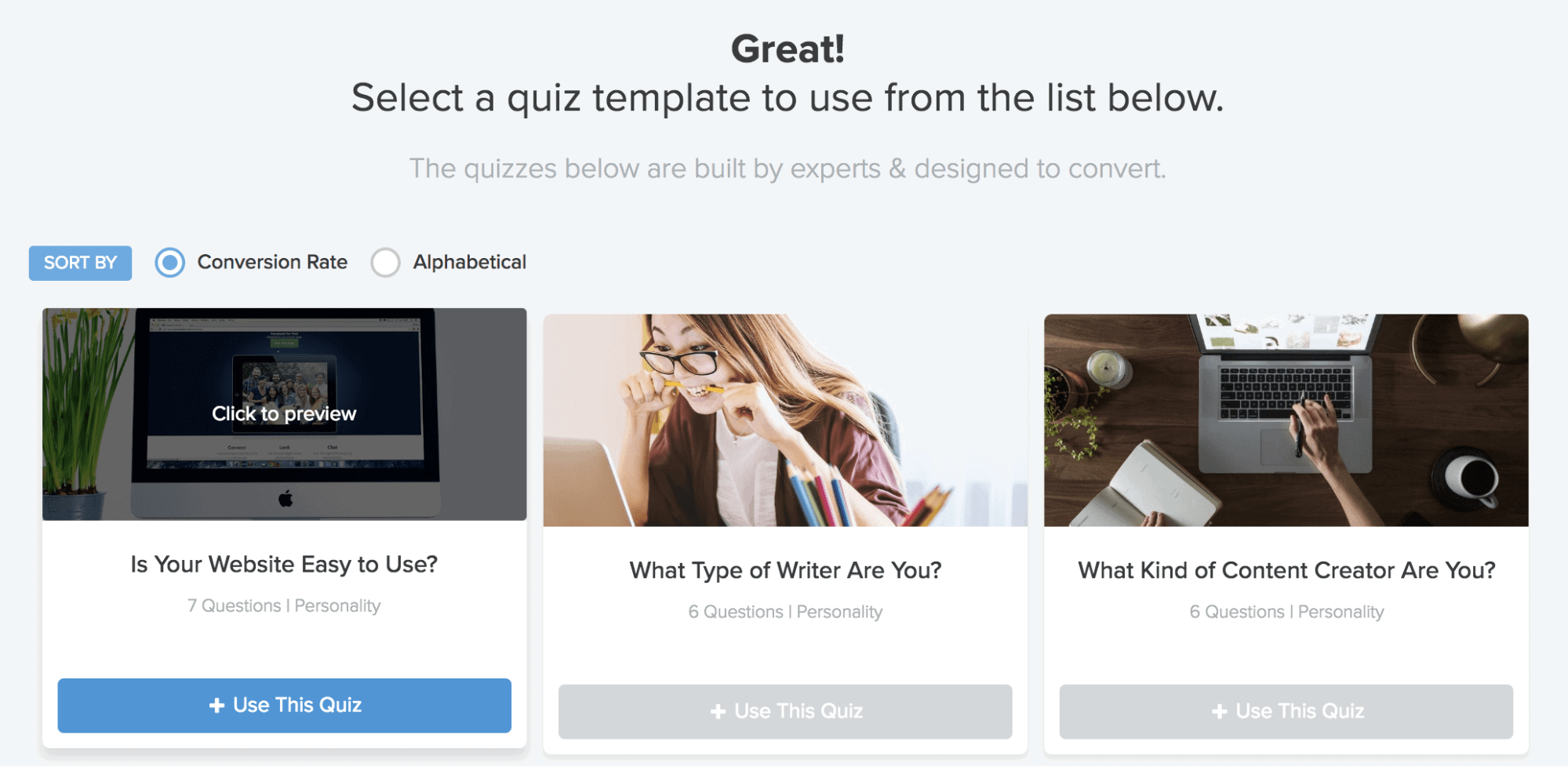 Since these templates are based on best practices, they're more likely to convert. And since they're pre-formatted, you won't have to do as much thinking to get things going—just fill in the blanks and customize to your needs.
If you're still looking for some quiz building inspiration, check out some of the case studies shared by Neil Patel.
Before you attempt building your first quiz, make sure to check out Interact quiz software's best practices—based on insights gleaned from 40,000+ quizzes that resulted in over 5 million leads!
Some of the highlights include:
Try Interact Quiz Software for Free
You can give Interact a try for yourself with a free 14-day trial or a limited forever free plan.
From there, Interact quiz software pricing scales from $17/month to $125/month depending on the size of your company and your specific feature needs.

If you're looking for another alternative, SurveyAnyplace is worth considering, as well.
It's hard to know how quiz software will work for your company until you try it out but the numbers are certainly there—give Interact quizzes a try today!