Please note: this article contains affiliate links.
Over 42% of all websites are powered by WordPress.
Why?
Because it's easy to set up and use.
Get hosting, install WordPress, plugins, and a theme. That's the WordPress setup drill. It's simple, but it can be tedious.
Here's the good news:
You can simplify the process with iThemes. It's a strong candidate if you're looking for a single service that offers one-stop WordPress solutions.
In this iThemes review, I'll give you the lowdown on what makes the service stand out.
Here's what you'll learn:
iThemes was originally a WordPress themes-only company. Over the years, its creators diversified into WordPress plugins. iThemes now offers some of the best plugins for the backup, maintenance, and security of your WordPress website.
Instead of jumping through hoops as you get your website up and running, iThemes gives you everything you need in one place. It packs in a lot, so I'm going to break down its product portfolio into snackable bits in this iThemes review.
iThemes Products: A Comprehensive Overview
From themes to plugins, the iThemes Agency Bundle gives you access to a broad product portfolio for $749/year.
With the Agency Bundle, you get access to three iThemes assets: plugins, training, and the Kadence theme. If you're not sold on buying the full package, you can also get one or more products separately.
iThemes offers a Plugin Suite for $499/year. It includes 14 plugins, 10GB free Stash Storage, and a free 30-day trial of Sync Pro.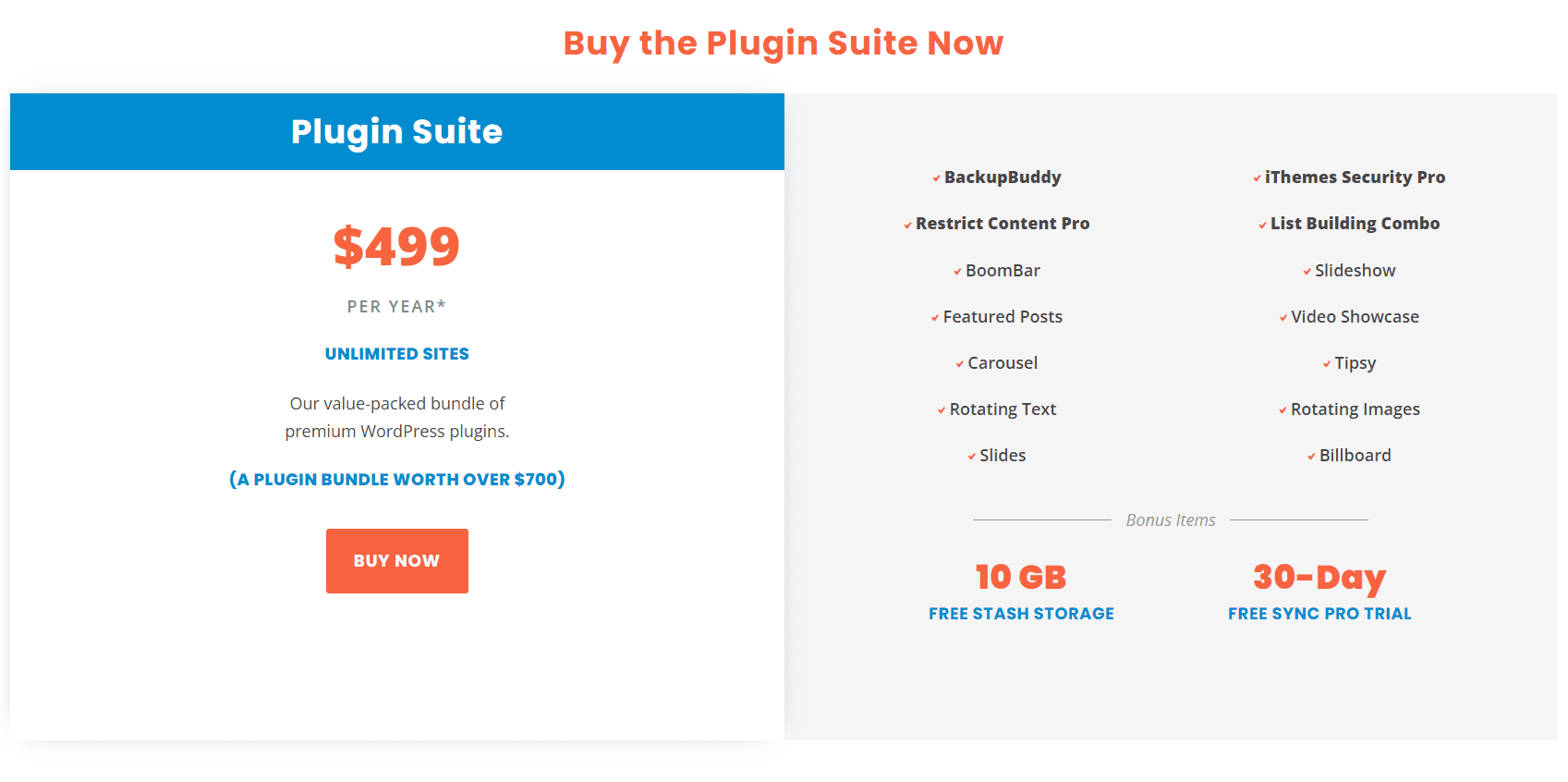 There are 14 plugins (excluding the Sync Pro trial) included in the Plugin Suite, but the following stand out:
The Plugin Suite's price covers unlimited websites. Whether or not the Suite is cost-effective will depend on how many websites you have — the more websites you have that use the plugins, the lower the per-website cost.
In this section of our iThemes review, I'll walk you through how iThemes offers best-in-class training with your iThemes membership.
Training is one of the best perks you get when you purchase the Agency Bundle, but you can also buy iThemes training on its own for $399/year.
The training's scope goes beyond helping you acquire WordPress skills. You'll also gain valuable insights on how to grow your online business through live webinars hosted by industry experts, who you can interact with through chat.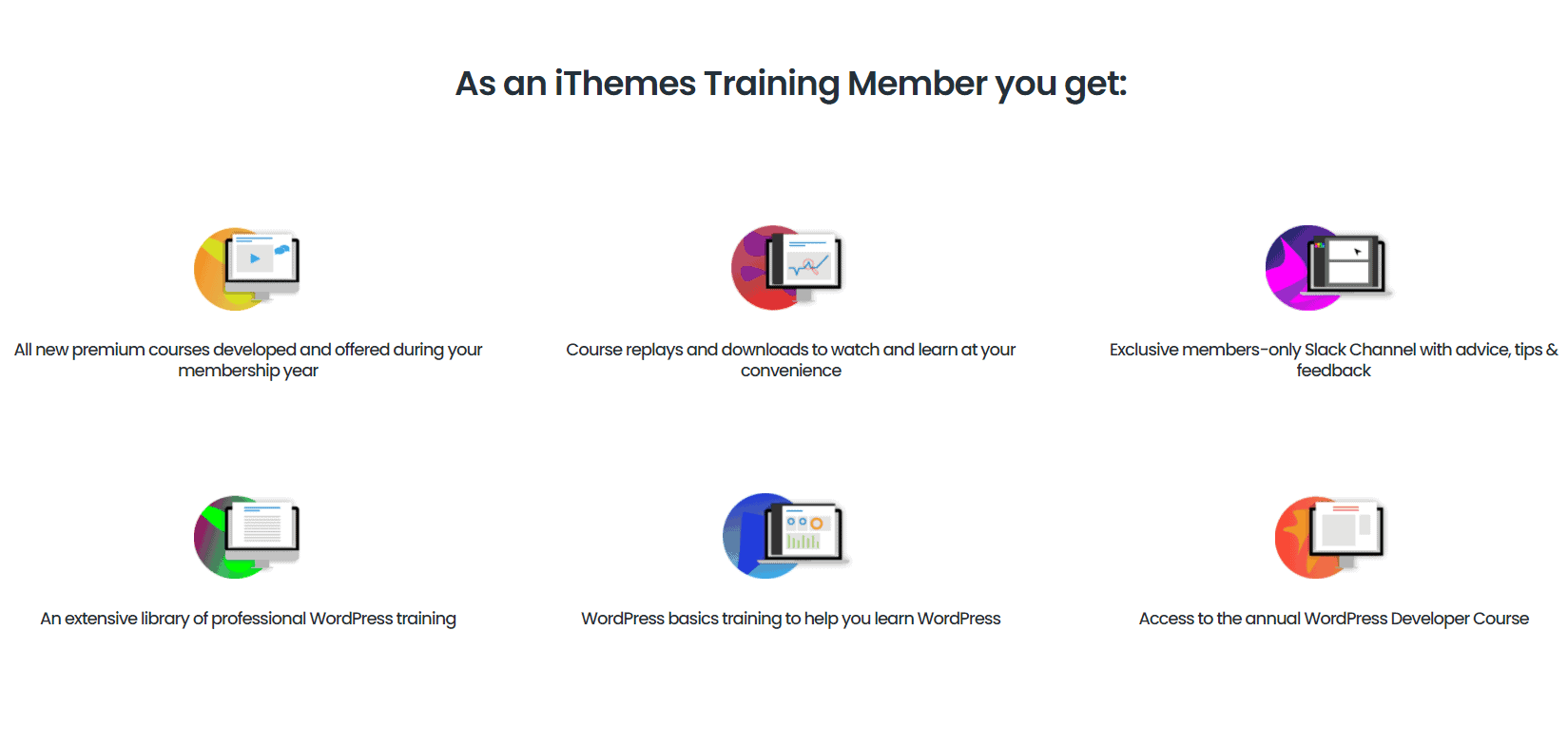 Webinars are recorded so you can watch them later if you ever have to skip one.
If any part of the training piques your interest or leaves you with questions, you can ask for help or seek advice in the exclusive Slack channel accessible only to those with an iThemes membership.
iThemes training offers more than just beginner-level courses: it also gives you access to a collection of resources you can use to acquire advanced skills. That makes iThemes training valuable for beginners and advanced users alike.
3. Kadence WordPress Theme
iThemes acquired Kadence WP in April 2021. The acquisition makes sense — this way, iThemes can work on a single theme with starter templates instead of holding on to an older library of themes. Plus, Kadence has a lot going for it.
The Kadence WP theme is clean, fast, and great for SEO. It can even contend with some high-end WordPress themes. It also integrates well with popular page builders like Gutenberg, Elementor, and Beaver Builder.
With Kadence WP, you also get Kadence Blocks. You can use Kadence Blocks to make the WordPress Block Editor more powerful, create a custom layout, or select a design from its library, among other features.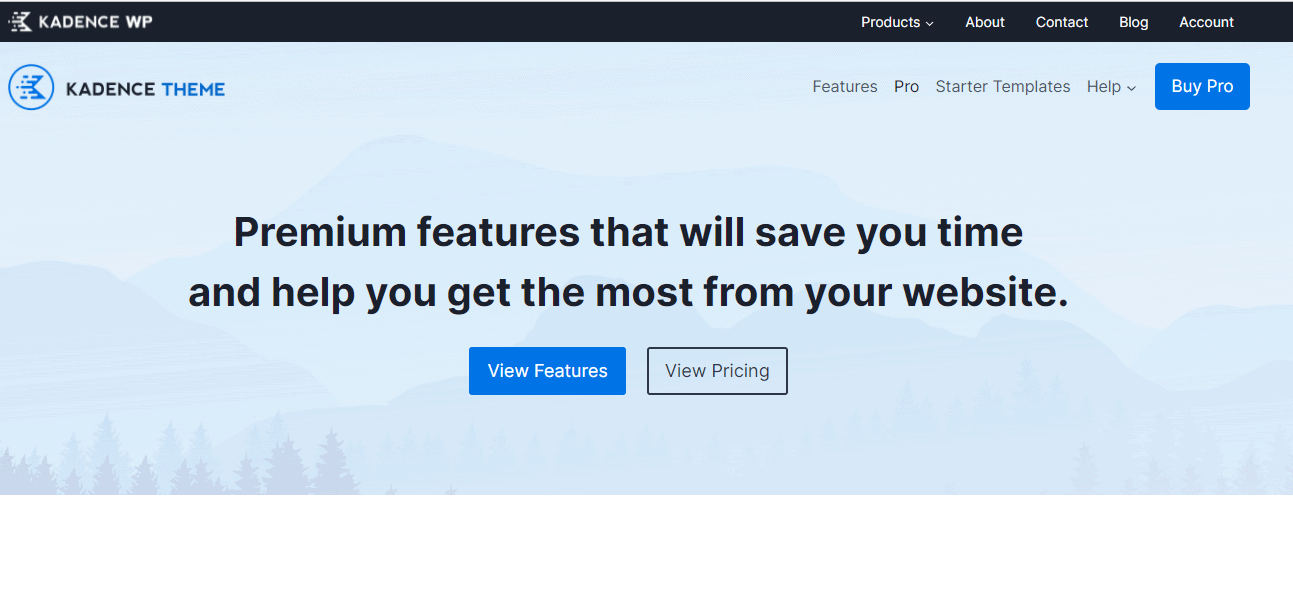 You can get the Kadence theme separately or as part of the Agency Bundle. Either way, you can use it on unlimited websites. If you're buying it outside of the Agency Bundle, I recommend purchasing the Lifetime Full Bundle for $649.
iThemes Hosting is high-performance WordPress hosting that comes with plugins like Sync Pro, iThemes Security Pro, and BackupBuddy.
If you already have an active hosting plan but want to switch to iThemes, you can use its buyback program. With this program, you won't need to give up what you've invested in your current hosting.
However, there's a $15 cap on the monthly cost that qualifies for the buyback program. To claim the benefits, you'll need to submit a receipt or invoice showing the amount you paid. Plus, in order to qualify, your current hosting plan can't have more than five months left until expiration.
Still, anything that helps you mitigate costs brings value, especially if you're starting a business.
iThemes Hosting is advertised as a WordPress hosting service. A fully managed WordPress hosting service would have made iThemes Hosting more compelling, especially for beginners. Plus, while researching for this iThemes review, I found out that you don't get a custom email account with your iThemes hosting plan.
However, iThemes includes its top three plugins on all three hosting plans, which definitely makes up for the lack of a fully managed service.
WPMU Dev has a similar membership model that includes hosting and plugins, but you won't get any training.
On the other hand, with iThemes, there's a lack of overlap between what you get with the hosting versus the Agency Bundle, but you can always sign up for both.
Final Thoughts: iThemes Review — A Silver Bullet WordPress Solution
iThemes has a great range of products to choose from, which makes iThemes membership a compelling buy.
The addition of goodies like Kadence Pro alongside its existing plugins helps iThemes appeal to a broad audience. The strong line-up of plugins and iThemes training make the Agency Bundle well worth the price.
The plugins offered with iThemes Hosting help it contend strongly against competitors. If you're looking for a comprehensive, one-stop WordPress solution, buying the iThemes Agency Bundle and hosting together is a smart move. Try it today.