Please note: this article contains affiliate links.
As a business owner, I've learned that the surest way to succeed is by becoming a lifelong learner.
The more you learn, the more likely you'll be on the cutting edge. You gain that crucial 1% advantage over your competition to win.
Before the pandemic, I attended conferences and connected with my peers for learning opportunities. But with the virus, everything came to a halt.
That's when I looked into remote learning opportunities and found out about iThemes Training, as several of my friends were sharing their experiences on the platform.
After taking a few courses and sharing my expertise, there's a lot I've come to know and love about iThemes training.
In this review, I will expand on my experiences and let you know why iThemes training may be a great learning resource for you:
What Is iThemes Training?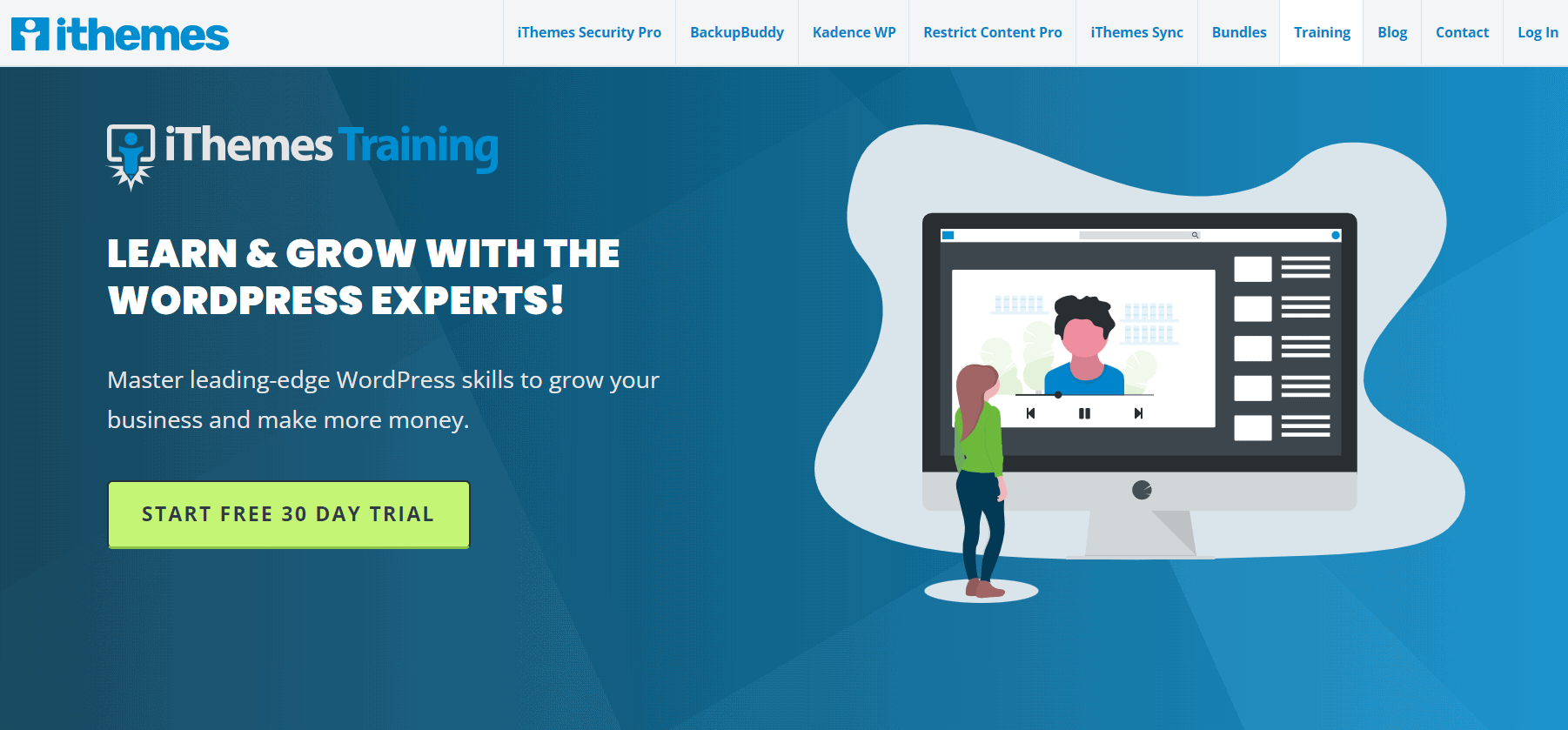 iThemes training is a training service by the WordPress theme company iThemes. With iThemes training, you get the chance to pick up precious skills you can use to grow your business and achieve your goals.
I love that this platform is what it claims to be. It genuinely helps customers with valuable information.
As a business owner, I've gained a lot of information and advice from their experts on growing my business and making more money by mastering leading-edge WordPress skills.
iThemes Training — Stand Out Features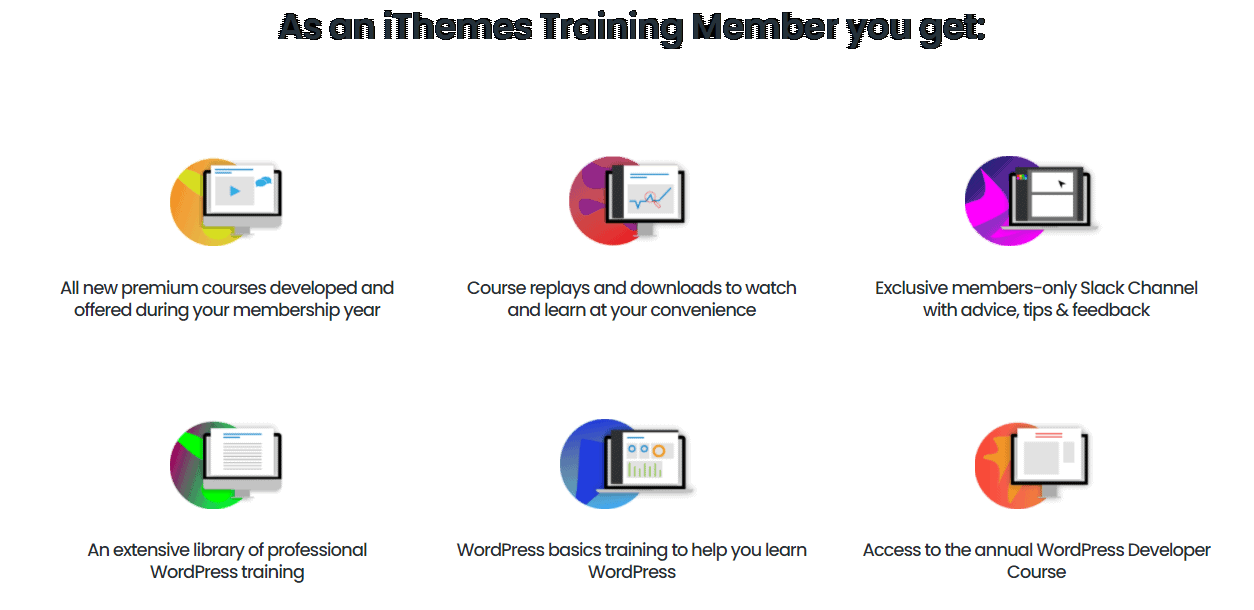 I've subscribed to several WordPress training courses over the years. Some of them turned out great. Some didn't.
iThemes training stands out for multiple reasons:
Expert Teachers and Mentors
Prepare to receive hands-on, no-holds-barred training from field experts after signing up for iThemes training.
You receive cutting-edge insights and learn best practices from industry leaders with a track record you would want to emulate for your business.
You can receive training from experts like Erin Flynn and Joe Casabona.
I've worked with these people in a mastermind group for a few years. And I can vouch for how great and experienced they are at what they do.
Comprehensive and In-Depth Training
If you have an iThemes membership, you can take training sessions on WordPress website management and other related skills you need to grow your business.
You receive interactive and easy-to-digest content. The courses include tutorials and webinars to walk you through the common difficulties and challenges you face as a business owner.
High-Quality Training Sessions
You learn from experts in a live format with chat enabled. You can ask questions and interact with other attendees.
I loved this feature because it took away the isolated feeling that is often the hallmark of self-learning — especially during the pandemic.
Every time I log in to an iThemes training session, I meet enthusiastic and dedicated people looking to grow their businesses.
Access to Extensive Library and Archive
iThemes training members have access to an extensive archive of training and videos after signing up.
Besides the library of courses covering basic WordPress training, you can access professional classes for advanced learning.
You can also watch missed sessions.
It's hard to be present for every session, so it's nice to know that I can still get back to learning when my schedule permits.
Availability of Free Sessions
You also don't have to dive off the deep end before you get an iThemes membership to access the training.
You have many free sessions available during the free 30-day trial to try things out.
You'll Love the Great Team Behind iThemes Training
One of the reasons I trust iThemes training and recommend it is the excellent team managing it.
Some notable names include:
Nathan Ingram
Nathan has been a freelance web developer since 1995 and has become one of the most influential WP voices.
He's the organizer of Freelance Leap Year, a program that drills deep into topics of interest to freelance business owners. It offers key insights and tactics to help attendees grow their businesses by becoming more profitable and productive.
He's one of the most popular hosts at freelance, where he teaches WordPress and freelance business development through a live webinar.
He's also the author of a book for web developers that deals with client relationship management. That's an example of the value that iThemes training provides.
Cory Miller
Cory is the founder of iThemes, a businessman, and a thought leader in the WordPress space.
He started and grew iThemes from a home office to a multi-million dollar business, leading a team of over 25 people across four countries.
Now, he dedicates his time towards inspiring and raising the next generation of software developers and tech talent.
iThemes Membership Pricing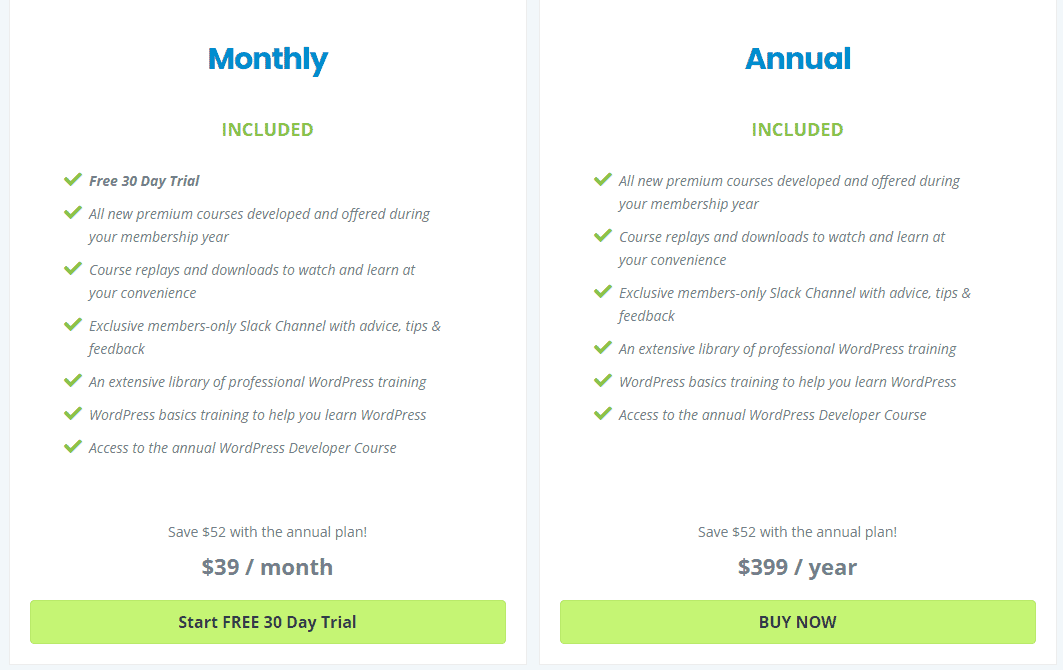 You have two plans to choose from when it comes to pricing.
iTheme membership comes with a monthly plan that costs $39/month and an annual plan that costs $399/year.
If you want to try things out, you can check out the 30-day trial that comes with the monthly plan
Otherwise, both plans include the same features:
Final Thoughts: iThemes Training Review
I believe iThemes training to be a worthy investment for any individual or organization looking for trusted, actionable advice on growing their business and making more money.
You get:
In short, an iThemes membership can be an excellent solution if you're looking for a proven and effective medium for gaining insights into growing your business.
Have any questions or confusion?
Let me know in the comments. I'd be happy to help as much as I can.