Please note: this article contains affiliate links for the tools I use to conduct client interviews as part of providing SEO content services.
When it comes to writing for multiple brands, you have to accept that you'll never be able to learn and understand every relevant fact.
Your brainpower is limited.
And why bother constantly storing new data in your head? You're better off specializing in a narrow field with a general knowledge of related topics.
Effective content marketing isn't always about creating original content. Sometimes, you can create new content by repurposing content from another medium.
In other situations, you can fill in any of your knowledge gaps by interviewing subject matter experts on your client's team.
Here's my process for conducting a no-fuss client interview as part of delivering high-quality SEO content services:
Virtual Content Interview Tools
In order to create an efficient content interview process, you'll need to make use of a few technology tools.
Technically, you could make the process work with all free tools, though as you'll soon discover — that will limit your options. 
Here's the ideal setup for conducting a client interview, with other options to consider if you're on a budget or have different needs:
Zoom is a video conferencing tool that simplifies the process of connecting with people, no matter where in the world they live. Technically, you could get by with the free version but you're limited to 40-minute meetings. When it comes to conducting client interviews, going over is bound to happen — you don't want to look unprofessional if your free Zoom plan cuts you off halfway through the process.
Zoom is the foundation of my client interview process because of the tools it integrates with.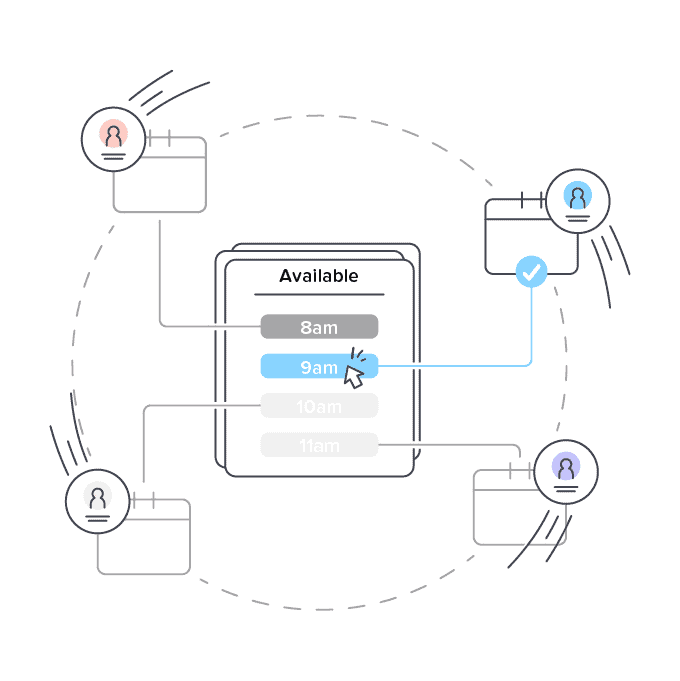 Calendly is a calendar scheduling tool. 
You can build out different event types for the different types of meetings people can book with you. For example, you may want to create a special event type with instructions and questions that make sense for what you need to know going into a content interview meeting. 
Note that you can use Calendly's Zoom integration with the free plan but you're limited to setting up just one event type. Personally, I have about eight different event types that I use to make my life easier when it comes to scheduling different types of events. It may make sense to start with the free plan and scale up with additional event types over time as needed. 
Otter.ai (600 minutes free/month) or Fireflies.ai (no free transcription minutes)

Both Fireflies.ai and Otter.ai are AI-transcription software tools that integrate with Zoom. You can set both up to automatically record and transcribe all or certain events on your calendar with Zoom links so you don't even have to think or worry about recording important meetings. 
Alternatively, you can record meetings via Zoom and upload the ripped audio files to either Fireflies.ai or Otter.ai. Note that both tools offer free tiers although Fireflies doesn't offer free transcription — that's only available on a paid plan. I personally use Fireflies but have had a great experience with Otter.ai in the past as well. 
I use these tools because it's nice to not have to scramble to write all the details down on client calls and content interviews, alike. 
Pro Tip: DO NOT ATTEMPT a content interview without a mechanism for recording the interview. The transcript and recording can both be helpful for the writer for different reasons.
Optional Client Interview Tools
Besides employing the use of the above freemium tools, you'll also want to consider optional content interview tools, such as:
Besides employing the use of the above freemium tools, you'll also want to consider optional content interview tools, such as:
Google Docs

: Regardless of whether you're planning to record and transcribe the content interview, it doesn't hurt to take notes and start to plan content structure during the call. A notebook will do just fine if you work better in more of an analog setting.

Ahrefs

: Do some keyword research to help shape the direction of the article and to see what's covered in currently ranking topics and consider what questions remain unanswered that you can ask your client about.

Answer the Public

: For your target primary keyword, use related terms from

Google Autocomplete

,

People Also Ask

, and

Searches Related To

data for further insights into what searchers would want to find in a content piece. Answer the Public aggregates a lot of these details.
Once you've created accounts and have downloaded any necessary apps, it's time to get used to your tools and set them up according to your needs and client interview process.
#1: Set up Calendly with a Content Interview Event Type
Depending on the version of Calendly to have access to, you either have one or unlimited event types.
Assuming you go for the Premium version, here are some event type ideas based on my current setup:

But for the sake of this article and process, you really only need to set up one event type: for conducting content interviews.
Each of my Calendly events follows a similar structure in terms of the questions asked of people booking my time. The major differences have to do with the length of the event, the description, and the availability for when people can specifically book time.
#2: Integrate Calendly with Zoom for Automatic Event Invites + Details
Calendly integrates with my Google Calendar to check my availability and Zoom to automatically generate a meeting link and send it to the person booking my time. It's so efficient and saves me the trouble of having to send out these links, myself.
Using Calendly also gives you access to some basic email automations, like the ability to send reminders to guests — so there are no excuses for people to miss the meeting.
#3: Integrate Otter.ai or Fireflies.ai with Zoom for Automatic Recordings and Transcripts
Don't leave it to your memory to ensure that a client interview gets recorded. 
Technically, you could manage the recording process entirely via Zoom — manually or automatically. I don't use Zoom to record, mostly because I don't want to pay for extra cloud storage on Zoom and also because I don't want to store the recordings locally on my computer, either. 
I have Fireflies.ai automatically set to join Google Calendar events with a Zoom link. I set a few exceptions — Fireflies.ai lets you designate certain keywords (like "Do Not Record" in the calendar event title) to help automate this process.
Make sure to confirm that your recording solution is working (technical errors can certainly happen) and use Zoom recording as a backup if you're unsure. Once the meeting is finished, Fireflies sends me an email to let me know that my transcript is ready and I can easily share the audio and text from a given meeting with everyone on my team.
Alternatively, you can take audio files (export .mp4 video files as .mp3 audio files if it was a video interview) and upload them to Fireflies.ai or Otter.ai to generate a transcript.
#4: Set the Topic Ahead of Time + Do Research
You absolutely need to do some prep work before hopping on a content interview call.
First things first — confirm the topic with the client. They may have ideas or you may need to pitch a few. If you want to be super-efficient, consider using a content interview to flesh out a few different pieces of content, all at once. After all, you're busy and your clients are busy, too.
Once the topic has been decided, it's time to come up with questions to ask the client during the content interview. 
Think like a journalist. Ask questions that encompass the 5Ws and H:
For example, here are some questions I asked a client who offers trauma coaching to clients for a 1000 word blog post about labels:
It's important to understand that these questions didn't pop up out of nowhere. I used keyword research from Ahrefs and searched primary keywords to see how others approached this topic. I looked at Google data related to Autocomplete, People Also Ask, and Searches Related To in order to find related topics and questions real searchers have about the topic. 
It's important to do this research before creating any blog post — that results from a client interview or not — because this Google data can and should influence the structure of your content (in terms of both headings and body copy). Doing some prep work before a content interview also gives you an opportunity to ask questions that help fill in the gaps of content that has already been created.
#5: Conduct the Client Interview
Here's the good news:
Most of the hard work happens before the call.
Once you're conducting the interview, it's mostly a matter of rolling through the questions you came up with during the research phase.
Although you're likely planning to record the call (do it!), I'd encourage you to also take notes during the call to make it easier to go through the resulting transcript. But don't worry too much about writing down exact details — you can rely on the transcript for that.
Although you can relax a bit during the interview, don't just be a passive listener for your interviewee. A great interviewer acts dynamically to probe further into their initial questions based on the answers given by an interviewee. 
Is the client talking about something you want to know more about but didn't plan to ask about? Time permitting, feel free to go down that rabbit hole and see what you find! These related topics may be perfect for the client's blog editorial calendar.
#6: Use Notes to Create a Basic Blog Outline
The reason you should be taking some notes during your interview call is to help set yourself up for success when you start writing the article. 
Sure, you could just review to the audio once you're ready to draft and skim through the transcript — but it's better to take notes and create a blog outline while all the information is still fresh from the call. Use the transcript/audio recording as more of a helpful document for double-checking details and grabbing client quotes if necessary.
You can even start the outline during your call. Just structure your notes based on the structure you started to come up with from the questions you're going to ask and the answers you get during the call.
Plan a little bit of time in your schedule to start this outline after your client interview calls. Besides creating a structure, use this time to do some research to substantiate any claims made and grab any relevant statistics to help create a strong article. 
Once you're ready to draft, you'll be set up for success with all (or at least most) of the information you need to finish off the article.
Final Thoughts — SEO Content Services: How to Conduct a Client Interview
Ta-da! You have successfully bridged the gap between your client's brain and a professional article, providing them a useful service while making use of the knowledge they already have.
My process works for me and I hope that it helps you develop your own. But your process may look completely different from mine — and that's ok! We all work best in different ways, so develop your client interview process and resulting SEO content services over time through trial and error.
What questions remain about conducting content interviews with clients? Let me know in the comments below and I'd be happy to help! Or if you'd like to see how my client interview process can work for your brand, get in touch about The Blogsmith's SEO content writing services.