You'd be forgiven for thinking content marketing was born in the internet era. However, it's been around in one form or another for a long time.
It's difficult to pinpoint the exact origins of content marketing, but some people trace it back to Benjamin Franklin's Poor Richard's Almanack, which promoted his work as a printer.
Content marketing strategies have evolved since then, but the goal has stayed the same: increasing awareness of and engagement with your brand.
If you aren't using various forms of content marketing to help your business succeed, then it's time to get started. Taking the first steps may seem daunting, but there's a wealth of knowledge online that can give you a quick primer on this marketing tool.
And if you're already an experienced marketing professional who wants to find out about different content marketing strategies that could suit your business, you've come to the right place.
Content Marketing: A Quick Explainer
In its simplest form, content marketing is when you publish material to reach your target audience and grow your business.
Content marketing differs from digital marketing in its tone and intent. Digital marketing is usually more direct, while content marketing boosts your brand's profile by providing useful information to your audience.
Depending on your brand, online channels, and specific business goals, certain kinds of content marketing will work better than others.
But before you think about the best types of content marketing for your business, you should know why content marketing works.
Why Content Marketing Strategies Work
People are consuming digital media like never before, and they don't plan on slowing down anytime soon. If you can keep your target audience entertained with great content — despite the intense competition of everyone else creating tons of it — they'll probably want to find out more about your products or services.
By providing relevant and valuable information to your target audience, you're more likely to build trust and relationships with them.
Content creation can also increase your brand's:
Credibility
Online presence
Website traffic
Conversions
The Blogsmith, founded by Maddy Osman, has an arsenal of content marketing strategies and experience to help our clients stand out from the crowd. Our team of writers, editors, and content strategists follow a tried-and-tested process to ensure client success, and we tailor the content we create to the individual needs of clients.
We also target the different stages of the sales funnel with our content:
Awareness (top of the funnel): The customer is aware of their problem
Consideration (middle of the funnel): The customer is considering possible solutions to their problem
Decision (bottom of the funnel): The customer is ready to make a purchase
We suggest using different types of content marketing to address your audience's needs at different stages of the sales funnel. For example, it's unlikely that blog posts alone will bring a prospect through the entire funnel. But a mix of content that targets differents stages has a higher chance of converting potential customers.
At The Blogsmith, we've worked with every type of content discussed in this guide, and we've helped dozens of clients decide which content marketing strategies will work best for them.  
Now, here's a breakdown of the various types of content marketing strategies for building your online presence and growing your customer base:
Popular Types of Content Marketing
Blog posts
Repurposed and updated content
Case studies and interviews
Email marketing
Infographics
Web copy
White papers and e-books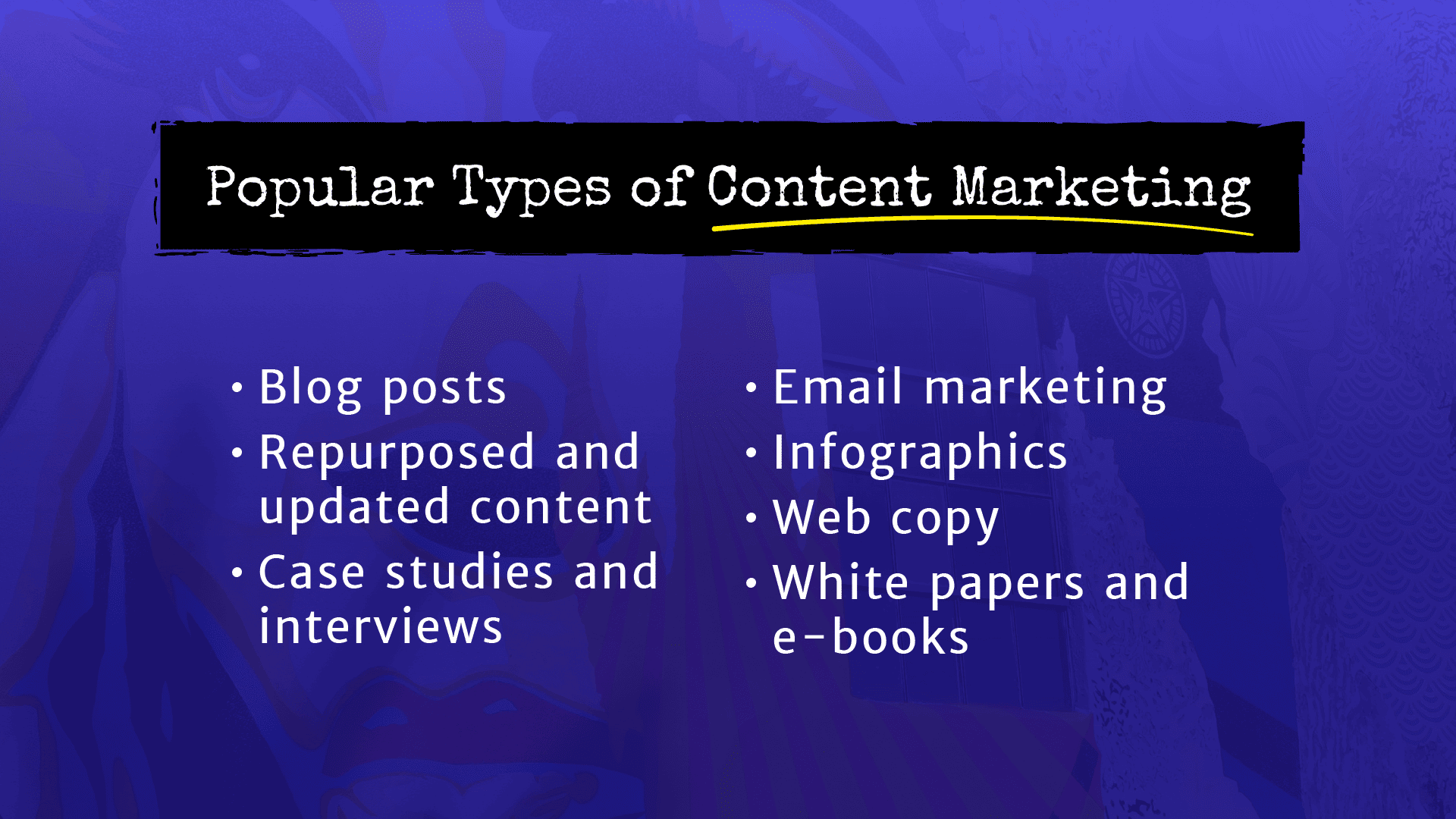 One of The Blogsmith's main services is writing high-quality content that's optimized for search engines. If you haven't been following the principles of search engine optimization (SEO), you could be missing a trick.
SEO involves bringing organic traffic to your website by making its content easily discoverable by search engines. Some basic SEO techniques include:
Whatever written content your website contains, SEO could be the key to unlocking its potential and broadcasting it to a larger audience.
Now, as you learn more about the different types of content marketing, think about whether you have the time, energy, and internal resources to harness them effectively. If you need a partner to be effective and stay consistent with your content marketing efforts, that's when you want to work with a team like The Blogsmith to extend your capabilities.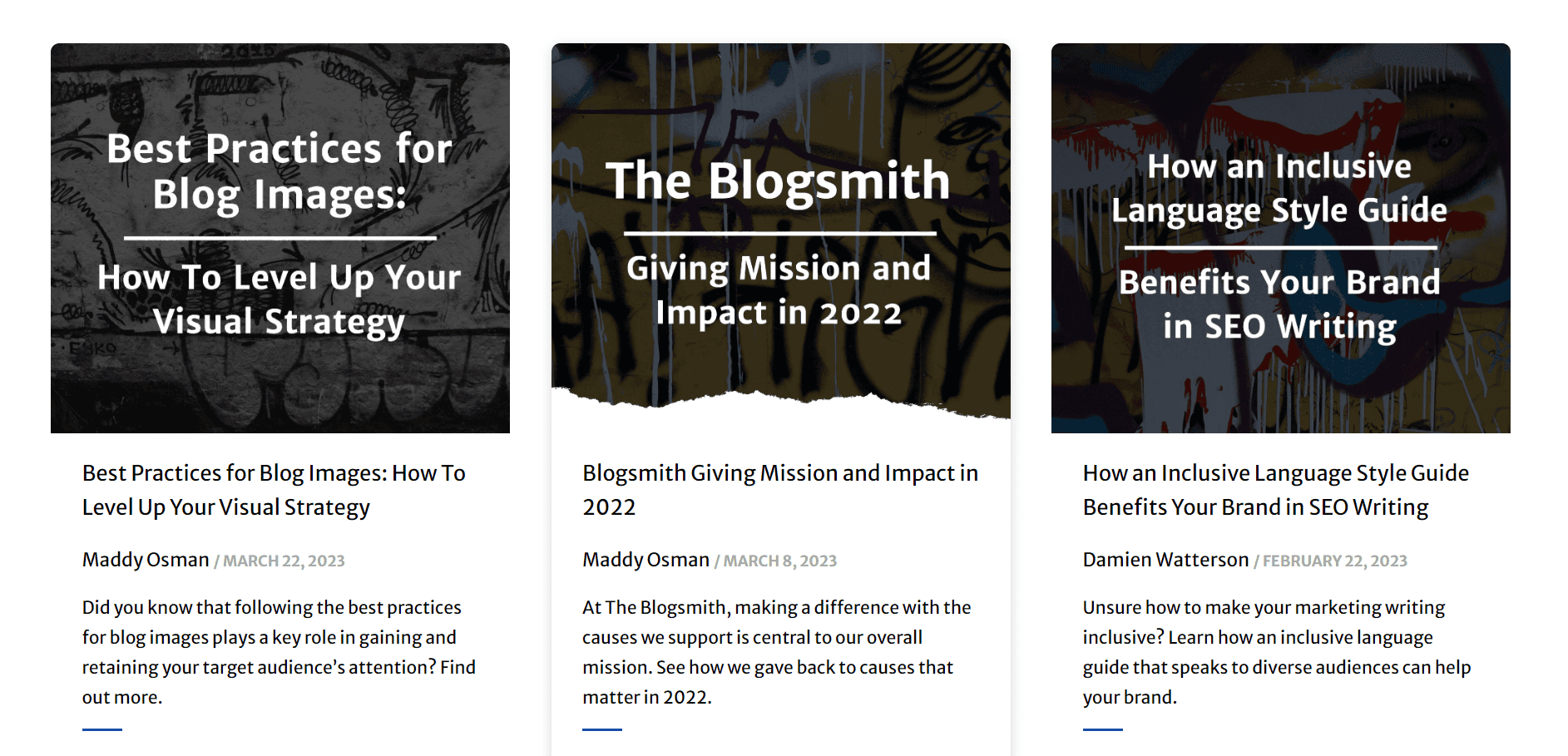 Blog posts have come a long way since they first arrived on the scene in 1994. This was before the term "weblog" was coined, which was eventually shortened to "blog."
Blog posts empower novices and thought leaders alike to tell stories and share information. As a key type of content marketing, you'll notice many bloggers focus on products and services.
Blog content can take different forms, including:
Since the first time you browsed the internet, you've probably read thousands of blogs. You may remember some of them for the wrong reasons, like the food blog that went on and on with storytelling before finally getting to the all-important sourdough recipe.
Other times, blogs have told you what you need to know and improved your life immeasurably. You may have saved money on a plumber after reading an expert blog on unclogging shower drains. Maybe you've read an inspiring story on a blog that gave you a new outlook on life.
Whatever their purpose, blogs are here to stay. Beyond their utility to readers, blogs can be an effective type of content marketing strategy. As a marketer, it's a good idea to maximize their potential for lead generation. 
Repurposed and Updated Content
Ever created a video presentation or podcast that you felt would suit another content format? You can always repurpose content.
For example, The Blogsmith has worked with Clearscope to turn its webinars into blog posts, helping the brand reach new audiences in the process.
But repurposing content goes beyond turning videos into blog posts.
You can also update or rewrite existing content to let your website visitors know you stay in the loop. Updating keywords with the help of an SEO tool like Clearscope can also help you rank higher in relevant search engine results pages (SERPs) and gain new customers.
To top it off, Semrush's State of Content Marketing: 2023 Global Report notes that 42% of business owners and marketers said their marketing value increased after updating existing content.

And since many industries go through rapid changes (especially B2B technology), your content can go out of date quicker than you think. When a new year begins, or a new version of a product is released, an insightful article can start to look dated.
Make a plan to revisit articles to ensure everything on your website is factual and relevant. After all, if you constantly update your website, then it makes sense to give old content a fresh coat of paint.
Case Studies and Interviews
Case studies can be powerful sales pieces, making them well worth the effort.
Case studies can give your brand social proof and demonstrate your commitment to research. By conducting a case study and publishing your results, you can show your audience how your business helped clients overcome challenges — some of which they might be facing too.
Make sure to present your case studies in a logical and visually appealing way to keep readers interested. To ensure your marketing efforts aren't in vain, you should:
Write in an engaging manner
Clarify your client's pain points
Document how you worked with them to find solutions
Share quantitative and qualitative results
Create a consistent visual style and follow best practices for images
You'll want to present your case study in a highly polished way, so make sure whoever writes it is highly skilled at their craft.
For example, The Blogsmith has conducted case studies for various clients, such as Clearscope, Pagely, Klaviyo, and LACE Auditory Training. Our skilled team of writers is well-versed in simplifying complex concepts so readers can see the big picture.
And have a look at some of The Blogsmith's own case studies to see how we've helped clients scale new heights.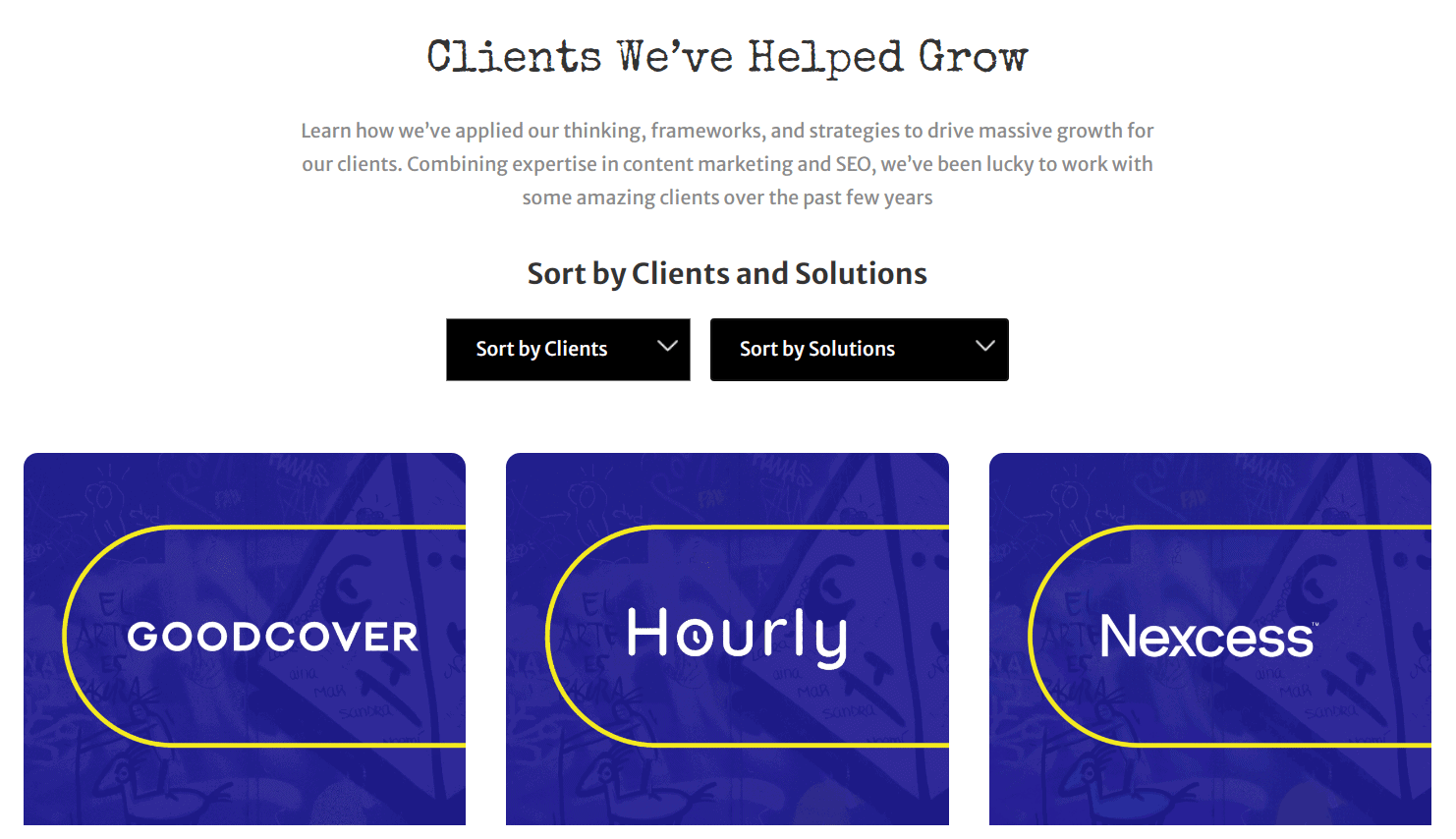 Another good content marketing strategy is to incorporate interviews with subject matter experts (SMEs) into your content.
Generally speaking, interviews are great for creating content because picking the brains of SMEs can give you (and your audience) an in-depth understanding of industry topics and client pain points.
What's more, by incorporating SME insights into your content, you can demonstrate to Google's search quality raters how your brand meets E-E-A-T (experience, expertise, authority, and trustworthiness) guidelines. The extra effort you spend here means you might rank higher in relevant SERPs and gain new customers.
Since the decline of direct mail, email marketing has become an important type of content marketing.
You have various types of email marketing at your disposal, but you need to use them effectively to make sure your emails stay out of junk folders.
Instead of bombarding your clients with daily offers, use email marketing at key moments in the sales funnel to maintain momentum.
For example, if you get a new customer sign up or order, consider including some marketing content in your transactional emails.
When a potential customer expresses an interest in your products or services, you can increase their brand engagement through lead nurturing emails.   
You can also create an email newsletter, which provides a great opportunity to showcase your brand while giving your audience something to read with their morning coffee.
If publishing an email newsletter sounds appealing, but you don't know where to start, you can enlist the help of a content writing agency like The Blogsmith to get the ball rolling.
Ideally, you'll want your newsletter to be written by someone who follows recent industry trends, writes with an engaging style, and keeps your brand's message in mind. 
Bullet lists and succinct sentences often aren't enough to hold your audience's gaze, so consider creating visual content such as infographics to keep things interesting.
These images can be especially effective if your industry focuses heavily on immersive visuals. For example, if you're in the e-commerce or hospitality industry, then infographics could be a key type of content marketing strategy for grabbing your audience's attention.
What's more, you can repurpose and share your infographics across social media platforms such as LinkedIn and Instagram — and your audience can share them too.
Ready to get started? Here are a few best practices for creating infographics:
Keep information and illustrations simple
Structure information in a logical and compelling way
Use consistent colors and fonts across text and illustrations
Use templates (or make your own)
But if creating infographics isn't your forte, that doesn't mean you should leave them out entirely.
The Blogsmith works with in-house designers to create bespoke images for clients, all while upholding brand consistency.
Here are a few examples of infographics our designers have made for various clients: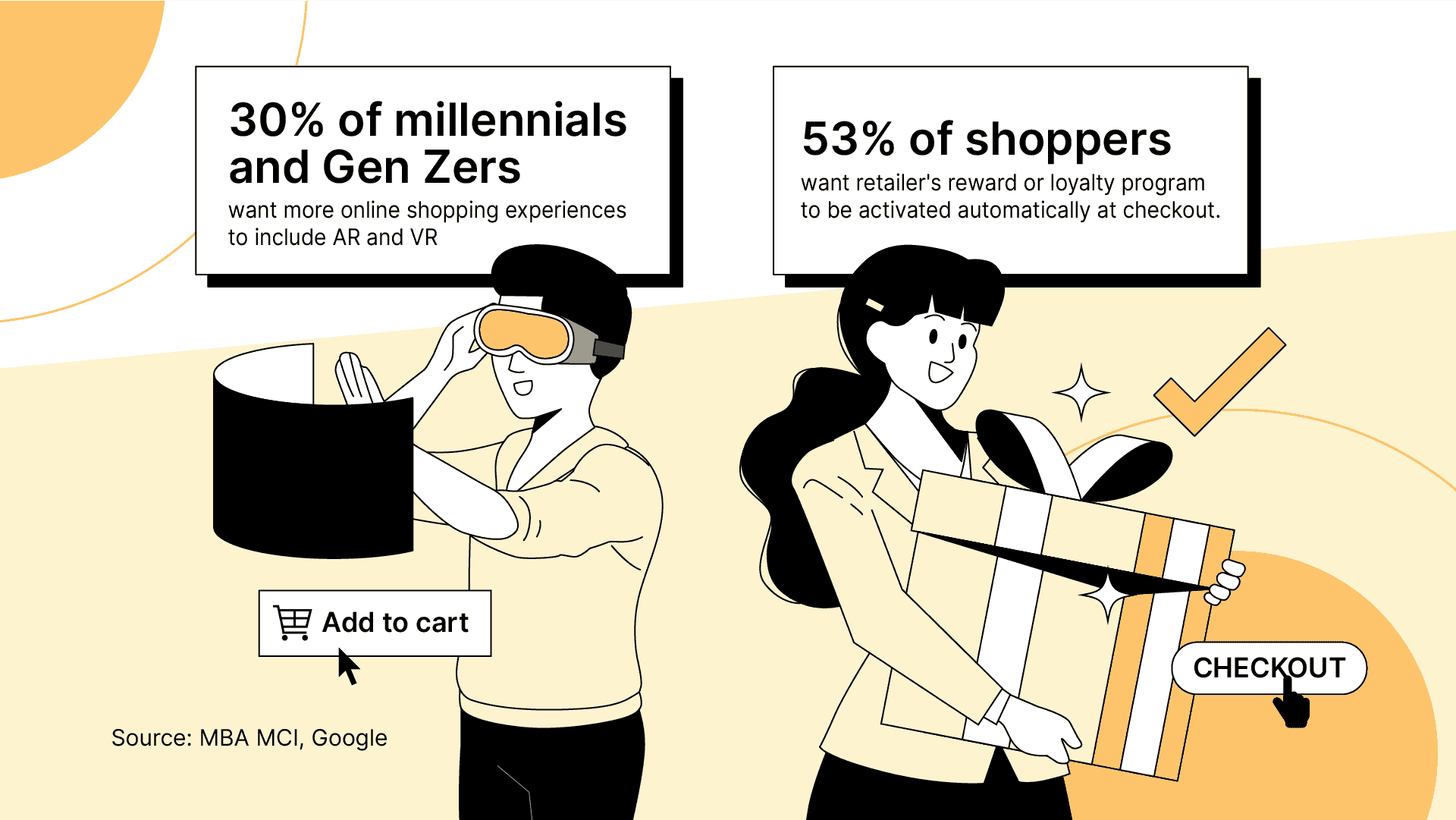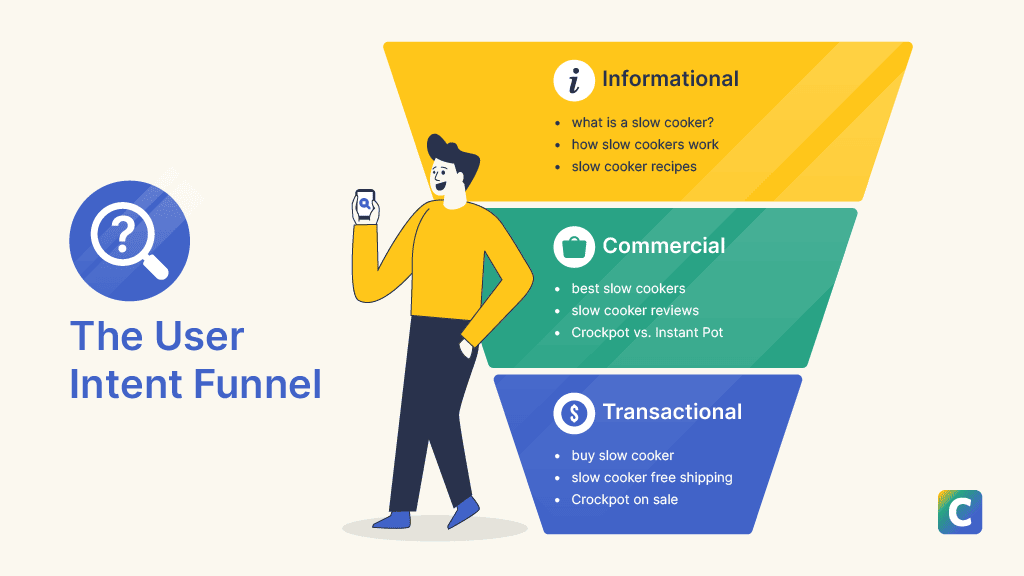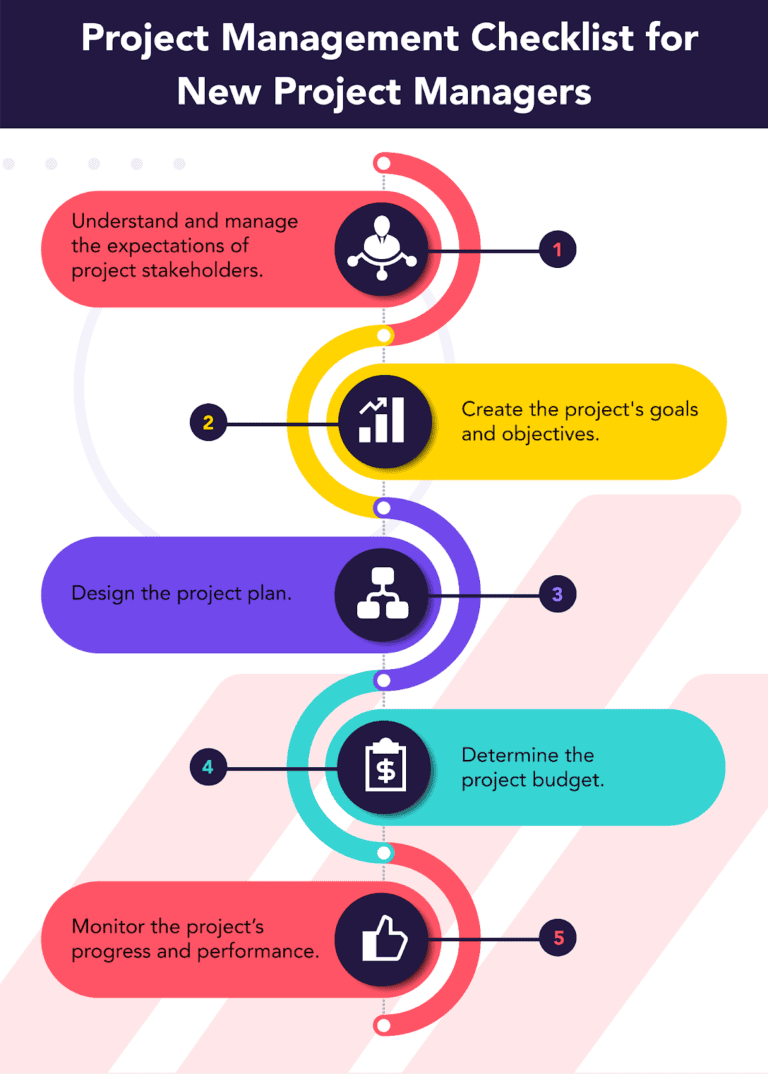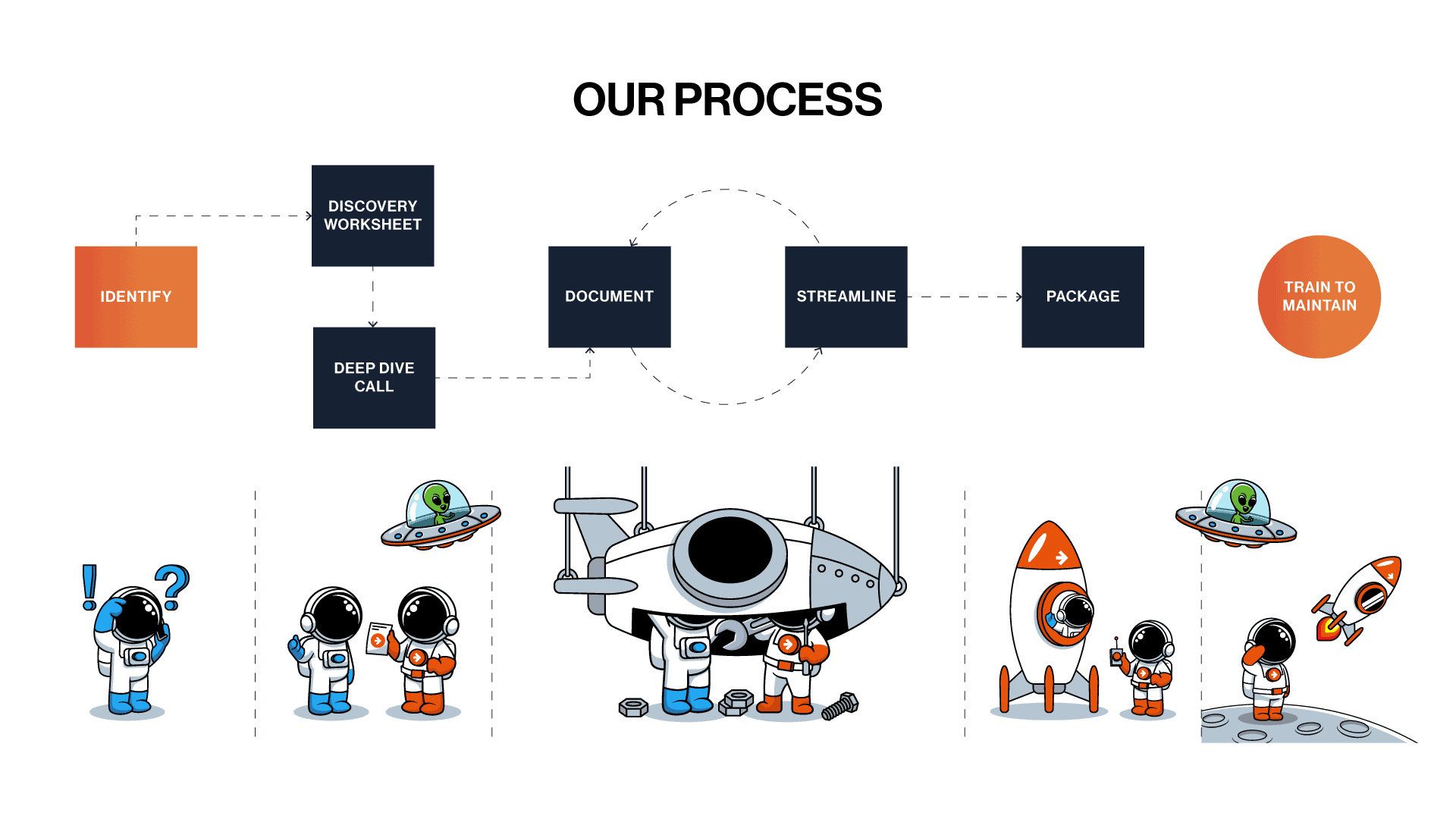 You've learned the benefits of blogs as a type of content marketing, so you might be wondering how web copy differentiates from it.
In basic terms, you can think of web copy as the written content on your website's top-level pages, such as the homepage, service pages, landing pages, or about section. It's the static content on a website that many visitors interact with that doesn't often change.
Web copy follows a distinct style and format compared to blog copy, so you'll want to choose your approach wisely. For example, if you're used to writing blog posts or other longer-form pieces of content, you'll need to be more purposeful with word choice on your homepage.  
When creating web copy, highlight the benefits of your products or services to stand out from competitors.
Sounds challenging? Then it could be a good idea to put your web copy in a safe pair of hands. The Blogsmith has written effective and engaging web copy for clients such as Kinsta, HubSpot, and WooCommerce.
If you've got industry expertise and want to use it to generate new leads and demonstrate thought leadership, consider publishing long-form content, such as a white paper or e-book.
White papers are authoritative, well-researched reports on a given topic. For example, if you've conducted customer surveys, you can present the data you've obtained in a white paper other businesses can benefit from.
When written effectively, white papers can improve your brand's reputation for quality output.
Before you publish a white paper, make sure the medium and topic are the best way to reach your customers. This may involve some market research. 
If you think a white paper would appeal to your customer base, you could delegate all or part of its creation to an outside agency. For instance, The Blogsmith has interviewed multiple SMEs and contributed to various white papers.
A prime example is a content strategy white paper we created for digital marketing agency iPullRank. Along with writing and designing the content, The Blogsmith interviewed several high-level industry experts from brands such as WooCommerce, Bluehost, and QuickBooks for their insights. 
But if you don't think your target customers would be interested in a white paper, another option is to publish an e-book.
Keep in mind that you shouldn't publish something because it seems like it would be a successful content marketing strategy. Your attempt could seem transparent to readers and may weaken your brand's image.
But if you think you can bring something new to the table, you could go a step further and publish a printed book. For example, to share her skills and experience with content writers of all ability levels, The Blogsmith Founder Maddy Osman published the best-selling book Writing for Humans and Robots: The New Rules of Content Style.
When done right, printed books can create a buzz around the author and their brand. In addition to its focus on updated style rules for writing on the web, Writing for Humans and Robots effectively highlights The Blogsmith's services.
And as the below testimonial for the book shows, customer reviews can have knock-on effects as a type of content marketing.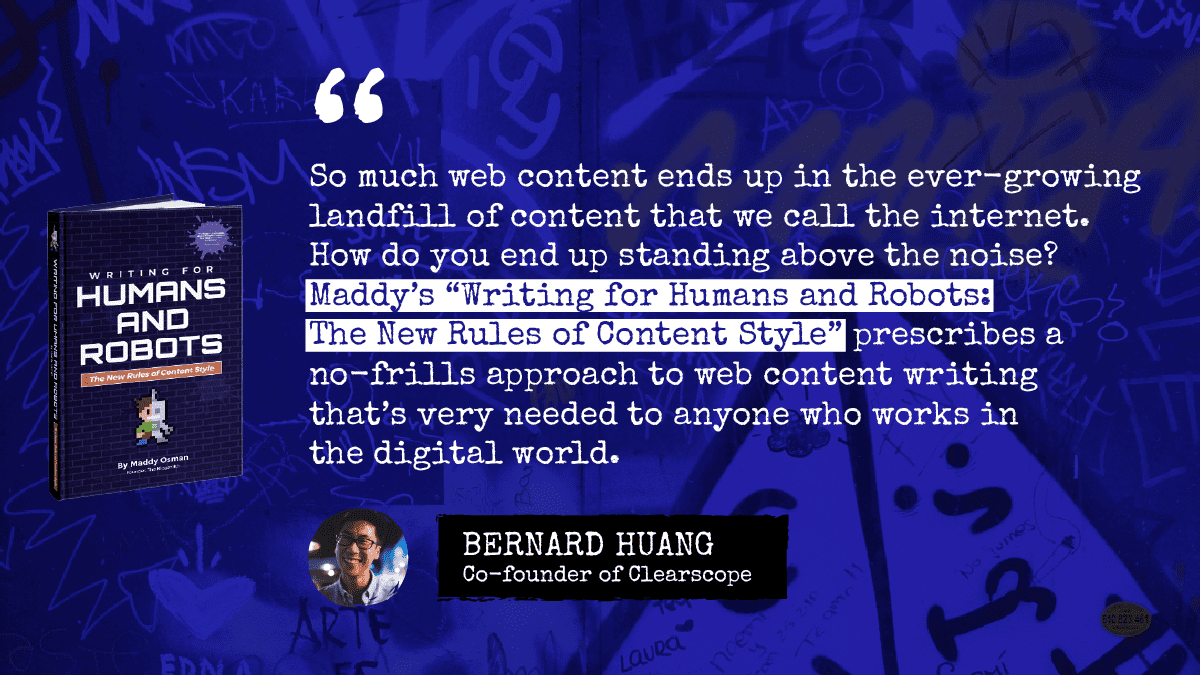 Other Types of Content Marketing
When you think of content marketing, the written word is probably the first thing that springs to mind. But when implementing content marketing strategies, don't forget about audio and video marketing.
Types of content marketing that involve audio or video include:
Webinars
YouTube, TikTok, and other social media video content
Live presentations
Maddy Osman has provided insights on content marketing as a podcast contributor. She's also been a presenter at various industry conferences, such as WordCamp US 2022.
Remember, the best types of content marketing strategies are those that work for your business. Some strategies may seem niche — but if they work, they work.
Here are some additional strategies that could help you reach your customer base:
Slide decks
Interactive content, such as polls, surveys, and quizzes
Industry reports
Social media marketing
Influencer marketing and user-generated content (UGC)
With all these types of content marketing at your disposal, it can be difficult knowing which one will work best for your brand.
Here are a few things to consider before you decide which content marketing strategies to deploy.
How To Choose the Best Type of Content Marketing for Your Business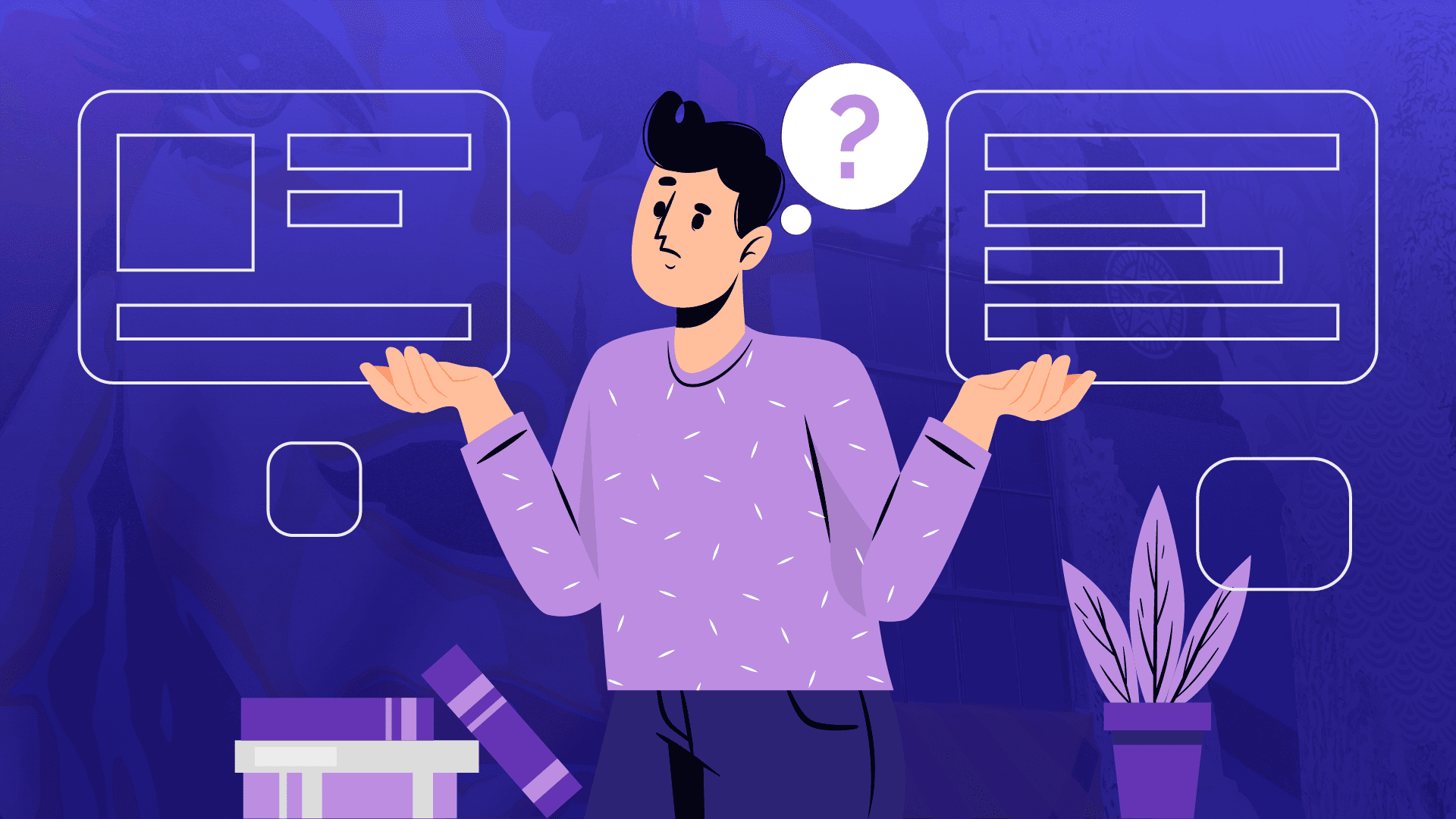 Don't dive into a content marketing strategy based on only a hunch or an inspirational piece of content you read online.
Instead, consider your business's customer base, competitors, and available resources.
To determine the best types of content marketing for your business, consider who your ideal customer is. For instance, if your target audience hates sand and saltwater, then you probably won't reach them by publishing a blog about the best beaches in Florida.

You also need to factor in user intent. Going for high-volume keywords might seem like the optimal content marketing strategy, but it's a wasted effort if the people who are most likely to convert aren't seeing your content.
Research What Your Competitors Are Doing
Investigating your competitors' content marketing strategies can help you stay up to date with industry trends.
For example, if your competitor has stopped writing blog content and is instead all-in on social media posts, you'll want to determine why.
Researching your competitors' strategies can give you an idea of what's working for them, inspiring you to apply a new approach to gain a competitive edge.
Consider Your Content Marketing Deliverables
Here's what to think about to shape your approach to content marketing:
What results you hope to gain
How your content marketing strategies support the sales funnel at each stage
Whether you have the time or budget to approach various types of content marketing consistently
Whether you need external support from content marketing agencies to achieve your goals
Be Prepared To Experiment — But Be Patient
There's no one-size-fits-all approach to a successful content marketing campaign, so don't be afraid to tweak your strategy if you aren't seeing results.
That said, some strategies require consistency and patience, so don't write anything off too early.
Final Thoughts: Top Types of Content Marketing for Businesses in 2023
Armed with context around various types of content marketing and how they can help you reach potential customers, the next step is to decide which strategies to apply to your company goals.
Even experienced marketers need support improving and executing content marketing strategies. To find out how The Blogsmith can implement tried-and-tested content marketing campaigns to grow your business, schedule a call.