You've been running a blog for your brand for some time now. But lately, you've noticed it's getting fewer clicks and less engagement from your audience. Then it hits — the sinking feeling that your posts are no longer as relevant as they used to be.
The good news? Things don't have to be that way.
You can dust off your old blog posts and make them work for you with an update.
Now, don't panic. Updating articles doesn't always mean replacing existing blog content completely. You can retain the essence of your existing content while ensuring it's fresh, interesting, and more importantly: relevant to your audience and search engines.
Granted, successfully refreshing and rewriting older content takes work. But with some careful planning, it can be done.
Let's discuss why updating old blog posts is necessary, provide some useful tips for how to refresh or rewrite old articles, and talk through some common pitfalls you might encounter.
Why You Should Update Old Blog Posts for SEO
Searchers want the freshest and most relevant information on any topic they want to explore, and the experts behind search engines like Google know this. In fact, Google has specific criteria which it uses to determine content's "freshness." These criteria are outlined in Section 18.0 of its Search Quality Rater Guidelines.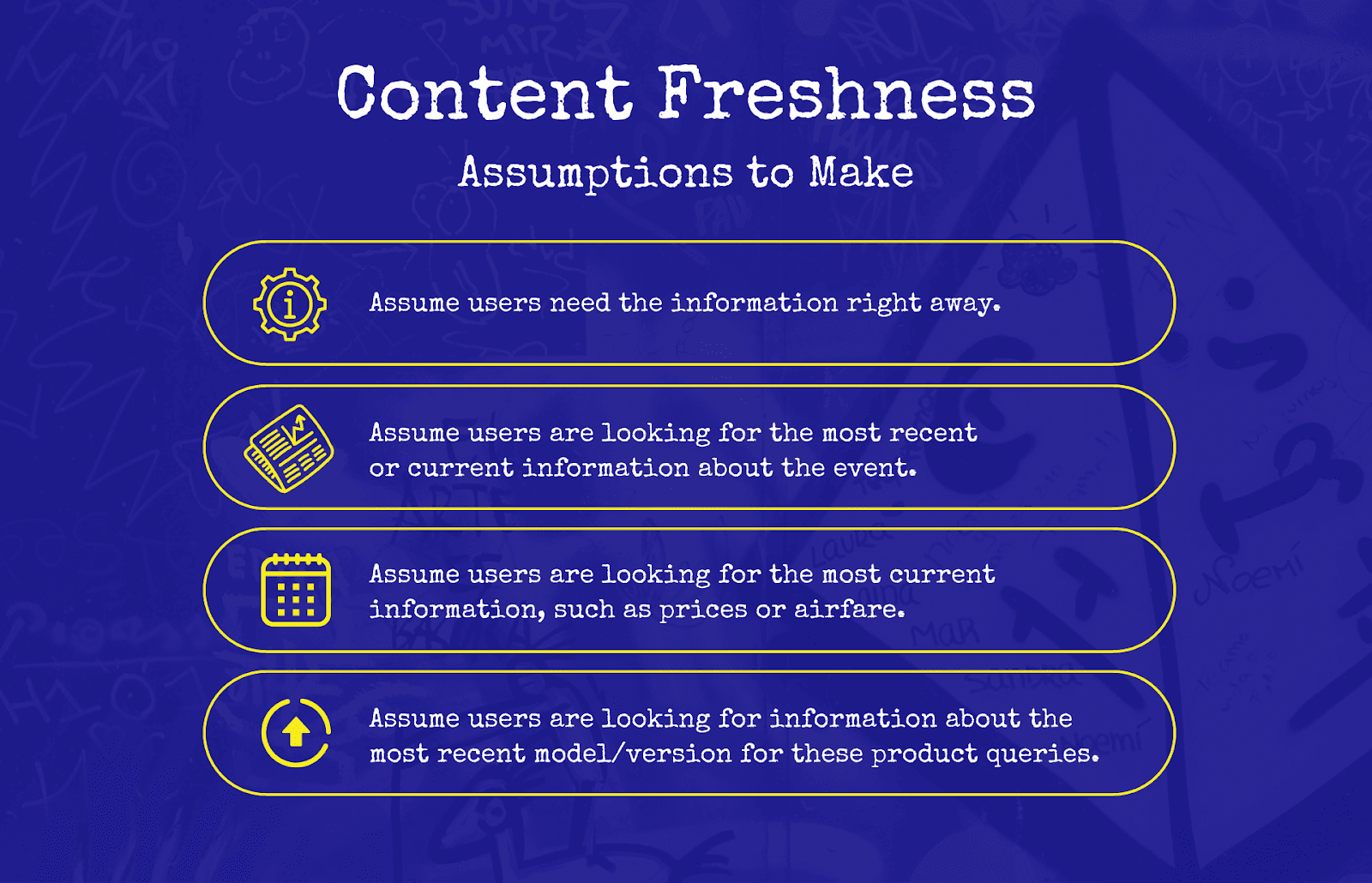 If your content is as outdated as the flip phone, your pages won't be rewarded in the search engine results pages (SERPs). After all, who wants a flip phone when you can get a smartphone instead?
According to Orbit Media's annual blogger survey, which gathers insights from over a thousand bloggers, updating old content shows an upward trend in terms of its impact on performance.
In fact, content marketers who update their old posts are 2.8 times more likely to see strong results. No wonder there's a growing number of bloggers updating their old content.
Besides, refreshing old content provides you with an opportunity to reinvigorate its performance when you notice a plateau in traffic.
By enhancing and updating existing articles, you're not only preserving hard-earned backlinks but also creating opportunities to acquire new ones, which further boosts your online visibility and SEO efforts.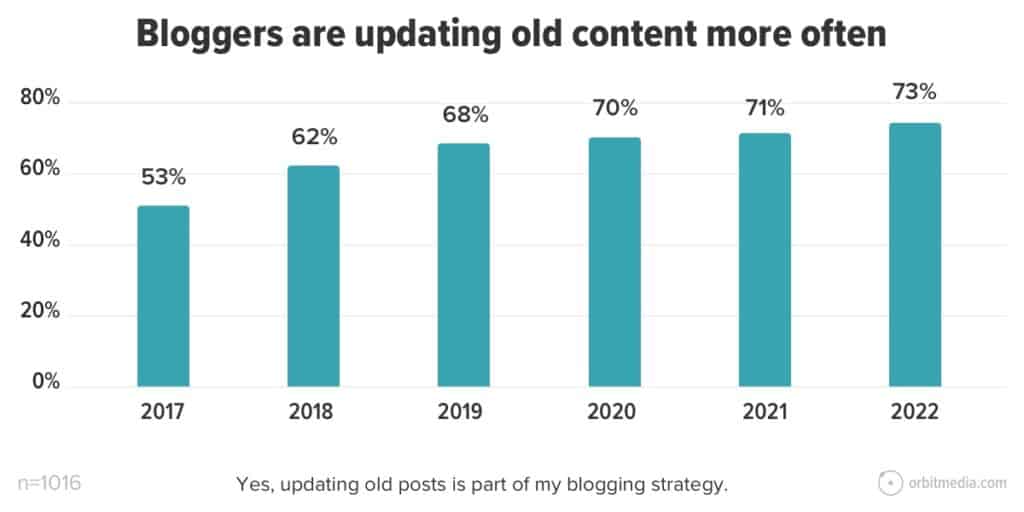 So if you want your blog posts to stay at the top of the SERPs, keep updating them, especially if you're in an industry that changes frequently (e.g., tech, fashion, or finance).
Refreshing your content also helps keep your audience engaged. And when readers love your content, search engines take notice.
If your refreshed content is relevant, helpful, and engaging to a specific audience, it's only a matter of time before Google picks up on it. And once it does, it will likely reward you by increasing your refreshed content's search rankings for relevant queries.
The result? Sweet organic traffic.
Content Refresh vs. Full Rewrite
A content refresh is different from a full rewrite, but people often use the terms interchangeably. Let's briefly go over a few key differences.
A content refresh is the process of updating content with new or more relevant information while preserving the article's original structure. This could include adding new facts, updating sources, and revising any outdated information.
A full rewrite, on the other hand, is a complete overhaul of your old post. It involves rewriting the content from scratch, adding new elements, and making sure your post is up to date with the latest trends in your industry.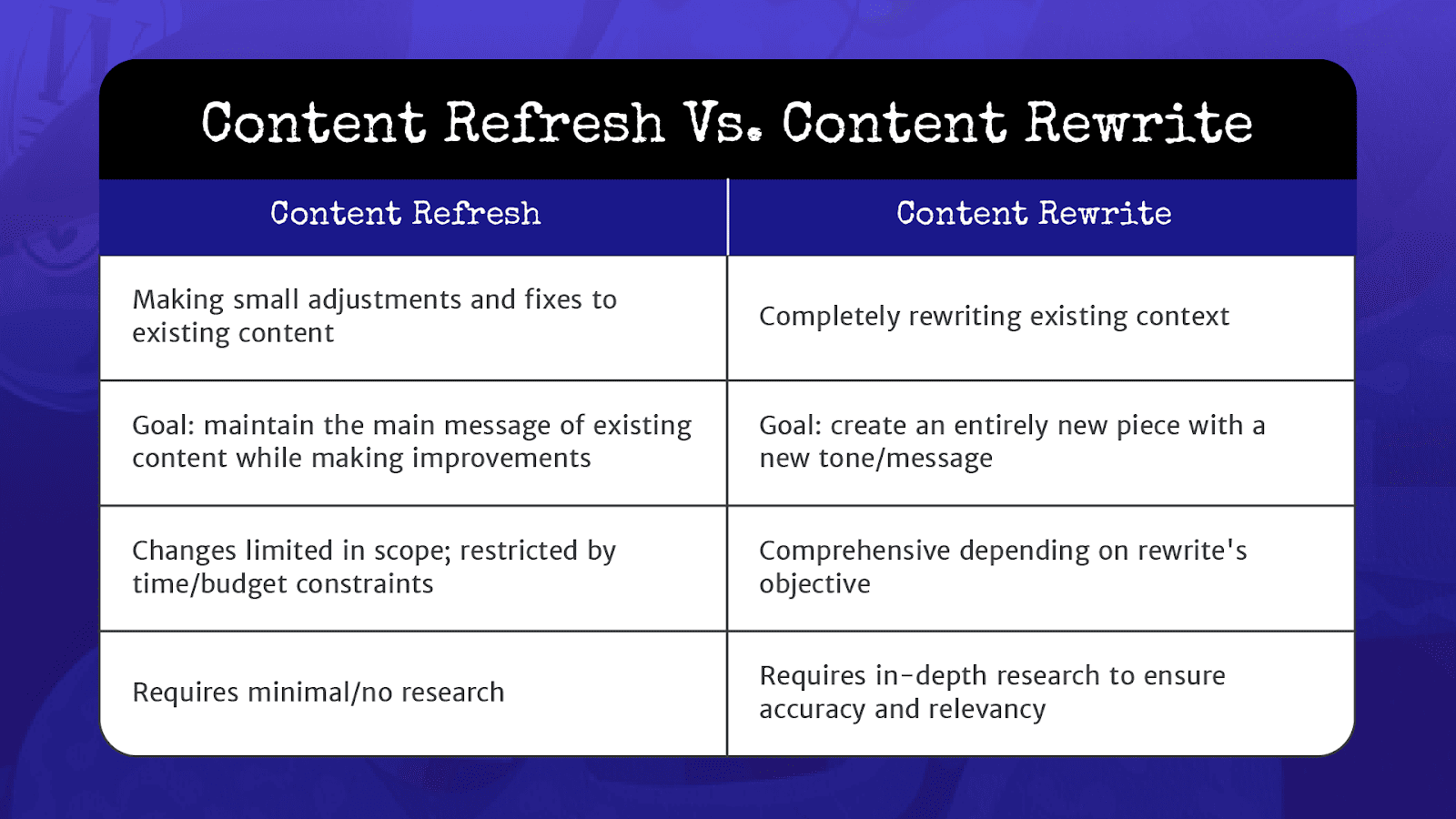 For example, if you have an old post about the most popular social media platforms, a content refresh would involve updating statistics and adding new platforms.
Conversely, a full rewrite would involve redoing large sections of the article, if not all of it, to reflect new information, changes to the industry, or evolving trends.
While full rewrites and content refreshes use different approaches, the goal is the same: to turn dull or outdated content into something that is relevant to your target audience and attracts more readers.
Which Blog Posts Should You Update?
Now that you have a good grasp of the differences between content refreshes and rewrites, it's time to identify which blog posts would benefit from these updates. One way you can do this is by regularly conducting content audits.
Semrush's The State of Content Marketing: 2023 Global Report highlights the importance of frequent content audits. According to data in the report, 53% of the companies surveyed saw engagement rise after a content audit while 49% reported increased rankings or traffic.
And with Google's recent helpful content update, which encourages websites to provide a better human reader experience, it's more important than ever to ensure your content is relevant, valuable, and up-to-date.
So, what kind of content should you look out for while conducting an audit? While the answer depends on your content goals, generally you should update:
Out-of-date blog posts: These are articles with outdated information and statistics that need to be updated so they remain relevant and helpful to your target audience.
Low-hanging fruit: These are posts already ranking nearer to the top 10 positions on search but can be improved to rank higher (e.g., pages ranking on position 11-29, pages that are targeting branded keywords but aren't ranking in the top 10, and high-traffic pages).
Formerly high-performing posts: Consider updating blog posts that once attracted a large amount of traffic but have experienced a decline over time.
Now that you've identified a few articles that could do with an update, the next step is to make sure you're updating them the right way. Let's see what that looks like.
How To Update Old Blog Posts for SEO
Updating articles can be an involved process. Here are some tips and tactics to help you get it right.
1. Conduct New Keyword Research
Updating your post without understanding how people are searching for the topic it covers won't get you far.
By doing keyword research, you can identify and target keywords and phrases related to the topic. This opens up new opportunities to attract even more visitors to your website and increase your organic search rankings.
Follow these best practices when you're doing keyword research:
Look for relevant questions that still need to be answered on your existing content. You can use tools like Answer The Public or Q&A sites like Reddit and Quora. Google's People Also Ask (PAA) feature also provides a list of related questions users are asking based on an original query. To learn more about Google's PAA feature, check out The Blogsmith's YouTube video, How to Do Keyword Research For Free Using Google Data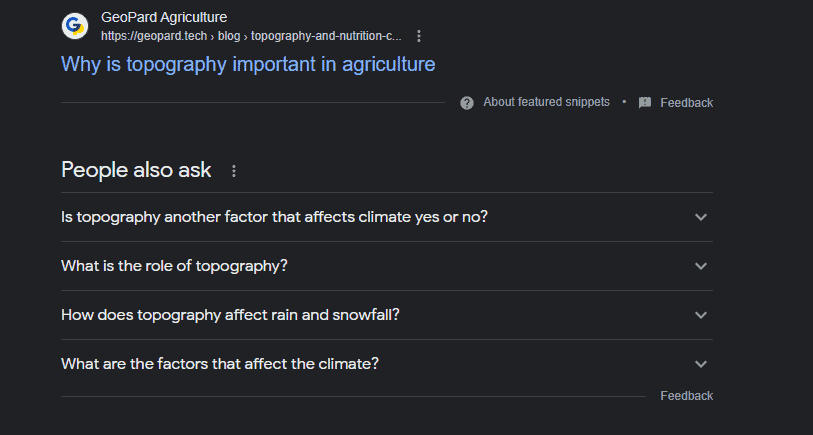 Find new subtopics that have a reasonable search volume. Discover new target keywords, relevant supporting keywords, and question ideas to flesh out any new subtopics that could be included in the article.
Check what keywords the current page is already ranking for. SEO tools like Ahrefs or Google Search Console come in handy here.
Look for featured snippet opportunities to optimize
When refreshing an existing content asset, The Blogsmith performs keyword research as if we're writing the piece from scratch.
That way, we can remove any preconceived notions that may have hindered the original content's potential.
This, in turn, helps us:
Get a better feel for how people are searching for the topic at the present time.
Discover new opportunities to target visitors that weren't captured before.
Identify new SEO opportunities (e.g., featured snippets and related search terms) that weren't present when the content was originally created.
By taking the time to conduct new keyword research, you can ensure the updated content targets the most recent search intent, which helps it rank higher in search engine results.
2. Rewrite Headlines and Meta Tags
If you want to attract more readers, you need to update your headlines and meta tags.
Why? Because you want to make sure they reflect the changes you've made to the article, such as a relevant keyword or a new spin on an old topic.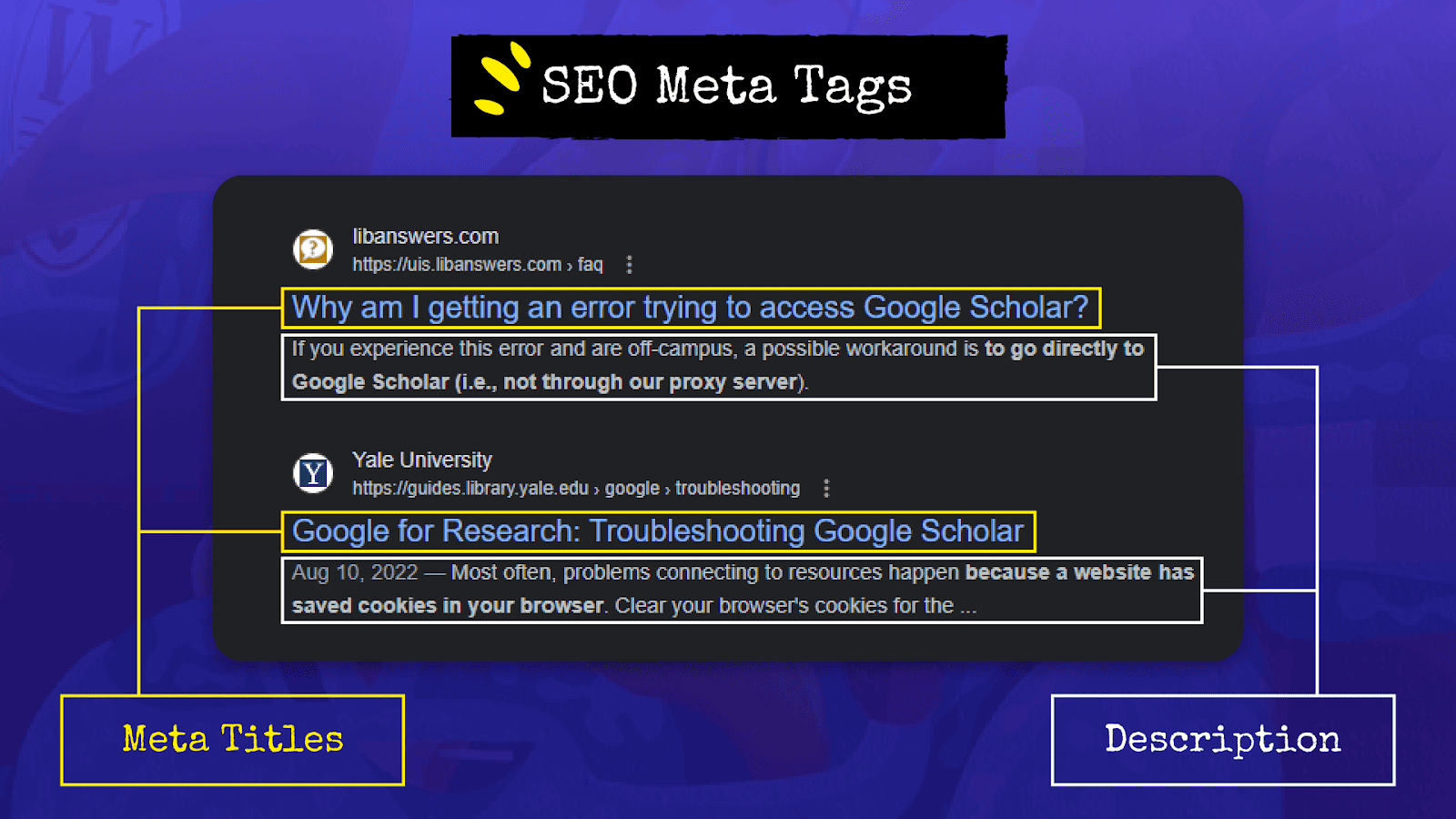 How do you check if your headers and meta tags need some updating? The number of times visitors click on the link after seeing it in search results is a good indicator of how relevant the headlines and meta tags are.
So if your article's click-through rate (CTR) is less than 2%, consider rewriting your title tag and meta description. A good organic CTR according to a Databox study is 3-5%.
And while you're at it, make sure to compose seductive page titles that appeal to both humans and robots.
After all, humans are the ones who read and click on a page, while robots decide whether or not it gets to appear in the search results. It's a symbiotic relationship, and you need to appeal to both if you want your updated content to be successful.
3. Replace Outdated Information and Statistics
Refreshing existing blog content with new and relevant studies and statistics not only demonstrates trustworthiness but it also provides readers with timely information to help them make better decisions.
Before getting started, it's a good idea to conduct fresh research to get an idea of how the industry or topic has changed since you last wrote about it. An easy way to do this is to go back and see if your old sources have released updated reports or data since your article was published.
Here are some tips to help guide you while updating your content with relevant studies and new statistics:
Check if the information is still relevant to current trends: Keeping content up-to-date is essential to ensure accuracy and engage readers with fresh ideas. Regularly review your articles to make sure the information is still accurate based on current trends in your industry.
Check the dates: If a post contains any references to specific dates, make sure these align with what's happening now. For example, if you have a blog post discussing the top marketing trends of 2021, and it's already 2023, you'll want to update the post to reflect the latest trends and insights for the current year.
Review competitors' content: Take time to review what information and data your competitors are using in their blog posts — is it fresher than yours?
Update best practices: Make sure any advice you provide is still valid. Subscribing to industry magazines and blogs, attending conferences, and downloading news aggregators are all effective ways to stay informed.
Confirm that product and service details are current: Make sure products or services mentioned in past blog posts are accurate when refreshed — especially details related to pricing or features which often change over time.
Revisit the intro and conclusion: These are like the bookends of your article — they tie everything together. It follows then that if you've made significant changes to an article's content and topic, you should also revisit the intro and conclusion to ensure they are still relevant and consistent with the rest of the piece.
4. Tighten or Expand Ideas
Readers will evaluate your content based on the ideas you present. But if you're not clearly communicating or supporting those ideas, they're not going to bother reading the rest of it.
This is why you need to tighten or expand ideas communicated in your old blog posts.
Keep the following tips in mind as you refine your blog post's ideas:
Rate how helpful the information is in addressing your target reader's pain points: The general rule of thumb is to establish E-E-A-T (Experience, Expertise, Authoritativeness, and Trustworthiness) on the subject you're talking about.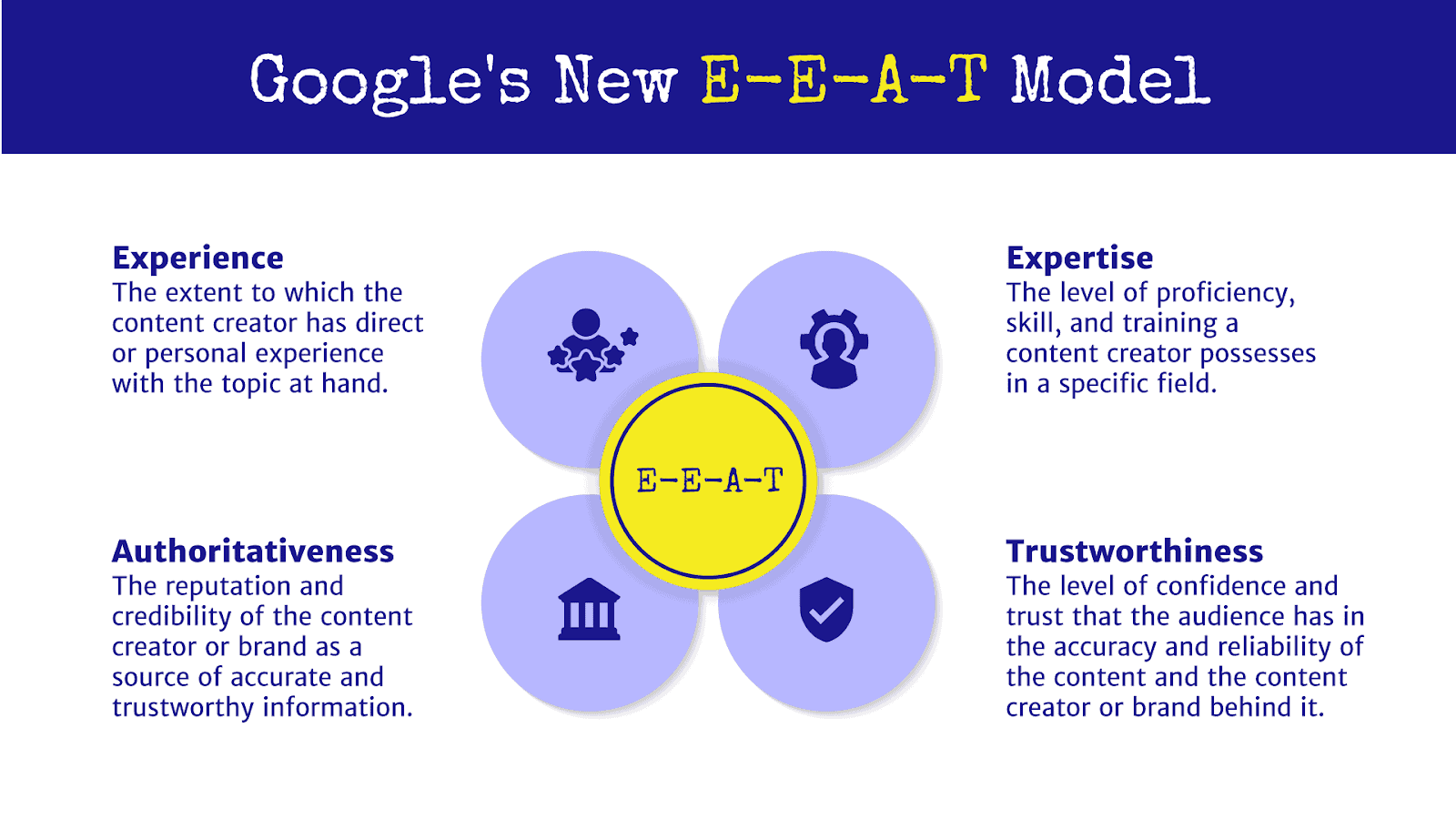 Spot anything that's clearly missing context: Does the content require more detail and clarification? It helps to consider the topic from your target audience's perspective to gauge what they need from your content.
Interview subject matter experts: Get the latest insights from key industry players or those with vast or in-depth knowledge of the industries you're involved in. This will help you better support your arguments and provide readers with up-to-date information and insights they won't find elsewhere.
Add or provide better examples: Examples help clarify concepts and make them easier to understand, so consider adding more examples or using better ones.
Add new sections (if necessary): Does the content require more in-depth coverage? Is there a key point that hasn't been made or that needs more emphasis? Adding new sections is an opportunity to elaborate on that subject in light of fresh data or new keywords.
Cut the fluff: Every sentence should forward the narrative and contribute to making your overall point. Cut the fluff and your content will be better off for it.
Make adjustments to listicles based on SEO and content quality recommendations: Consider removing or adding new headings to help compete against other higher-ranking posts.
5. Improve Visuals and Other Media
In the age of digital content, visuals are key. They help readers better engage with and understand your content and allow you to more effectively communicate your message.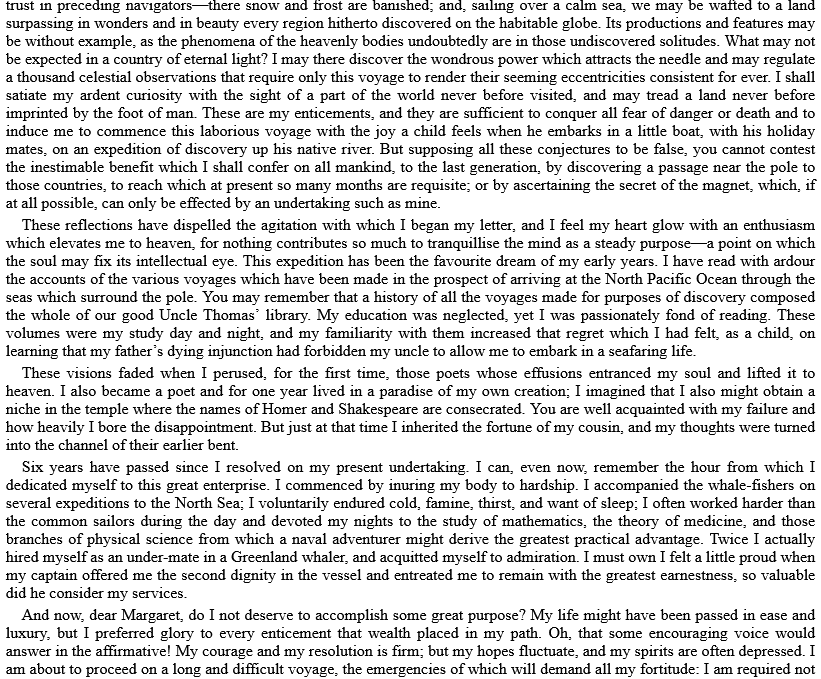 To increase the impact of visuals and other media in your updated content, implement best practices for blog images like the following:
Supplement text with visuals: Add visual elements like pictures, diagrams, infographics, and videos to break up blocks of text and clarify key points.
Stay on-brand: Ensure all visuals stay on-brand by matching colors and logos, and keep product screenshots current with the UI (User Interface) to create continuity and strengthen brand recognition.
Add new media formats: Make your content more interactive and engaging by adding new media formats, such as embedded YouTube videos, GIFs, or slideshows.
Remove any images that are no longer relevant to your post.
To delve deeper into using visuals for online content, read Chapter 8 of The Blogsmith Founder Maddy Osman's book, Writing for Humans and Robots: The New Rules of Content Style
6. Update Internal and External Links
Are your internal and external links up to date? If not, take the time to update them with more relevant resources.
Outdated links can be costly in terms of both SEO and user experience. They could be pointing to pages that no longer exist or were altered, leading readers down the wrong path.
To update your internal and external links, do these:
Check for broken links and update them accordingly.
Find opportunities to link to new content which wasn't available when the article was originally published.
Make sure anchor text provides accurate clues as to where the links lead to.
7. Improve the Readability of Your Old Blog Posts
When rewriting a text or article, aim to make it more readable and better formatted. This helps to draw in your reader, not to mention making your content more enjoyable and easier to grasp.
Here are some tips to help you improve the readability of your content:
Evaluate your voice and tone to ensure they are on point with your brand and connect with your audience.
Avoid using complicated language if possible (e.g., don't use "utilize" when "use" will do).
Break down large chunks of text into shorter paragraphs.
Incorporate bullet points and numbered lists as needed.
Add subheadings to help readers quickly scan the content.
Keep sentences short and varied in length for better flow.
Check spelling and/or grammatical errors by proofreading and using spell-checking software like Grammarly.
Use the Flesch Reading Ease Test to assess how readable your rewritten article is for the general audience.
Here's a breakdown of Flesch Reading Ease Test scores and their corresponding readability levels: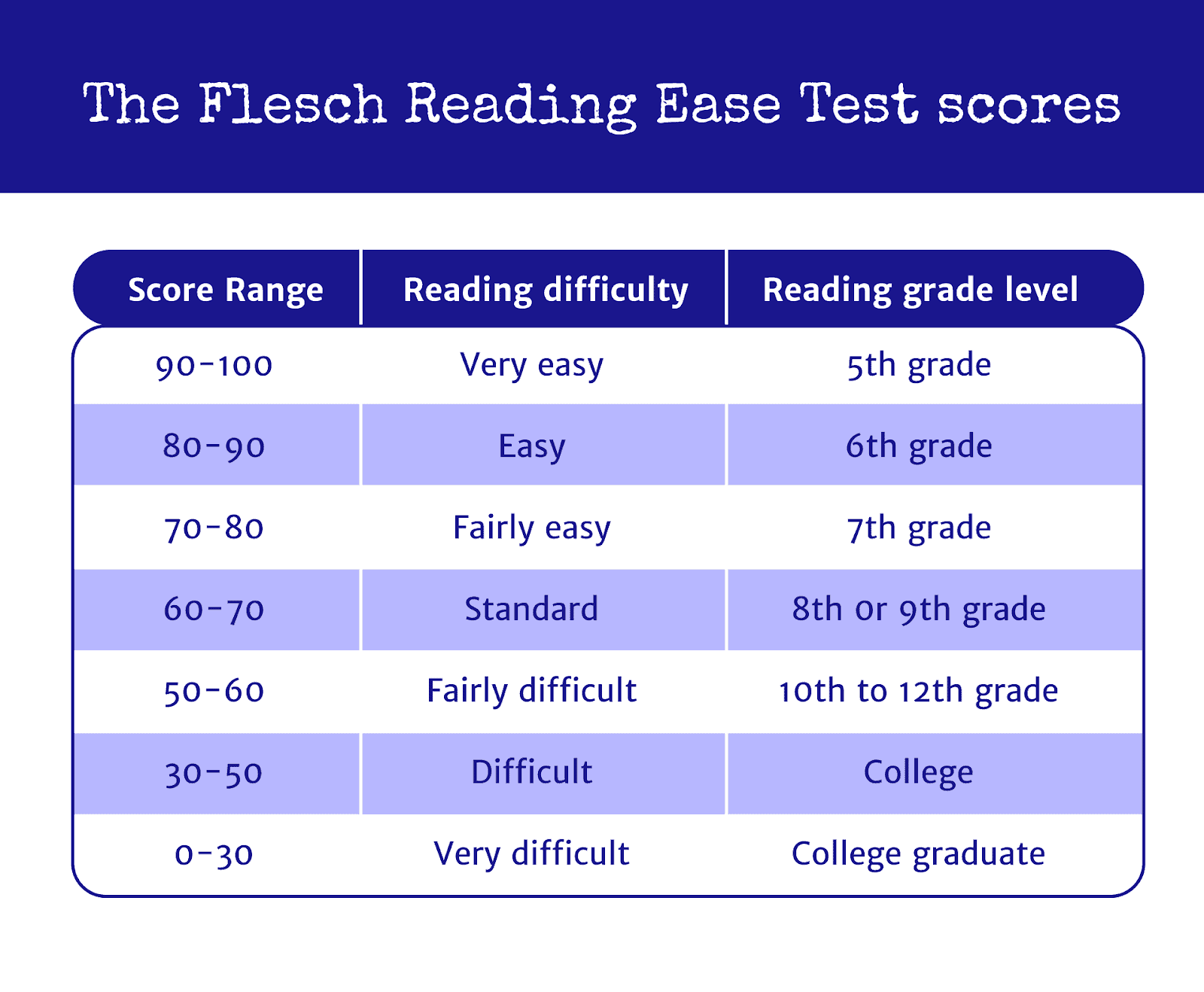 By following these tips, you'll be able to rewrite content so that it's both meaningful and easily legible, improving the experience of your readers.
8. Optimize for Conversions
At the end of the day, the ultimate goal when refreshing or rewriting a piece of content is to get more readers to convert.
That said, your goal for the content may not be the same now as it was when you originally wrote it.
Consider the content's CTA (call-to-action). Does it still link to products or services you actively want to promote? If not, then you'll want to update that particular section to point your readers toward a new solution or service.
Keep in mind that optimizing for conversions doesn't just involve adding a CTA to the end of a blog post. To make the most of that page and increase its chances of converting readers, you'll need to employ a variety of content strategies.
Some content marketing tactics, such as product-led content, are underutilized. Product-led content enables you to highlight your offer around the content without coming across as overly salesy.
And while not every content writer may use this strategy, we believe it to be a high ROI method for updating older blog posts.
9. Use the Same URLs (unless there's a reason no to)
When rewriting or refreshing articles, retaining the same URL is a good practice. Doing so helps you preserve the page's authority and prevents potential content confusion.
If you can't keep the same URL, redirect readers from the original post to the new one. Set up permanent redirects so any referring pages continue to work and point to the new URL.
10. Republish the Blog Post With the Updated Date
Update the publication date so your readers can see that the content is fresh. When doing this, you should include both the original publication date and the most recent modification date in your article to give readers more clarity.
Republishing a blog post with the current date also improves trust, as readers know you have taken the time to thoroughly check and update existing content.
Another way to get search engines to recognize your updated content is to link the new page to more recent articles you may have written.

11. Get Search Engines to Recrawl the Page
After updating a blog post, you want to make sure search engines can quickly recognize the changes you've made. While Google bots will eventually pick up on those changes, you can speed up the process by requesting that search engines like Google recrawl your URLs.
Once you've taken these steps, keep track of key metrics to ensure the changes have a positive impact.
12. Re-Promote Your Updated Blog Posts
Once you've finished refreshing your content, it's crucial to re-promote it so readers are aware of the recent changes. Re-promoting an updated blog post is also an excellent opportunity to reach new readers or target a specific audience.
Here are some tips on re-promoting your post:
Treat it as fresh content: Highlight the fresh and actionable insights included in the update and promote it across different platforms, such as social media, email newsletters, and your website. This is a great way to remind your followers of the updated content and drive more organic traffic to your blog.
Build new backlinks: Building new backlinks to your updated blog post can help attract more attention and increase its visibility.
Pitch to relevant newsletters: Reach out to newsletter editors or curators in your industry and tell them why your updated blog post is helpful and valuable to their audience. Leave them impressed, and they may feature your refreshed post in a future entry, which could go a long way toward expanding your reach.
Best Practices To Maintain Content Freshness
There's more to updating old blog posts for SEO than simply changing a few words.
Using SEO reporting tools like the Google Search Console and Google Analytics help you monitor your pages' performance and, in turn, identify any content that needs to be updated.
You can also use content optimization tools like Clearscope to maintain search intent relevance and find new opportunities for SEO improvements.
Moreover, following an SEO checklist is an excellent way to monitor your progress and minimize technical fixes when updating pages.
Some of the tips included in the checklist include:
Use evergreen URLs: Using numbers in a URL usually create conflicts when the time is needed for update. You want your URLs to remain stable, and relevant regardless of when they were posted.
Update internal links on a regular basis: Updating internal links when refreshing blog posts improves the likelihood of increasing rank in the SERPs. Internal linking also makes a website more user-friendly and allows readers to easily navigate through your content.
Keep the same image URLs: You don't want to fill your website with outdated images. To avoid this you should use the same URL when you update your photos. Doing so helps free up space on your website and reduces the crawl rate.
Final Thoughts: How To Update Old Blog Posts for SEO: 12 Proven Steps
Updating existing content can be a daunting task.
And while it takes effort to develop the habit, it's one of the best ways to get the most out of the content you've already published.
Here's one final tip: Strike a balance between creating new pages and updating old blog posts.
Ideally, you should dedicate around 50% of your time to each task. However, that depends on how many outdated pages exist on your website at any given time, so adjust your SEO strategy accordingly.
As you work on maintaining a good mix of new and updated content, make an extra effort to stay organized and efficient. To make sure your blog stays up-to-date, set a schedule for refreshing or rewriting old content.
This way, you're positive every piece of content you're putting out is relevant, engaging, and helpful to your audience, which helps solidify your reputation as a go-to source in your niche.
To dive deeper into these fundamental content creation concepts, check out The Blogsmith Founder Maddy Osman's book, Writing for Humans and Robots: The New Rules of Content Style.
And if you'd like help with auditing and updating your existing pages, don't hesitate to get in touch with The Blogsmith.