Updated 12/12/20. Please note: this article contains affiliate links.
Missinglettr just wrapped a two week online summit that was a giant undertaking for a couple of reasons.
I was one of the speakers and did a live version of my popular talk "How to Write a Kick-Ass Blog Post". It went over really well — the most popular session on 9/4/18!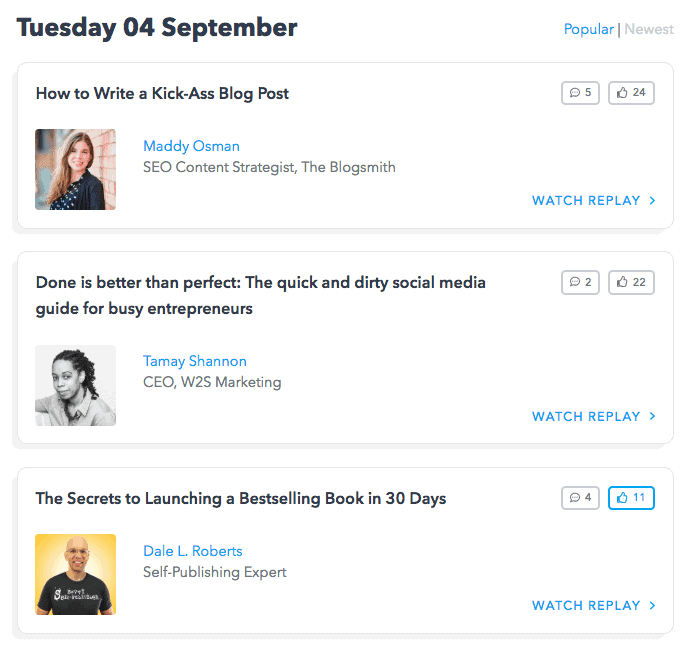 The Uppercase online summit boasted of 100_ speakers (including my friends at Feedier and other popular companies who, like Missinglettr, ran AppSumo lifetime deals) and 3000+ attendees. But that's actually not the most impressive takeaway from Uppercase.
No, the most interesting thing about this entire event is that the Missinglettr team built the software behind Uppercase in part while the online summit was in progress.
To be fair, most of their online summit software was built prior to the conference. But that doesn't mean that Missinglettr's team didn't have to deal with last-minute software adjustments while also dealing with the normal chaos of wrangling speakers during an event.
I spoke with Missinglettr's founder, Benjamin Dell, to get the inside scoop on HeySummit: the company's new online summit software — originally built as Uppercase's back end.
Scroll to the bottom of this article for information about being a founding member and scoring a sweet lifetime discount to HeySummit!
What made Missinglettr's team decide to build an online summit platform?
The decision to build the platform from scratch was an early one.
The alternative was to piggyback on another platform that wouldn't do what we wanted or offer the same level of quality and engagement for our attendees. We didn't just want to use a boilerplate WordPress template.
Put simply, we wanted to own every experience and interaction with our attendees, speakers, and sponsors. Building our own platform would enable us to do just that.
What guided your decisions in terms of including various features for HeySummit?
There's something quite magical about deadlines. They encourage clear and pragmatic but often times also creative thinking. Knowing we had to deliver a 100+ speaker event in a matter of weeks certainly firmed my mind and resolve. As such, I found that it was fairly easy to know what to build and what not to build.
However, I did not want to diminish the experience for the attendees and speakers and so much of our attention was placed there.
When the conference launched, we then switched into another gear.
My hosting duties over the two weeks would run from 2pm to 10pm in my local timezone. This meant that I would have all night to reflect on what went on that day, and then all of the next morning to rapidly design, develop, and deliver whatever innovation, fix, or change I thought would be needed.
In short: I made sure to listen and observe whilst the conference was running to see where issues lied as well as where there might be opportunities to innovate and improve things.
What did you learn about hosting online summits during Uppercase?
When you run a 100+ speaker conference, I knew we would hit almost every type of problem imaginable.
We had a technical issue with Zoom, causing us to cancel the very first talk. We had a speaker cancel on us at the last minute and we had issues sending emails on one of the days — resulting in our reminder emails arriving too late. Each time one of these issues would crop up, I'd build a solution to prevent it from ever happening again.
One notable feature we built after the first couple of days was a simple, but beautiful daily question module. Each day we asked a simple yes/no question, such as "Are we doing a good job introducing and hosting the talks?".
These questions, which changed each day, really enabled us to keep our fingers on the pulse whilst the conference took place.
The conference ran for 2 weeks and saw 100 speakers talk. We attracted 3,200 attendees in the end. 634 of those speakers shared about us socially to help promote the conference. On average, each attendee booked themselves into 20 talks. 54% of the attendees were solopreneurs/solo consultants.
What are your future plans for HeySummit?
We see HeySummit as a platform to help businesses in 3 key areas: online summits, webinars, and online courses. All three of these have similar needs around attendee engagement, community, virality, and revenue.
How customizable are HeySummit branding options?
When we officially launch HeySummit on the 1st of November, you'll be able to add your logo, change colours, and use your own domain name to create an entirely branded experience. In essence, we will be providing themes that can be customised. Further advanced customisation options will arrive in the future.
What other tools will HeySummit integrate with?
Currently, we integrate with Zoom for the webinar recordings and then Wistia for video hosting and streaming. We may offer our own video hosting in the future. We plan to launch with a few other integrations as well — stay tuned!
Our focus is on building community, engagement, signups, referrals, conversions, and revenue around the webinars, conferences and video content you produce.
Here's everything you get with a HeySummit membership plan:

Can you gate content with paid memberships or offer it for free?
Through HeySummit, we want you to be able to either keep your content open and free (and treat the summit, webinar, or course as more of a marketing play) or go down the paid route, to generate revenue.
HeySummit Review: The Final Word
I'm very intrigued by HeySummit as I experienced it as both a speaker and viewer during Uppercase. I can see several potential applications for using HeySummit for my own brand. You don't need to run an online summit in order to benefit from this useful new tool!
Will you be checking out HeySummit? I'd love to hear what you think! Let's continue the conversation in the comments below.