Please note: this article contains an affiliate link.
I get it — regardless of how experienced you are, lead generation is a difficult process that's much easier to do wrong than right. You may end up spending hours with no real results to show.
OptinMonster is a tool that aims to change that. It empowers you to drive conversions by using lead capture templates and what they call a "targeting and segmentation engine" to target specific audiences at specific times.
The company behind it is Awesome Motive, and you might recognize them from other resources and tools such as WPBeginner, Easy Digital Downloads, and AffiliateWP. In the last two years, they've acquired various tools and companies and now have plenty of tools to offer.
As part of my OptinMonster review, and as someone who uses the tool on The Blogsmith, I'll be putting its claims of being the "most powerful conversion optimization toolkit in the world" to the test.
OptinMonster Review — How Does It Work?

At the core of OptinMonster are the opt-in forms. They gather contact information for potential leads, which is the beginning of the entire lead generation process. Plenty of websites use it —  Shotkit and Human Food Bar are two excellent examples that showcase its effectiveness.
At The Blogsmith, I use the OptinMonster opt-in form in a few spots. It's a great way to get a list of email addresses of users who would be willing to receive my newsletter, a.k.a potential leads. You can find it on my homepage, as well as my Skillshare classes page.
For e-commerce websites, you can use the tool to reduce cart abandonment and increase your sales conversion. If, on the other hand, you're in the publishing industry, you can use it to grow your traffic and boost user engagement.
But that's just the beginning of it. As you'll see in the rest of my OptinMonster review, the tool has a variety of useful features, although you probably won't use all of them.
Building Opt-in Forms is Easy
A feature you will use, especially if you're using OptinMonster as part of your first-time website building experience, is the Drag 'n' Drop builder, as well as the variety of templates the tool provides.
Rather than designing and developing the opt-in forms that convert yourself, you can use the builder to create an attractive form with zero coding knowledge required. It undoubtedly comes in handy for those building a website for the first time.
If you don't want to spend too much time designing your opt-in form, you can use one of the pre-made templates. That's a seriously underestimated aspect of the tool because every digital marketer knows how difficult it is to create a well-thought-out opt-in form that actually converts.
You Can Choose From Various Campaign Types and Triggers
Another thing I'd like to cover in my OptinMonster review is its flexibility. It has many campaign types and triggers, so if you've just started your small business and want a solid lead generation campaign, it will save you a bit of time.
You do get the basics, such as a lightbox popup and a full-screen welcome message with a call to action (CTA) you can't ignore. However, you also get floating bars, sidebar forms, inline forms, and a slew of other pre-made options.
In a world where you should be avoiding email popups, this is perfect. Bombarding your potential leads with popups doesn't increase the chances of them converting — it actually has the opposite effect. I've found OptinMonster has a good balance between too few and too many.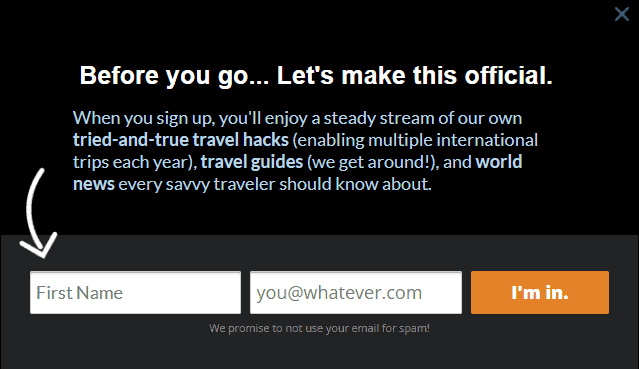 In addition, you also have several triggers to choose from. One that's particularly interesting is the Exit-Intent trigger. When users try to click on the back button in their browser or close the browser tab or window, they'll be met with a popup that asks them to join your newsletter.
On the flip side, the tool might be a bit too much for some users. Do you set an exit-intent trigger, or is the scroll trigger enough? Should you configure the timed display control? You'll need to answer all of these when you're setting it up.
It's Not Just About Generating Leads, But Converting Them, Too
If you've ever worked with lead generation, you probably know that the main thing is to get the targeting right. Having the wrong audience as your potential leads gets you nowhere and is an investment you may not see a return on.
A popular feature is to show leads targeted messages and completely personalized campaigns based on where they're coming from. The downside of such specifically targeted marketing is that you might be missing out on some potential leads, but that's a risk you'll have to take.
Getting leads you can use is just one part of what OptinMonster can do. The second one, which is just as important, is how you use the leads you've generated using the tool. That's why as part of my OptinMonster review, I believe it's important to mention the insights.
When you're working on lead generation, you want to get all the information necessary in a neatly organized way that allows you to take action as your next step. And that's exactly what OptinMonster does, with features that verify leads and boost your ROI.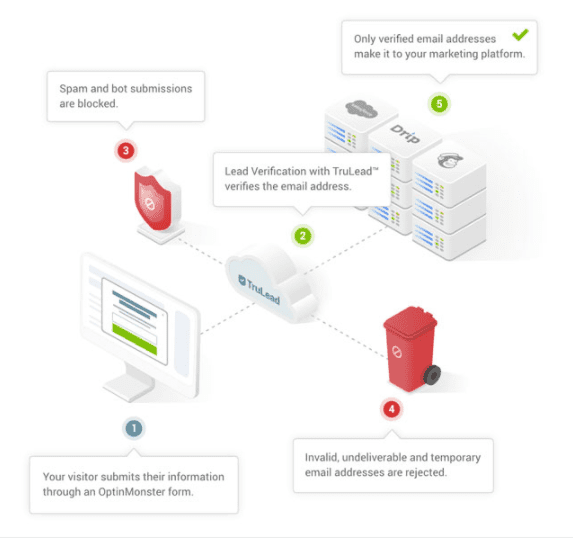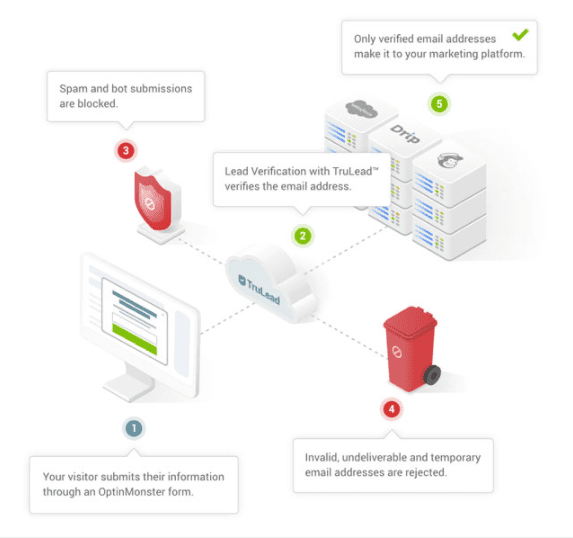 Bad leads are a waste of time (and money). But things like TruLead, which verifies the email address of users that sign up, mean that all you're left with are leads that have a big chance of converting.
"Your OptinMonster Review Makes It Seem Like It's Perfect"
While my opinion on OptinMonster is very positive, considering it's a tool I use myself, I have yet to address the elephant in the room, which is pricing. It's a critical aspect of any tool that promises to make you money, and in this case, I'll just go ahead and say it could be better.
Don't get me wrong — if you consider how much money it could be making you, it's not that expensive. But each plan is billed annually. Even for the most affordable plan, spending $108 upfront might not sound like too attractive of a proposition.
To add to that, not every plan has the complete functionality of OptinMonster. For example, if you want the Exit-Intent trigger and things like device targeting or cart and form abandonment, you'll need to spring for the Pro plan. That's ideal for brands, but it's pricey for an individual.
Last but not least, if you want all the features that OptinMonster has to offer, the Growth plan is what you need. It's perfect for something like a web design agency that creates marketing campaigns for clients. It is expensive, though, at $49/month.
Final Thoughts: OptinMonster Review — Lead Generation Made Easy?
Yes, but at a price. OptinMonster makes a lot of the tedious tasks that require a lot of knowledge much simpler. But its plans are rather expensive, especially if you're just starting with your website.
To wrap up my OptinMonster review, it's a tool that should be a staple in any digital marketer's arsenal alongside other crucial SEO tools. Thanks to a combination of features and ease of use, you'll certainly benefit from it.
If I were you, I'd contact them today and see which plan works best for my needs. Oh wait, I already did that some time ago!