Please note that this post contains affiliate links.
Last year (give or take a few months), I wrote about the lessons learned during my first 12 months as a freelancer. As a result of really throwing myself into that 12 month period of business development, I had the information needed—learned through trial and error—to determine that the freelance life was indeed the one for me.
As a result, I decided to incorporate my business. Besides adding a new sense of legitimacy to my non-traditional job, it also provided me with some additional benefits—like liability protection in the form of the corporate veil.
After initially incorporating as an LLC, my research on business formation led me in the direction of becoming a small business owner via an S Corp, instead. Luckily, it's fairly straightforward to switch from an LLC to an S Corp within the first year of incorporation (though you'll definitely want to consult with a lawyer, accountant, or both before making any big moves!).
Ultimately, doing what I do as a "business", instead of as a sole proprietor, isn't a whole lot different. Yes, becoming a small business owner means tax benefits, liability protections, and even personal information protection (I can put my EIN on client tax forms, instead of my social security number!). But all that said, I continue to run my business more or less the same as when I was "just" a freelancer.
Of course, since the last time I've shared the saga of my own freelance story, there are a so many new stories to tell. So with that in mind, here are my lessons learned from my first 12 months becoming a small business owner.
Oh how things can change in a month!
October, November, and December
My last annual business wrap-up article ended after detailing what happened in September 2016. Looking back now, there's not a whole lot worth noting from the final months of 2016, besides the fact that they represented a tough end to 2016.
My boyfriend and I decided to make a big move to Denver, CO after living in Illinois for basically forever (for me, save for college at the University of Iowa and a semester abroad in Barcelona, Spain). It was tough to leave our families but it was the perfect time in our lives to branch out a bit. As a result, October was a chaotic mess of packing, subleasing my apartment, and, you know, moving across the country.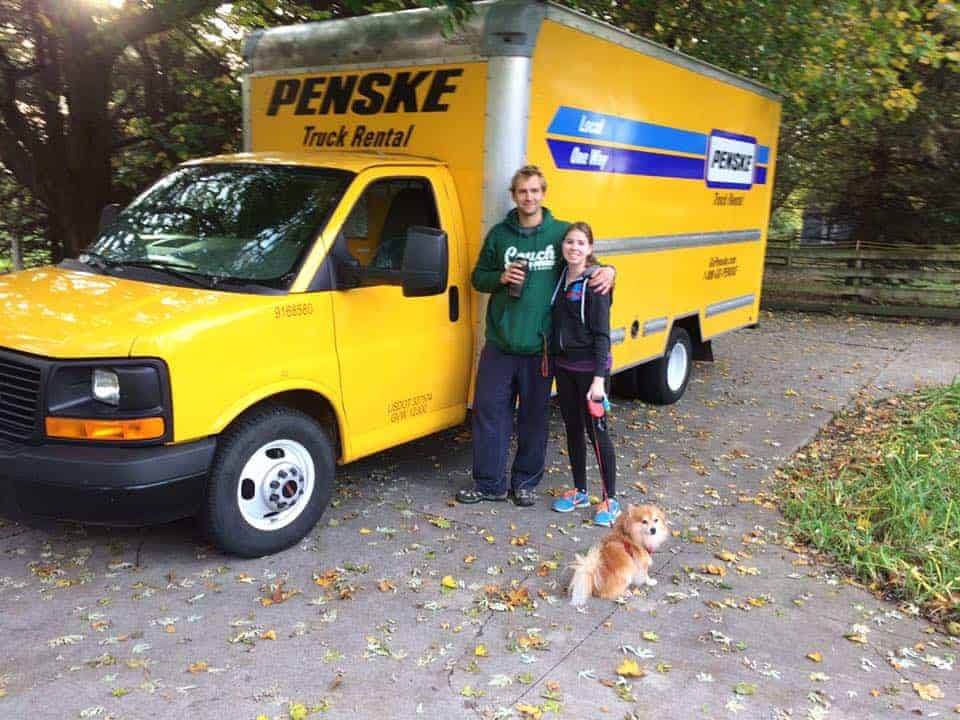 October is my birth month and I knew 26 would be stressful because my insurance coverage was up (thanks for supporting me up until now, Mom and Dad!) and I needed to fit in an uncomfortable medical procedure right before our move. The stress of being kicked off my parents' insurance was especially awful when you take a minute to consider that I was becoming a small business owner—I didn't have a corporate insurance option to fall back on.
Anyways, it really all came together at the end of October when my medical procedure turned up inconclusive but non-threatening results. My boyfriend and I bossed out our move. And I found a #winning situation regarding health insurance, jumping onto my boyfriend's as a domestic partner.
Moving into November, I cut ties with a fairly long-term client who had become increasingly more difficult to deal with. At the same time, I had some clients who were giving notice that they no longer had budget for content marketing services. I remember December being a month of mourning some big losses while simultaneously trying to enjoy the holiday with my family. Not the best way to go into 2017!
January 1, 2017 officially marked the beginning of The Blogsmith LLC. Shortly after the pre-dated incorporation paperwork was processed, I set off to my local Chase bank to set up my first business-only checking and saving accounts—EIN in hand.
It was an important moment not only for my professional career trajectory but also for my accounting process. Opening a business checking and savings account made it a lot easier for me to separate business and personal expenses for a more insightful at-a-glance idea of how much money I actually had for each. Before, I had been paying expenses and taking in payments all from within my personal checking account—not exactly ideal!
Perhaps the cherry on top of a rough end to the year was an awful start to 2017 in the form of a loss in my family. I'm truly blessed that I haven't experienced any super close losses until this point but that didn't exactly make the situation any easier to process. My beloved grandmother's health had been declining for awhile and her body finally gave out around this time. Dying at 97, she had truly lived a full life, surrounded by her family until the end.
I made the trip from Denver to Chicago for the second time in less than a month to take part in her funeral services and to be with my family. Going back to Chicago around this time actually worked out well, as I would be leaving for a previously planned trip to Thailand a few days afterward, from Chicago. I guess everything happens for a reason.
With the death of my grandmother, a week in Thailand, and hosting friends in Denver in between all of these things during the first month of the year, it's safe to say that there just wasn't a whole lot of time or motivation to get things done while I was initially becoming a small business owner. Luckily, it was a fairly slow month for business (as January's tend to be), so I wouldn't say any of this actually set me back. Everyone needs a break from work at some point, so I guess January was mine.
February was a much better month in terms of both my work ethic and in bringing on new clients.
In fact, I distinctly remember onboarding a large number of clients this month—and hiring additional help to assist me with research and admin tasks related to this increased workload. Although I can't disclose the details, one of my earliest projects of 2017 involved helping with on-site SEO for a major US mobile phone carrier—too cool!
It was also around this time that I renewed my focus on personal branding and personal development. Well-known online course creator Melyssa Griffin ran a charity sale that provided cheaper access to some of her best stuff, all while benefiting an organization near and dear to her heart. I bought in and got access to several of her top offerings, wasting no time diving into the material. Her List Surge course resulted in immediate changes in my email marketing strategy.
From a personal branding standpoint, I launched a new website design for The Blogsmith. It was a huge improvement over the bare-bones template I had been working with before that but it wouldn't be the only time I would change my website design this year. What can I say, with web design in my bones, it's hard for me to leave my own website alone for too long!
If you read this post about becoming a small business owner in its entirety, you'll notice that a major theme of this year was travel, mostly domestic. My boyfriend took on a new role with his company in late 2016 that afforded him the ability to explore West Coast hotspots on a regular basis. I ended up joining him on a trip to LA in the month of February, which made it possible to visit my BFF who had just moved there. Oh how I love my flexible job.
We also took the opportunity to take a brief ski trip to Crested Butte, CO. It was there that I had my first proper ski lesson. After many feet of snow, it was chilly but gorgeous. I hope we go back soon!
A big win for February: writing an article for Search Engine Journal with the most shares of the month!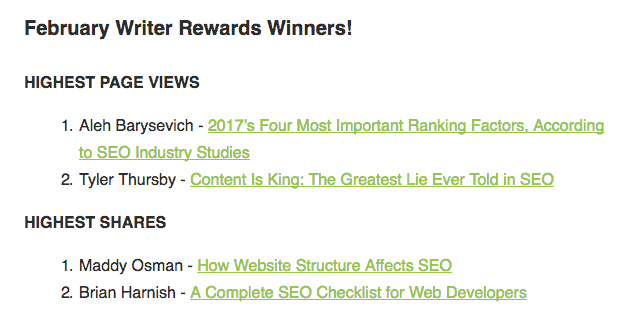 Perhaps because of the momentum and excitement inspired by digging into some of Melyssa Griffin's courses purchased (and consumed) during the previous month, March marked a significant investment of money in my newly-formed business.
To save a couple of bucks compared to a monthly subscription, I bought annual subscriptions to Neat Receipts (for receipt scanning), Leadpages (for easy/integrated landing page creation), and a ton of AppSumo deals for lifetime software access on the cheap.
Perhaps because I was manifesting good vibes in terms of business upgrades and investments, March was an important month for new clients. During March, I started writing for AND CO (freelance contracts, time tracking, invoicing, and so on) and WPMU DEV (WordPress web host). They're both very well-known in their respective industries and working with them resulted in a lot of exposure for The Blogsmith throughout the rest of the year.
Working with WPMU DEV opened the doors for me to work with a number of additional WordPress-focused clients. Thanks to this important stepping stone in March, WordPress-related topics would make up the majority of my blogging workload by the end of 2018.
March was a teeter-totter of emotion when it came to clients. I lost a few decent ones at the end of the month but made up for it by onboarding a number of new ones in the last few days. If you decide to start a service-based business, it's so important to always. Be. Prospecting. I can't say it enough.
A few notable blog posts published in March:
There's not a whole lot to note with regards to April and becoming a small business owner, besides the fact that I got bold and cold pitched a few brands and was pleasantly surprised that they were almost immediately interested in working with me without a whole lot of convincing.
One of my favorite new clients of the month was 99Designs, with whom I've written a few in-depth pieces. Here are two of them:
In both cases, I'm sharing from my own experience in becoming a small business owner.
May was a rough month when it came to working with contractors. I like to hire from within my own personal network whenever possible and one of my close friends/co-conspirator freelancers had joined my team on a part-time basis earlier in the year. In May, he suddenly quit on me without notice, adding several to-dos to my list on top of an already quite heavy workload.
Another contractor, who I still work with, graduated college in May. I knew this would change how much work I could send her but was also proud to see how fluidly she moved into a full-time position at a prominent Chicago agency.
My ultimate goal for the contractors I work with is to be a stepping stone on the way to their true purpose.
A new person I started working with got into a car crash (luckily, she was OK). Jeez, it was a crazy month! And if that wasn't enough, a number of clients, one by one, paused or discontinued services. Then, I had two big client nonpayment issues (you can read about it on LinkedIn). If I had let all of these things get to me, I wouldn't have pushed through to find the success that characterized the second half of 2017.
Luckily, May wasn't all tough. I took on an interesting new technical writing client—INO Technologies. I connected with the founder after responding to his LinkedIn Pro Finder request and helped him with various aspects of his content marketing strategy. Because of this project, I can definitely say that I know more about lightning strikes than the average person!
It was around this time that my boyfriend and I started going on a hike every week. There certainly is no shortage of good trails near Denver! Doing this provided me with the perfect excuse to get out of the house and get some fresh air.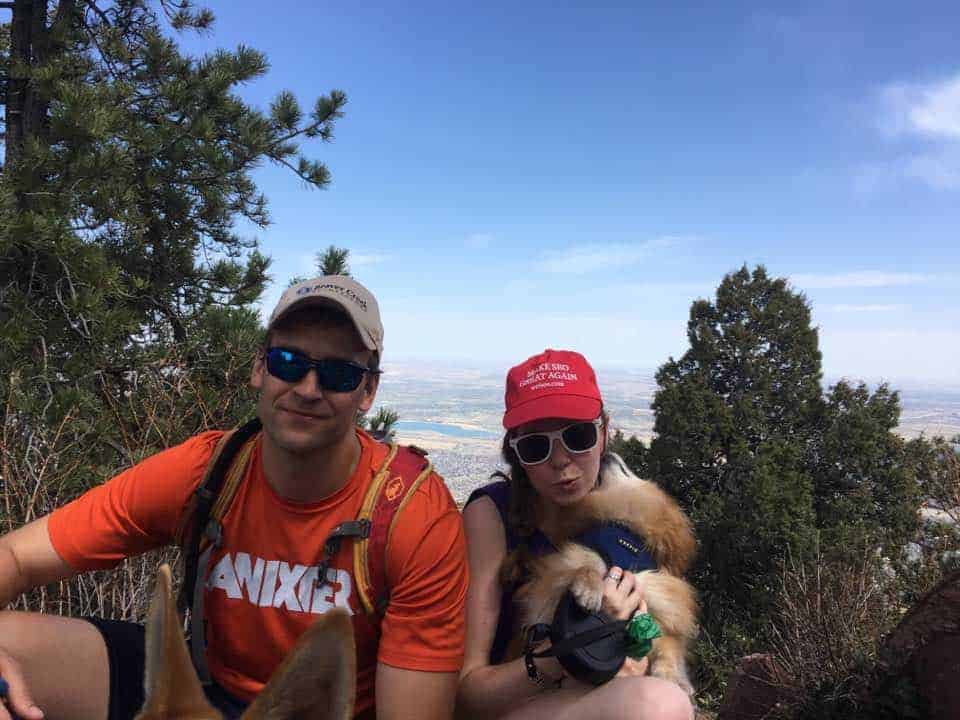 For the record, my hat says "Make SEO Great Again". Thanks, WTFSEO!
OK, here's another interesting juxtaposition between the online world and the great outdoors of Colorado—my boyfriend wearing Search Engine Journal socks at Red Rocks: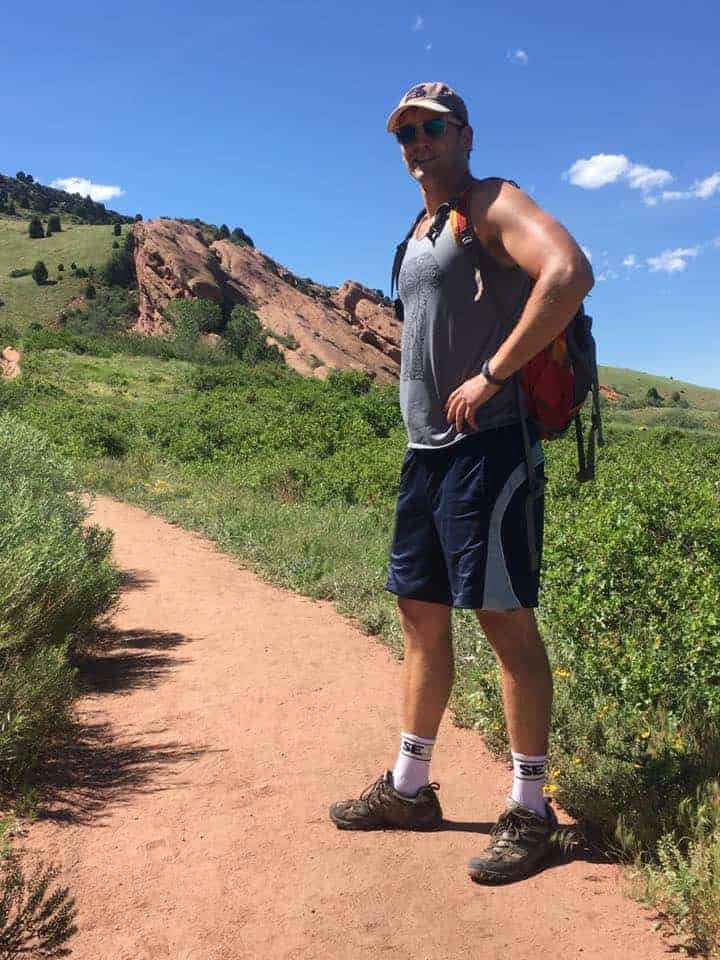 Another highlight of May was a long weekend in San Francisco. I had never been and I'm so glad I took the opportunity to check it out. With the high cost of living, I could never justify moving there, but that doesn't mean that I can't enjoy it as a tourist!
If you're wondering, this is what it looks like from the other side of my endless #foodporn Instas: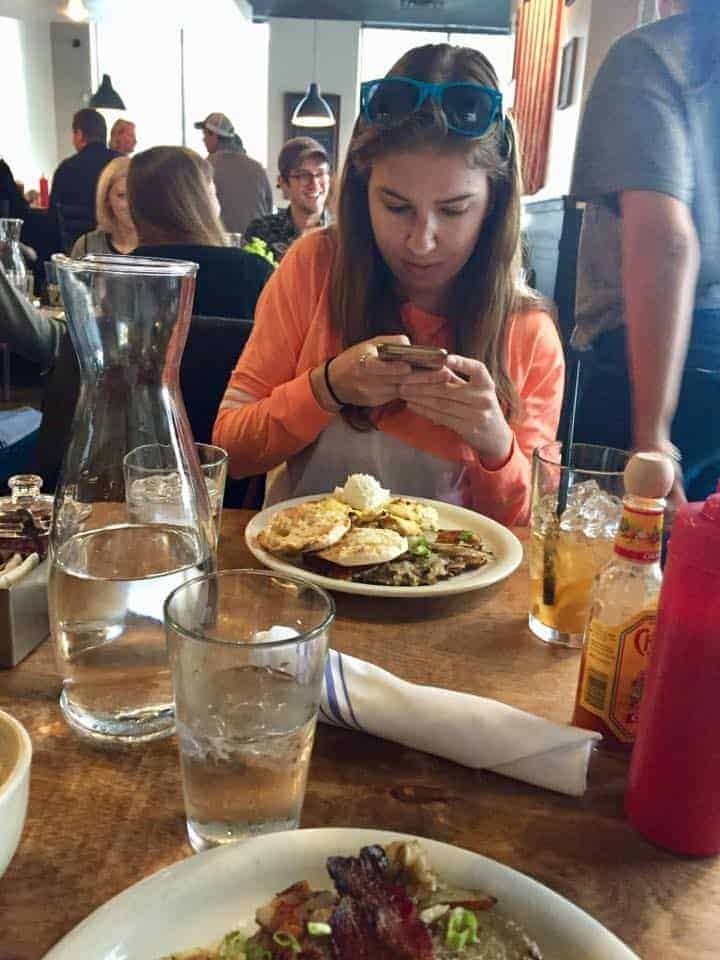 June marked the beginning of a new project that would take me to the end of 2017 and beyond. After a lot of research and planning out the start of a marketing strategy, I officially launched my first ecommerce store: Tanks that Get Around.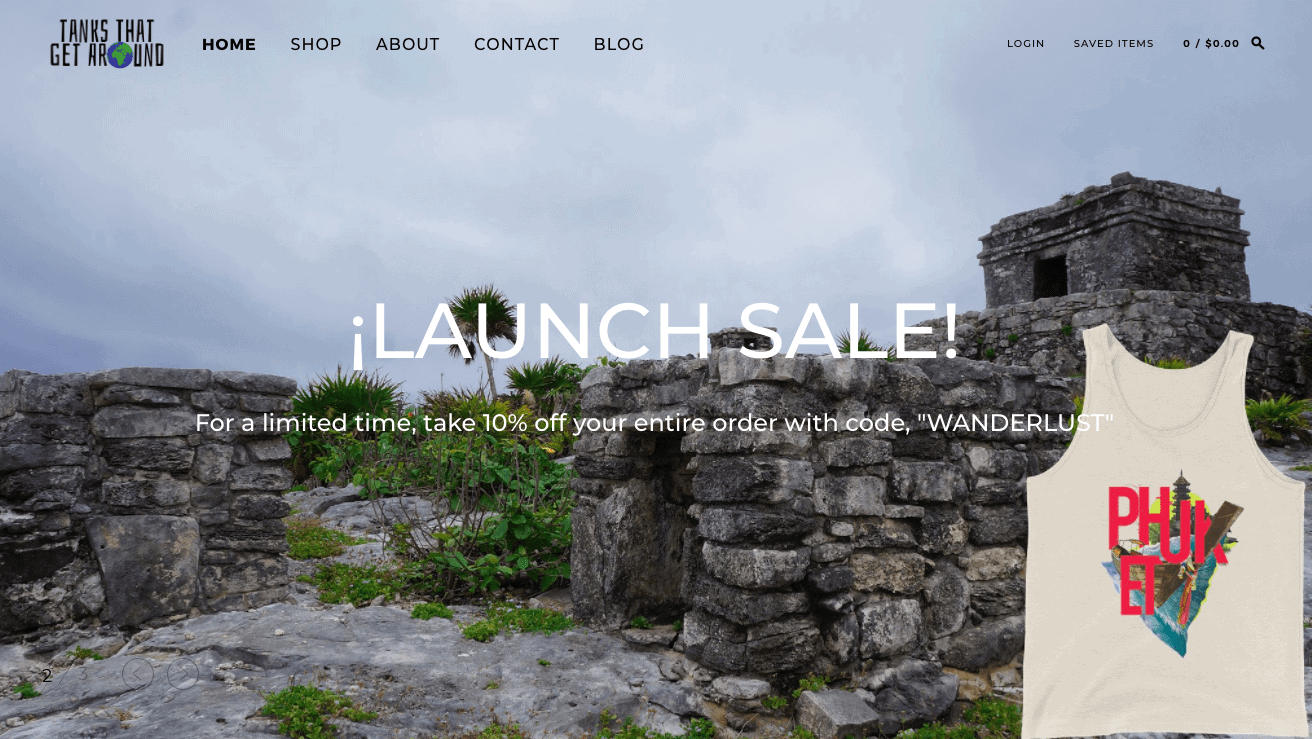 Tanks that Get Around is a WooCommerce (WordPress) website that integrates with Printful for on-demand printing and fulfillment. The concept is based on my own love of travel and just a dash of immaturity. I launched it as a partner venture with my boyfriend, who also shares my passion for travel and sense of humor.
June was yet another month with budget cuts and paused services by a few long-term clients (although these same clients would come back in the last quarter of the year). Like many other months in 2017, I again brought in a number of new clients—Icons8, Jumper Media, and Sprout Social—some of my most well-paying to date.
A particularly interesting new client is Faveable, who approached me to help build out the credit card reviews section of their website. I accepted with excitement—I'm obsessed with personal finance and am trying to build up this niche in my content marketing business.
Another exciting opportunity materialized in the form of a promotional feature relating to Fiverr's new Pro marketplace, alongside the likes of Jerry Media. Here's a screengrab from the email campaign: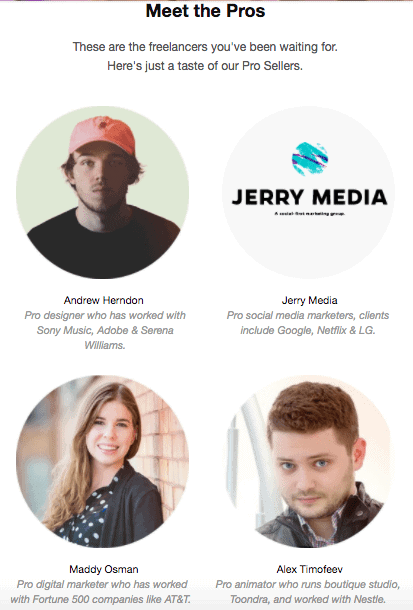 And as one of just a few Pros featured on the Fiverr Pro landing page during the initial launch: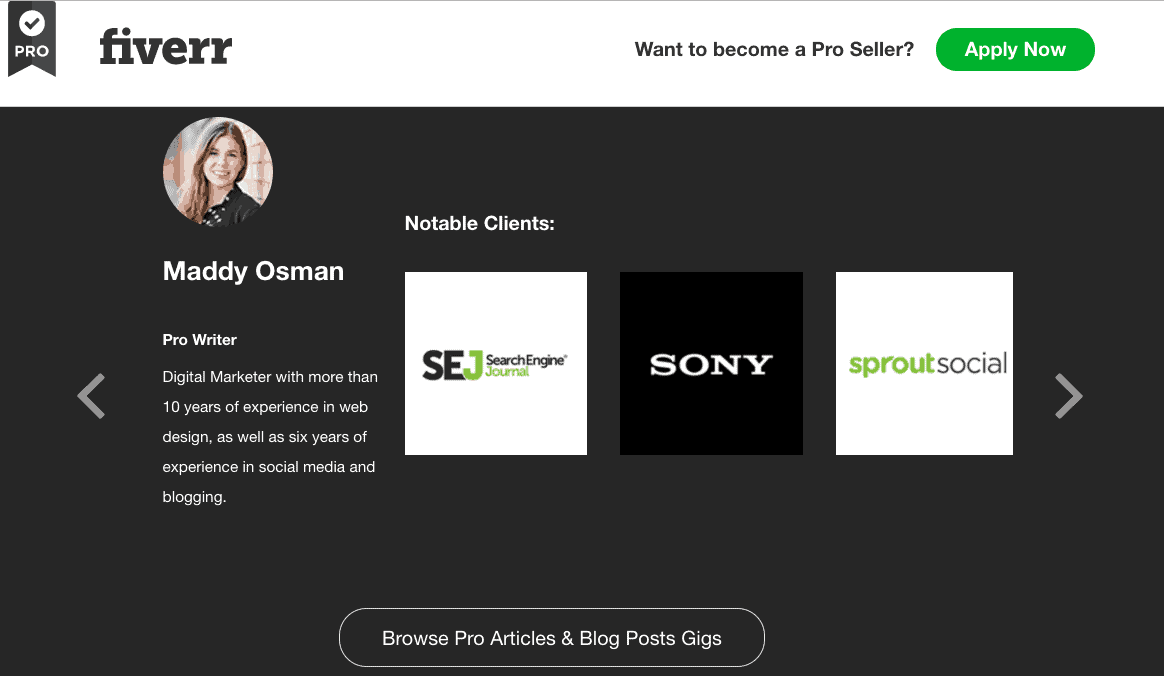 Getting involved with this aspect of Fiverr proved fruitful, as I was able to charge higher rates and work with higher-quality clients on their marketplace. I wrote all about my experience on the Fiverr blog.
During this month, I also started sending weekly content marketing roundups as a way to stay consistent and connected with my email list. I use Revue, which I initially acquired as a lifetime deal through AppSumo. I'm happy to say that I've remained (more or less) consistent with this effort throughout 2017 leading into 2018!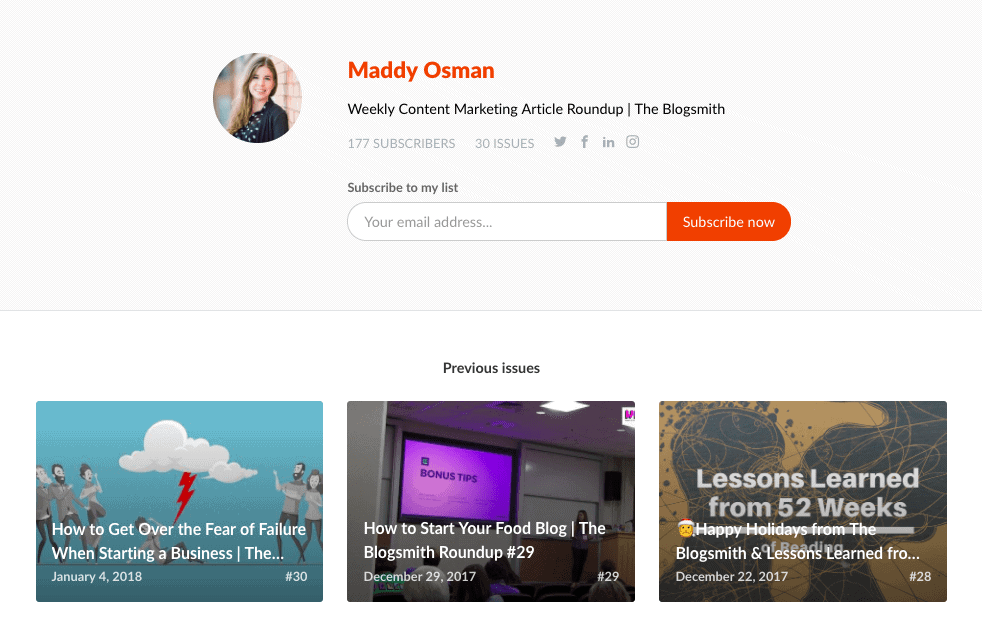 My subscribers have been giving me great feedback, so it's safe to say that this aspect of becoming a small business owner will continue into 2018 and beyond!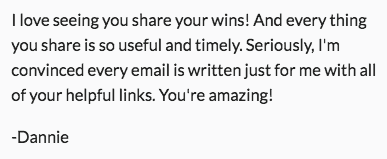 In July, I published my first online course—a short class about How to Write a Kick-Ass Blog Post.
It lives on Skillshare, who had been running a special teacher onboarding training, complete with the opportunity to be featured in certain categories (driving additional traffic to fledgling courses on their platform).
My Skillshare course was one of just a few (they tell me less than 1% of classes get this opportunity!) to get a special category feature. As a result, my new course enjoyed a lot of early success and is still raking in a modest payout each month. I already have my next Skillshare course ready to go—just need to film and upload it!

In July, I made my second trip of the year back to Chicago. One of my cousins was getting married—always an exciting type of gathering, as my mom is one of ten! It was nice to see everyone for a happier occasion than my grandma's passing earlier in the year.
Certainly, it was an exciting month. I did a little bit of professional developing and networking by attending Denver Digital Summit. Seth Godin was the keynote and his presentation made going to the event worth it on its own. It didn't hurt that a bunch of my fellow BMA Denver board members were also in attendance!
August was another good month for building up the WordPress side of my content marketing business (in terms of the topics I write about). I onboarded a few new awesome clients: Pagely, GoDaddy, and I also wrote a guest post for Torque.
During August, I got to work with awesome brands like Bublup and AAA on large, short-term projects. Bublup is kind of like Pinterest. I helped them put together topic-specific "rolls" about:
For AAA, I wrote a series of travel (and homeowners insurance) related articles for their blog.
It was also a good month for building up the passive side of my business. I started to be more purposeful with sharing affiliate links in a compelling way and started to make some decent money with Appsumo. Affiliate marketing is going to be a much bigger focus of my 2018 but it all started with my initial efforts around this time.
Thanks to efforts earlier in the year (and even last year), forging connections with top publications in the niches I write for (especially WordPress), August brought in a record number of inbound leads. It was awesome to see how my bylined writing could essentially take care of sales for me as I was becoming a small business owner!
August also was a good month for partnering with members of my freelance squad. During this month, I knocked out two web copywriting projects for service professionals, in partnership with two different freelance friends. We've got to stick together! I've since paid it forward several times over. It's just good karma.
I went to two WordCamp events this month: WordCamp for Publishers (the first of its kind) and WordCamp Denver. In the case of the latter, I also helped to organize and speak at the event. Here's my presentation on WordPress.tv:
I also post I wrote about the WordCamp organizing experience for Pagely. Helping with WordCamp Denver led to so many amazing connections and opportunities, including hosting a webinar for iThemes!
One last interesting thing to note regarding my business in August—I executed my first ever Pinterest SEO project, for a client who does a lot of sales on Etsy:

I'd be curious to replicate my results for other clients in other industries.
September was an exciting month, both personally and professionally.
First thing's first, a trip to New York City—my first time in the Big Apple. My boyfriend and I went for a friend's wedding and spent a little extra time in the city exploring. I already can't wait to go back and know that I really want to spent more time in Brooklyn.
It was definitely a great month for building my personal brand. Remember how I started working with AND CO a few months ago? Thanks to my hard work creating actionable resources for freelancers on their blog, I was asked to contribute to one of their ebooks about hacks for freelancers.
They also created a physical version, which I couldn't help but pick up since I'm officially "published".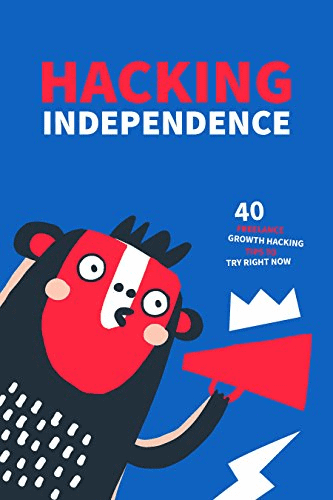 On a related note, I was invited to speak at an event for Cloud Services Community at Denver's Ruth's Chris Steakhouse. Networking, steak, and marketing knowledge drops? I'm always in.
Here's the Facebook Live recording from the event, where I spoke on how to "Tweet like a CEO":
This month, I attended the kick-off breakfast for Denver Startup Week, which was quite the star-studded event. Later in the day, I spoke on a panel about fake news, thanks to an invite from one of my freelance friends. I can't say it enough: fellow freelancers are your friends, not competition. Don't underestimate the value of connections you make with others in a similar situation as you.
In October, I joined my boyfriend on a trip to Portland. It's a city I've been dying to explore for awhile and I finally found the perfect opportunity to do so.
While in Portland, I visited two of my cousins who live in the city, drove out to the Timberline Lodge (known for being the facade of the hotel in the outside scenes of The Shining!), and ate basically everything in sight.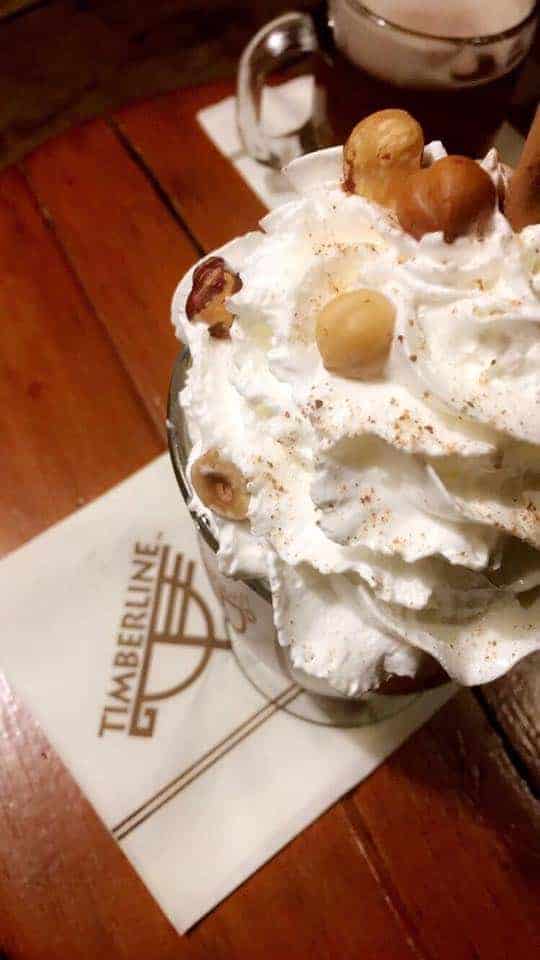 The verdict? The food is good but the people are so homogenous. Although I tend to agree with them with regards to the issues they get behind, I think it's more healthy to be surrounded by a diversity of opinion on a regular basis. In some cases, I think that hive mind gets the best of them. What else can explain the fact that one of the most popular restaurants (Bollywood Theater) is an Indian restaurant opened by a white dude, while this burrito cart got shut down because of "cultural appropriation" because it was run by two white women? But I digress.
While on the Portland trip, I received an email from the editor of the Envato blog, asking me to pitch some topics and write for their publication. I remember thinking it was such an honor to be sought out like that and I've definitely taken them up on their request!
One of the clients that paused services with me earlier in the year, BLR, asked me to speak at their upcoming Marketing Summit event in Denver. This gig marked my first well-paid speaking gig. After speaking, I wrote this wrap-up post about the topic (the same topic I spoke on back in September).
November was CRAZY busy.
In addition to all of my other client projects (many of which I winded down through the end of the year), I onboarded 3 big new clients:
Needless to say, to keep up with my increased workload, November was a blur of working nights and weekends. I'd say it was only sustainable because I knew the bulk of the work was short-term!
Thanks to all of this hard work, November was my biggest month ever in terms of income. That said, I was looking forward to a break when I knew things would taper off a bit in January!
On a final note, last year, I made the trip home for the Thanksgiving holidays. This year, I stayed in Denver and went skiing. My best friend's family took my boyfriend and myself in as their surrogate children, so we didn't have to go without a hearty turkey dinner. I would make missing Thanksgiving up to my family in the next month, with an extended trip home for the Christmas holiday.
December was more or less a continuation of November in terms of where most of my efforts were focused. As a result of these new projects, I let go of some old clients who couldn't afford this new opportunity cost of my time. More money, even marginal, is nice… but I need to be more protective of my free time moving into 2018. I don't want to be working nights and weekends all year!
True to my word in November, I made an extended trip home for Christmas in December. During this time, I slowed down my workload so that I could truly enjoy the holidays. Besides, I was in desperate need of a break!
Free of the stress of work (well, for the most part), I spent some time on the first post on my personal blog (this one) for many months—all about the many books (52+!) I read in 2017—and the lessons each one taught me.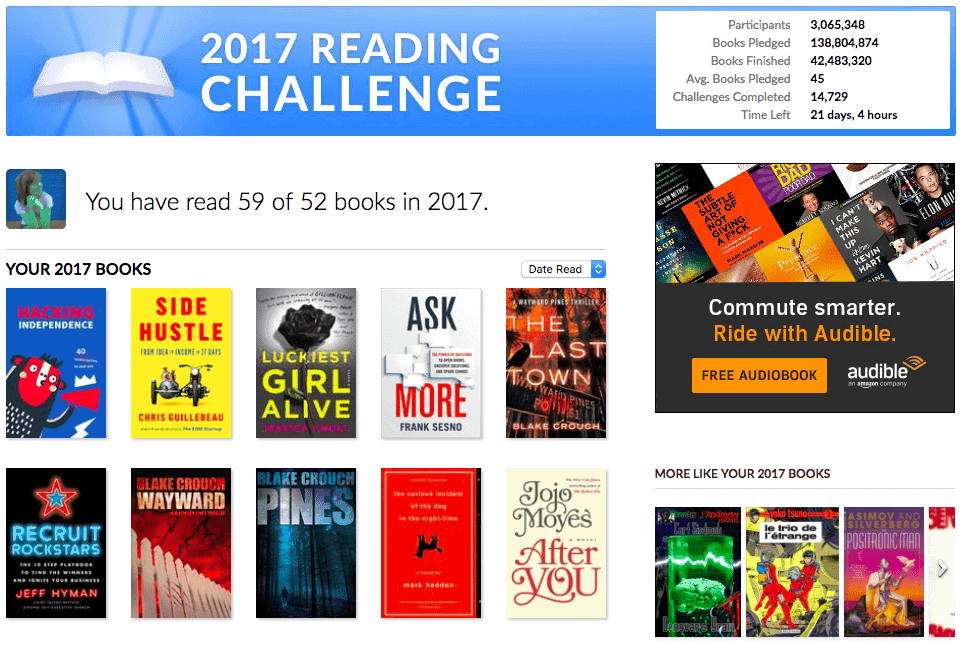 Based on my own experience in becoming a small business owner, I've come to realize that December is perhaps the best year to be selling things to other businesses. I finished out the year by re-upping annual plans for my favorite/must-have business tools to offset my 2017 taxes. A new tool I've added to my arsenal? Ahrefs. Totally worth the ~$1k it set me back for a year of service!
I did another big thing for my business in December—I hired a bookkeeper! I'm already starting to feel a sense of relief at not having to manage my books on my own.
Becoming a Small Business Owner: Looking to 2018 & Beyond
Although I love my current clients, in 2018, I'll be exploring ways to earn more passive income.
It's a dream that I plan to create more of a strategy around in the coming year. To help achieve this, I purchased the Making Sense of Affiliate Marketing course after hearing that it can make a big difference in systematizing passive income.
I'll also be developing my online courses, both for Skillshare and on my own platform through Teachable. Currently, I'm working on a course that goes through the WordPress dashboard in a way that beginners can understand. I have other ideas that I hope to flesh out more fully in 2018.
I've also been thinking more about consulting. With more and more people discovering the importance of content marketing/SEO, there's clearly a market for helping people do it right. If you're reading this and thinking that you might need some content marketing guidance and help with strategy, get in touch for more details.
As if that weren't enough, I also plan on making bigger moves with regards to my eCommerce venture, Tanks that Get Around. Facebook Ads and SEO strategy will be a big focus for this side project in 2018!
My First 12 Months: Becoming a Small Business Owner
Looking back on 2017, there was a major shift in my clients over the first half of the year, then it stabilized—especially in the last quarter of the year. Overall, I completed several big short-term projects and had several good clients in need of consistent content marketing help. Whew! That was a lot to take in. But hopefully, reading about my journey, failures, and successes has given you a lot to think about. Whether you're out on your own or still work for someone else, I encourage you to follow your dreams. A lot can change in a year—or even a month—as I've attempted to illustrate here. What are some of your best tips for becoming a small business owner? Thoughts on my entrepreneurial journey? I'd love to hear from you in the comments below!