The topic of how to share agency pricing with prospects is certainly interesting, with many factors to consider, including:
My first job after graduating college involved working at Groupon. I started as a salesperson working with warm leads and eventually worked my way up to cold calling sales.
Groupon's sales training encouraged salespeople to be gatekeepers of pricing information, such as the specific revenue split that a customer could expect by working with Groupon. 
The company trained us to go through a complete sales process that involved consultative selling where we'd take the time to learn about the business, their goals, and their challenges. We asked information about their average sale and the costs associated with it to help put the cost of this revenue share in perspective.
Groupon also offered different revenue split terms with different businesses, so it was in their best interests to keep data regarding the exact split private, not public on their website for anyone to see. Typical businesses would receive a 50/50 revenue split while big names Groupon wanted to work with could get much better terms.
After working at Groupon, I took a lot of what I learned to help grow my full-time freelance business. I spent a lot of time cold pitching businesses. 
In the beginning, I accepted the rates that were offered to me without much negotiation. Eventually, my business grew, as did my experience. I was ready to set my own pricing. And unlike what I learned at Groupon, I didn't want to have to put up a gate to that information.
All-in-One Intro & Closing Call: The Blogsmith's Sales Process
As mentioned, many of my earliest clients were won through cold outreach and a plethora of other lead marketing tactics. 
Here's one of my biggest lessons for new freelancers:
Before striking out on your own, consider a job in sales. 
Why not learn best practices and get some experience while getting paid? 
Business development is not easy and it's hard to get results without a process and an underlying understanding of why you're doing what you're doing.
As my business grew, happy clients started referring new clients to me. The bylines I have in high-authority industry publications generated a seemingly endless flow of inbound leads.
I didn't need to worry so much about selling myself anymore — people were interested in working with me of their own accords! But I still needed to solidify my process for closing the sale.
And of course, I needed to figure out how to share my agency pricing with prospects
It was around this time that I was working on an article for an early client, WPMU DEV. 
I took a deep dive into the question of whether or not brands should publicly display agency fees on website pricing pages: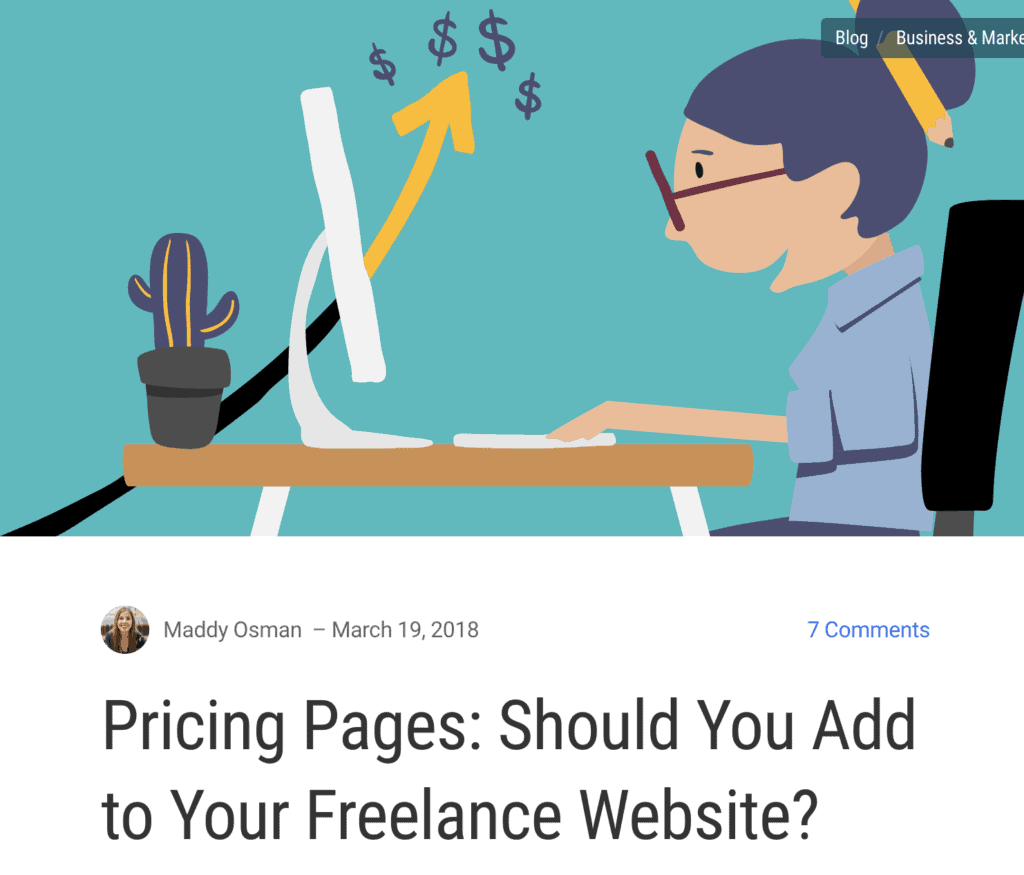 My conclusions on the matter are easily summed up as:
Yes, you should display your pricing on your website.
The most simple explanation is that in the past (and to some extent in modern enterprise sales organizations), a salesperson was the ultimate information gatekeeper. 
However nowadays, buyers have much more access to useful information for making buying decisions before talking to a salesperson — like reviews, comparisons, and use case content published by the seller.
In other words, your prospects have basically made up their minds before talking to you. In a lot of cases, talking to you is more or less a formality to kick-off a relationship.
Of course, this is oversimplifying things a bit. 
Certainly, some people need to be sold. Some buying situations are complicated and a useful quote can't be generated without a discussion. 
That said, even complex pricing can be summarized on your website as a range or "starting at" number to ensure that you and a prospect are on the same page regarding the agency fee necessary to get results with you.
Most freelancers have a core service offering (perhaps several), and variations on these themes. So while you're thinking about agency pricing, think about how to productize your service and direction for how clients can request additional customizations. 
Think also about how to make the process of providing a quote a no-brainer or self-service operation — you don't have time to dwell on this for every lead if you want to be profitable.
On this website, I use a simple agency pricing table to spell out the most important pricing details across different levels of service and what specific deliverables are included. Clients have to scroll by this information before filling out a contact form.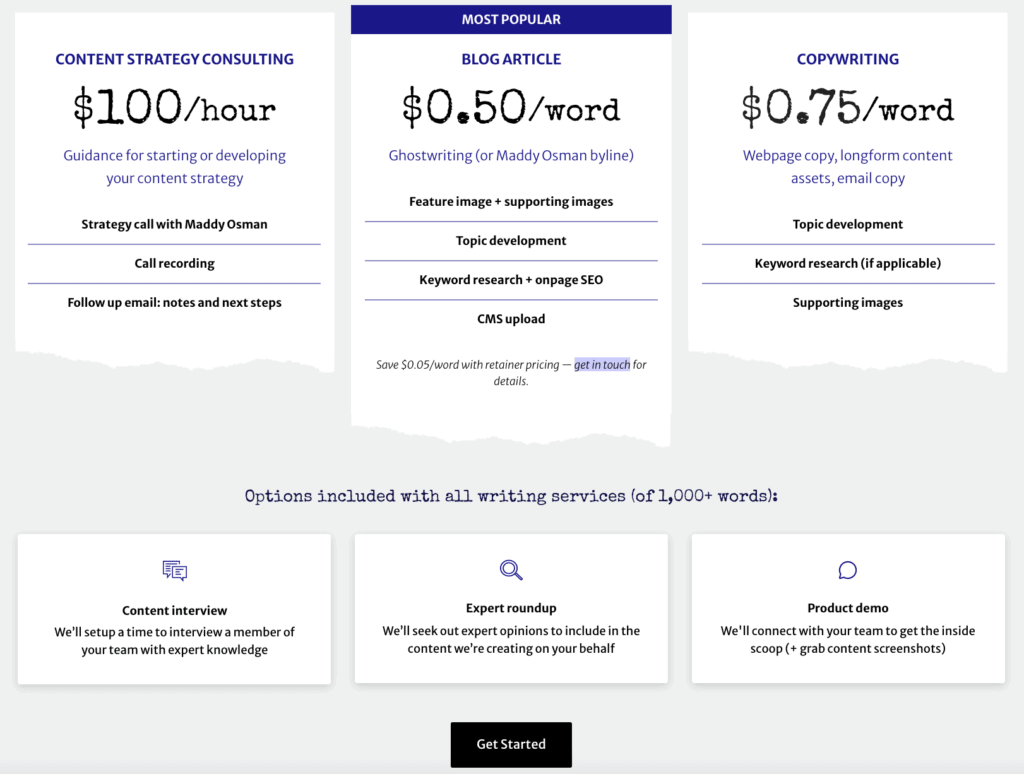 But the best way to ensure that clients are on the same page is by requiring prospects to acknowledge and agree to my agency pricing as a condition of booking a sales call with me. The purpose of the call shifts from business development to deciding on content topics to get started with.
Using a Meeting Booking Tool to Get Early Agency Fee Agreement
Your rate shouldn't be the very last thing you talk about with a potential #freelance client. Make it one of the first things you discuss.

— Kat Boogaard (@kat_boogaard) November 25, 2020
I will take that one step further to say that whenever you invoice a client, the amount of your agency fee should never be a surprise. You have to correctly set expectations and get agreement regarding pricing if you expect to keep clients for the long-term.
Personally, I'm not willing to waste my time on calls where the prospect isn't clear on my rates. 
I really don't have the time to fill up my day with sales calls that may never lead anywhere based on a disconnect about agency pricing.
Again, my agency fees all over my website, in important spots where prospects would foreseeably be looking for this information — on my home and SEO content services pages. But to be fair, it's certainly possible that someone might miss it, depending on what pages they're on and where they contact me. 
For example, some people may not even go to my website before getting in touch and requesting a call – they may do that via Twitter, instead.
With this in mind, I needed a foolproof way to ensure that clients were:
Enter Calendly. I use Calendly for everything that has to do with scheduling meetings, from sales calls to content interviews with existing clients. 
You can set up different event types for different purposes and customize those events according to your desired availability and the specific information you'd like to request from the person you're meeting with.
I created a TextExpander snippet that deploys a popup with all my different event types when I type ".calendly." From there, I can select the most ideal option and insert a booking link wherever I need it.
You'll need a paid Calendly plan if you want to make use of multiple event types. That said, you could certainly use the one included event type on the free plan for all business meetings to keep your tool costs to a minimum.
Here's how I have my Calendly event set up for meeting with sales prospects:
Note: I only allow for bookings on Tuesdays and Thursdays because I don't want to deal with sales calls every day of the workweek.
To create your own sales event booking, set expectations with a brief description. Write it to help meeting attendees understand if they're in the right place to book time to chat with you about working together. 
Don't forget to include information about what prospects can expect to happen next regarding how to access meeting details. Calendly can help you automate this process if, for example, you'd like to send a Zoom link with each booking confirmation.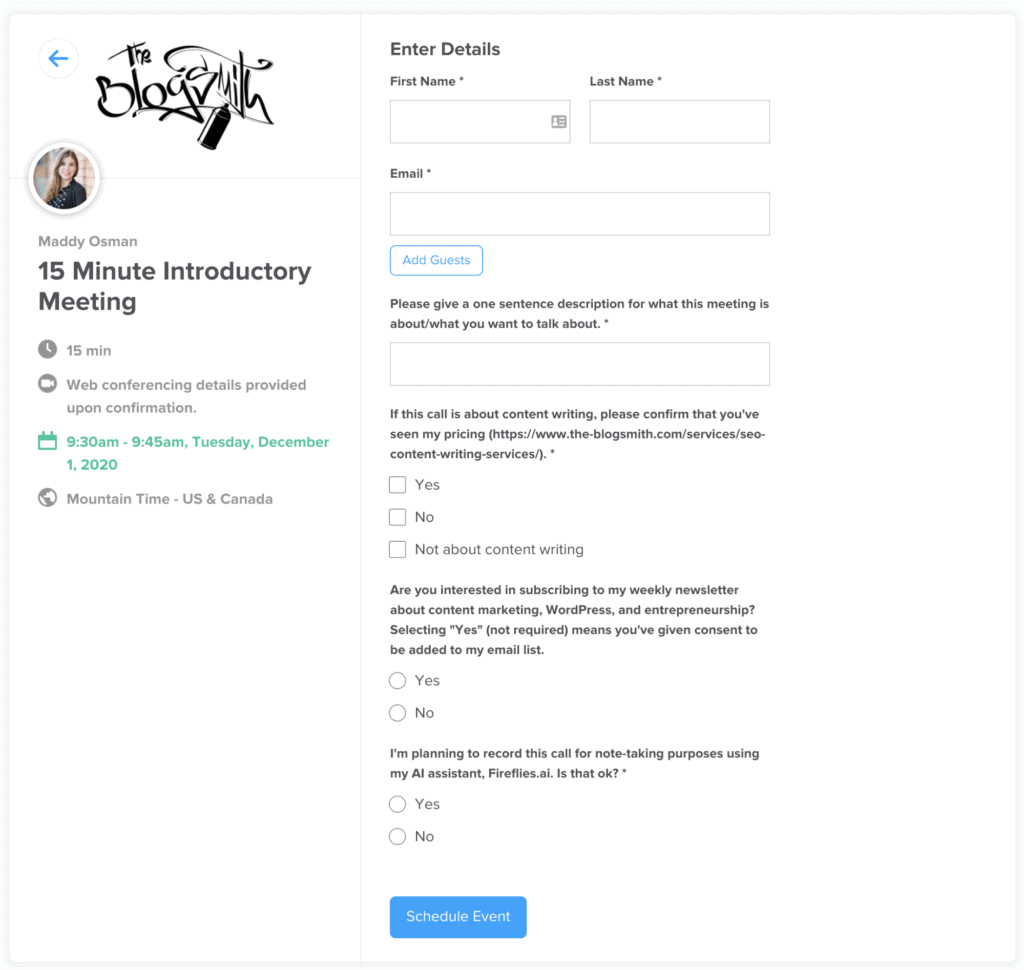 Calendly also integrates with Zapier and HubSpot CRM, so you may want to create an automation that pushes prospect details to your CRM (customer relationship management tool).
You can add form fields to capture relevant information. On these booking forms, I cover a few housekeeping details with prospects, like contact information and whether or not it's ok for me to record the call with my AI-transcription tool, Fireflies.
But one of the most important and required fields is this:
If this call is about content writing, please confirm that you've seen my pricing (https://www.theblogsmith.com/services/seo-content-writing-services/). *
I provide a link to the page so there's an easy reference point if the prospect hasn't been exposed to my pricing yet.
Covering Agency Pricing FAQs in an Intro Packet
A friend and business colleague, Erin Flynn teaches entrepreneurs how to create systems for running their businesses. One of my favorite lessons from her involved developing an intro packet.
An intro packet should address the most common FAQs prospects and new clients have about working with you, such as:
An intro packet anticipates all of these questions and more.
The point of creating an intro packet is to answer all of these questions once so that you don't have to do this over email or on your initial call with a prospect. It will help to more efficiently close ideal clients and push away prospects who were never a fit. 
Aim to send your intro packet automatically to those filling out your contact form with sales inquiries or after receiving direct emails from new prospects. This will help you to have more  productive phone calls when they're ready to move forward.
Not sure where to start with an intro packet? Here's mine to use for inspiration:
Final Thoughts: Agency Pricing: Getting Agency Fee Agreement — Before a Call
When it comes to developing a sales process for your business, be realistic about the time you have available to do sales. 
While nothing replaces the impact of good old fashioned relationship building, there's no rule that says you need to waste your time with prospects that will honestly never buy from you. So don't bother — make your agency pricing clear and make agreeing to it a condition of getting on a call with a prospect.
From there, your conversation will be less about specific agency fee numbers and more about when you can get started. Or at least, that's been my experience after implementing this process.
What questions do you have about sharing pricing or developing a sales process for your business? Ask your questions in the comments and I'll chime in with my thoughts!