First, fate threw us the pandemic. Now, it's a global recession. Whether your business is thriving or succeeding, the only constant over the past few years is change.
For many that take a negative view of the future, the marketing budget will be the scapegoat to balance future unknowns.
But isn't that a shortsighted approach?
The sales funnel for B2B purchasing isn't particularly quick. Limiting your marketing budget also means cutting down on conversion opportunities with loyal customers and underestimating their drive to help you weather the economic downturn and emerge as a winner.
So, what's a good strategy to plan business growth and prosperity during a recession?
You need to focus on the marketing campaigns that work during economic slowdowns.
Read on to learn why marketing in a recession is important and how to optimize efforts to stay connected with your target audience on a budget.
Recession 101: What Is a Recession, and Are We There Yet?
A recession refers to a decline in economic activity for a long period. Typically, a recession is defined by a country going through two consecutive quarters of negative growth.
However, the U.S. economy is officially in recession when the National Bureau of Economic Research (NBER) deems it so. According to NBER, the decline in economic activity should spread across the economy to be considered a recession.
NBER's definition of recession doesn't hold for the U.S. at present.
According to the U.S. Bureau of Labor Statistics (BLS), the unemployment rate was at a historic low of 3.5% in September 2022. Not to mention, BLS reported the labor market created around 528,000 nonfarm jobs in July 2022.
And the U.S. Bureau of Economic Analysis (BEA) reported that spending by individuals was up by 0.4% in August 2022.
Still, the BLS reported inflation reached a 40-year high in June 2022, and the stock market lost $7 trillion over the first half of 2022.
A recession hit does seem like a real possibility.
So, what does it mean for your business? Let's dig in.
The Recession and Your Businesses
When a recession starts, buyers become cost-conscious. They stop buying luxuries and focus their spending on essentials. They aim to get the maximum value out of their spending.
You could try to sell your products or services at reduced prices. But if this means lowering product quality, it's not necessarily worth risking a loss of credibility and market share.
However, a recession is not all bad news. In fact, many businesses have thrived during such difficult times.
You can get through by:
Transforming products or services into essentials — make an offer they can't refuse.
Benefiting from government programs for recession assistance — get loans at lower interest rates.
Maintaining communication with your loyal customers — engage them via offers, discounts, and other relevant content.
The last point is essential — cash from loyal existing customers will be the lifeline of your business during a recession.
That takes us to …
How Does a Recession Affect Marketing?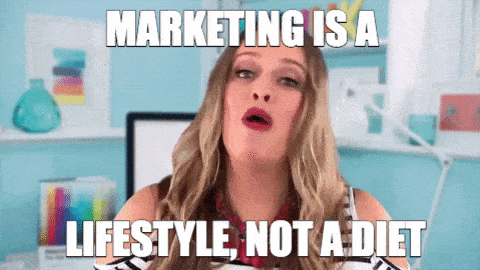 Here's the bad news:
Demand for your B2B products will be lower during a recession.
But here's the good news:
The market will be less crowded with fewer competitors, implying a greater chance for you to reach more customers. In other words, you only have to convince the customers of the value you provide them, not that it's better than your competitors.
However, cutting the marketing budget will lead to a lower online and offline presence for your brand. This'll make it easier for competitors to enter and occupy your space.
Strategies for Marketing Your B2B Business Like a Boss During a Recession
Here are some ways you could advertise your brand while still keeping an eye on tight advertising budgets:
1. Focus Efforts on Your Existing Customer Base
It's more expensive to gain new customers than to retain your existing clientele. Additionally, you might be cash-strapped and, therefore, restricted in your efforts to acquire new customers during a recession.
Focus on providing a superior customer experience to your loyal customers. You could strengthen those relationships through activities like lead-nurturing campaigns and progressive profiling.
You could design marketing campaigns that do more than one thing, like promoting repeat purchases, upselling, and cross-selling.
Similarly, you can show the target audience how much you value them by:
Sharing meaningful content with them via your website or social media.
Sending thoughtful emails with offers or resources that can help them during difficult times.
Finding ways to support them by sharing their wins.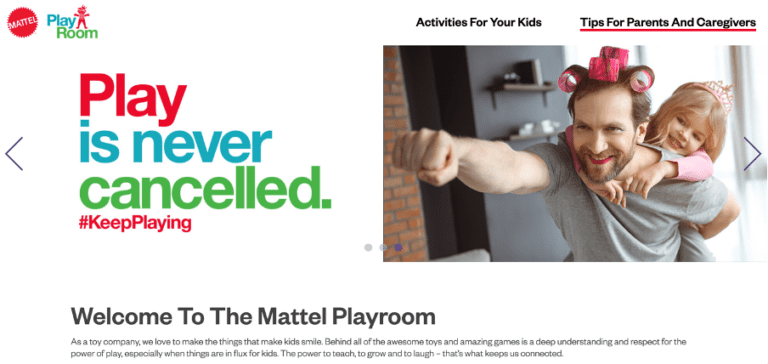 For example, during the pandemic, toy company Mattel built Mattel Playroom for its existing audience — children. Mattel's virtual playroom featured games, craft projects, videos, and printables that kept children occupied and offered their parents a breather.
2. Offer a Freemium Version of Your Product
During financial crises, customers are price-sensitive. One way to attract them is to offer a free trial version of your product.
For instance, Mailchimp thrived during the 2008 recession by changing its business to a freemium model. The company went from tens of thousands of users to a million in just one year after introducing a free tier. 
But don't forget to create consistent content around your product to make the customers aware of what you're offering for free.
Note that Mailchimp has hiked prices and changed the terms of its free service over time.
3. Be Relevant, Helpful, and Uplifting in Your Brand Messaging
Your message should be in line with public sentiment during times of crisis.
Recessions, like a pandemic, are anxiety-inducing. So, your marketing campaigns should focus on positive and empowering messaging and avoid appearing opportunistic.
A good case of non-opportunistic messaging would be Uber's "Thank you for not riding with Uber" public service announcement (PSA) during the pandemic, which compelled customers not to use its services.
This might have been seen as a publicity stunt if Uber didn't show images of real people trying to survive the quarantine, sometimes communicating through windows.
Even Uber's competitors applauded its message, with John McNeil, Lyft's former COO, saying, "I think they out-ߵwoked' Lyft."
Another great example of empowering messaging is Google's PSA series giving out credible information about the pandemic and vaccines on YouTube and Google.
For instance, here's a video by Google that went viral demonstrating the coronavirus vaccine's importance.
Committing funds to donations and sponsoring events is another way to position your brand as helpful. It helps you stand out and show you're willing to assist others.
That's how Logitech approached the coronavirus crisis.
The company donated complimentary webcam and headset bundles to K-12 teachers to facilitate distance learning. Besides that, it contributed to health care efforts across the globe by donating products like video-enabled telemedicine carts and face masks.
Additionally, Logitech collaborated with Google to host webinars on transitioning to distance learning, posted uplifting content on staying socially connected, and created content on ways people can navigate their personal and professional lives during and after the pandemic.
4. Build a Consistent Brand Presence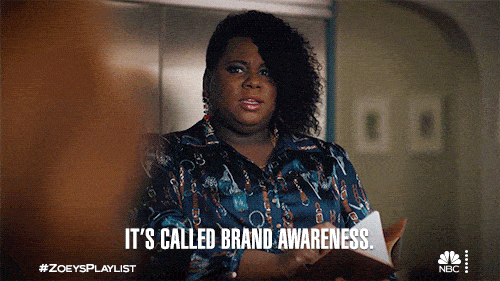 A decline in content or inactivity sends a negative message to your audience. Your customer needs you to show up during difficult times.
A 2020 Kantar survey of 25,000 customers on consumer attitudes shared that only 8% of respondents thought brands should stop advertising due to the coronavirus outbreak.
The Kantar survey also found that a six-month break from TV advertising could result in a 39% decline in brand awareness. Put simply, you need a consistent brand presence to avoid starting from scratch after the recession.
The good news?
Businesses cut marketing spending, so prices for ads will be lower.
Here's the final word:
You shouldn't cut down on marketing during a recession since it will adversely impact your bottom line.
5. Formulate a Stellar Content Marketing Strategy
There is no better time than a recession to double down on content marketing and audience-building campaigns. When the economy stabilizes, your brand will have built the reputation and trust to begin the process of new sales again.
Even if your audience isn't in the mood to spend money on your brand, they're still interested in being educated and entertained. You could work on your own marketing (vs. a client's) to connect with your audience and grow it.
Focus on doing what you couldn't do when you were too busy. Take customer feedback to understand where you can improve. Build a repository of content to use during busy times.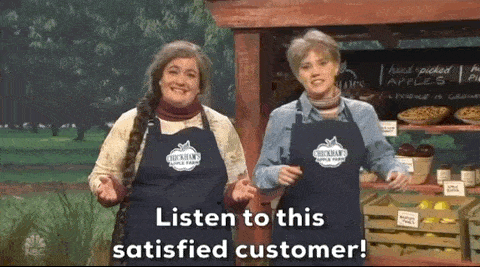 And it's not supposed to cost you a fortune.
At a time of a slowdown, flexibility and optimization in marketing is a great way to go. For instance, you can try employing freelancers and content agencies instead of hiring new employees to lower costs.
It's not a Band-Aid solution, either. A 2022 Content Marketing Institute survey of 1,275 marketers found that 57% of the most successful content marketers use outsourcing to supplement their content strategy. 
But your choice of a content agency needs to be well thought out as per your needs, size, and budget limitations.
Why Is Consistent Content Creation Important?
B2B content creation is the most efficient and affordable tool to engage with customers, grow lasting relationships, and gain potential leads. It triumphs over traditional advertising since you support your claims and statements with facts, figures, and data.
A 2020 survey by McKinsey & Company shared that the number of B2B customers opting for digital instead of traditional interactions doubled during the 2020 pandemic.
Add to that, a 2020 Gartner study found that 45% of B2B buyers tend to prefer doing their own research and only 17% wish to speak to a representative before making a purchase. 
Without a human representative, you rely on your content — and content creation strategy — to back you up.
What's the best way forward?
Establish domain knowledge and show potential customers how you can help solve their problems. The more you help people with your unique expertise and insights, the more the chances they'll consider buying your products.
Final Thoughts: Why Marketing in a Recession Is Important and How To Excel at It
Your B2B business can thrive in a financial crisis. But for that, you need to stay connected with your customers.
That means burning your marketing department to the ground every time there's a slowdown isn't a solution. Instead, you want to differentiate yourself, establish authority in the market, and reap the benefits of a deserted market.
Creating consistent content is one way to do that. If budget concerns you, consider hiring freelancers or content agencies instead of bringing in full-time employees.
If you need help reaching customers effectively during the impending recession, get in touch with us today.